Windows
Windows 10 will warn you when your ssd hard drive is about to fail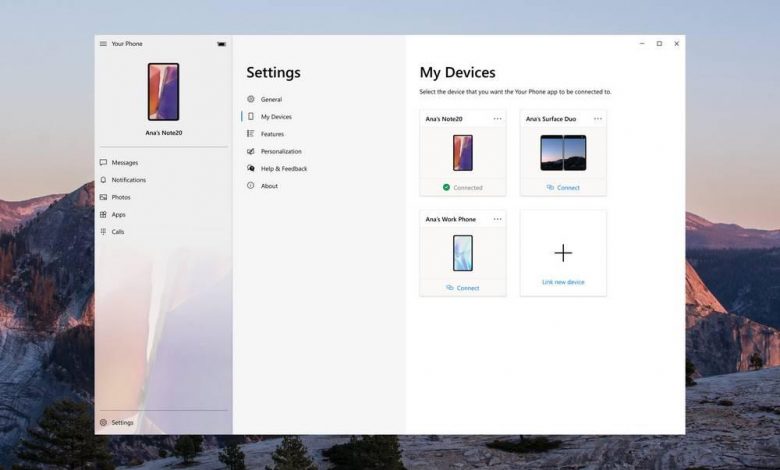 While we are still waiting for the arrival of Windows 10 20H2, the second update of 2020 for the operating system, Microsoft continues working on what will be the first, and great, Windows update for 2021. Unlike 20H2, 21H1 will be a full update of changes, improvements and news of all kinds. Every week, Insider users registered within the DEV channel receive a new update of this OS to be able to test the new improvements and news. And, without a doubt, the new build 20226 brings a feature that should have been present in Windows for a long time.
What's new in Windows 20226 build 20 21H1
Failure control for hard drives
A few weeks ago, Microsoft released its new disk manager for Windows 10. This aims to replace the current disk manager, offering a much simpler interface that we can access from the System Configuration panel itself.
It is true that both hard drives and SSDs have a fairly low error rate nowadays. And thank goodness. However, there is always a small chance that they will fail. Probability that increases with the passage of time. And if we don't realize it, we can lose all of our data.
From now on, Microsoft has included within this new disk manager a new function capable of detecting abnormalities in the operation of hard drives, SSD and NVMe SSD, so that when strange behavior is detected we can see a notification.

If we click on it, we can see more details about the hard drive in question. For example, we can see the estimated life time, the available space and its temperature. We can also go directly to the backup tool to make a complete backup of the data.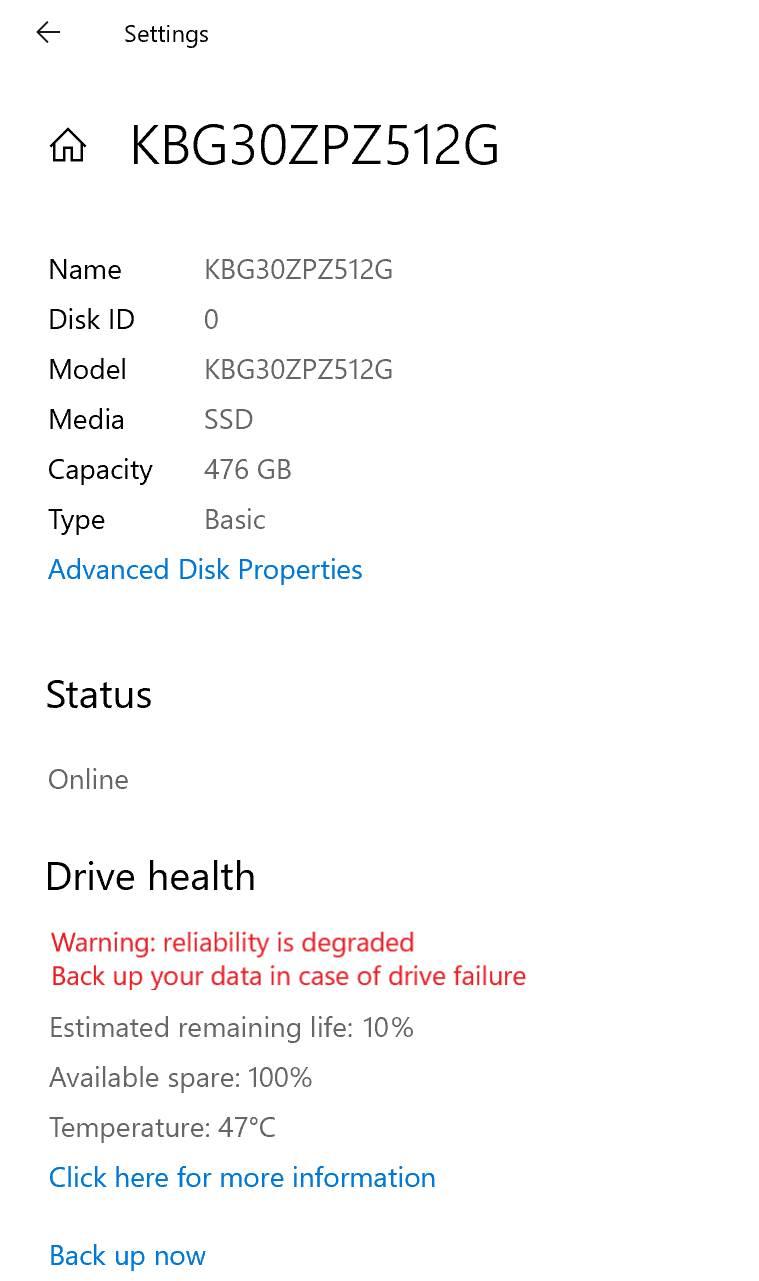 New way to control mobile phones connected to the PC
Microsoft has also taken the opportunity to update the Your Phone app in Windows 10. From now on, this tool will show a new window, like the following one, from which we will be able to easily see all the mobiles that we have connected to the PC, add new ones and even unlink others that we are no longer going to use.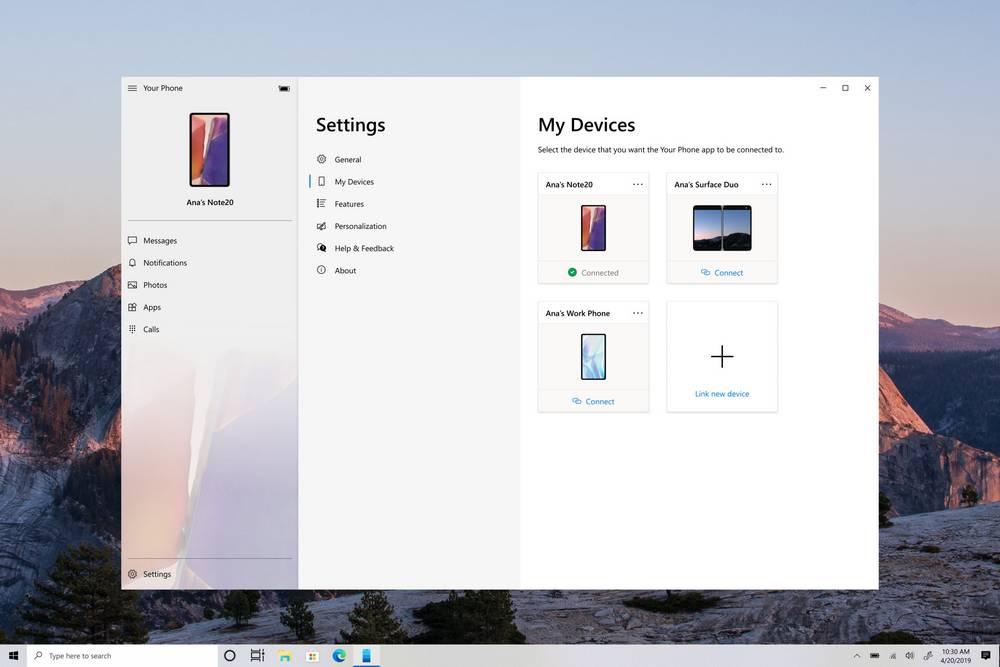 Other changes have also been implemented, such as the ability to see the background of the mobile in each one, with which we can visually identify the units in question much more easily.
Other changes
In addition to the above, Microsoft has taken advantage of the new build 20226 to introduce other changes in the operating system:
Theme syncing between devices has been  disabled. Now users will not be able to have their backgrounds and themes synced, no one knows why. But it seems that this feature is not coming back.
Notepad improvements.
Edge PWAs now appear in Task Manager as applications rather than processes.
We can extract the files from a ZIP stored in OneDrive with the right button as if we had it locally.
New options to change Windows 10 DNS.
N'Ko keyboard improvements.
Bugs fixed in build 20226
Microsoft has taken advantage of this new build 20226 to solve some errors detected in its operating system and improve the experience as much as possible:
Fixed a bug when opening the new disk and volume manager.
Fixed a bug in WSL2 that made us see an error "The remote procedure call failed" at startup.
Fixed a bug that made voice recognition, within the accessibility options, require administrator permissions.
Fixed a bug when deactivating the shadows of the icons on the desktop, and opening the task view, which caused them to reappear.
Fixed a crash when pressing F7 in the File Explorer search box.
Fixed a bug that caused the screensaver to be considered a full screen program by the concentration assistant.
Explorer.exe is now more stable and crashes less than previous builds.
Fixed a bug with the name of the applications inside the "Windows Accessories" folder, in the start menu, when docking them.
Fixed a bug that affected the performance of the taskbar on 2-in-1 convertible devices.
Fixed various errors in the Windows Action Center.
Improved the reliability of the Windows Settings menu.
Fixed a bug where the Settings icon, when pinned to startup, was too small.
Fixed a bug that caused the touch settings not to appear in the Settings menu.
Meet now does not crash if we press the escape key. It also doesn't crash when opening a list of items from the Windows taskbar. Meet Now has received other changes and improvements.
Fixed an error that caused some applications not to be installed, due to lack of Internet, when we had IPv6 activated.
Now changing from custom DNS to automatic does not imply loss of Internet.
Improvements in IME keyboards.
Errors to fix
Microsoft is still working to fix a number of bugs and errors found in previous builds:
Updates are blocked and take a long time to reach some users.
Live preview of pinned site tabs not working.
The new taskbar experience for pinned websites is still not working.
Some versions of Office crash after installing the latest builds.
Some devices display a "MODE_EXCEPTION" error when using certain virtualization technologies.
Investigating a "DPC_WATCHDOG_VIOLATION" error on some devices.
The WSL2 vEthernet adapter automatically disconnects after a while for some reason.
The compatibility wizard displays a "Microsoft Office is no longer available" message after installing the latest builds.
Little by little, the next Windows 10 21H1 update is taking shape. And, without a doubt, build 20226 is one of the most interesting that we have seen recently. Anyway, right now we all have our eyes on 20H2, the Fall 2020 update, which will arrive, if all goes well, in two or three weeks and which we hope will reach all users without problems.