Windows
Windows 10 recovery environment – what is it, activate and repair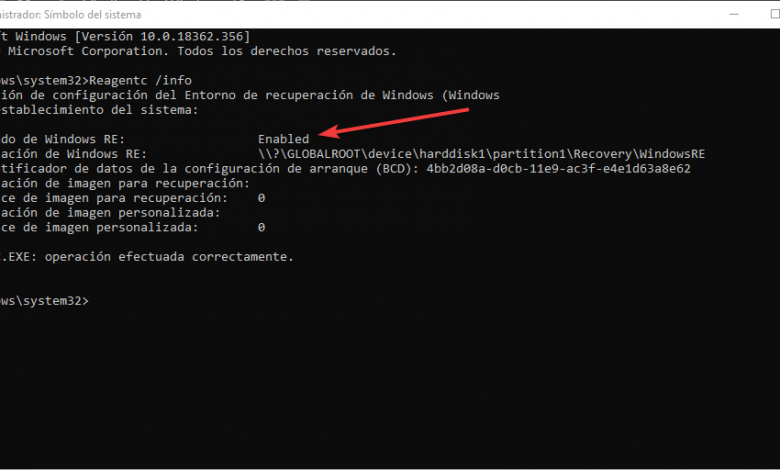 One of the novelties hidden under the hood that we could see with Windows 10 was a complete recovery center. Users who are having trouble booting the operating system can access the Recovery Environment to attempt to repair it. From this environment we can find a series of options and tools that will help us to make our computer work normally again.
As unfortunately many of you will already know first-hand, the problems and bugs that we can find in Windows 10 are innumerable. They can also appear in the most sudden way causing even crashes of the operating system in its entirety. Therefore, these extremely serious errors mean that on certain occasions we do not even have the ability to start the PC and access all its content. Sure, the solutions here, if this extreme case comes, are few. But that's when Windows RE comes into play, since as we'll see it can help us in many of these situations.
What is Windows RE and what can we do with it
Windows RE is the Microsoft interface from which we can try to repair our computer when something does not go wrong. This panel loads before the operating system, and its main purpose is to offer us a series of tools and configurations, offline, to try to solve any errors and make Windows work again.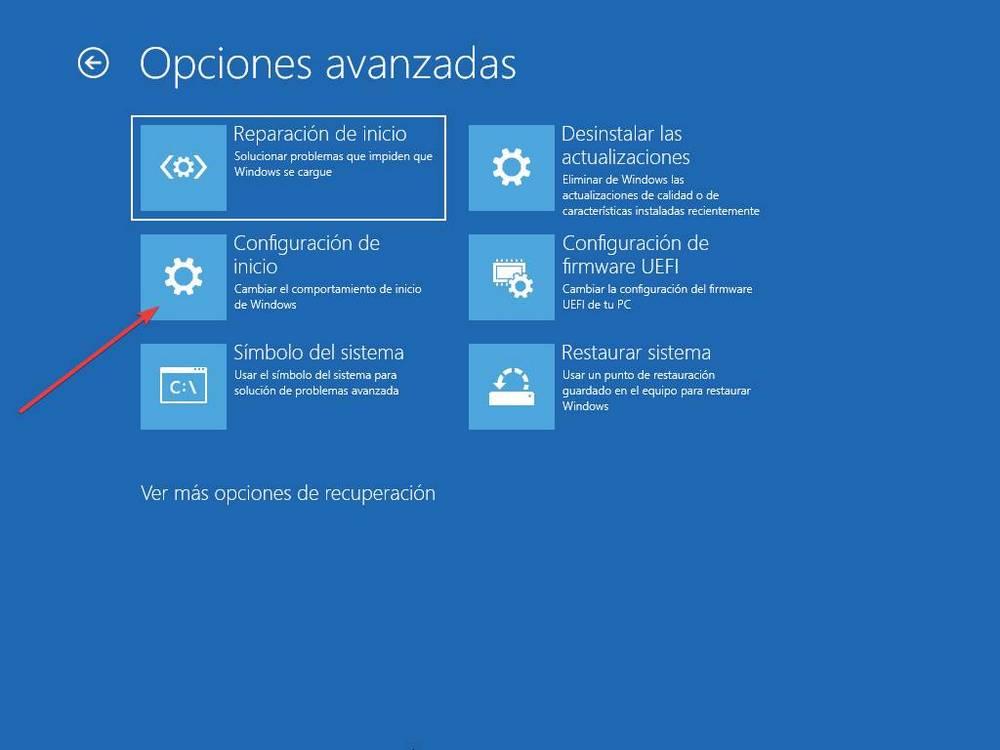 Windows RE is based on the Windows Pre-Installation Environment (Windows PE). It can be customized with additional drivers, languages, optional Windows PE components, and other troubleshooting and diagnostic tools. By default, Windows RE pre-loads on Windows 8.1, Windows 10, and Windows Server 2012 R2 installations.
This panel will show us the option to reset Windows, an option that will allow us to format Windows without losing our programs or personal data (or perform a clean installation, whatever we want). We will also have access to a series of advanced recovery tools that will allow us from repairing the startup or uninstalling updates that may have been installed incorrectly to opening a CMD window , with Administrator permissions, to try to solve problems using commands.
How to enter Windows Recovery Environment
There are several ways to enter this Windows 10 recovery menu. Of course, something that we must bear in mind is that on certain occasions the access mode may vary depending on the PC's BIOS, or the manufacturer of its motherboard. . Therefore, below we will talk about several of these methods that will help you.
Force multiple restarts
The first of the tricks to be able to enter this Windows mode usually appears automatically, without us having to do anything. This occurs when Windows does not start correctly (it restarts twice in a row during startup). Thus, the system will automatically load this recovery mode from which it will allow us to locate and solve the problem that prevents Windows 10 from loading correctly. If Windows unexpectedly shuts down twice within two minutes, this menu may appear as well.
Shift + restart
In case of having to force this menu to appear, what we must do is force it when restarting the PC. To do this, from the login screen (useful when we cannot access the desktop), choose the "restart" option and click on it while holding down the shift key on our keyboard.
This trick also works from the "restart" option in the start menu.
From configuration
If we are already at our desktop and we want to restart Windows 10 Recovery Environment, we can get to it by opening the Settings menu > Update and security> Recovery  and choosing the option to restart at advanced startup.
From the command line
Another option we have to enter Windows RE is through the command line or CMD. This is something very simple, because it will only be necessary to press the keyboard shortcut Windows + r and the Run window will appear. Once here we must write the following command and press enter:
shutdown/r/o
In this way the computer as such will restart at that moment, but when you start up again, it will do so by giving us access to the aforementioned Windows RE.
Fix errors with Windows 10 RE
The reasons why Windows RE can fail are very varied, and depend on each system. It may be due from an operating system failure to an application that has blocked it. It may also happen that the partition reserved for recovery has been damaged or deleted. Therefore, it is very difficult to identify all the reasons why this feature has been disabled or cannot be executed.
Next we are going to explain how to check if we have Windows RE correctly enabled and working in our Windows 10 and, if not, how we can enable or repair it if it is damaged.
Check if Windows Recovery Environment is enabled
The Windows 10 recovery environment is something Microsoft doesn't want users to touch. This is the tool that, ultimately, can help us repair our computer when something very serious happens and it does not start.
Therefore, we will not find an option as such that tells us its status. If we want to check it, what we can do is open a CMD window with Administrator permissions on our computer and, from there, we will execute the following command:
Reagentc /info
We will see all the information about the Windows recovery environment (Windows RE) and we can see, among other things, if it is activated or not.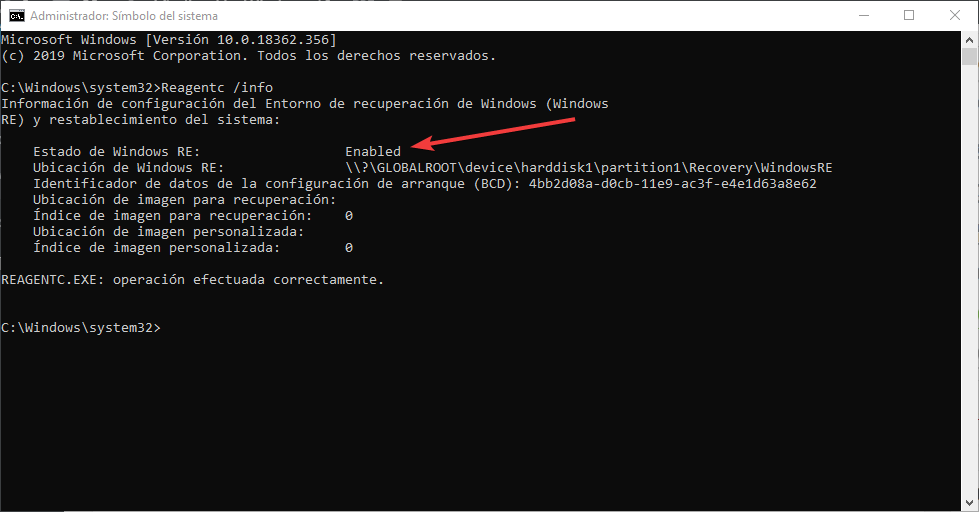 In case it appears that Windows RE is disabled, then what we should do is try to enable it. We can do this very easily from CMD, and the only thing we have to do is, in the previous window (that is, from CMD with Administrator permissions) execute the following command:
Reagentc /enable
After restarting the computer, Windows RE should be enabled again.
Check the disk encryption and that the recovery partition exists
Another of the most common reasons recovery mode can fail is because of data encryption software. It may happen that, when using this type of software, the partition is hidden or protected, preventing the PC from accessing it to display the recovery tool.
It may also happen that the failure is due to the WinRE partition being deleted for some reason.
What to do if it is impossible to run and activate Windows RE
If we get to this point and we continue to have problems with Windows RE, the only thing we can do is think about repairing our Windows 10 installation.
If we cannot activate this feature, the safest thing is that the partition has been damaged or lost, and in that case the only way to recover it is by installing Windows 10 again on our computer.
Luckily, Microsoft lets us carry out this process easily and without losing the data or the settings of our PC. We simply have to download the Windows 10 ISO, mount it on our PC and start the installation of the operating system, on top of the current one, choosing the option to keep the programs and personal data intact.