Windows
What version of windows has my pc installed? We help you know it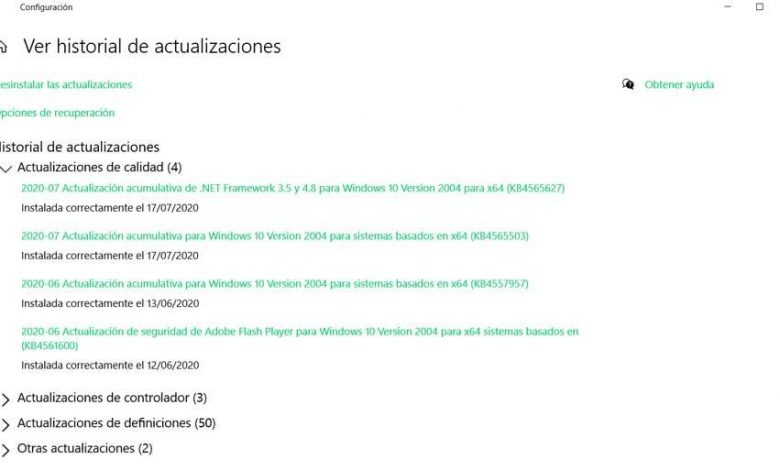 Windows is an operating system that has been around for a good number of years, software that has not stopped growing and evolving based on new versions. To give us an idea, say that Windows comes among us for around 35 years, which is not little.
And it is that time has passed since the launch of the first version back in 1985, or the arrival of the mythical Windows 3.1 in 1992. Since then, both the field of hardware and software has evolved to a great extent, as surely many of you already know. So much so that at the moment and for years, Windows is the most widely used operating system in the world.
Of course, in these times we can find teams that work under a huge number of versions of the system. This is something that even reaches Windows XP, an operating system that is almost two decades old. That is why at this time we could say that under the name of Windows, there are a large number of versions. To this we must add that many of them no longer even receive official support, which is why Microsoft considers them finished.
And is that no software is supported forever, something that also affects Windows itself. It is worth mentioning that each version of the system has a life cycle of several years, something that those of Redmond specify . Of course, once that time has passed, those old versions are left without support, something that can be considered dangerous, since they do not receive security updates. With everything and with this, there are many millions of users who continue to work with them on a daily basis.
What version of Windows do I have installed on my computer
At this time Windows 10 has already exceeded 5 years of life and the firm continues with its policy of sending two major updates a year. As we said, there are many versions of the system that we can use, but it is advisable to update the software to the most recent one. This is something that we achieve through the Windows Update function that we find in the Settings application.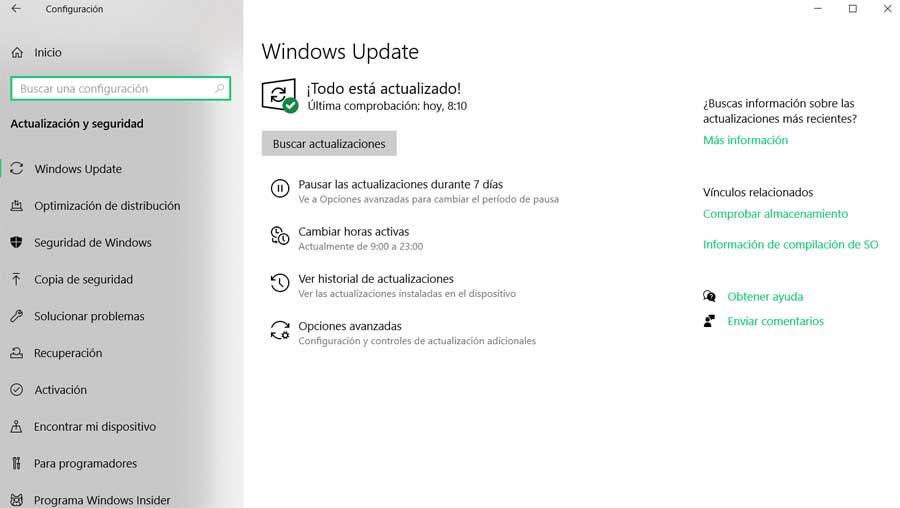 As we mentioned before, it may be the case that we are using a very old version of the operating system. For example, if we use Windows XP, this is easily recognizable by its iconic wallpaper with a hill, also known as Bliss.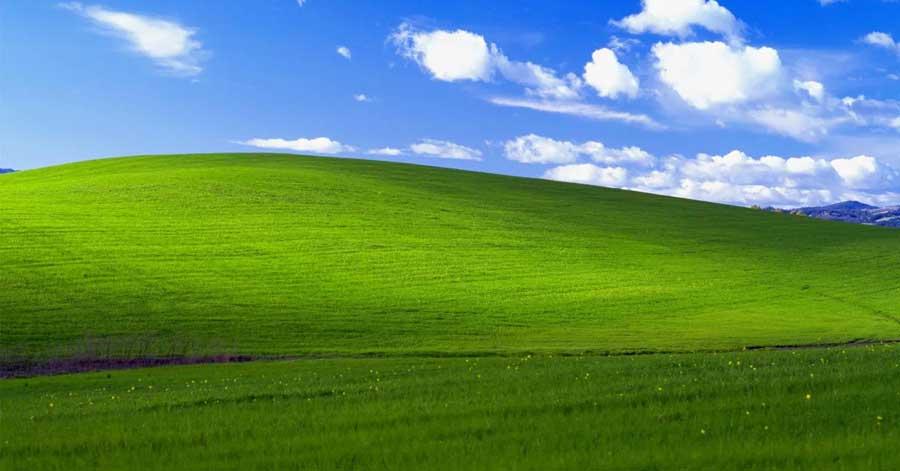 In addition, its Start menu is blue, generally, and it lacks Live Tiles. On the other hand, Windows Vista, which was not very successful or accepted, presents us with a round Start menu button and a task bar in black by default.
Then we find the acclaimed Windows 7, one of the most beloved and used versions of the system of all and with a similar appearance to that of the aforementioned Vista. Here, to be sure, we can click on the Start button and type the term Team in the corresponding search box. Once the icon appears, we click on it with the secondary button and we opt for Properties, where the version of Windows with which we work is already indicated. In the case of Windows 8, the task is very simple, since it completely lacks a Start button, something that returned in Windows 8.1. Of course, to distinguish it, say that in this case the Windows 8.1 icon was white.
But to make sure, we can also go to Settings and click Change PC settings. After that we go to PC / Devices / PC Information, where we see the Windows that we have.
How to know the edition of Windows 10 that I have
When we refer to Windows 10 editions , we are talking about different systems that are tailored to the user's needs. Thus, among the most popular in this sense, we find the Home, Pro, Enterprise or Education editions.
As we say, each of them adapts to a certain environment and type of use with some functional differences, as well as price. But of course, all of them are based on the same Windows 10, so sometimes it can be difficult to differentiate them. Well, for this we use the Win + I key combination to return to the Settings application and go to the System section.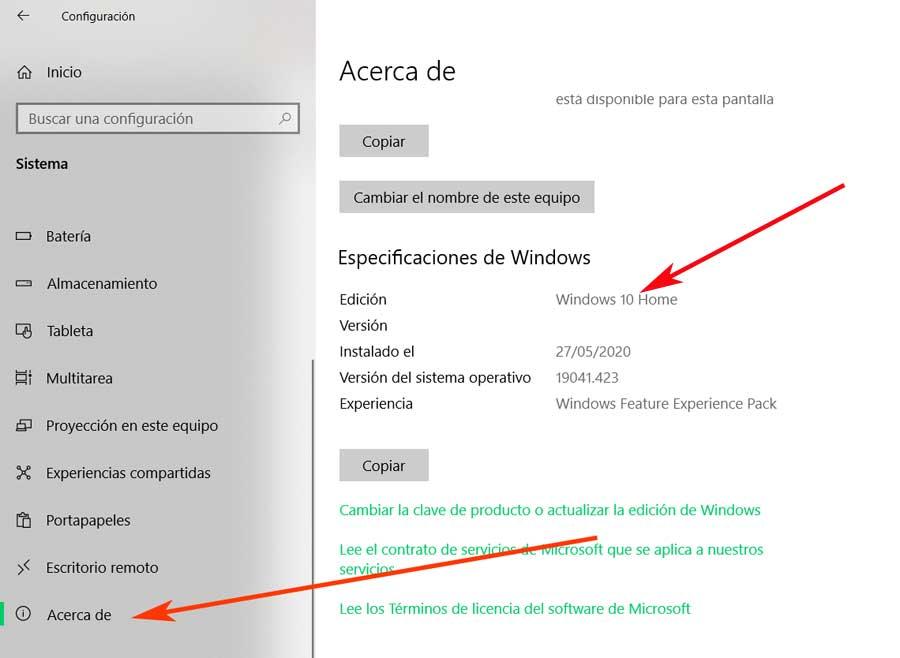 Here we can clearly see the edition of Windows 10 with which we are working at the moment. In the attached screenshot we see that, for example, it is the Home edition of the system, the most suitable for home environments.
What version of Windows 10 do I have installed
What we must confuse at this point is the aforementioned edition, with the version of the operating system, they are two very different things. Once we know what the edition that we have just told you is, say that the versions of Windows 10 are renewed periodically.
Therefore, to know exactly the version of the operating system with which we are working, let's see the steps that we have to carry out. On the one hand, the simplest thing is that we make use of the Win + R key combination . With this we open the Windows execution box, where we type the Winver command .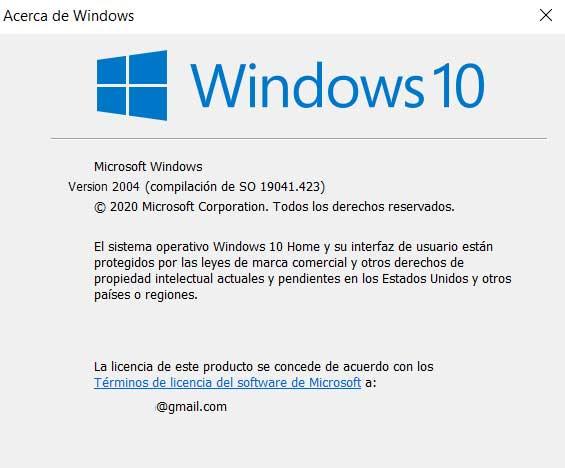 This will give us way to a new window where we find valuable information for what we are looking for in these lines. For example, here we can see the version of Windows 10 with which we are working, as well as the current compilation number that we run and the email of the active account.
If we want to know the versions that are available of Windows 10, and know if ours is supported, we can do so by consulting this table.
| Name | Version | Launch | End support | With support? |
| --- | --- | --- | --- | --- |
| RTM | 1507 | July 29, 2015 | May 9, 2017 | NOT |
| November Update | 1511 | November 10, 2015 | October 10, 2017 | NOT |
| Anniversary Update | 1607 | August 2, 2016 | April 10, 2018 | NOT |
| Creators Update | 1703 | April 5, 2017 | Oct 9, 2018 | NOT |
| Fall Creators Update | 1709 | October 17, 2017 | April 9, 2019 | NOT |
| April 2018 Update | 1803 | April 30, 2018 | Nov 12, 2019 | NOT |
| October 2018 Update | 1809 | November 13, 2018 | November 10, 2020 | NOT |
| May 2019 Update | 1903 | May 21, 2019 | December 8, 2020 | NOT |
| November 2019 Update | 1909 | Nov 12, 2019 | May 11, 2021 | YES |
| May 2020 Update | 2004 | May 27, 2020 | December 14, 2021 | YES |
| October 2020 Update | 20H2 | October 20, 2020 | May 10, 2022 | Yes |
| May 2021 Update | 21H1 | May 2021 | December 2022 | Insider Beta |
| "Sun Valley" | 21H2 | October 2021 | May 2023 | Insider Dev |
Windows 10 32-bit or 64-bit
At the same time, in order to work with certain applications, we may be interested in knowing the architecture of the operating system, 32 or 64 bits. To do this we use the Win + I combination to access Settings, where again we go to System and click on About located in the left panel.
Once here, what we have to do is locate the section called Device specifications. In this window we find interesting information about the team we are working with. Thus we will see its processor, installed memory, its identifier and the architecture of the operating system, which is what interests us in this case.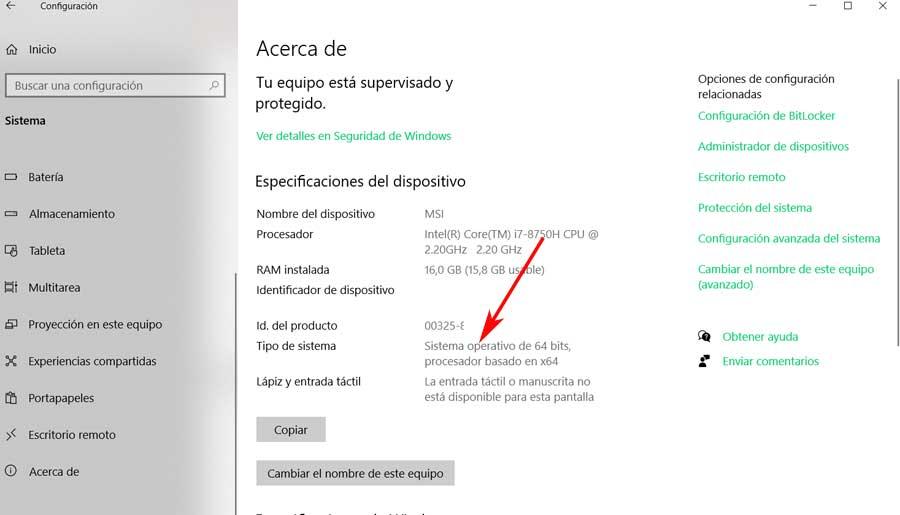 How to Download the Latest Windows Updates and Service Packs
As we have commented on countless occasions, regardless of the version of Windows we have, it is always recommended that the operating system is updated. And you have to know that precisely Microsoft sends these updates for various reasons. On the one hand to present the latest functions developed, but that is not all. In addition, these are sent to correct the failures that are detected over time, as well as to protect us from the latest vulnerabilities.
Although not everyone follows these indications from Microsoft itself , for those interested, we will tell you how you can achieve it. Again for this we go to the Settings application, but in this case we opted for the Update and security option. Here we already automatically receive the latest Microsoft releases, or we can also force the arrival by clicking on the Check for updates button . Also, in the event that we want to see the most recent updates installed, we must click on View update history.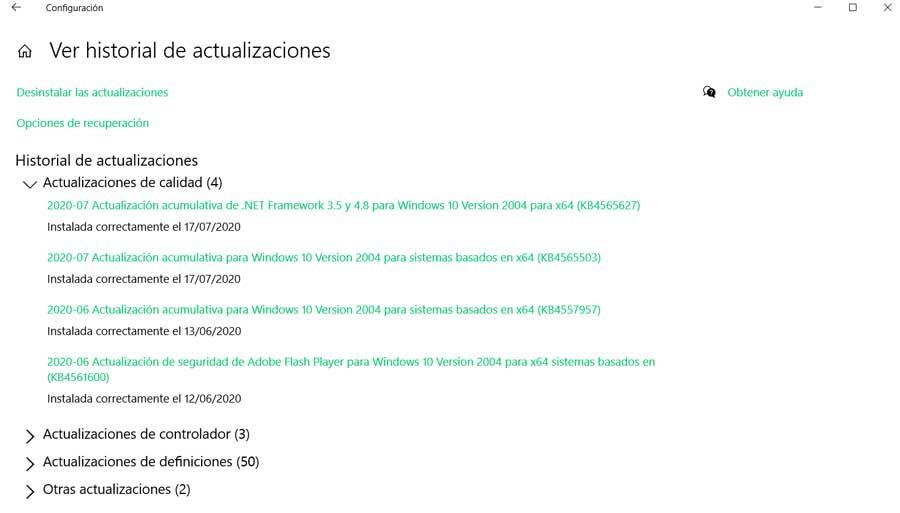 Here we can see first-hand all the updates, both Windows, and other products of the firm, which have recently reached our team.