Windows
What to do if Windows 10 constantly freezes on your PC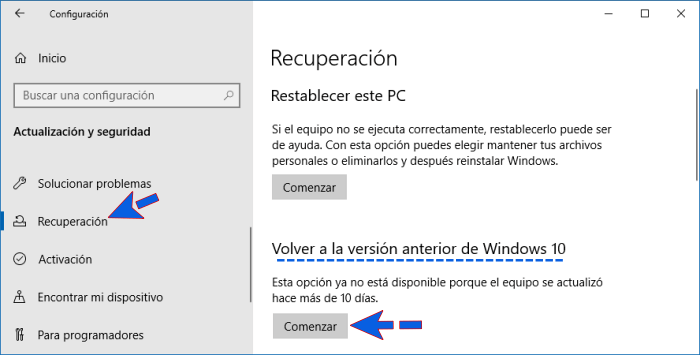 There are several reasons why a Windows 10 PC freezes, be it on the desktop or at startup. In this post we will see how you can deal with a computer where Windows 10 is constantly freezing.
This problem can happen randomly at any time, the whole system crashes or certain items separately. If at any time your system is totally or partially unresponsive, you can try each of the following suggestions to try to fix it and find out which one works best for you.
What to do if your computer is freezing randomly
We have tried to condense the most common and effective ways to fix a desktop or laptop that is constantly or randomly freezing. Try them one by one until you find the one that solves your particular problem.
#1. Free up hard drive space
If the drive on which Windows 10 is installed is low on disk space, this will slow down the PC and may cause the system to freeze.
So the first thing to do is make sure you have enough free disk space in drive C. Otherwise, you should try to free up some disk space using Windows Disk Cleanup.
#2. Update drivers
Windows 10 might be chilling due to outdated device drivers, so updating them would fix the problem.
Many drivers are automatically updated from Windows Update, so you should try checking for pending Windows updates first.
You could also try a driver updater, which will help you find outdated drivers on your system and update them automatically.
#3. Perform a memory check
If Windows is freezing on your computer, one of the first things you should try is to run a memory check. This will help you determine if the problem is with your RAM, in which case you will need to replace it.
Fortunately, Windows has its own built-in tool to help you with this, which is called Windows Memory Diagnostics. To use this utility and diagnose the health of your RAM, follow these steps:
First of all, save the work you are doing and close all programs, since you will need to restart the PC.
Open the Run window with the Windows + R shortcut, type mdsched.exe in the Start menu search and press Enter.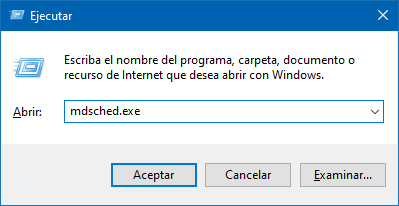 Click Restart now and check for problems (recommended).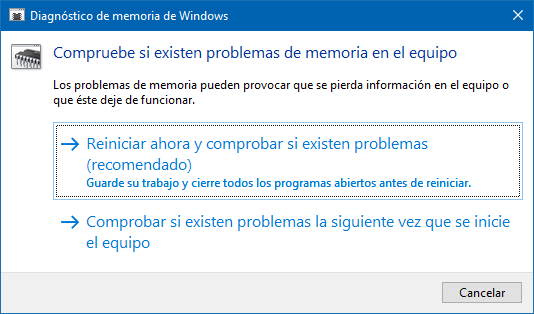 When the computer restarts, the utility will perform a full memory check on your system, displaying progress on a blue screen.
If you find a problem, he will tell you and you can find out what happens. Otherwise, if you do not find errors in your RAM, you will have to continue to the next possible solution.
#4. Reset virtual memory
In addition to your computer's physical memory, Windows relies on virtual memory, which is a combination of RAM and a hard disk partition.
Windows 10 could freeze due to virtual memory, so you should try to fix it by resetting it like this:
Open the Run window with the Windows + R keyboard shortcut , type sysdm.cpl and press the Enter key to open System Properties.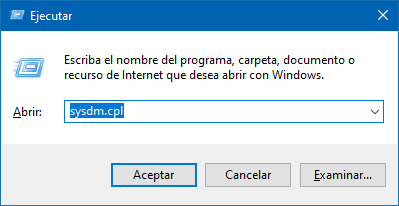 Select the Advanced tab and in the Performance section , click the Settings button .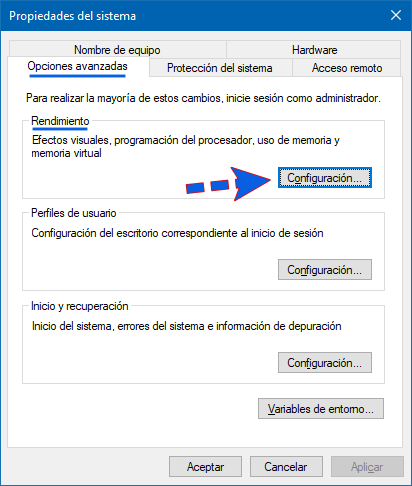 Again select the Advanced Options tab and under Virtual Memory, click the Change button .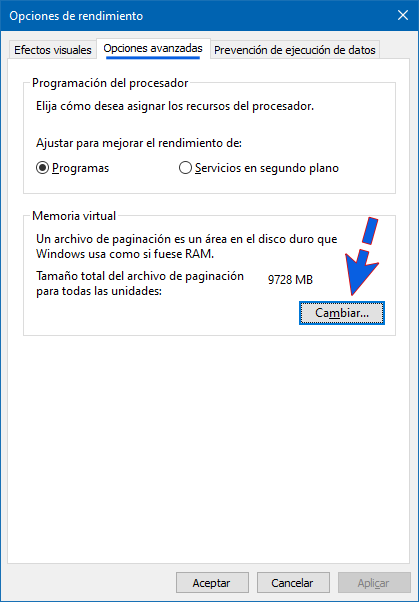 Uncheck Automatically manage paging file size for all drives. Select drive C, or the one where the system is installed on your computer.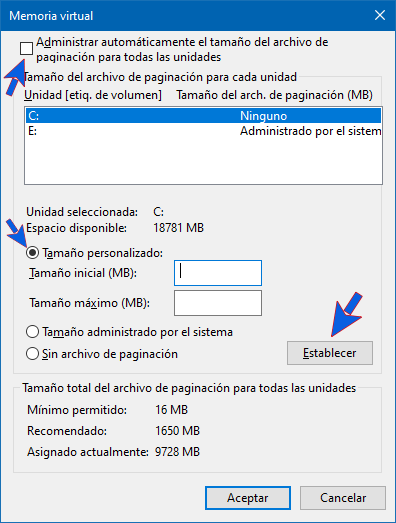 Select Custom size. For Initial Size (MB) it varies depending on the computer, but you can use the amount specified below in Currently allocated.
For Maximum size (MB), you can use the recommended size or 1.5 times the amount of your RAM. Remember that more than 3 times the amount of RAM can cause system instability.
After assigning these values, click the Set button and then OK to proceed.
To conclude, then you must delete the temporary files from your computer.
#5. Do a hard drive check
If the suggestions that you have carried out up to this point have not helped you to solve the frisking of Windows 10, then you should check your disk. Windows has a built-in tool that allows you to perform this task satisfactorily, and you can do it in these steps:
Open Windows Explorer with the shortcut Windows + E, and select This computer.
Then, right click on the hard drive you need to check and select Properties.
Select the Tools tab and click the Check button .
The review process of your disc will begin, and if any problem is found it will let you know. Otherwise, you will get a message that everything is fine with the unit.
# 6. Check system files
Another alternative with a lot of possibility to solve the problem that your laptop or PC freezes is to do a check of the system files. If your computer has some corrupted or missing system files, this could be the reason for the frisking of Windows.
System File Checker is a built-in Windows utility that allows you to restore corrupted or lost system files. Do it in the following way:
Type CMD in the Start menu search box and select Run as administrator from the Command Prompt open options .
Then type sfc / scannow into the Command Prompt window and hit the Enter key .

The utility will search for missing or corrupt files on your system and attempt to restore them. The process may take a while, and you should leave the Command Prompt window open until it is done. At the end you will be given a report of the results of the operation.
# 7. Roll back Windows 10 to a previous version
If your system has recently been updated to a new version of Windows 10 and then freezes from time to time, it would be best to uninstall this update and roll back to the previous version.
Open the Settings app (Windows + i shortcut ) and select Update & security.
Then select Recovery on the left. Then under Go back to the previous version of Windows 10, click Get started (if available) and follow the instructions in the wizard.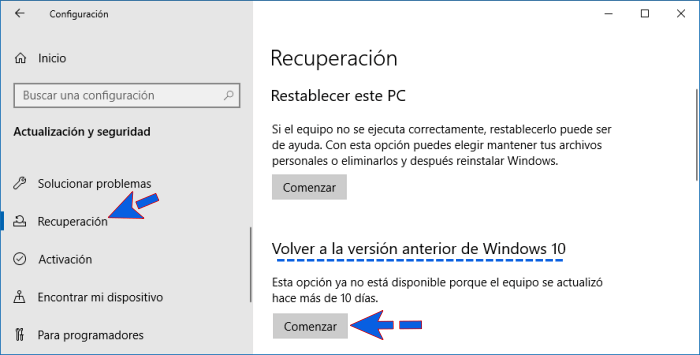 Remember that if more than 10 have passed since the update was applied, the option will not be available and you will not be able to revert the changes.
# 8. Factory reset Windows 10
If Windows 10 still frequently freezes 10 on your PC, you should try to perform a factory system restore or mi to find a solution.