Windows
What to do if another program takes control of the sound in windows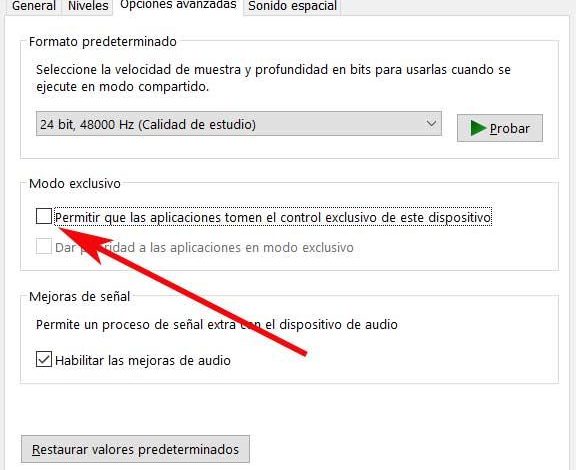 Despite everything that Windows 10 is able to offer us at the moment, functionality that is increasing, some problems are still there. These can appear suddenly and without any apparent reason, as is the case that we are going to talk about.
First of all, as I'm sure many of you already know, this is an operating system that no longer only focuses on working in professional environments. At the same time, it is capable of being an excellent tool for our leisure moments. By this we do not refer to actions such as playing games, surfing the Internet, watching movies and series, listening to music, etc.
For all this, both the software and the hardware that we can use at this time, offer us very interesting and useful functions. But as we mentioned, these elements can start to give us problems when we least expect it. This is something that has surely happened to you on more than one occasion, be it a failure of any kind. We tell you all this because in these lines we are going to focus on one of the most important sections when trying to have fun with the team. In particular we refer to the audio.
How to fix audio problems in Windows
It is easy to imagine that watching a movie on the computer, or playing online does not make much sense if the sound system does not respond as it should, or simply does not work. That is why below we are going to talk about a more common error than it seems related to all this. We will also give you a series of possible tips to follow and that the sound on the PC returns to normal.
To give you an idea of ​​what we are telling you, say that below we are going to show you how to solve the error Another application is controlling your sound at this time. This is something that we may have suddenly encountered in Windows 10, so we cannot enjoy the sound on the computer. In fact, this usually appears when we have to reproduce a certain program with sound in the operating system.
Close applications and restart Windows
As the message itself makes clear, this error appears when we want to play sound but the audio or use another process or application. At that moment a window appears indicating that another application is controlling the sound at that moment. This tells us that what we were about to do, like listening to music, we will no longer be able to carry out as we would like.
Therefore, the first thing we must do is, if we have located the application that is playing sound at that moment, it is to close it completely. Another very helpful way out for this and many other problems in Windows is to restart the operating system itself, for example from the Start menu.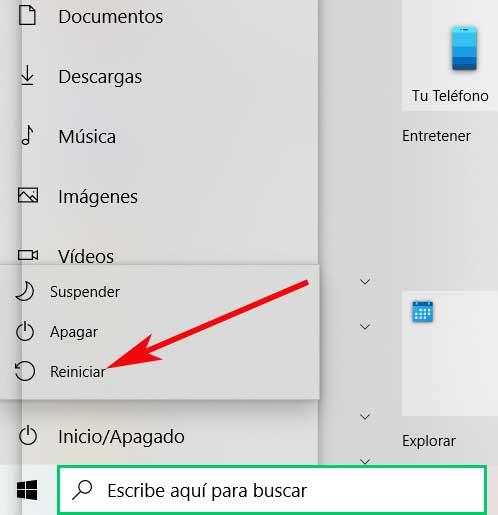 Restart the audio drivers
If this does not work or we do not know the program that is using the audio, let's move on to other solutions. It may also be the case that at that time we do not have other applications open that may be using the audio, so we will not be able to close it. Therefore, the best we can do here is to restart the audio device as such that we have installed.
This is something that we are going to do through Device Manager. To open it, we can right-click on the Start menu and select the option corresponding to it. Here we will see all the devices installed on the computer, so we will locate the one that corresponds to the sound, video and game controllers. Thus, we will only have to click with the right mouse button on our audio controller to disable it. Then we wait a few seconds to reactivate it and test if the error has disappeared.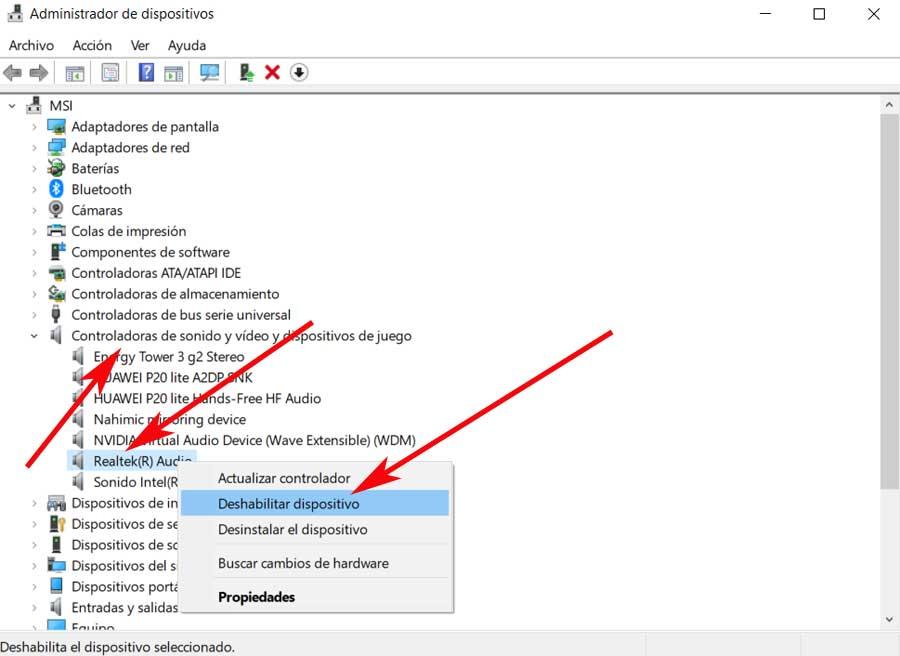 Check Windows services
Another of the possible ways in this same sense that we can use, is to check the services of the operating system itself. To achieve this, the first thing we have to do is open the Windows execution window. For this we will use the Win + R key combination , where we execute the services.msc command. Here a window will appear with a list of all the system services.
Well, at this point, in this particular case we have to be attentive to those known as Remote Procedure Call or RPC, and Windows Audio.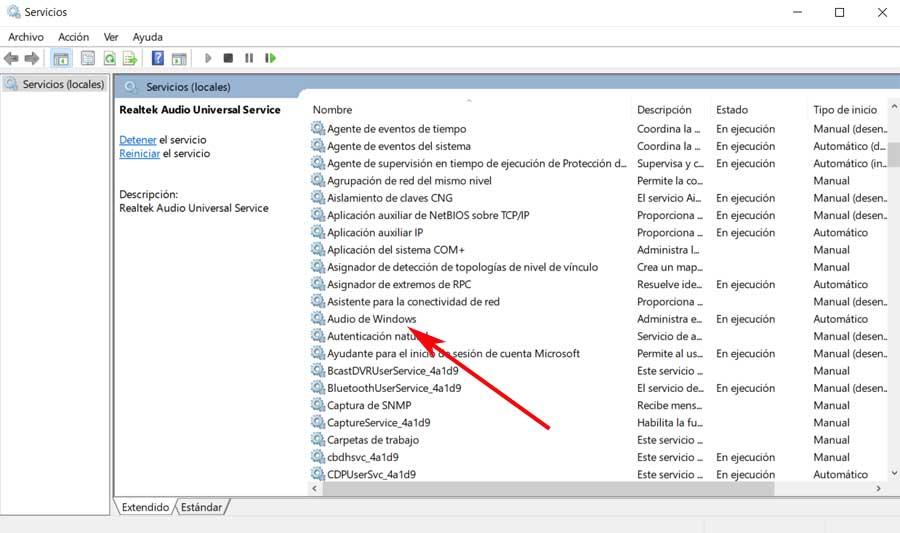 Once we've found them, all we have to do with them is make sure their status is Running and startup is in automatic mode. If not, we can change it and restart it by right-clicking on each of them.
Windows troubleshooter
Another of the possible solutions that we can try before the problem of Another application is controlling your sound at this moment, is the Windows 10 audio troubleshooter. In order to access this functionality, we can do it from the Settings application, which We open with the combination of keys Win + I.
Next we go to the Update and security / Troubleshoot section. Here we click on the link for Additional Troubleshooters, where we can already see the one we are looking for in this case, Audio playback.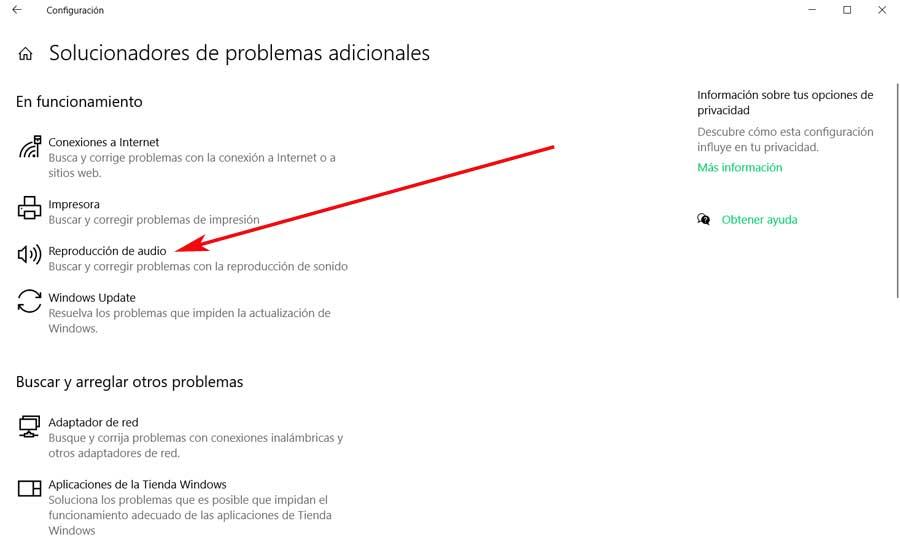 Fix the sound bug from the Control Panel
The Windows Control Panel is another section that can help us with the failure we are facing here. To do this, the first thing we have to do is open its window, and go to Hardware and Sound / Sound. In the new window that appears, we click with the right button of the mouse on our speakers installed in the computer and that we use as audio output on a regular basis.
Thus, we click on Options in the contextual menu where we find a tab called Advanced Options, which we select. To finish we only have to uncheck the Allow applications to take exclusive control of this device.