Windows
What are windows defender security intelligence updates?

Windows Defender is one of the best antivirus for Windows 10 that we can find. This antivirus is completely free and comes installed by default with the operating system to be protected from the first moment. Like any antivirus, this one updates its databases every day (even several times a day) to be prepared from minute zero to face threats. Windows Defender updates reach users automatically through Windows Update, however, do we know how to differentiate them?
Windows Update is the operating system platform used for all kinds of updates. Through it we receive security patches, maintenance updates and even new versions of Windows 10. Obviously Microsoft has wanted to take advantage of this platform to update its antivirus and, instead of including a different update path, it takes advantage of Windows Update to update Windows Defender.
Until now, Microsoft's antivirus updates appeared as " Definition update for Windows Defender Antivirus ", however, for a couple of days Microsoft's definitions have changed and a new section has begun to appear within Windows Update: Updates security intelligence.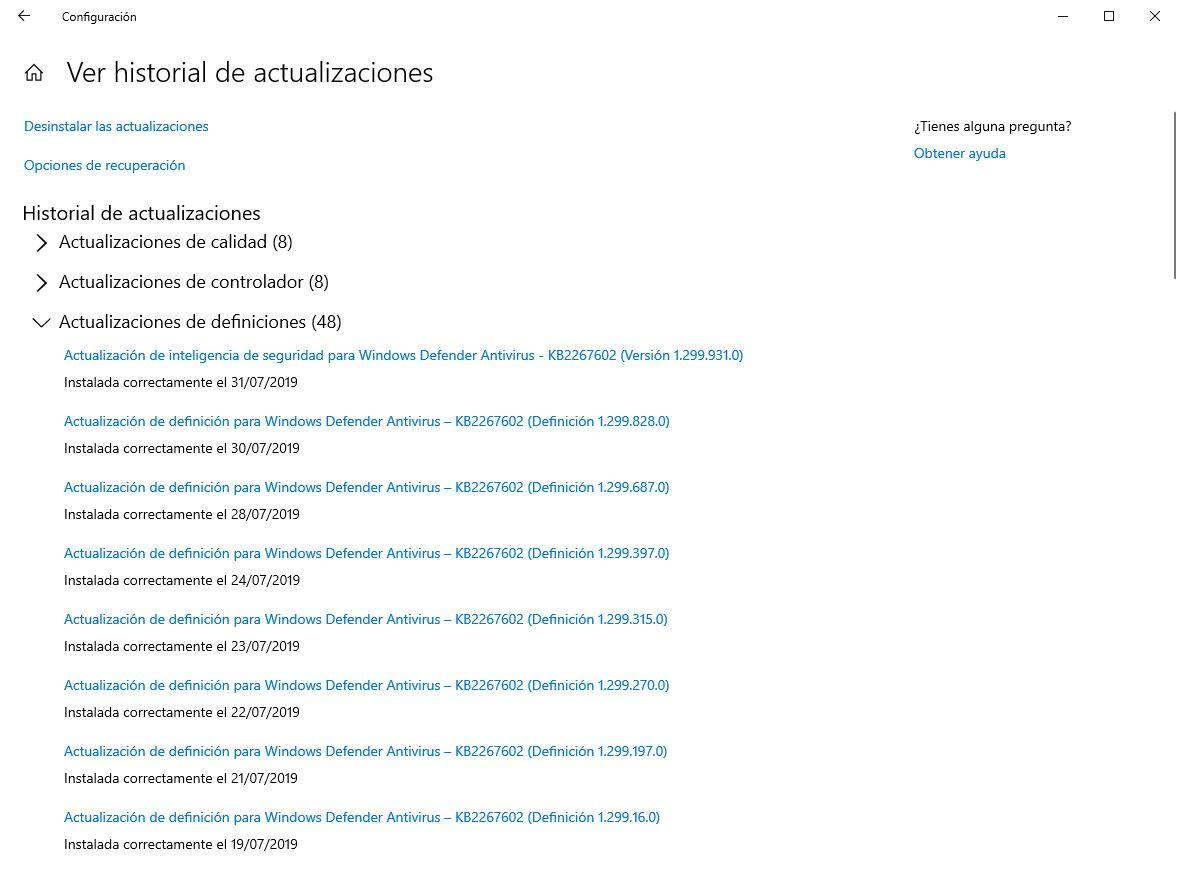 What are the new Security Intelligence Updates for Windows Defender Antivirus
Microsoft already dropped a couple of weeks ago that it had planned to change the name of Windows Defender to Microsoft Defender because it not only protects Windows, but it is a complete security suite for all the Windows ecosystem and applications and Microsoft services.
Little by little Microsoft is changing the name of its products and services to adapt them to the new times. And as part of the new image ofWindows Microsoft Defender, the name of the updates has also changed.
From now on, instead of receiving a "Definition update for Windows Defender Antivirus" in our system, we will receive a new "Security intelligence update for Windows Defender Antivirus". But roughly the concept remains the same.

This is a legitimate name change, we don't have to worry. Although Microsoft has not made any statements about it, it appears that it is part of the makeover of its security suite. From now on, all Windows Defender updates will reach users under this name.
It is possible that in 2020 when the suite is renamed Microsoft Defender, the company will begin to send updates to other modules through Windows Update, and this is the way to differentiate the intelligence updates (that is, the database) from the antivirus from other types of updates.
Although there is no official information, Microsoft may be preparing big changes for Windows 10 20H1. This will be the first major update to the operating system and will reach users in the spring of next year. Time will tell us if Microsoft has new big plans for Windows Defender and unseat once and for all the classic antivirus that have sold so much fear.