Windows
Usb problems? Disable windows selective sleep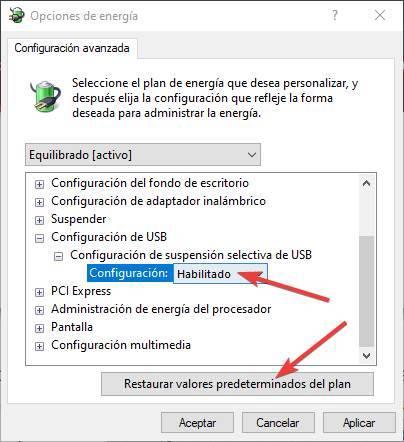 The USB ports are one of the easiest ways and faster to connect any peripheral or device to your computer. We use them on a daily basis, for example, to connect a keyboard and mouse, flash memory and even external hard drives. These ports, especially the latest generation ones, offer very high transfer speeds, so they give us excellent performance. However, this performance comes at a cost, and that is that they consume a lot of energy. And to mitigate this, Windows has a feature called USB selective suspend.
What is USB Selective Suspend
This feature came to users as a new feature in Windows 10. What it does is allow the operating system to put peripherals connected to the USB ports in a "low power" mode when they are not being used. In this way, the power consumption of these peripherals is considerably reduced without actually disconnecting them, which significantly lengthens the battery life. When we need to use the devices again, they are instantly reactivated, reusing all the energy they need.
Main problems
Initially, this feature brings very important improvements to the operating system. But some users are also experiencing problems because of it. Many hard drives, and other devices, do not like to have their electrical power limited, which results in crashes of the peripherals, and even the computer itself. Especially when the computer goes into sleep mode.
Problems don't always have to be related to this feature, although it is quite common. Other causes that can cause the PC to fail when using USB devices are:
Drivers in poor condition, or outdated.
A bad Windows update.
The antivirus is blocking the USBs.
A program is interfering with the proper functioning, for example, of the mouse or a hard disk.
Therefore, if we are experiencing problems with USB peripherals, due to this low power consumption option, below we explain how we can easily disable it. Thus, at least, we will have a starting point to try to solve the problems.
How to disable USB power saving
This option is within the different power plans that the operating system has. Except for those with maximum performance, where energy saving does not matter much, the most normal thing is to find that this feature is enabled in the PC's energy profile.
To check, we must go to the Windows 10 power options. We enter the Control Panel, and we move to the Hardware and Sound > Power Options section. There we will have to see which power plan we have activated (the one marked with the circle), and we will click on the link to change the plan settings.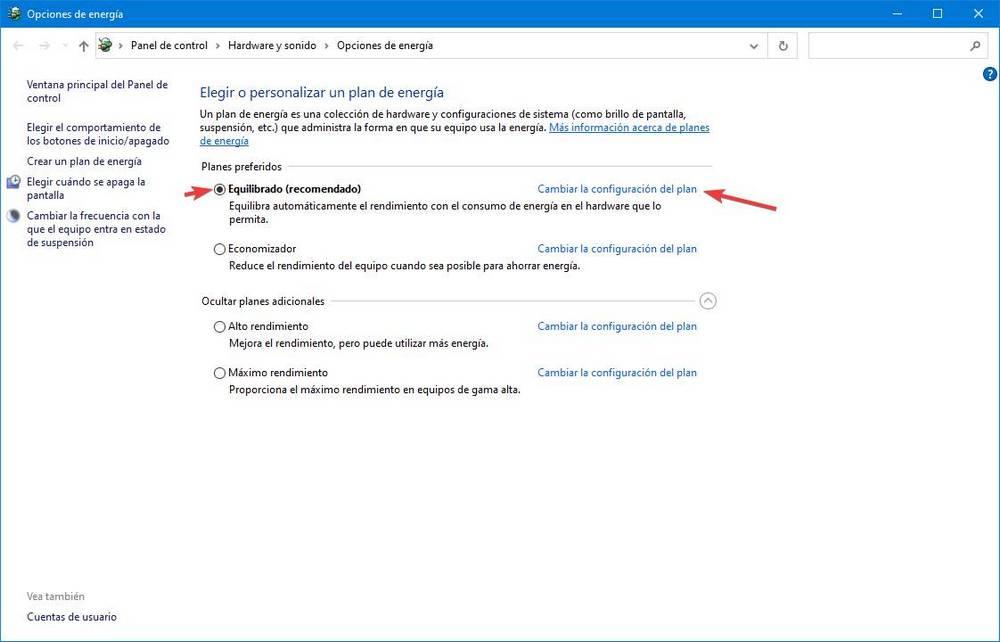 A new section will appear from which we will be able to choose the time we want to pass to turn off the screen automatically, or to suspend the PC automatically. What interests us is one of the links at the bottom, called " change advanced power settings ".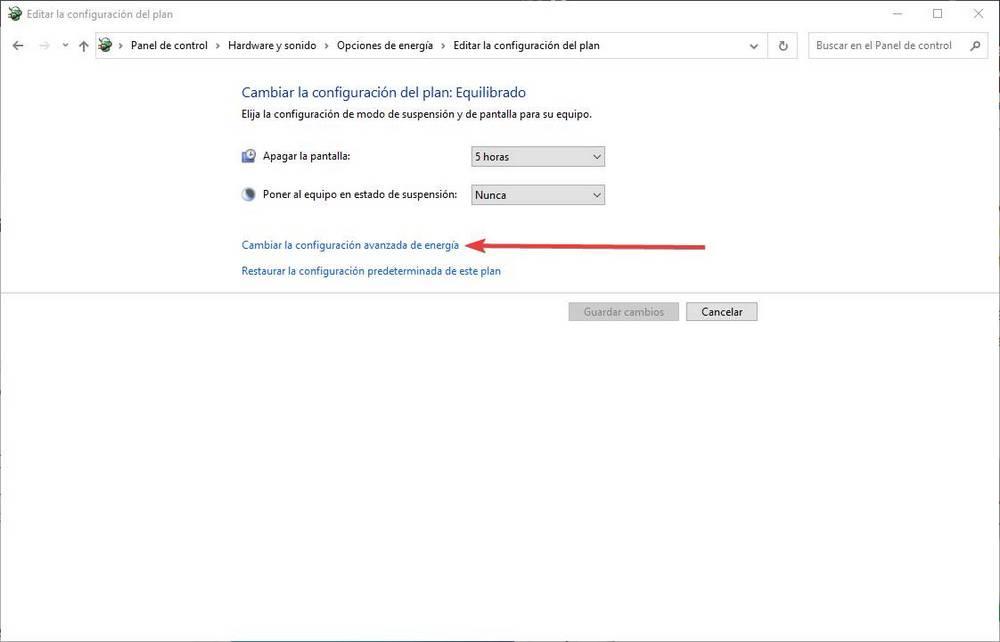 In the new window that will appear we will be able to see everything related to energy and consumption of Windows 10. The section that interests us, to deactivate the selective suspension of USB, is located within « USB Configuration «, specifically in " USB Selective Suspend Settings ".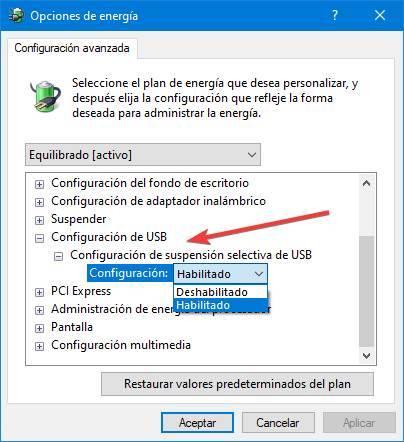 We click on the option that appears, and change its status from "Enabled" to "Disabled". Once we have this changed, all we have to do is accept the changes and that's it. It is not necessary to restart the computer for the changes to take effect, although, if we want, we can.
Now we just have to test that our USB devices work normally. We can test that they do not crash, that they work at full capacity and even that the system can recover them after suspending the computer. There is nothing to make the PC malfunction anymore.
How to Revert Changes: Re-enable USB Selective Suspend
If we continue to experience problems with our USB devices, then it is not the USB Selective Suspend feature that is responsible, but the problem lies elsewhere. It may be due to drivers, a bad Windows update, and even a program that is making the computer not work as it should.
So, before continuing with the search for the cause of the problems, what we must do is reactivate this option that we have just deactivated. To do this, we will return to the Control Panel, and we will place ourselves on the Hardware and Sound> Power options section.
Once there, we will reopen the advanced power settings, and return to the USB Settings> USB Selective Suspend Settings section to enable this feature. In addition, another faster way to do it is to use the " restore plan defaults " button that will allow us to leave the power plan as it was originally.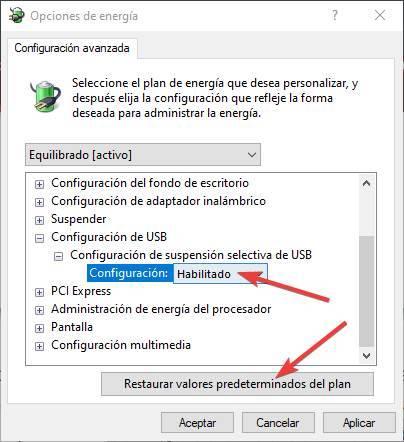 Likewise, we restart the computer and everything should be as it was before deactivating this function. Now we can begin to test other configurations to try to solve the problems with the USB. For example, update Windows, or use a program to update all the PC drivers.