Windows
USB device is not recognized in Windows 10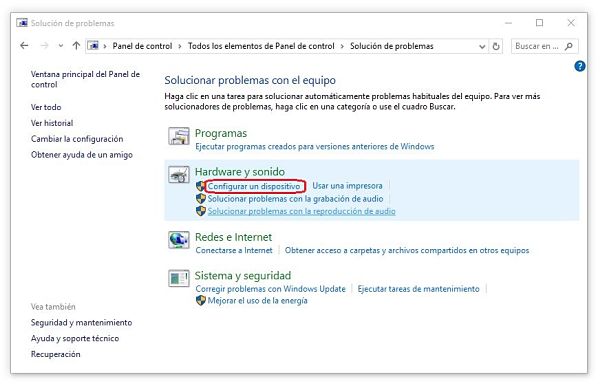 You connect a USB pendrive or an external hard drive to the Windows 10 computer and you get a message stating that "The USB device is not recognized." In this post we will try to help you solve the problem.
The error message " USB device not recognized ", or " USB device unknown (device descriptor request error) " usually occurs at times when we are in a rush to use the device. If you are having this problem, in this post I will show you how you can solve it.
USB device is not recognized
Below you will find several suggestions with which you can proceed in no order. You must select one according to your version of the operating system and convenience.
#1. Restart the computer
Sometimes a simple Windows restart can solve the problem. Disconnect the USB device, restart the computer, reconnect the device and see if it now works. If not, turn off your computer, wait a few minutes, and do the process again.
#2. Disconnect other devices
To avoid a possible conflict between two connected USB devices, disconnect the other USB devices from the computer and connect the one that is giving you problems and see if this helps.
Check for hardware changes
Run devmgmt.msc to open Device Manager. On the Action tab , select Scan for hardware changes.
Update drivers
Check if the drivers need to be updated. Open Control Panel > Devices and Printers. Check if there are any instances like Unknown USB Device or Unidentified Device. If so, open its properties window and try to update the driver.
Review power management
From Device Manager, enter the properties of the USB Root Hub, go to the Power Management tab and disable the option Allow the computer to turn off this device to save energy. Check if this works, and if not then re-enable this option.
Run troubleshooter
Run the Hardware and Devices Troubleshooter or USB Troubleshooter and see if any of these help. These tools will check the hardware or USB device connected to the computer, looking for any known problems and will try to correct them automatically. To use the Hardware Troubleshooter you must go to Control Panel > Troubleshooting ; In Hardware and sound you choose the option Configure a device.
Port disable failure
If your version of Windows is one of these: 8, 8.1, Server 2012 R2 or Server 2012; there is a particular problem that affects these versions of the operating system. The failure occurs when the USB port is disabled after safely removing or disconnecting a device from that port. If you find or suspect that this is the problem, then you will need to download hotfix KB2830154 from Microsoft's site.
CONCLUSION
One of these suggestions should solve the connection problem with the USB ports. Please tell us which of the solutions has served you, and if not also leave us your comments.