Windows
Update directx in windows to take better advantage of your games
Especially due to its enormous importance and market penetration, Windows 10 is software that should work well on most computers. For this, it is composed of a multitude of sections, functions and characteristics that achieve a stable and increasingly better set.
In fact, there are several of these sections of the system that work in the background and that sometimes we are not aware of their importance. This is something that for example happens with the element that we will talk about in these same lines. In fact, below we will talk about something that has been with us for a good number of years with Windows and to which sometimes we do not give due importance.
Specifically we refer to DirectX, something that surely many of you have heard about, but not all of you know what it is. Also due to its importance, it is interesting to know how they work and update in Windows to get the most out of it. In fact we can say that this is a basic component on the PC, especially for graphic use, such as games. To give you an idea, we are actually referring to a set of APIs that are installed, among other things, in order to optimize the operation of games on Windows. In addition, it is also useful for other multimedia elements such as videos, etc.
What are DirectX in Windows
Well, at this point the first thing we tell you is that DirectX is a set of APIs developed by Microsoft itself for Windows. Their main objective is none other than to facilitate the development of other multimedia content by third parties for the operating system.
These focus on the use of content such as games and videos on the PC so that in this way they are executed in the best way. These APIs have been accompanying us since the launch of its first version in 1995. Thus, in these moments they could be considered as keys when playing or using certain applications in Windows. For all this, it could be said that DirectX is responsible for the games are optimized in their operation in Windows.
Serve as an example that in the event that these APIs did not exist, game developers would have things quite complicated. More than anything else when it comes to getting their projects will work optimally based computers in the system of those of Redmond.
How to check the version of DirectX installed
But for this, in addition to having these APIs, in order to make the most of their functions, it is important to make sure we have the latest version. This is something that many of the titles that we run on our computers request from us . And is that thanks to all this we are talking about, game creators can access the computer hardware more effectively. In this way, it is possible to take advantage of the resources in the best way.
Therefore, to check the version of DirectX installed, we will tell you how to achieve it. Thus, the first thing we must do at this point is launch the execution box of the operating system itself. This is something we achieve through the Win + R key combination .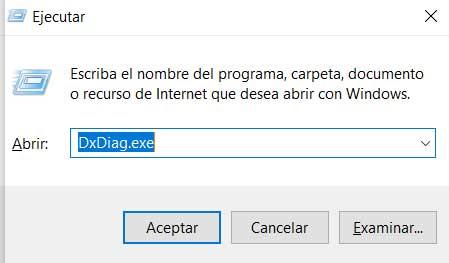 In this way, once this box appears on the screen, we will be able to execute the searched function and see the version of the APIs mentioned. We just have to write the DxDiag.exe command in it. After a few seconds we will see how this diagnostic tool appears on the screen. At that time we just have to go to the tab called System, where we see a section that shows us the version of DirectX.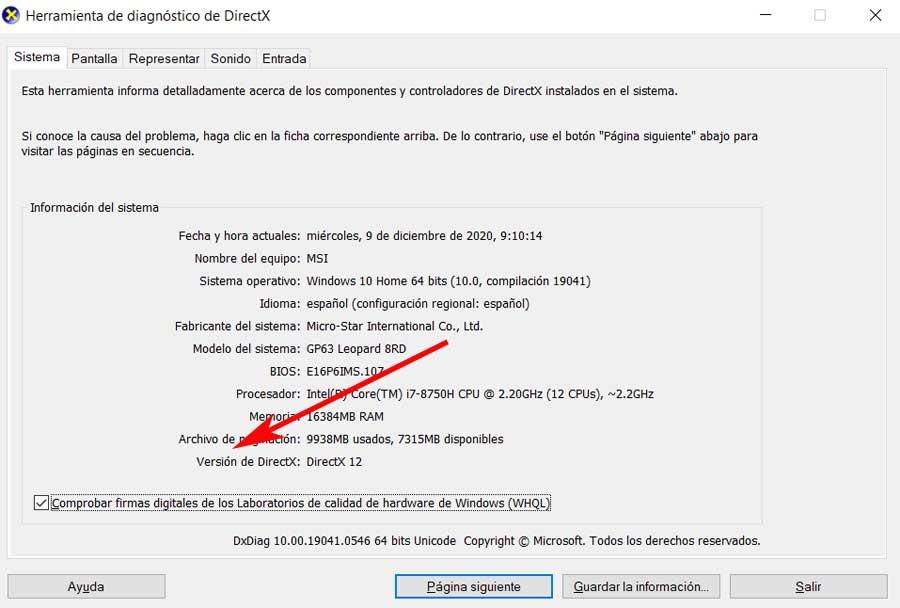 In addition, this same tool that we have accessed, will help us to locate possible problems related to this same section. We only have to navigate through the tabs that we find here to see if a fault has been located in the audio or video, for example. At the same time, here we are also going to find detailed information about the graphic system that we have on the PC to execute the multimedia contents.
But as we mentioned before, here it is very important that we keep this component updated. Therefore, below we will show you the best way to achieve this and thus enjoy multimedia content on Windows.
How to update DirectX in Windows
As we mentioned before, in these lines we talk about a series of very important components for Windows developed by Microsoft itself. Therefore, the easiest way to update DirectX is through the Windows Update function . In fact, the usual thing is that when we install the latest system updates, the latest version of this set of APIs is also installed. With everything and with this, many of the games that we install in Windows, first of all update this latest version of DirectX by themselves.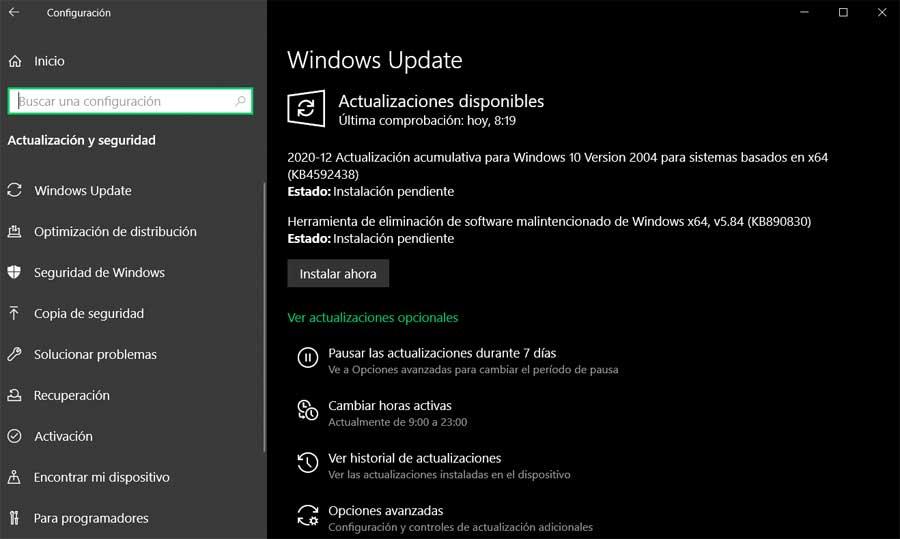 But this is not the only method that we can use in this regard. We tell you this because if necessary, we can also download and install the latest version of DirectX by hand. That way we will have the latest version in Windows without updating the system as such. For this that we tell you, all we have to do is access the following link from the browser.
Then we just have to download Microsoft's DirectX through the wizard that we will see after clicking on the Download button . This downloads the corresponding executable to the computer, so once downloaded we put it, execute it and follow the steps indicated to be able to have the latest version installed on our PC in a simple way.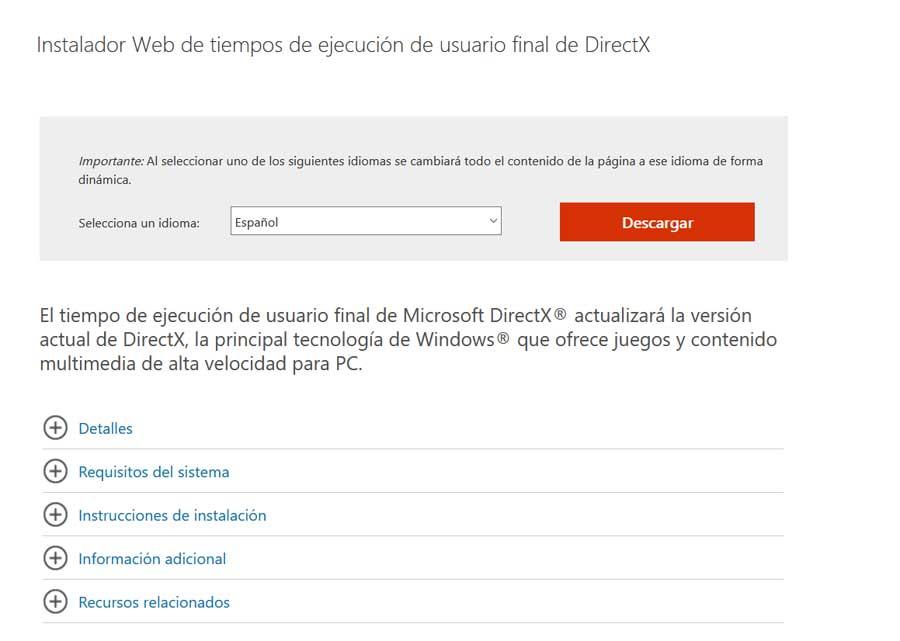 Something that we must bear in mind is that the manual installation process of this element may take a few minutes. In addition, the most recent version downloaded will ignore the versions already installed previously in order to update the system in this regard. Therefore, as you can see, updating an element of the importance of DirectX in Windows, is something that Microsoft facilitates us to a great extent.