Windows
Try new versions of windows before anyone else from insider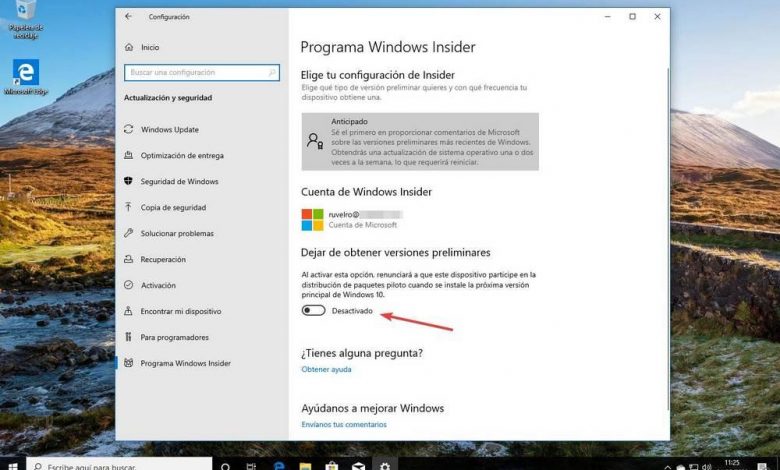 Most Windows users are used to testing the final versions of the operating system. Be it the new releases or the updates that, every 6 months, reach our computer. However, Microsoft offers users an optional and completely free program through which anyone can try the latest in Windows before anyone else and help Microsoft debug and improve the operating system. This program is known as "Insider."
The Windows Insider program is an optional group of users who agree to receive updates to the operating system during its development phase in order to test the news that Microsoft prepares before anyone else.
To join this group of users, all we need is a Microsoft account and a genuine Windows license. Anyone can sign up for it and start receiving the experimental updates on their PC, although the target audience for this plan is enthusiasts, professional users, programmers and IT departments of companies, so that everyone can guarantee that their programs and infrastructures run smoothly with new versions of the operating system.
Advantages and disadvantages
Microsoft works on new versions of its operating system months in advance. You may even be working on a second update with almost a year to spare, before you have released the closest one. This has happened several times. For example, Microsoft started working on the 2004 version of Windows in April 2019, even before the May 2019 Update was released.
The Insider Windows versions allow us to test new features and improvements before anybody else. Even many times we can have access to experimental characteristics that, after a while, disappear. Insider users, for example, are among the few who have been able to try Tabs, the Windows 10 file explorer tabs.
However, these "beta" versions of Windows often have experiments that impair the proper functioning of the computer and can cause our PC to go bad. In addition, these versions often have bugs and errors that end up impairing the operating system experience. Windows can be slow, freeze, or have all kinds of problems. Something that in certain environments (for example, to work) we cannot allow.
Although it may be appealing to many users, this experimental update program is not really for everyone.
Different Insider levels
Insider rings (old)
Microsoft offered users different rings within the Insider program, and depending on which one we chose, we would receive one or the other versions:
Anticipated (Fast Ring) : this ring is the most common and used by users who sign up for the Windows 10 Insider program. This is the first to get the new versions of Windows 10 updates. Generally, it usually receives updates every week . Users enrolled in this ring are the first to try Windows news, but they are also the most exposed to problems, since the builds that are released within this ring are the most unstable and will make us run into more than one error. critical or blue screen.
Delayed (Slow Ring) : This ring receives updates much slower than the fast ring, but all versions it receives are more stable. Users enrolled in this program receive new builds of Windows 10 every several weeks, and since the builds have already gone through the fast ring, they are more stable. The Slow Ring can also hide faults, although to a lesser extent.
Release Preview – This ring is designed to allow users to receive new preview versions of Windows applications, cumulative updates, and Windows drivers. Also, when Windows updates are close to the RTM, this ring allows users to update the computer before anyone else. The Release Preview is the most stable ring of all, and the one that is updated less frequently. Users who want to prepare their computers before anyone else, with the least probability of experiencing problems, should opt for this ring.
There was also an additional Insider ring, called "Skip Ahead" and focused on making the leap to the new versions before anyone else. However, this ring is no longer available, Microsoft removed it from the possibilities by being considered much more unstable than the others.
Insider Channels (new)
Since June 2020, Microsoft wanted to simplify the Insider program as much as possible so as not to cause confusion among users. And for this, it changed the classic rings that it had been using since 2015 for the new "channels", much more similar to the development channels of any other software.
Thus, the different Insider levels that Microsoft offers us right now are as follows:
Channel Dev (Dev Channel) : the equivalent to the "anticipated ring", or "Fast Ring". This is the first to get the new versions of the operating system, the most advanced. Recommended for advanced users, it is the one that allows us to access before anyone else all the news of the operating system. And it is the most unstable, since it will surely have errors that can range from a malfunction of a function to not letting us use the PC.
Beta Channel (Beta Channel) : the equivalent of the «slow ring» or «Slow Ring». Recommended for users who want to update before others and do not mind having a few small glitches in exchange for being able to enjoy the news before anyone else. User reviews carry a lot of weight in this ring, and updates are validated and controlled by Microsoft to be as stable as possible. But we must assume that there are going to be bugs.
Release Preview Channel : Equivalent to the "Release Preview Ring". Designed for those users who want stability and a version validated by Microsoft. It is almost equivalent to the RTM. This channel also allows us to receive cumulative and quality updates before anyone else in order to validate its correct operation. And also download and install experimental drivers through Windows Update.
What level to choose?
The Insider level that we want to choose depends on each one. For example, if we are adventurous users and want to test the news before anyone else, regardless of stability, we can choose the Dev level. We recommend this channel only on a test computer, or on a virtual machine.
If we want to test the new features of Windows before anyone else, but with less tolerance for errors, then the beta channel is the one that best suits our needs. We will receive fewer updates to Windows 10, and these will be much more stable.
Finally, if we only want to go one step ahead of the others, but without errors, it is better to choose the version preview. We will receive the new versions of Windows a few weeks before the others, and in the meantime, our PC will only receive some experimental patches. The likelihood of something going wrong is far less (but it still exists).
How to join the Insider group
To join the Windows Insider program, what we must do is have our operating system updated, activated with a license and with a Microsoft account linked to the PC.
If we meet these requirements, what we must do is open the Configuration menu of the operating system, scroll to the section " Update and security> Windows Insider Program " and within this section we will click on "Start".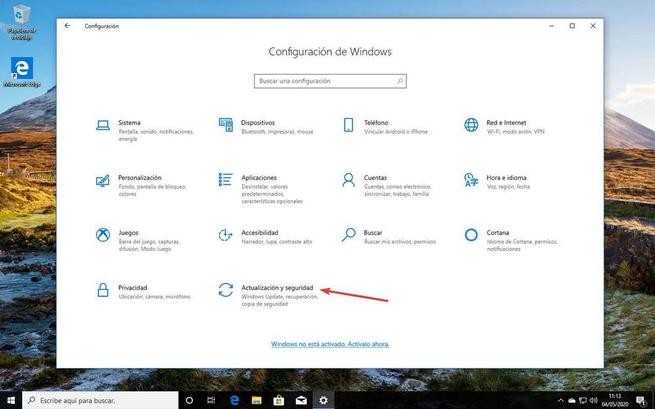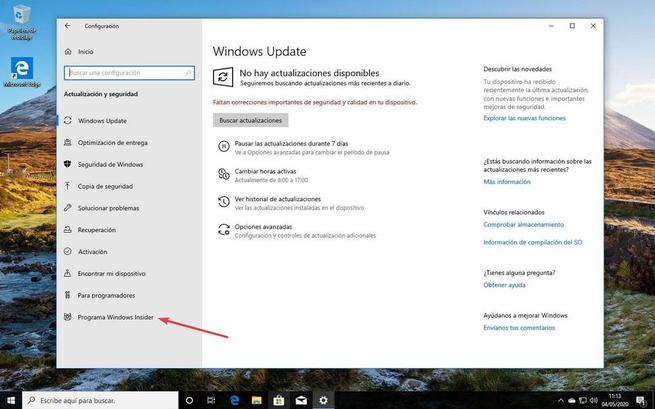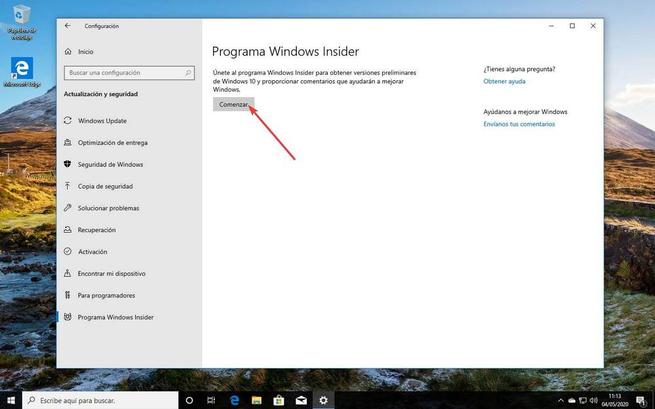 A simple wizard will appear through which we will join this program. We will have to choose the Microsoft user account that we want to be linked to the Insider program, the level, ring, or channel, to which we want to join and after a few seconds we will have to restart the computer.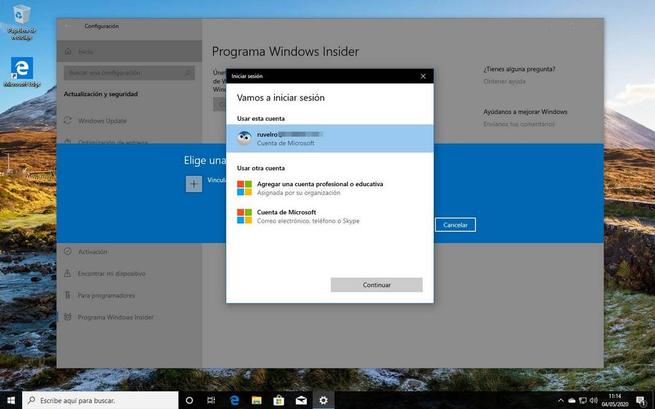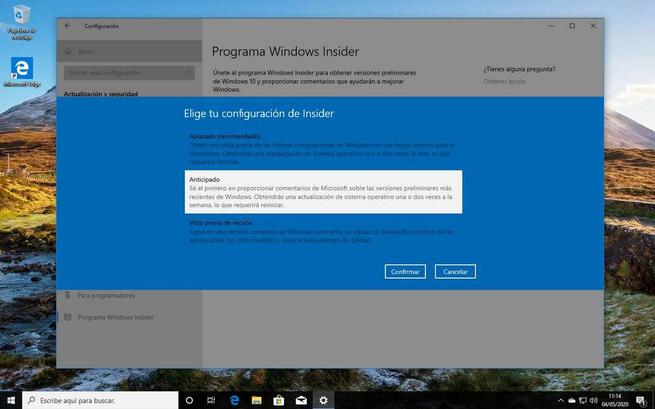 When the process is finished, and the PC reboots, our Windows 10 will already be joined to the Insider program, and will be ready to receive the builds through Windows Update.
How to check for and download preliminary updates
Once we are signed up to the Insider channel, and our computer has restarted, we can start receiving the preliminary versions corresponding to the selected channel.
All we have to do is open the Windows 10 Settings menu, go to the Update and security section, and look for new updates in Windows Update. We can see that a build will appear in the list of updates to download. This will be the new preview version of Windows 10.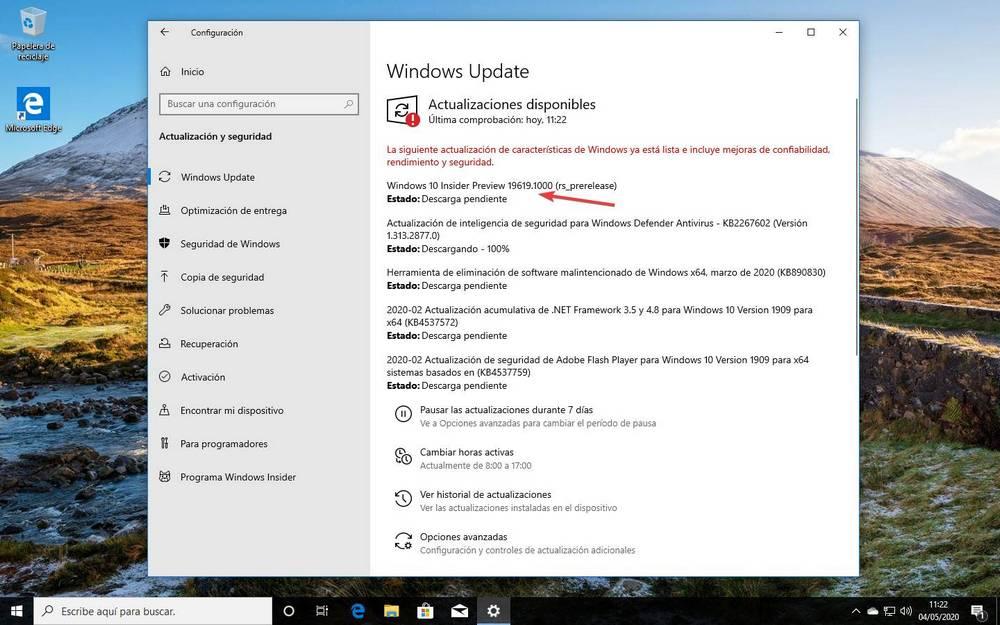 The Insider versions are usually quite heavy (they are not delta updates; the entire operating system is downloaded) and the installation usually takes a long time. Therefore, it is advisable to make sure we have time ahead when we go to install this new version.
How to change the channel
If at any time we want to change the Insider channel in which we participate, we can easily do so by returning to the Settings menu> Update and security> Windows Insider program, and selecting the "Choose your Insider settings" section.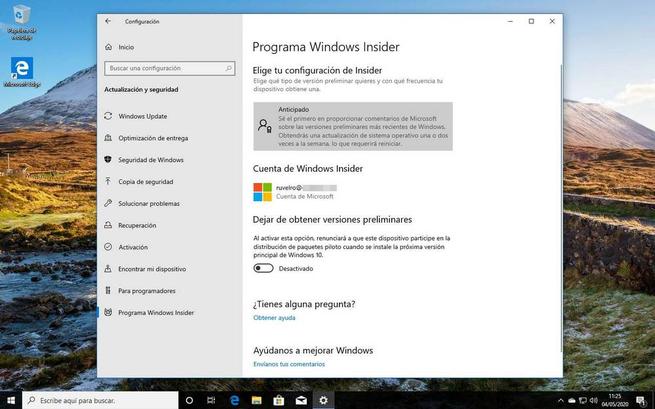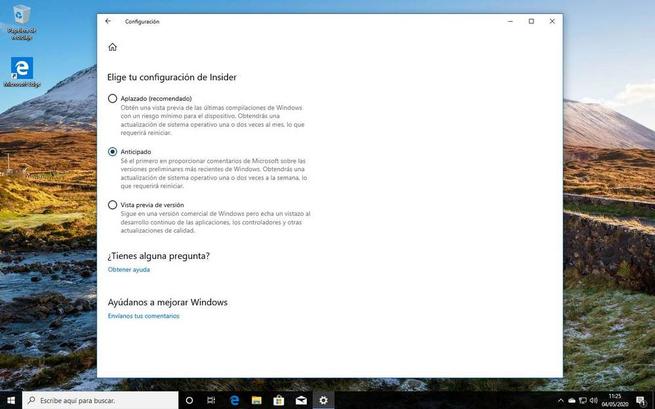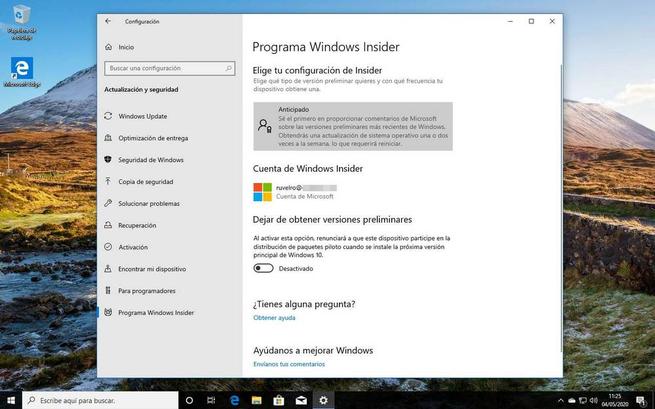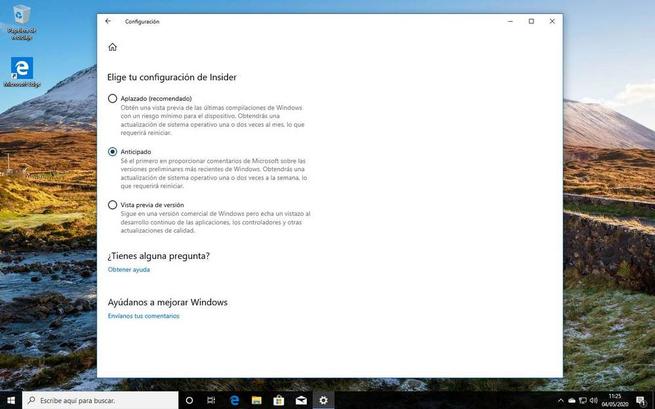 We can change the channel at any time, although we must bear in mind that there will be no regression. That is, you can never install a build prior to the one we have installed. If we are in the Dev channel and we go to Beta, we will have to wait for a new deferred build that is newer than the one we currently have installed.
How to stop being an Insider and go back to normal updates
There may come a time when we get tired of prerelease versions of Windows and all its problems. When this happens, what we will have to do is leave the Insider program to return to the branch of normal Windows updates.
We can do this in several ways. The first, and not recommended, is to use an installation USB to install the latest stable version of Windows manually. The second, the one offered by Microsoft, is to go to the section " Settings> Update and security> Windows Insider program " and check the box " Stop getting preliminary versions ".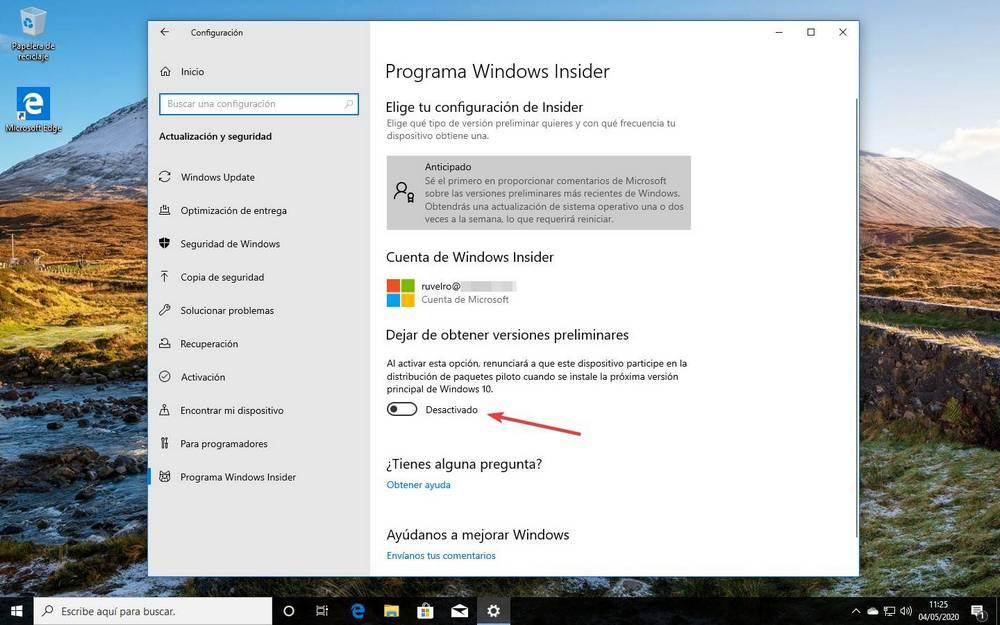 To avoid problems, what Windows 10 does with this option is to wait for the Insider versions to be the same as the versions that reach all users (that is, when the launch phase is reached) and when this happens it will be abandoned for I complete the Insider program.
From now on, we will only receive stable updates again through Windows Update.