Windows
Tricks to reduce the use of data and internet in windows 10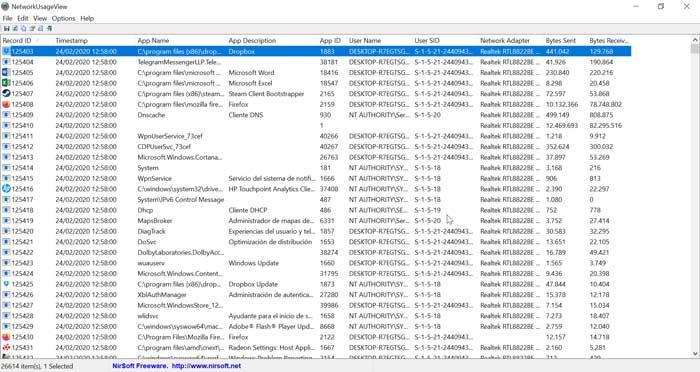 As most of you know first-hand, the Internet in these times helps us a lot, since it is present in a large part of the tasks we carry out with our computer on a day-to-day basis. In fact, having a PC with Windows 10 connected helps us get much more performance from the computer in general terms.
But of course, despite the advantages we have thanks to this Internet connection, this has a cost. One of the reasons is that Windows 10 is a very demanding operating system with the data it consumes. Therefore, in the event that we have a limited data plan or simply have certain limitations when using this connection, it can be very useful to reduce the amount of data consumed by the operating system.
That is why below we are going to show you a series of steps to follow in order to reduce this data consumption by Windows 10. To say that all this can be of enormous use to us in certain controlled environments. This includes some jobs or offices, and even study centers.
Convert your connection to metered usage
If what we are looking for is that Windows 10 consumes less data than it normally uses, we can always make the Internet connection measured. And it is that in that case, the Windows computer suspends some activities that consume data. This is included as the automatic download of updates, both system and applications, and some other functions that consume in the background.
Therefore, for this we access the Configuration application through the Win + I key combination and select the Network and Internet option . Next we click on the Properties button, within the Status section. It will be then when we find the selector that interests us in this case. Thus, we will only have to locate the section of Connection of medium use, which by default was deactivated, so we change its status.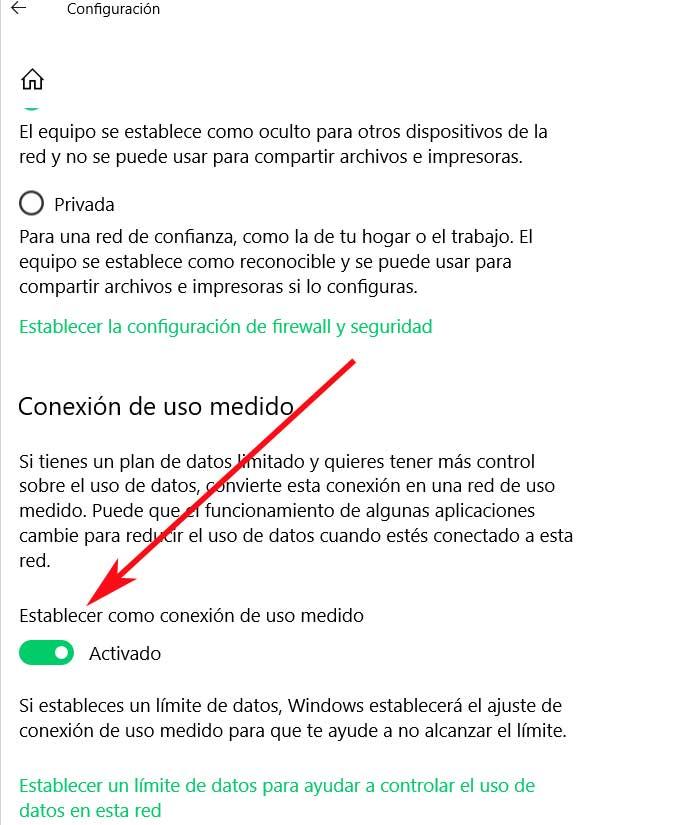 Limit Windows 10 online data usage
Another very useful solution to reduce this data consumption by the system is establishing an amount of data that we want to use on the PC. In this way, what we achieve is to establish a data limit, for example weekly in order to have control of the data consumption of the equipment. For all this, we again access the Windows Configuration application as we saw previously.
We go back to the Network and Internet section and in Status we click on the Use of data button. In the new window that appears, we can click on Specify limit to customize this.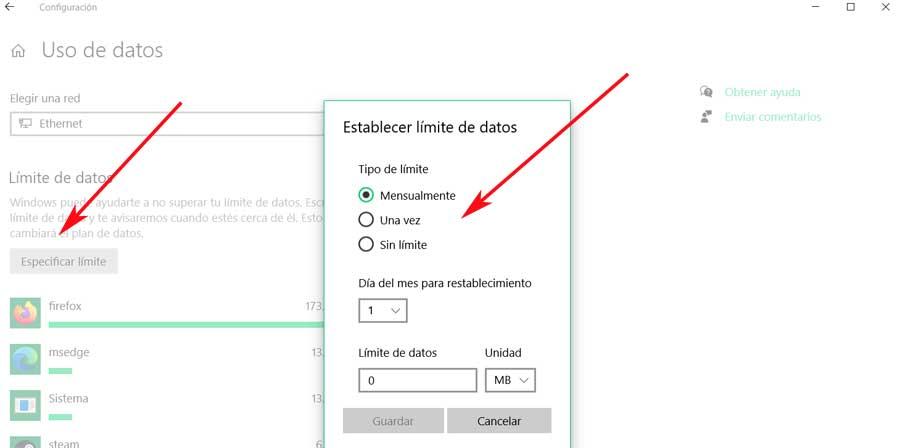 In fact, we are going to find a window in which we can customize both the time of the limitation, as well as the data that we are going to use in megabytes or in gigabytes. Thus, when the established limit is reached, your computer warns us, so we can readjust it.
But that's not all in this sense, but we can also do something similar with the consumption of data from apps that work in the background. And it is that by default, the Windows 10 operating system allows some applications to run in the background even when they are closed and we do not use them. Some of these applications not only consume bandwidth, but also drain your computer's battery. Therefore we can limit the use of data in this sense as only deactivate the applications in the background
To do this we open Settings and in this case we go to Privacy, where in the section on the left we look for the option Applications in the background. Therefore, in the window that appears, we can deactivate the control that says Allow applications to run in the background.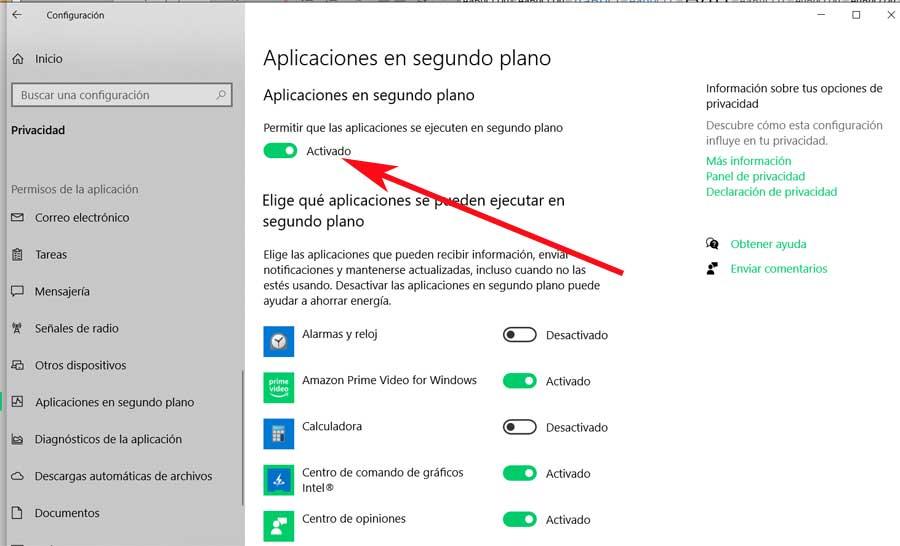 Alternatively we can also deactivate the applications one by one in order to further customize this section.
Manage updates to save data in Windows
Another move we can make is to disable the automatic update of the Microsoft Store. You have to know that by default the applications installed from the operating system store are configured to update automatically. This is done as soon as a new version is available. Thus, this is something that has its advantages, although as you can imagine, they also consume a lot of data from our Internet connection.
Therefore, to avoid it, the first thing we do is start the Microsoft Store on the Windows PC. Once we are in the official store of the system, we click on the menu button that is represented by three dots in the upper right corner. Next we select the Configuration option, where we can deactivate the option to Update applications automatically.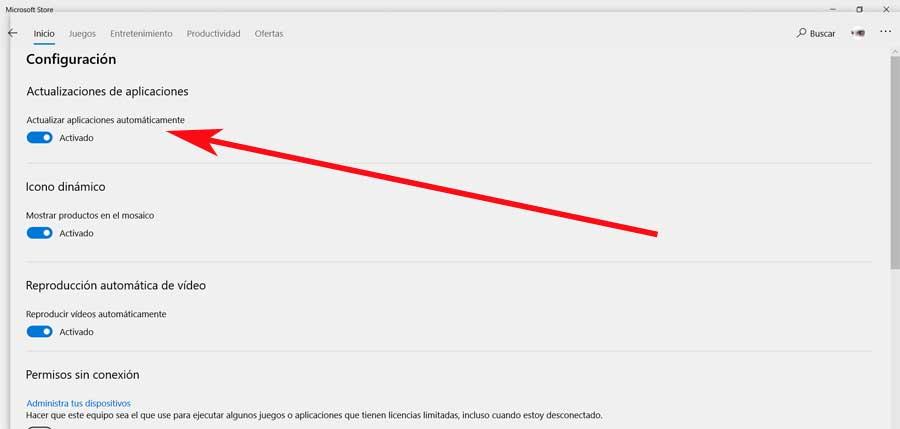 That's when it comes to system UWP apps , but to save data it's also important that we properly manage Windows updates. It is true that in the beginning they correct errors and help the team work better. However some of these updates are huge in size. That is why if at any given time we need to save data, a good way to reduce this use is to pause updates for later.
This is something that we are going to achieve again by going to the Configuration application of the operating system. Then we open the Update and security section, where we click on the Advanced options link.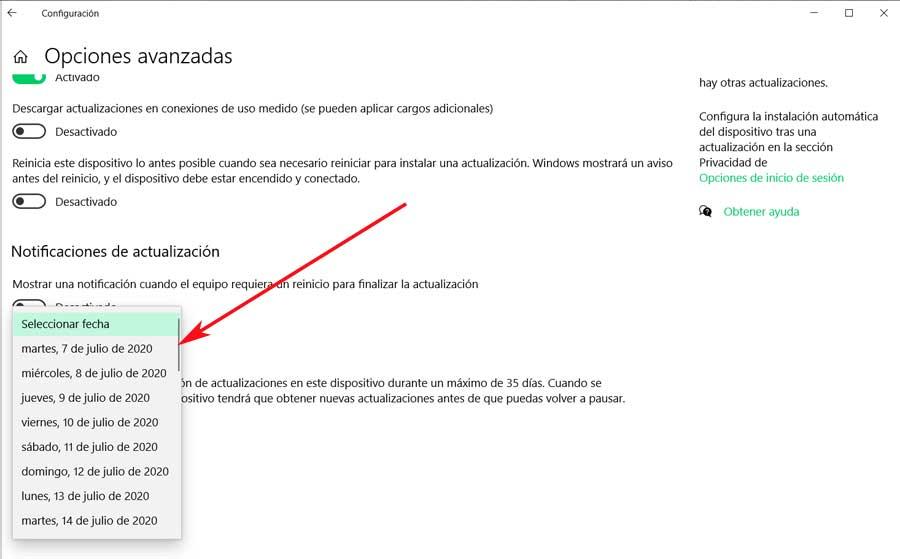 Therefore, as we see here, we will already have the opportunity to establish a specific date until which the computer will stop updating the operating system. In this way, what we achieve is to postpone the arrival of these elements that consume so much data in most cases.
Turn off account data syncing
When you log in with your Microsoft account on your PC, the Windows 10 operating system synchronizes the data corresponding to the configuration of the computer, among other things. This action is carried out with other computers where we have signed in with the same Microsoft account. While this is a very useful feature in some cases, it consumes a lot of data and we may not always need it running. In this way, what we can do is deactivate this configuration and activate it only when we need to synchronize with other computers.
Thus, we go to Settings as we have done before, and in this case we select the Accounts / Get access to work or school section. Therefore, the computers where we use this same account will appear here, so that we can deactivate data synchronization.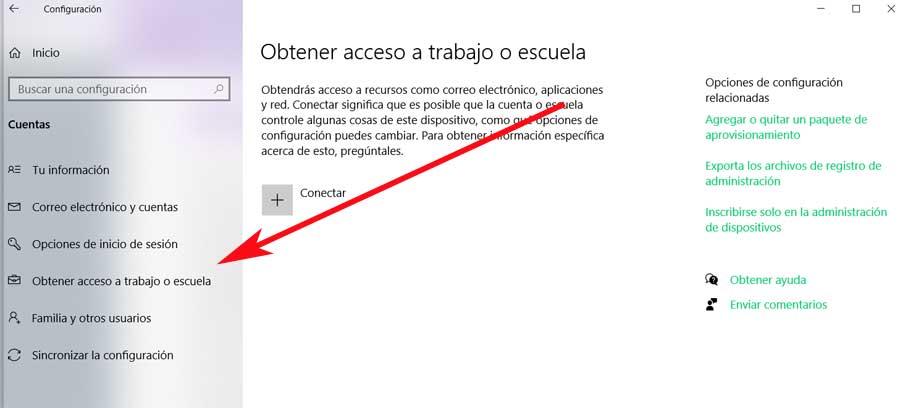 Applications to limit data usage
When it comes to reducing our use of the Internet, it is also possible to use third-party software that will allow us to monitor our Internet connection and check how our applications use it. In this way, it will be possible to establish maximum consumption to prevent any application from spending more account data, or to give priority to one program or another when downloading.
NetLimiter
One of the most popular applications that will allow us to control all the traffic of our Internet connection in NetLimiter. It has a good variety of options to choose from, starting from the possibility of monitoring and optimizing all the traffic of our connection. From there it allows us to act accordingly. For example, it allows us to set speed limits for upload and download transfers or block the connection to an application in case we do not want it to connect to the Internet.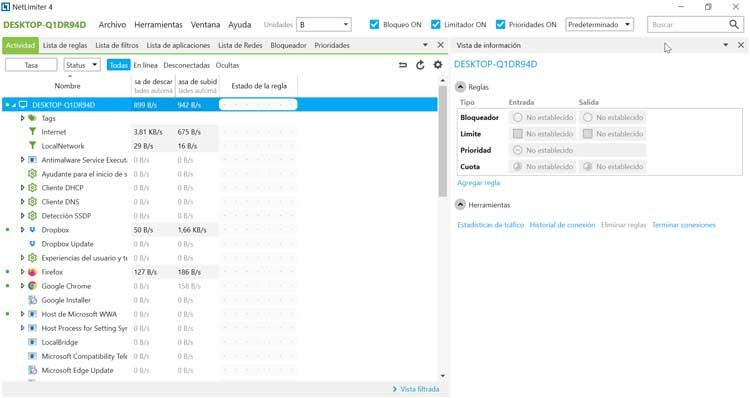 Given the wide number of options available, it is software especially for advanced users who need to have total control of their connection and the programs that are used. Its main drawback is that we are talking about paid software that can be purchased from $ 19.95. However, we can always download its free 28-day trial version from its website, and check if it really suits what we need.
NetworkUsageView
In the event that we are not about to drop a euro, we can choose to try a free application such as NetworkUsageView. In addition, it is portable software, so it does not require any type of installation. It will only be necessary to double click on its executable file to launch the program, and it will allow us to use it from external storage devices on any PC. This useful tool will be in charge of monitoring our Internet connection to provide us with all its usage data.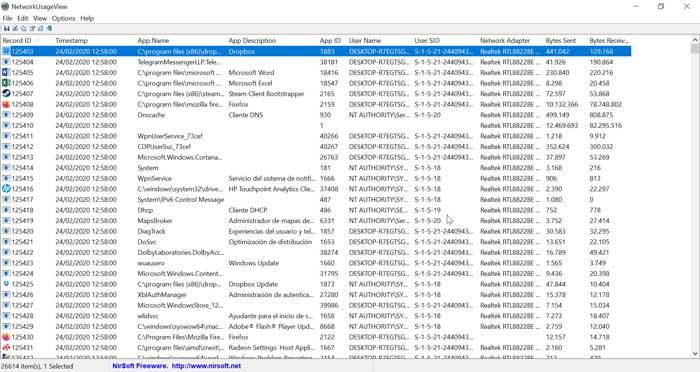 It does this by providing a detailed breakdown of all the programs that connect to the Internet. In this way we can know at all times which one is consuming the most. Within this breakdown it shows us the name and description of the application, the network adapter, the total byte consumption and the registration time. If we are interested in checking how NetworkUsageView works, we can download it by accessing this link.