Windows
Tired of windows 10 advertising? Disable all easily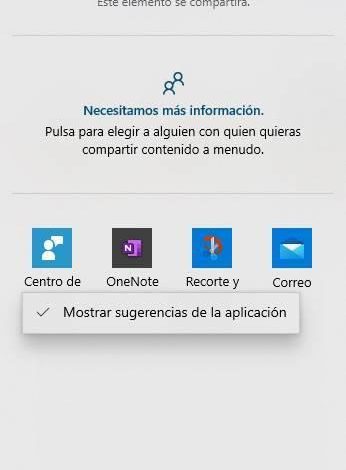 There are many things in Windows 10 that users do not like: poor performance, bugs and errors, problems updating, spying … but, above all, advertising. Despite being a paid operating system (and not cheap, since its license can cost more than 200 euros), Microsoft takes advantage of its position to show all kinds of ads, both its own (Office, Edge, etc.) and third parties ( apps installed without permission, banners, etc.), throughout the operating system. And, although by default this system comes like this, users can deactivate almost all these ads. We show you how.
Unfortunately, Windows 10 does not have a universal button that allows us to remove all advertisements from the system with one click. To do this, we have to go point by point, through all kinds of Settings menus, disabling each of these ads by hand.
Next we will tell you where ads and advertising can appear in Windows 10 and how to easily disable it. These changes do not affect the operating system (so we will not have problems updating) and are reversible at any time.
Remove ads from the start menu
One of the parts where Windows 10 shows us ads and advertising is the start menu. After its removal in Windows 8, Microsoft brought it back in Windows 10 with a more revamped, more modular look, more designed for advertising. In the start menu we can find both promoted apps and games. And even with Xbox related products.
To deactivate this, what we must do is go to the Windows 10 Settings menu, in the "Personalization> Start" section. Here we must uncheck the "Show suggestions occasionally" box.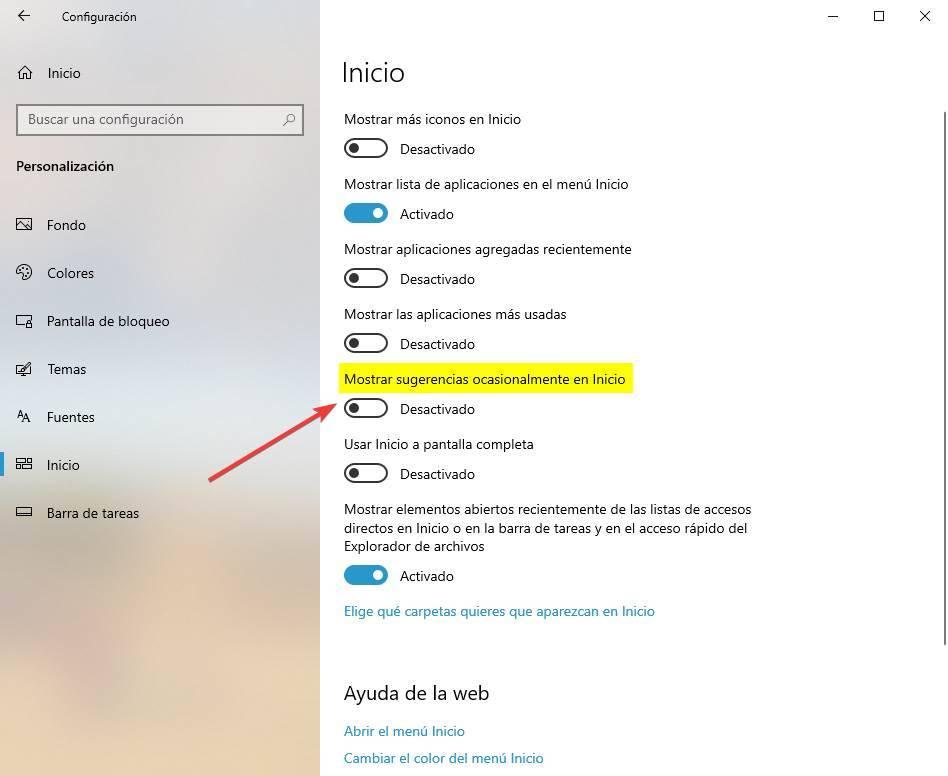 Ready, we will no longer see these types of ads.
Disable and remove Live Tiles
In addition to these apps, Microsoft also takes advantage of its renewed start menu, specifically the Live Tiles section, to show us other types of ads. The store, the mail app, the news or the Xbox app are often docked by default in this section. And not only do we have to endure seeing the icon, but being "Live" we will see how its content constantly changes with different recommendations.
There is no universal way to prevent these apps from appearing. But it is true that they are only anchored by default, and that, once removed, they will no longer come out.
If we right-click on one of these apps, we can see two options that interest us. The first one will allow us to unpin the icon, to remove it from this section. And the second, will allow us to keep the icon, but deactivate the animations.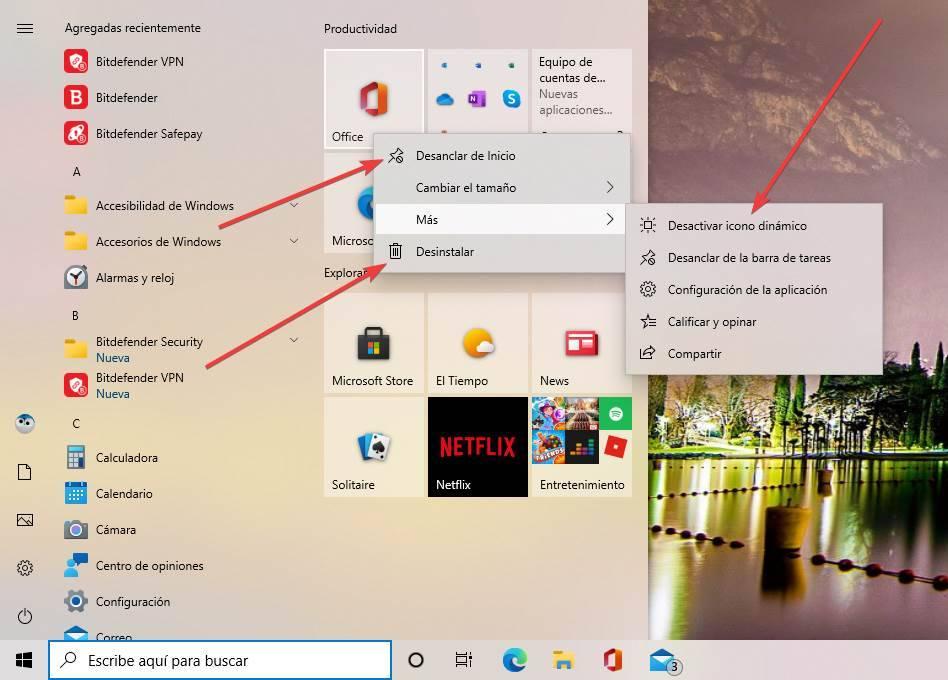 We will also have the possibility of uninstalling these apps if we are not interested in having them on the PC, although we will talk about that later.
Turn off taskbar suggestions
The task bar is very useful to have all our programs at hand. However, Microsoft is unsurprisingly leveraging it for its own product recommendations as well. Specifically, Microsoft uses this bar to show Edge ads in which it reports that it is a faster browser, that it uses less battery and even that we can earn Xbox Points with it.
We can disable these features from the Settings> System> Notifications and actions section. Here we must deactivate the option «Get tips, advice and recommendations while using Windows».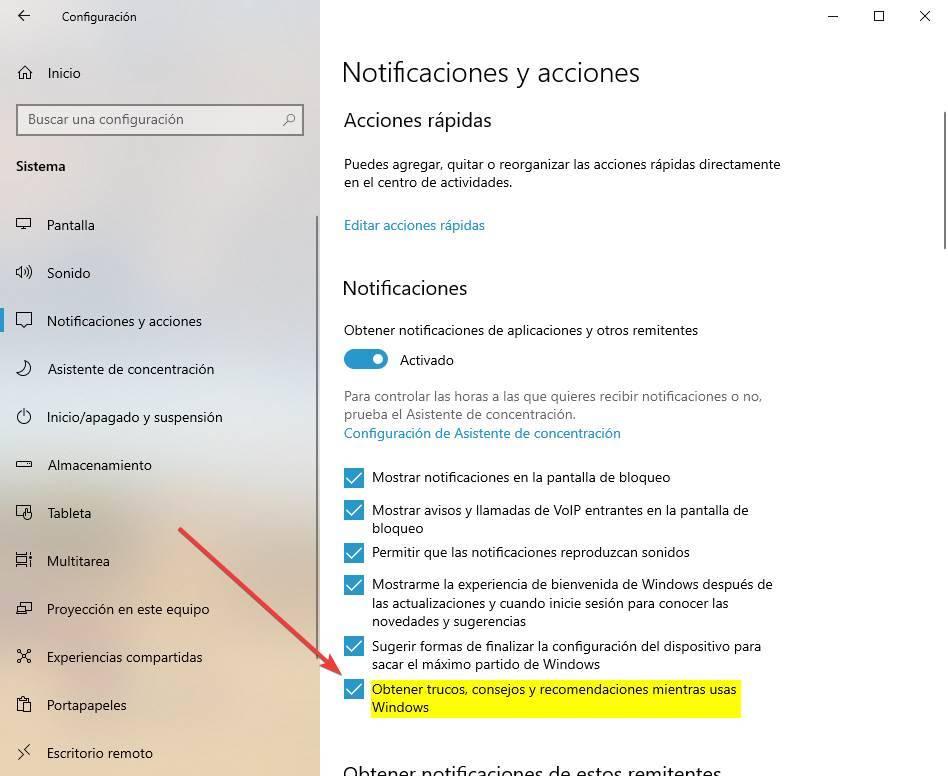 Thus, Microsoft will not show us these pop-ups again while we are using Windows.
Mute Cortana advertising in Windows 10
Cortana, as unhelpful as hated. Especially in Spain, where the possibilities it offers us are very limited, nothing to do with the United States. Surely we have been using the computer at some time and we have seen how the Cortana icon has started to move. That is, if he hasn't suddenly started talking to us.
The ideal would be to disable Cortana completely if we do not use the assistant. But if what we want is that it does not bother us in this way, we can easily deactivate it from the assistant options, removing the tracks from the program. Of course, if we have the new Cortana, we will not have to do anything, since we have almost no configuration options. Instead, it won't bother us.
Hide Windows 10 Lock Screen Advertising
The Windows lock screen has become a very useful function, since, while we have the computer locked, we will be able to see certain information of interest. Even with Spotlight, we can see beautiful photos of Microsoft in high quality. However, the company has used this lock screen more than once to display its own ads, especially for games promoted from the Microsoft Store.
Microsoft hasn't used the lock screen to display ads for quite some time. But if we want to prevent it from happening again in the future, what we must do is deactivate Spotlight on the lock screen, and use a custom still image for this screen.
We can do this from the Settings panel, within Personalization> Lock screen. We will change the "Windows Featured Content" option to image or presentation. And we must also disable the option "Show curious data, recommendations and much more of Windows and Cortana on the lock screen."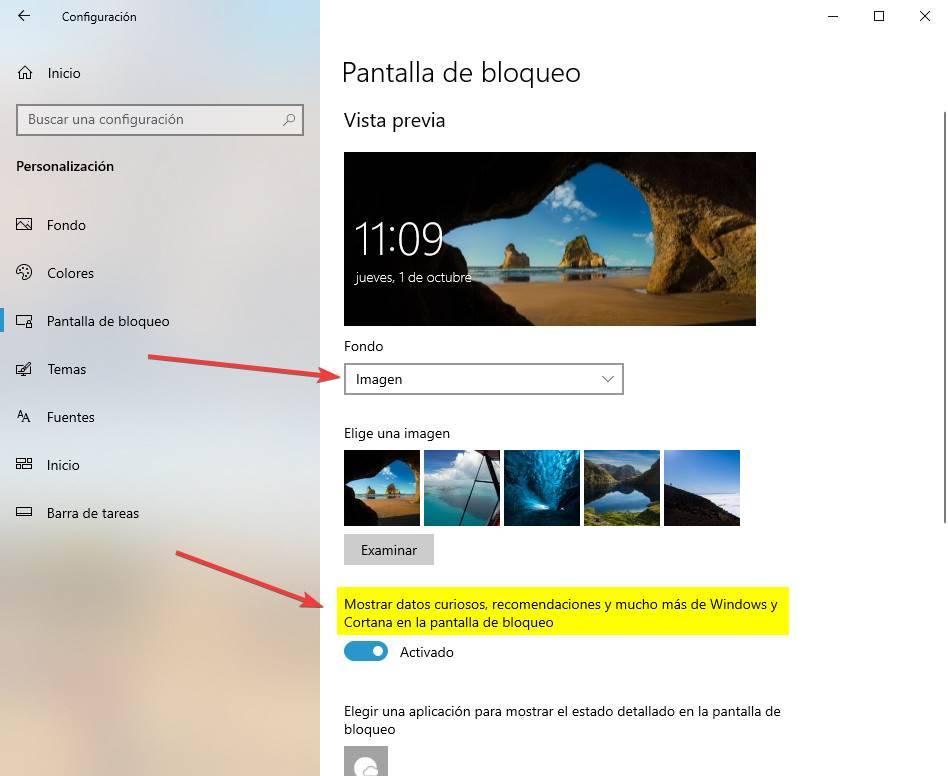 Block notifications with ads in Windows 10
Since Windows 10 Creators Update, Microsoft has introduced what is known as " Tips" into the operating system . These suggestions appear in the form of notifications and recommend us to use programs or services, and how to perform some tasks in Windows. Suggestions appear on the screen for a few seconds, and then go to the notification center, where they stay until we discard them. A very annoying feature, as it is always based on Microsoft product recommendations.
We can disable these suggestions from the Windows Settings menu. We go into the System> Notifications section, and uncheck the option "Show me the Windows welcome experience after updates and when I log in to find out what's new and suggestions."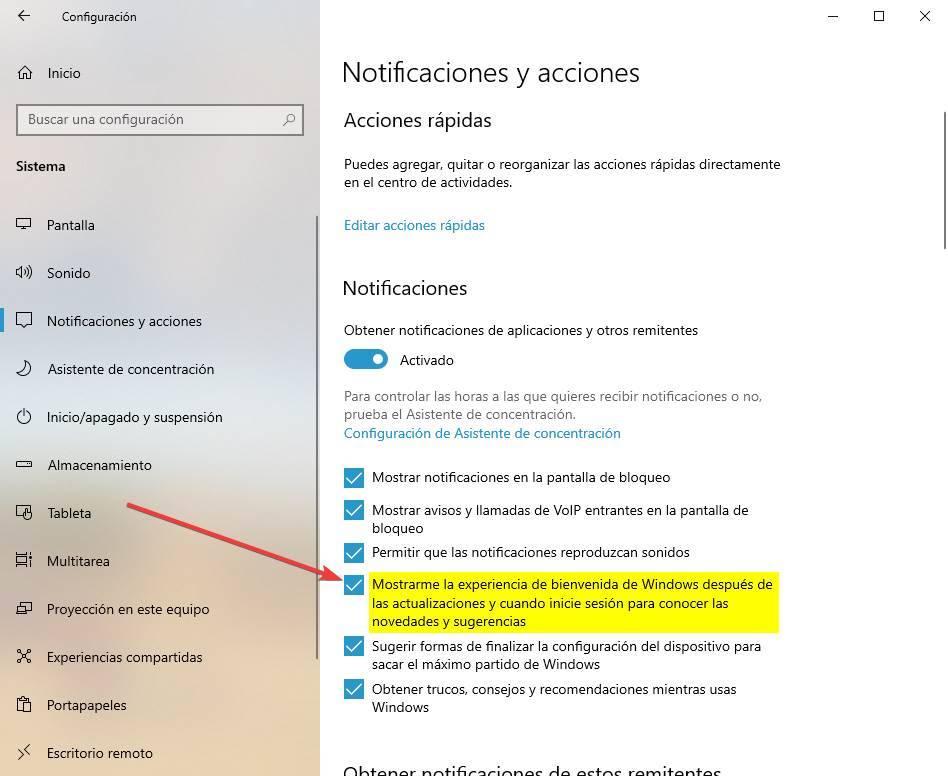 After doing so, we will not see these suggestions again.
Remove advertising notifications from Windows File Explorer
We may have ever come across a banner about OneDrive, or about Office 365, within Windows' own file explorer. We can disable these notifications without problems from the File Explorer options panel to avoid these recommendations.
To do this, what we must do is select the "View" tab of the Ribbon bar of the program interface. We open the "Options" section, choose the "View" tab and here we must look for the option "Show notifications from the synchronization provider".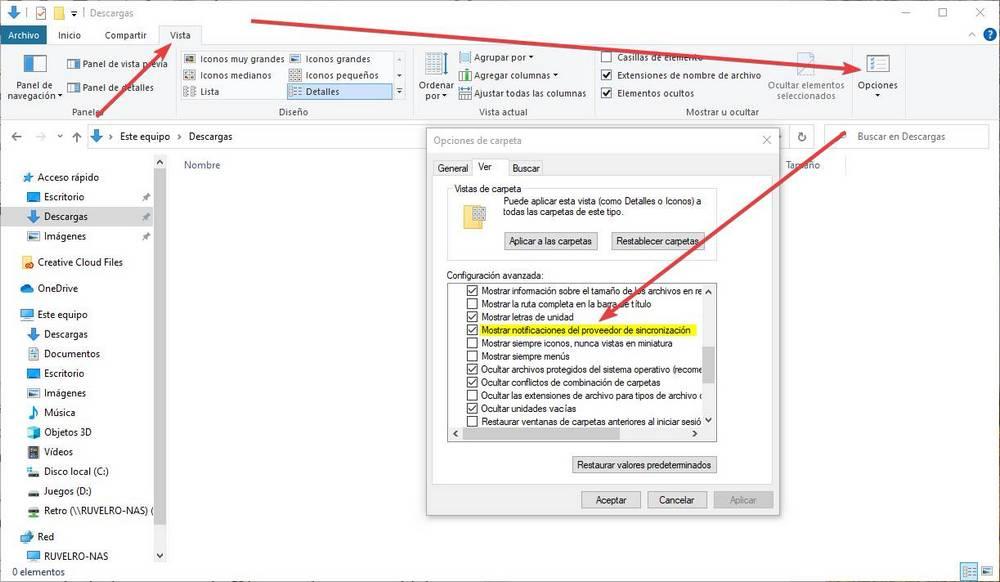 We deactivate this box, apply the changes and that's it. These banners will no longer appear to us in Windows 10.
Hide Windows Ink suggestions when typing
If we use Windows with a digital pen, Microsoft will recommend programs from the Microsoft Store with which we can take full advantage of it. These apps, of course, are sponsored, and if we don't want to see them, we can deactivate them. To do this, we simply go to the "Devices> Pencil and Windows Ink" section and uncheck the box to show recommended apps and suggestions here.
This option will only appear if we have a pencil connected to the PC.
Get rid of the Windows "Get Office" advertising app
One of the apps that are installed by default along with Windows 10, and which is usually reinstalled automatically with each update, is " Get Office ". This app allows us to buy and download Office from Windows 10. Specifically, a subscription to Office 365. Of course, at least it offers us a totally free trial month so that, if we have never used Office before, we can know if we like it .
That this app appears in the start menu is the least of the problems. The bad comes when it begins to show us notifications. Therefore, we have two options. The first one, in the "System> Notifications and actions" section, we must choose that the Get Office app does not have permissions.
We can also uninstall it directly and get rid of all the problems at once. We can do this by right-clicking on the app in the start menu, and choosing the uninstall option.
And uninstall all the pre-installed apps that don't interest you
Get Office isn't the only pre-installed Windows 10 app, unfortunately. The Microsoft operating system comes with a large number of apps from the Microsoft Store installed as standard. Especially when the computer is new, since the manufacturer installs others besides those of Windows.
All these apps are part of the Windows consumer experience, even if it seems that their main objective is to spoil this experience.
Windows 10 Enterprise users can disable these apps from the settings. But all the others (Home and Pro) the only thing they can do is uninstall them. We can do this from the Settings, in the Applications> Applications and features section, removing them one by one, or by clicking on them in the start menu as we come across them.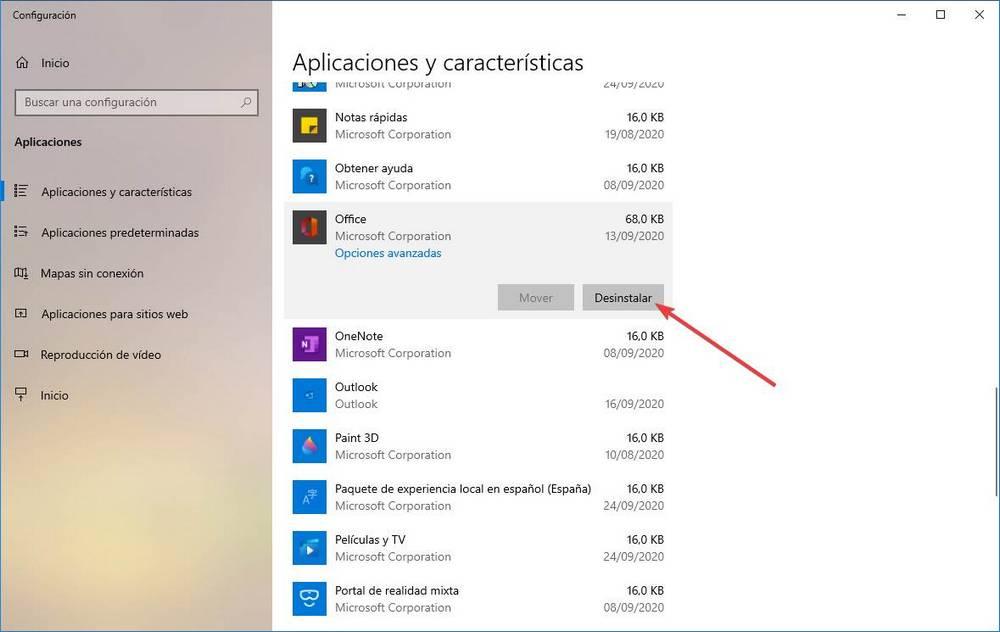 Remove suggestions and announcements from the sharing panel
Sharing files in Windows 10 is easier than ever. Just right-click on any file, choose the "Share" option and a window will appear from which we can choose how we want to share it. This window will recommend a series of programs through which we can share the file. The first ones will be programs that we have already installed, and the others will be other recommended programs.
If we right-click on these programs, we will be able to see an option that will allow us to activate or deactivate the application recommendations.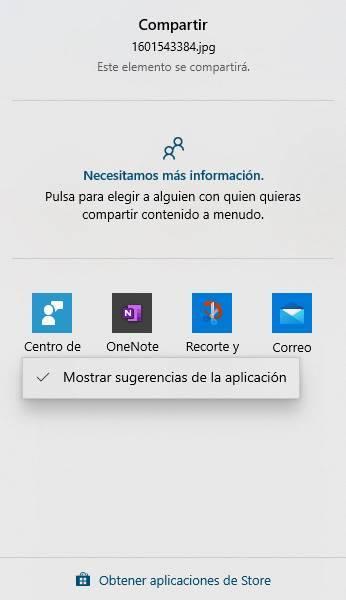 We deactivate and that's it. These messages will no longer appear to us.
Cleaner, ad-free Windows 10 equals better performance and privacy
With these steps we will have managed to eliminate practically all the advertising of Windows 10 without altering the system and without making modifications that may give us problems. As we have seen, everything has been from the Windows configuration itself, and each of the options that we have deactivated can be reactivated.
Windows 10 should no longer show us any more tips, advertisements, or advertisements. In none of the sections of the operating system. At least until the next semi-annual update. Microsoft takes advantage of these updates to roll back some of the user settings "by mistake," so after each new version is installed, it is recommended that you review these options to make sure they have not been changed again.
Now Windows 10 has no ads anymore. And this translates into higher performance, by not having to process unnecessary content, and, above all, to greater privacy.