Windows
This option allows to improve the performance of the gpu in windows 10
It is nothing new that Microsoft is striving to turn Windows 10 into an operating system that allows users to get the most out of games. In addition to the "Game Mode", the "Game Bar", the Xbox functions included in the operating system and its Game Pass and the Microsoft Store, with the arrival of Windows 10 May 2020 Update, the operating system has released a new feature as part of DirectX 12 Ultimate that will reduce latency and improve gaming performance. This is GPU Scheduling, something that will most likely be very interesting for you.
GPU Scheduling, or " Hardware Accelerated GPU Scheduling " is a new feature introduced in Windows 10 to further improve gaming performance. What this function does is allow the GPU to manage its memory instead of delegating this task to the operating system. In this way, when activated, users will achieve higher performance and lower latency. And this translates to more FPS and fluidity in games.
Requirements to improve graphics in Windows
By default, this feature is disabled for users for compatibility reasons, since in order to use it we must meet a series of requirements. Something we must know is that the PC with which we work every day is made up of a good number of hardware components . The set is what really achieves that we can get the most out of the operating system and the applications that we install here. In this sense, we are talking about the PC's CPU, RAM, disk drives, etc. And something that under no circumstances can we ignore, is the GPU.
This in fact is an element that becomes especially important if we have to do graphic work with the computer, or we want to play with latest generation titles.
First of all, in order to use this function, it is necessary to have updated our computer to Windows 10 May 2020 Update. This feature is not available in pre-2004 versions of Windows 10 and therefore we will not be able to activate it.
In addition, it is necessary to have an NVIDIA graphics card that supports this feature, since the graphics integrated in the CPU, for example, are not. Of course, we must also make sure we have updated graphics drivers. The support for GPU Scheduling was introduced with version 451.48 drivers of GeForce Game Ready. This new version of the drivers can be downloaded from here, or from the GeForce Experience panel if it is installed.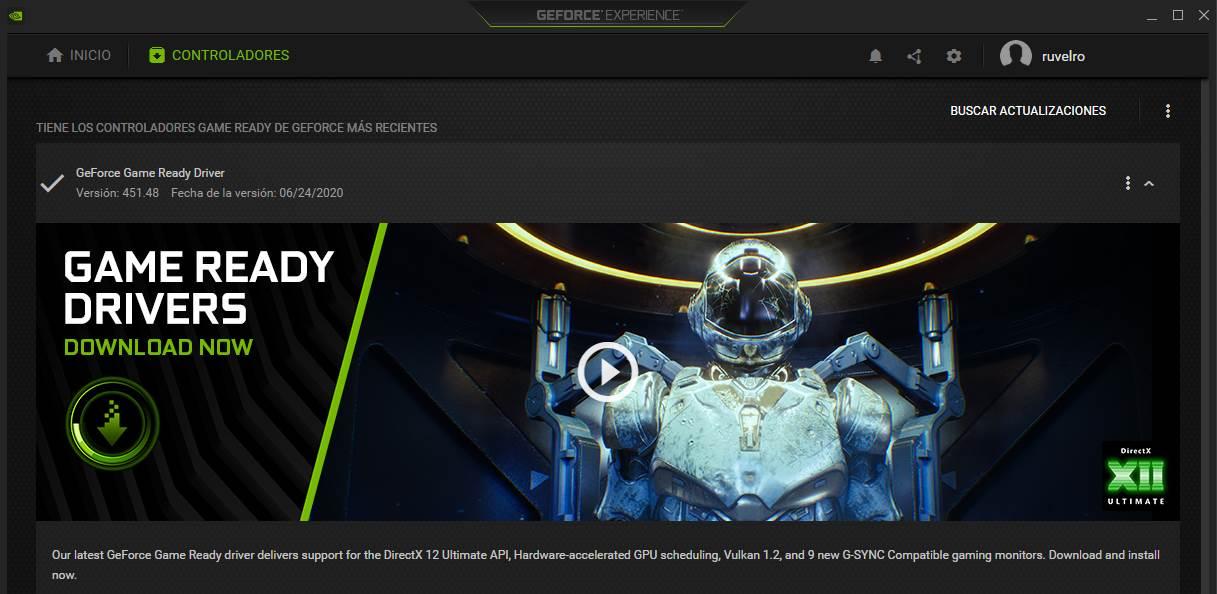 If we comply with the above, we can now enable this new option.
Enable Hardware Accelerated GPU Scheduling
To activate this function, what we must do is open the Windows 10 Settings menu (we can do it with the Windows + I keyboard shortcut), and within it we will go to the "System" > "Screen" section. And within the screen options we will look at the bottom for the section « Graphics settings».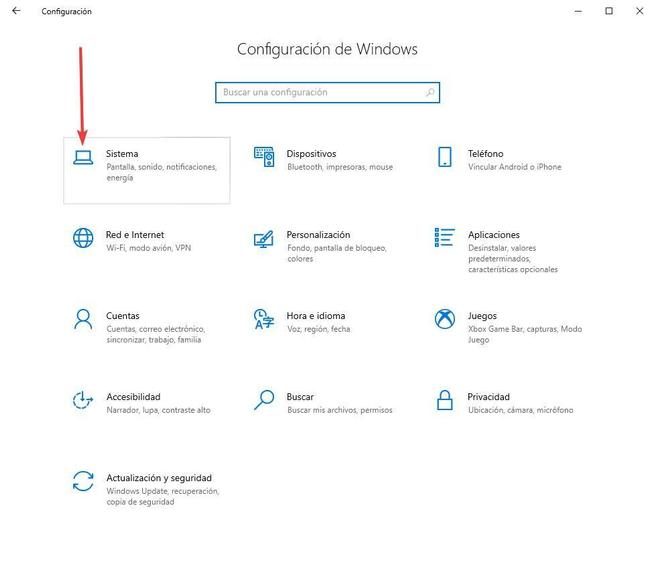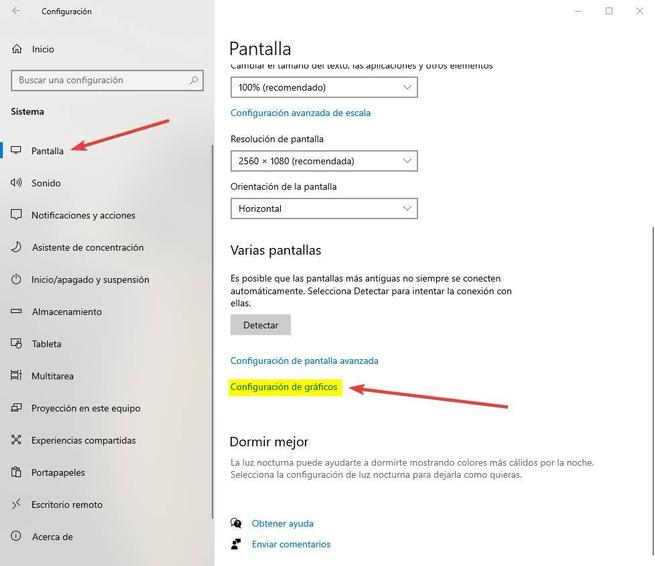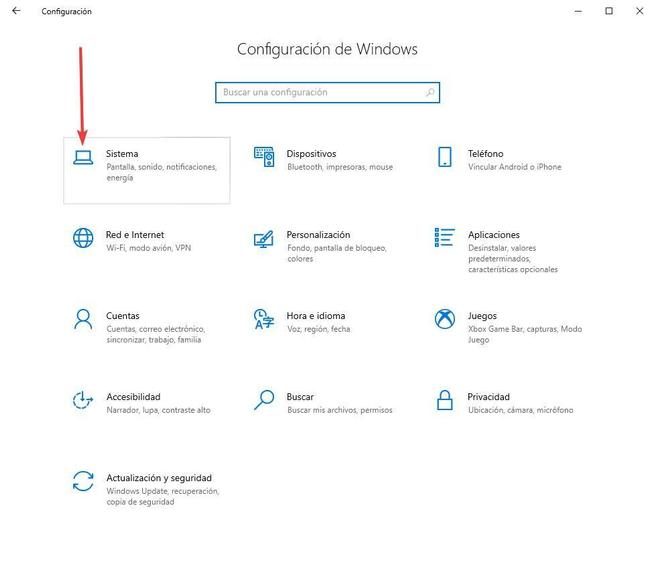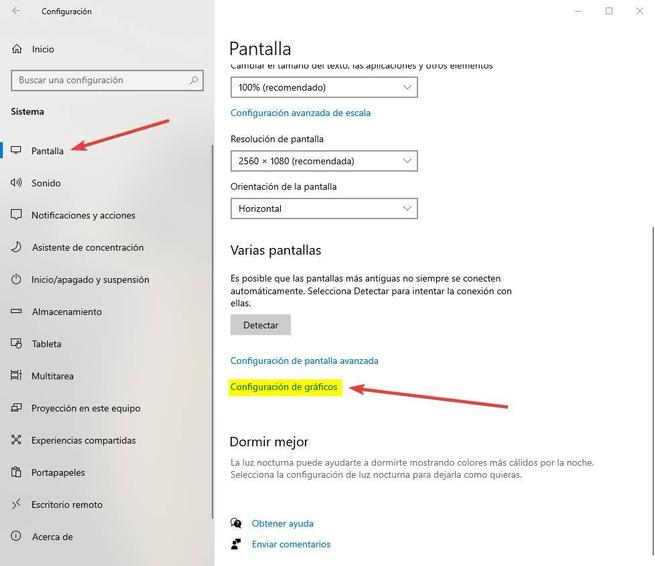 We enter this section, and we can see a configuration screen like the one below. The section that interests us is that of " Hardware accelerated GPU programming ", which has a switch that, as we will see, is off.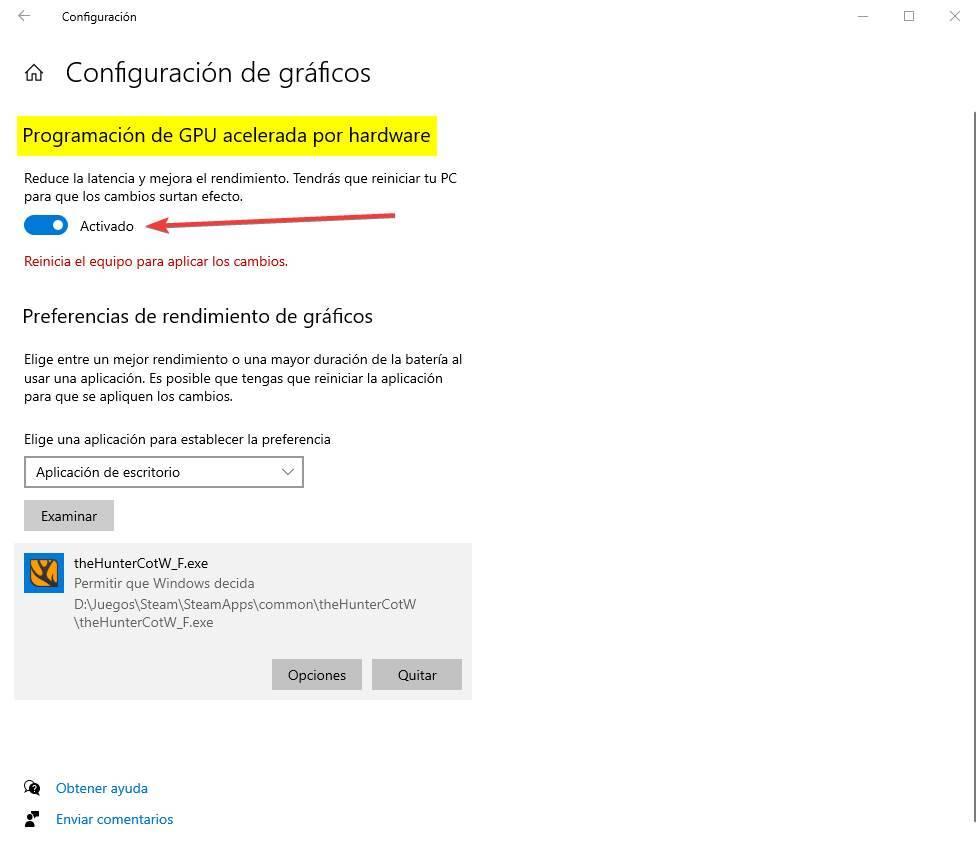 We must click on this switch to turn it on and that's it. This new feature will start working after restarting the computer. We will not have to do anything else to greatly improve the graphics of our Windows computer.
Performance issues? So you can disable GPU scheduling
At first, this feature is designed so that all Windows 10 users can take full advantage of their default graphics card, without having to configure more than activate this function. However, some users claim that after activating GPU Scheduling, gaming performance has dropped, and some titles, such as GTA V, experience significant FPS drops.
In case of experiencing these problems, it will be enough to return to the same section where we have activated this feature and uncheck its switch. After restarting the computer, the hardware accelerated GPU scheduling will be disabled, and the GPU memory management will work as it always has, eradicating any problems that could have appeared as a result of activating it.
Other benefits of DirectX 12 Ultimate
In addition to being able to activate GPU Scheduling, the new DirectX 12 Ultimate brings a large number of improvements related to gaming performance. The first of these is DirectX Raytracing 1.1, a new API for Ray Tracing that includes new capabilities for ray tracing beyond NVIDIA graphics. Thanks to this, all users will be able to benefit from this impressive visual improvement without having to depend on a specific hardware as it happens until now. All that is required is for developers to implement this API within games.
In addition, the ray tracing of DirectX 12 Ultimate is much more efficient than the current one, and offers extraordinary quality.
The " Variable Rate Shading " has also been included . The Shaders are in charge of telling the system what the color, brightness and contrast of each pixel should be. This implies a tremendous computational cost (and therefore a loss of performance). Thanks to this technology, only the shaders will be used for the most important objects in the game, using intelligent algorithms to color the rest of the secondary elements (for example, the trees). The user will not notice a difference, but he will gain performance.
Another similar feature is the new Mesh Shaders API , which uses smart algorithms to build more detailed and dynamic worlds much more efficiently. Primary objects will have much more detail, while secondary objects will have fewer polygons, making the GPU better maintain high FPS without sacrificing quality.
And, finally, a new Sampler Feedback system has also been included , similar to the previous ones, which allows to improve the visual quality of the games, reduce loading times and have much less stuttering by reusing colors and objects already generated and working in a way much more efficient.
The new DirectX 12 Ultimate is available for Windows 10 May 2020 Update (and future versions) and for the new Xbox Series X. Therefore, all this can give us a more than approximate idea of ​​everything that these new graphic libraries are going to offer us. on our Windows PC.
How to Take Advantage of DXDiag.exe
It may also be the case that the performance of the GPU that we have in the computer is not as expected, due to a problem in DirectX. For this, the operating system itself presents us with a powerful integrated diagnostic tool called DXDiag.exe. To give us an idea, here we refer to a functionality that collects information from certain multimedia devices on the PC. It also helps us to find solutions to audio and video problems in DirectX libraries in Windows.
Therefore, if the performance of the computer's GPU is not as expected, this can help us. To say that all this is especially evident among those users who usually use the computer to play or watch videos. Thus, to access all this that we are commenting on, the first thing we must do is launch the execution box using the Win + R key combination. Once this element appears, we can type DxDiag.exe so that, after a few seconds, the tool appears on the screen.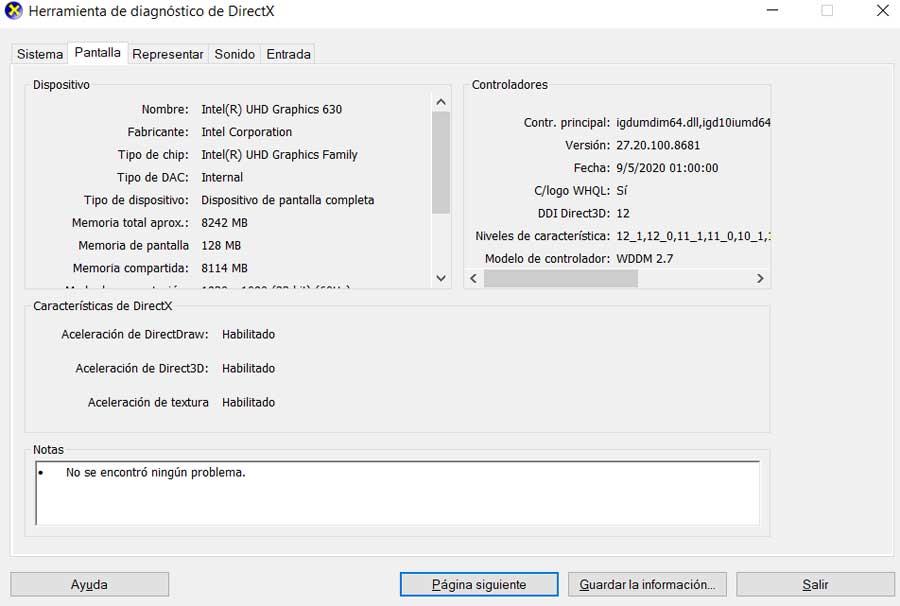 Then we will only have to move between the tabs that it proposes to us to see if there is any failure related to the graphical section of the system. Something that we must take into account in this regard is that this is a powerful graphical functionality that is integrated into Windows, and that it can be of enormous help to us. We say this mainly for two reasons, which are precisely those that give the value to DxDiag.exe.
On the one hand, we find all the enormous amount of interesting information that it offers us. This is distributed among the different tabs that we find in the upper part of the program's interface. Here we will see a good amount of internal data related to multi-media sections of the importance of graphics and sound. But that's not all, but on the other hand, the internal analyzes that the functionality carries out by itself in this regard are also more than remarkable. These will help us to detect first-hand the possible problems or incompatibilities that are occurring in the graphic or sound system.