Windows
This is how you update the cortana assistant much fast in windows 10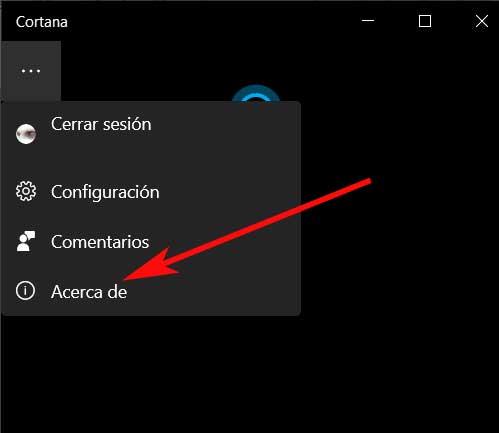 There are more and more voice assistants that we can use on a multitude of devices, both mobile and desktop. In addition, we can also use independent smart speakers to control a multitude of products even related to home automation. And Microsoft in Windows 10 could not be less, hence we have had Cortana for a long time.
Thanks to these voice- controlled assistants , among other methods, we have access to a huge amount of information. Therefore, the most used desktop operating system in the world such as Windows 10, could not be left behind in this regard.
What is Cortana and how does it help us in Windows 10
First of all, what we should know is that the Cortana assistant is found integrated by default in the Redmond system itself. Of course, we can use the assistant, or not, depending on our needs or preferences. Therefore, when we talk about Cortana, we are actually referring to Microsoft's personal assistant that helps us, from the point of view of the firm, to save time when we work with the computer. This largely thanks to the functions that it has integrated and that we can use.
It is worth mentioning that this is an element that we initially find in the system's task bar. Therefore, in order to start the wizard as such, we only have to click on the aforementioned icon.

In the event that you do not see the icon to which we refer, it is possible that you have it hidden. To be able to view it and use this element, you just have to right-click on the taskbar and select the Show Cortana button option. At that moment the corresponding button will appear next to the Windows search box, to the left of the bar itself.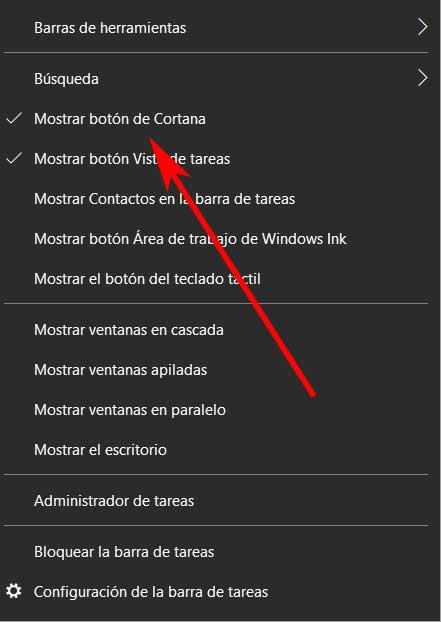 It is possible that at the same time you have to enter the credentials of the account with which you want to use Cortana. Normally we will use the same one that we use in the operating system. If at first we are not quite sure what to say, ask the assistant what you can do to give us some examples. It should also be noted that we can interact with this element both through the keyboard and the PC microphone.
For all this, or we write what we want to ask in the bottom bar of Cortana, or we activate the microphone with the button that is located next to it. This method will be much more useful and comfortable for us to use the wizard.
Things we can do with Cortana on Windows
To give us an idea, we are going to show you some of the things that we can do with the wizard integrated into Windows. Thus, once we have Cortana active and running, among many other things we will achieve that the Windows functionality manages the calendar and keeps us informed about the day's schedule. We will also have the possibility, for example, to join a meeting in Microsoft Teams from here, or know who the next virtual meeting is with.
On the other hand, it should be mentioned that we will also have the possibility of creating and managing task lists or configuring notifications and alarms. In addition, as we mentioned before, all this if we wish we can carry it out directly with our voice. And how could it be otherwise, as with mobile assistants, here we can also search for definitions and information of all kinds. What's more, in Windows we even have the ability to open applications on the computer through Cortana.
Update Cortana manually
As with most of the applications we use on Windows, Cortana needs to be updated from time to time. Let's talk about UWP or Win32 applications , all programs will update. Whether to fix bugs, install new features, or just for security, these updates are very important. Until now we could carry out this that we told you from the official Windows store, the Microsoft Store, but it is no longer necessary.

We tell you all this because Cortana in Windows 10 version 2004 or later, already allows us to update this element manually. We are going to achieve all this without the need to open the Microsoft store as we mentioned before. Therefore, from now on, every time Microsoft releases a new version for the Windows Cortana application, we can install it directly. In this way we save having to do this check from the Microsoft Store as before.
With this, what we want to say is that if there is an update available for download, we can update Cortana manually from the App itself. Therefore, we are going to show you how to do it. First of all, we must also know that at this time the Cortana application in Windows 10 2004 is optional and can be uninstalled and reinstalled whenever we want. In the same way we can deactivate it if we are not going to use it for the moment. This is all thanks to the fact that Microsoft has made Cortana available to everyone in the operating system store.
How to update Cortana from the application itself
As you will surely know first-hand, installed Windows 10 UWP applications are automatically updated. This is something that takes place if we have enabled automatic updates in the Microsoft Store. But in this case we are going to see an alternative solution, at least for the case we are talking about here, Cortana. Therefore, the first thing we do for all this is to click on the Cortana icon located on the taskbar, as we saw before.
Then we click on the menu that is located in the upper left corner of its main interface. Thus, from the list of options that we find here, we select the About option.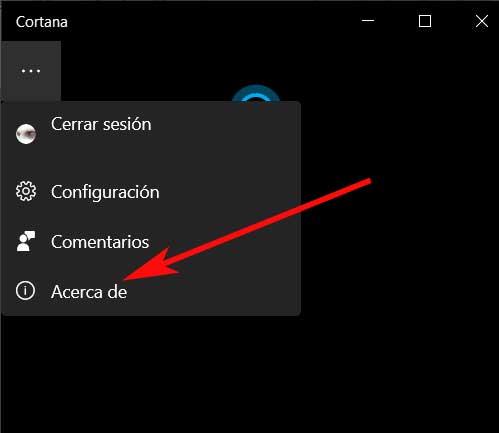 At that time the application automatically checks for available updates and notifies us when there is a new version to download. If so, it does not ask for a confirmation to download and install the new update and you are all set.