Windows
The new build of windows 10 arrives full of corrections (and new errors)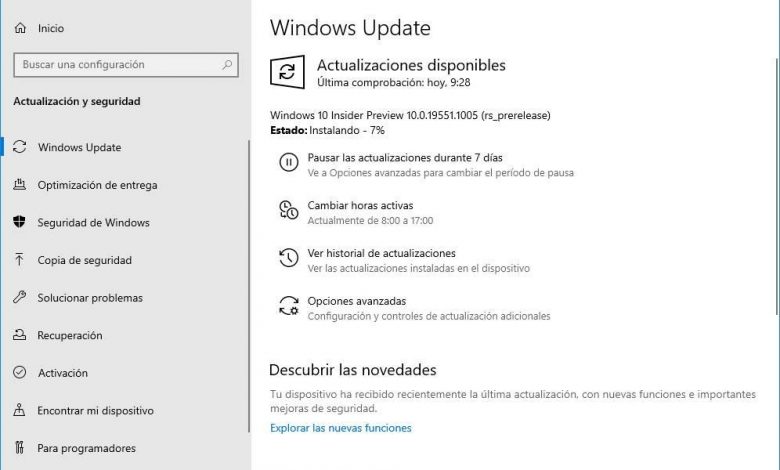 As every week, Microsoft has published a new build so that users enrolled in the company's Insider program can test the next improvements and news in Windows 10. The next Windows 10 update will be 20H1 and, apparently, it could already be in RTM phase. Although we will still have to wait two or three months to receive it on our computers through Windows Update. However, Microsoft does not rest in the development of its operating system, and for this reason a few hours ago it has released the new build 19551 that continues to shape this operating system.
Windows 10 20H1 is already in the RTM phase. This means that, in the absence of correcting some errors, the new version of the operating system would already be practically finished. So all the other news that have been seen since build 19041 would belong to 20H2.
According to the latest rumors, the second update of 2020 for Windows 10 will be a minor update, a Service Pack, similar to what Windows 10 19H2 has been . These updates are very fast and, far from bringing great news, they mainly focus on bug fixes and optimization of the operating system.
Continuing with the development of its operating system, Microsoft has released the new build 19551 for Windows 10, a new update that arrives full of corrections and, of course, a good portion of new errors.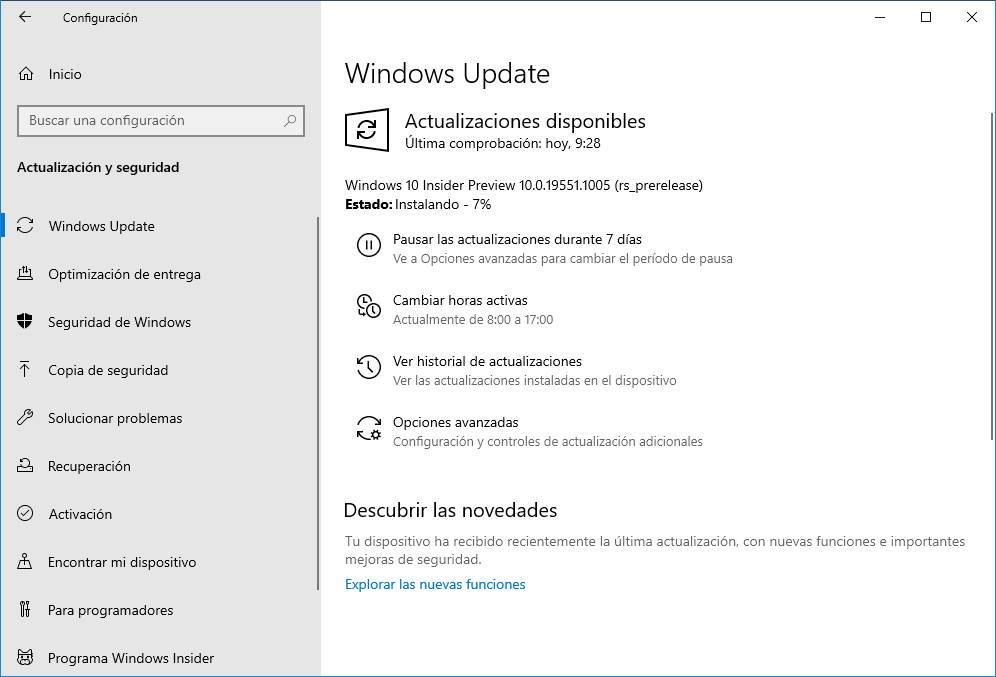 Bugs fixed in Windows 10 build 19551
Little by little, this operating system is becoming more refined. With each update, Microsoft takes the opportunity to fix some errors that can cause discomfort to users while using their operating systems, such as the following:
Fixed a bug that caused the clipping tool to not work on secondary monitors.
The Optimize Disks panel now shows the correct status of the PC drives.
Fixed a bug that caused RDP connections to hang when connecting multiple sessions.
Fixed a bug that blocked the Narrator tool when trying to read its news section,
Fixed a bug that made the language section of the Settings menu appear blank.
Fixed a bug that caused screenshots of reports generated with WIN + Shift + S pasted in Outlook to take up a lot of space.
Fixed more issues with IME keyboards.
Fixed a bug that left the "safely remove hardware" icon blank when using light themes.
Still unresolved bugs in the new update
Despite these corrected bugs, the new build of Windows 10 still carries a significant number of bugs and errors for months, bugs that, for now, have not yet been corrected. In addition, of course, to add new bugs and errors detected by users and the company's own engineers:
The BattlEye anti-cheat system is still not working.
Narrator, NVDA, and Edge are experiencing all kinds of compatibility issues.
Recovery of the PC from the cloud does not work correctly.
In some cases, Windows 10 update keeps crashing for a long time.
Various bugs prevent some users from updating their Insider builds (such as 0x8007042b and 0xc1900101).
The privacy section has a broken icon.
Some issues keep causing IME keyboards to malfunction.
Microsoft wants to revolutionize the way to update drivers and fulminates Project Catnip PWA
In addition to bug fixes and new bugs for Windows 10, Microsoft has taken advantage of the release of this new build to make two new announcements public.
The first of these is the end of Project Catnip PWA, the project that aimed to offer Insider experiences to users through PWAs. Due to technical limitations, Microsoft has not been able to carry out everything it had in mind, and therefore, it has finally decided to end this project to find other types of solutions.
The second of the announcements is that the company is still looking for a way to improve the experience when updating PC drivers through Windows Update. Until next March, the drivers will be marked as optional updates and users will have to download and install them manually.
It is clear that Windows 10 continues to take shape and evolve. Now we can only wait to be able to update to 20H1 and see if Microsoft brings any great news to the second update of 2020.