Windows
The biggest change comes to windows 10: so are its new icons

This week we have seen on several occasions how Microsoft has taken some steps towards the release of 21H1, the first, and small, update of this year for Windows 10. However, what it is putting all its resources now is in the launch of Windows 10 21H2, the second update that we will see this year and that will arrive full of changes, improvements and news. And the new build 21343 has allowed us to see part of this aesthetic change that in a few months we will be able to enjoy.
Little by little we are seeing how Windows 10 is changing. Sun Valley, the name given to the second update that will arrive this year, is going to mark a before and after in the system. This will inherit many of the aesthetic elements that we have already seen in Windows 10X, and will bring others to continue differentiating itself from the other versions and, above all, modernize.
What's new in Windows 10 build 21343
We have already seen in previous compilations how the operating system has been implementing some aesthetic changes, mainly inherited from Windows 10X. Now, the new build brings another of the biggest aesthetic changes to the system: a radical change in the icons of the explorer.
New icons
As soon as we install this new build 21343, the first thing that will catch our attention when opening the file explorer will be these new icons. Microsoft has radically changed the icons of the user's personal folders that appear anchored at the top, being now much easier to differentiate and more modern than before.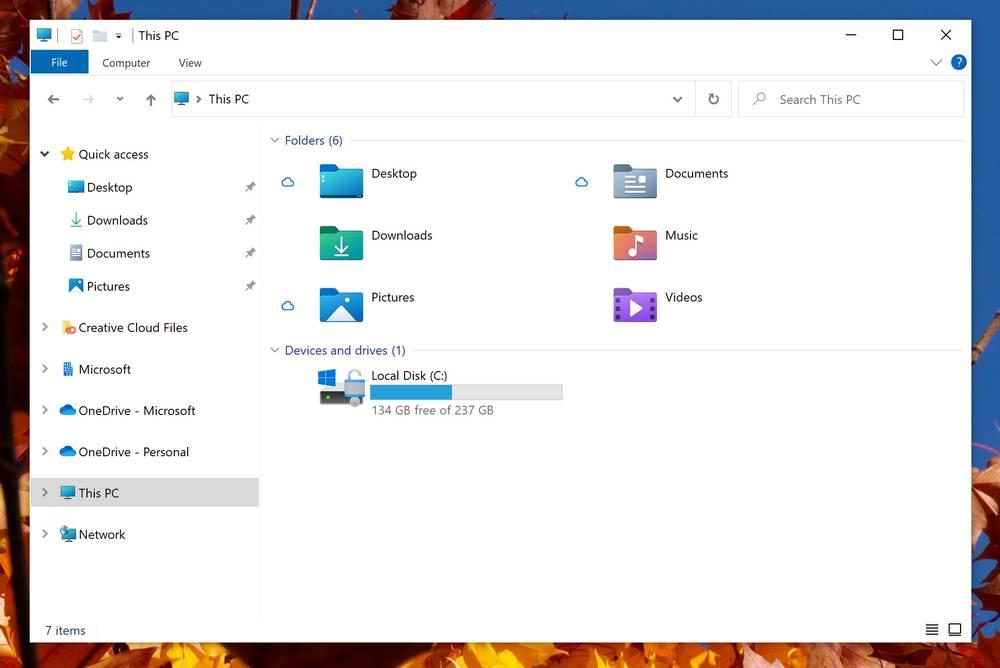 Not only has the aesthetics of the icons been changed , but their orientation has also been modified to be more consistent with the rest of the system. Now, the folders are seen from the front, and have an appearance generated from the fusion of other icons that are already part of the system. For example, the personal images folder is a mix between the OneDrive folder icon, the Fluent Design images icon, and the Fluent colors.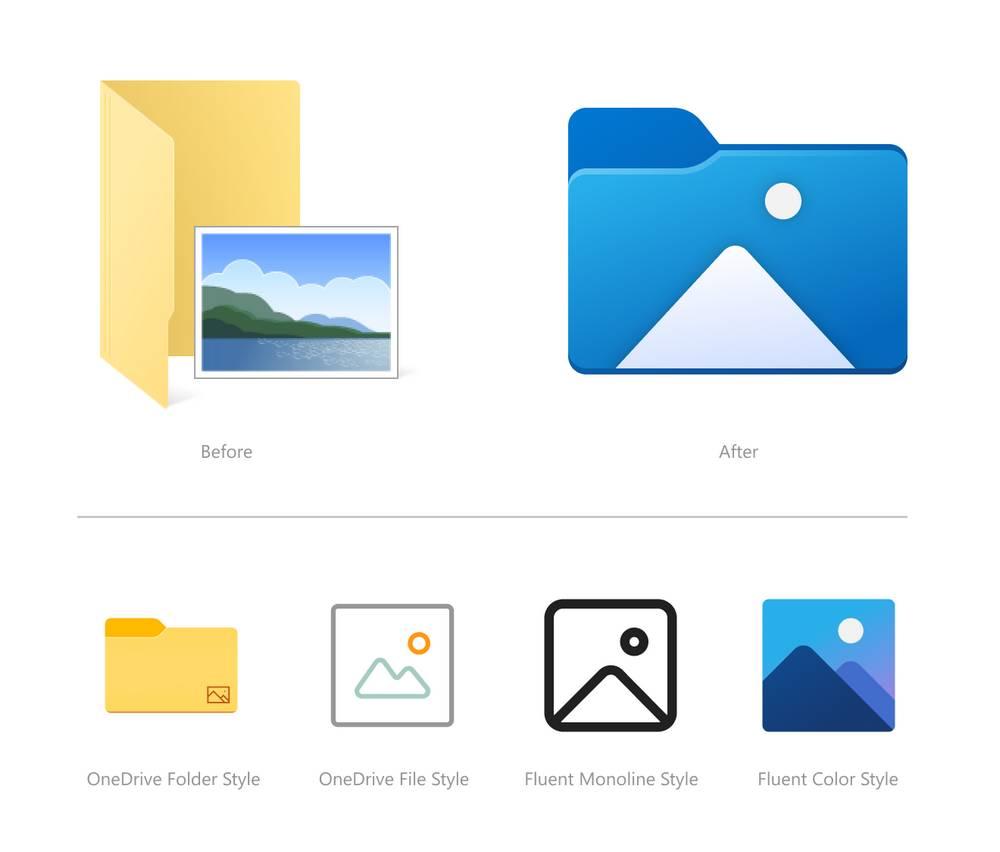 As we can see, other system icons, such as the hard disk and the recycle bin, have also changed in the same direction so that everything has the same coherence.

Microsoft has reported that these will not be the only icons that will change for the launch of Windows 10 Sun Valley, so we will see new changes very soon.
Container improvements
Until now, the virtualization runtime for certain items such as Windows Sandbox or Microsoft Defender Application Guard matched the host. From now on, Microsoft has decided to optimize these elements by adding new execution times designed for them and optimizing the general operation of the containers. In this way, these elements will load faster and will be lighter, something highly requested by users.
Windows Sandbox also now includes the new Edge Chromium by default.
Other new features of build 21343
In addition to the above, Microsoft has included other improvements in the operating system, such as:
Microsoft has started work on improving the overall organization of the entire system. And the first thing he did was change the name of the folder «Windows Administrative Tools» in «Start to Windows Tools».
News and interests is still moving forward, and now it has started to work in China.
Improvements in IME keyboards.
Touch keyboard "Get Help" has now been changed to "More Information".
Windows 10's renaming feature now has new shortcuts:

Control + Left / Right: move the cursor between words.
Control + Del / Backspace: delete entire words.

Update on Windows network icons and symbols.
If the "Shared Experiences" function detects a problem with the account connection, we will now see a warning in the action center.
Fixed and pending bugs in build 21343
Microsoft has taken advantage of this new build to also correct a series of bugs and errors in the operating system, as always.
Fixed bugs
Fixed issues causing WHEA_UNCORRECTABLE_ERROR errors when using NVMe drives.
Fixed issues that generated DPC_WATCHDOG_ERROR errors.
Fixed a bug with Realtek network adapters that caused continuous errors when using the 1.0.0.4 driver.
News and interests text now appears fine when using a high contrast mode.
News and interests is now always available, even when we log in without the Internet.
News & Interests has received several fixes to help improve the performance and reliability of explorer.exe.
Fixed issues that cause explorer.exe to crash with event ID 1002.
Fixed a memory leak when using the trash.
Fixed an issue with the indexer stalling and preventing the start menu from being used after updating.
Games now revert to 60+ FPS on 60+ Hz displays.
Fixed various internal issues that caused errors when installing applications. Other errors that caused applications to show warnings that asked us to restart the PC have also been corrected.
Fixed a bug that caused text to be blurry when using secondary monitors.
WIN + Shift + Left / Right Arrow works correctly again.
Fixed an issue that caused text on very large storage units to appear truncated.
The top panel of Settings no longer truncates items in some languages. The user image for this panel has also been fixed to not flicker when resizing.
Fixed various issues that could cause the audio controls to stop working.
Properties and Data Usage reappear in the settings panel.
Fixed an error that caused that, when searching "Advanced configuration of touch panel gestures" and entering that section, the configuration panel was displayed, not said entry.
Fixed a problem that caused that, when double clicking on the Windows Update icon in the taskbar, it would fail.
Azure Data Studio already works flawlessly on ARM64.
ngen.exe no longer causes problems compiling on ARM64 systems.
The secondary keys on the touch panel are no longer cut off.
Flicking up on the top row of the touch pad now re-inserts the corresponding number.
Various improvements and bug fixes on IME keyboards.
Bugs pending fix since build 21343
The list of known pending bugs has also been updated, which will be fixed with future builds.
Some games may crash: errors when installing or running certain titles, the data sync function with the cloud does not work, and new games cannot create save files.
Folders pinned to quick access disappear after installing this new build 21343.
The Quick Access folder section may disappear.
Investigating an issue that causes the Insider update to take too long to reach certain Insider users.
The new taskbar experience is still disabled.
Pressing Esc in the Interests News panel discards all the menu content.
Some news and interests cannot be ruled out with a pen.
Screen brightness continues to cause problems on ARM64 computers.
The network drop-down menu on the login screen does not open in this build 21343.
Handwriting will not work on ARM64.
Search hangs on startup.
All these problems are already being investigated by Microsoft, and in future builds they will be fixed. At the moment, we all have our sights set on 21H1, the first update this year that will come with minor changes.