Windows
The best tricks to improve your productivity when using windows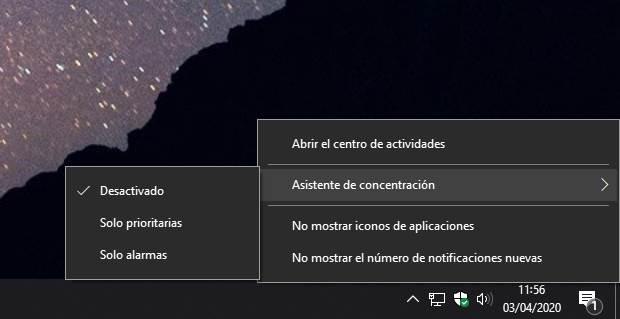 Windows 10 is the most widely used operating system in the world. According to Microsoft, more than 400 million people use this system for their day to day, for work and even for leisure. Microsoft has designed it thinking about taking the productivity of all users to the limit, being a fast, stable, secure system with a multitude of functions designed to make all kinds of tasks as simple as possible.
However, you can always give one more turn to the productivity nut, and if we use this operating system to work and know the best tricks of Windows 10, we can make our day to day even more comfortable and better and improve productivity. For all this, the operating system itself offers us a series of more or less familiar functions, which can be very helpful. Therefore, in addition to being able to install all kinds of third-party programs to be more productive (although we will not go into them), Windows 10 hides a large number of functions designed to improve the productivity of its users.
That is why we are going to see the best of them below. Specifically, we refer to functions unknown to many users that are included in Windows 10 to help us be more productive and make the most of every second.
Use virtual desktops to improve productivity in Windows
For most jobs, two monitors are a must. Or, at least, an ultra-wide monitor where you can easily place two windows open at the same time. However, due to lack of space or budget, not everyone can have two screens on their computers. In that case, an interesting alternative is virtual desktops. In addition, we cannot forget that not all pockets are capable of supporting this expense, since they are elements that need an investment.
But we can make use of virtual desktops. As their name suggests, they are different workspaces in which we can divide our work. In one, for example, we can open the messaging program that we use (WhatsApp, Slack, Microsoft Teams, etc.), in another documents and spreadsheets, in another the browser, etc. In this way, each desktop will have its own resources and we will not have a single desktop with all the programs mixed together. This will be very helpful, once we get used to them, to be more productive on a day-to-day basis.
On the other hand, the task view also helps us to have all our files, programs and documents at hand. We can access it through the Windows + Tab command and it will allow us to manage all the windows that we have open in our main session. Also for these functions we will not have to use anything additional to Microsoft's own operating system
How to create and use virtual desktops in Windows
All of this that we are discussing, we can carry out in a fairly simple way, as we are going to see. Thus, to create a virtual desktop, we simply have to open the Windows 10 task view with the Windows + Tab command. At the top of the interface that appears we will see all these desktops that we have. Say that by default we will have one, but we can create as many as we want or need.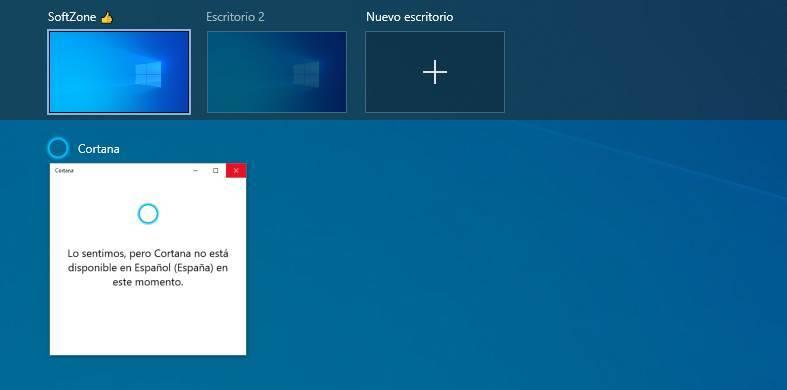 In addition, we can easily use these virtual desktops by holding down the Windows + Control keys, followed by the following keyboard shortcuts. These will help us to move in the best way and get the most out of these desks that we are talking about.
D: create new virtual desktop.
F4: close the current virtual desktop.
Right arrow: go to the next virtual desktop.
Left arrow: go to the previous desktop.
There are other useful shortcuts that, although not directly related to virtual desktops, can help us improve productivity. For example, Windows + S allows us to open the Windows 10 search engine, and Windows together with the up and down arrows adjust applications and windows to the top or bottom of the screen. Thus, as you can imagine, we save a good amount of time by working with Windows every day, thereby increasing productivity.
Improve Windows privacy to avoid distractions
If we use our computer to work, it is very likely that we are showing our tastes or interests when browsing the Internet. In fact this is something that in a way we can be doing the same just by using the operating system. And is that privacy has not been, by far, one of the strongest pillars of Windows 10. Rather the opposite, something that has been weighing down the system since its launch in 2015 until today. We could say that this is one of the main reasons why Windows 7 users have not yet decided to migrate to the most modern version of the operating system.
Fortunately, as the system has been updated and improved, Microsoft has included new options to organize to control privacy. If we enter the Settings> Privacy section, we will be able to see a large number of options related to privacy when using the operating system.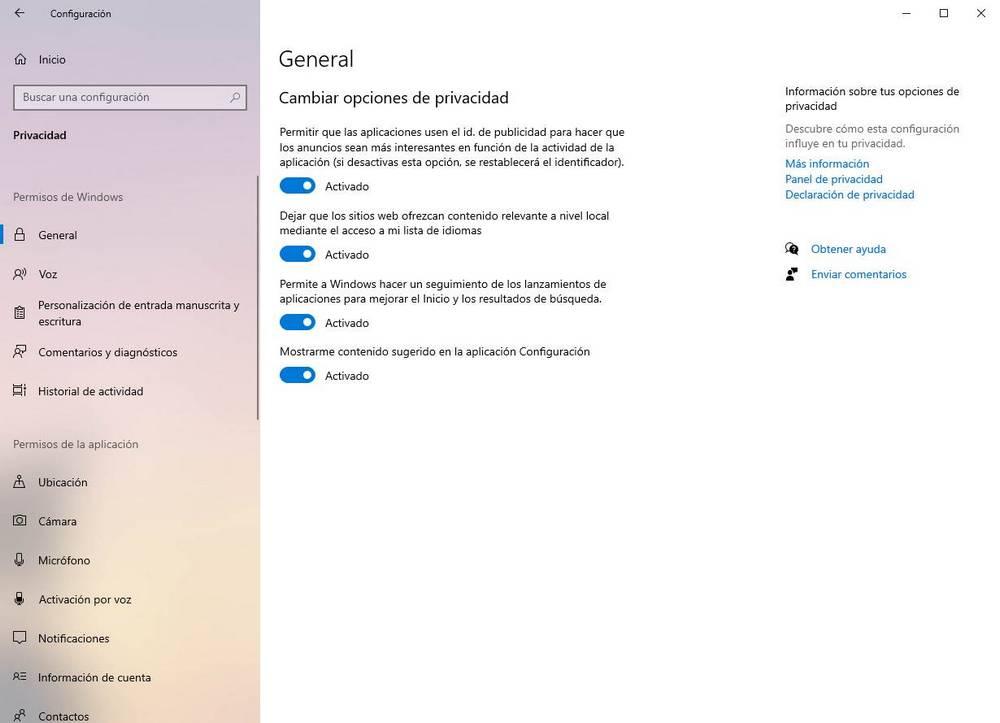 It is worth spending a while to review all the options and configure them according to our tastes, depending on what we want, or not, to share with Microsoft. These will help us, not only to improve the security of our data in Windows, but also to avoid possible distractions.
Some interesting options are, for example, the permission to use our ID to show advertising (within the "General" section) which can cause advertisements to appear that distract us from our work, or personalized experiences (within "Comments and diagnosis" ) that can make recommendations and promoted applications appear in the system. Therefore, as we say, it will not hurt to take a look at this section of the Settings application .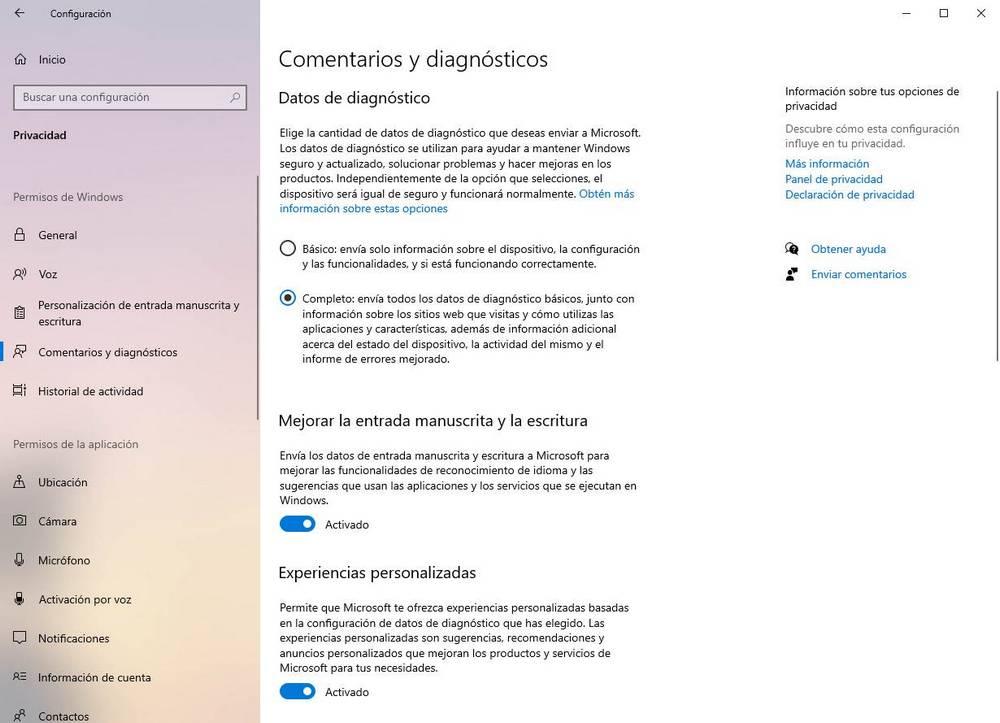 Control Windows performance
One of the things that can distract us the most from our work is that the computer goes slow or freezes. This can occur for many causes and reasons, although many times it can be easily solved with a simple software configuration (for example, closing very heavy applications or restarting the PC).
The Windows 10 Task Manager is one of the fastest ways to see how our PC is working and which processes or programs are consuming the most memory. We can open it using the keyboard shortcut Control + Shift + Escape, and from there we will be able to control the performance of the computer.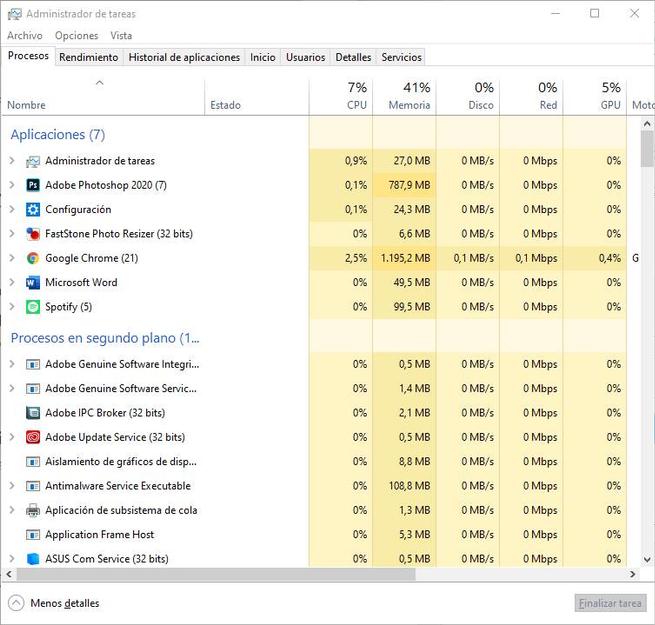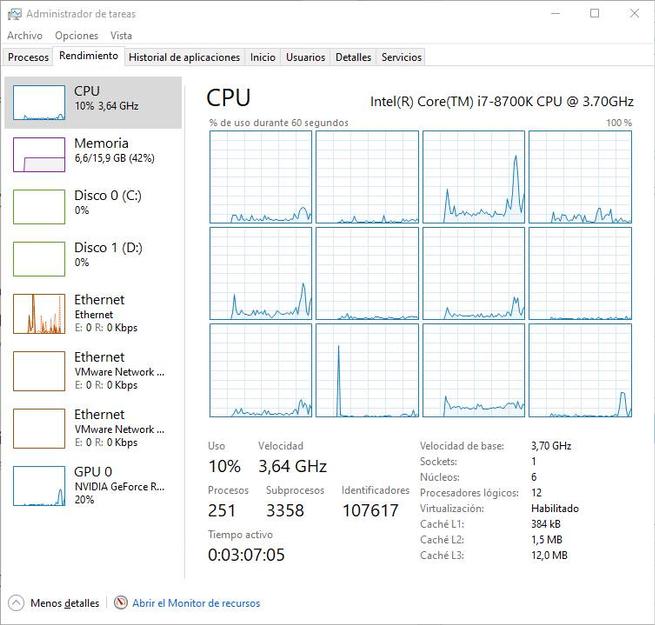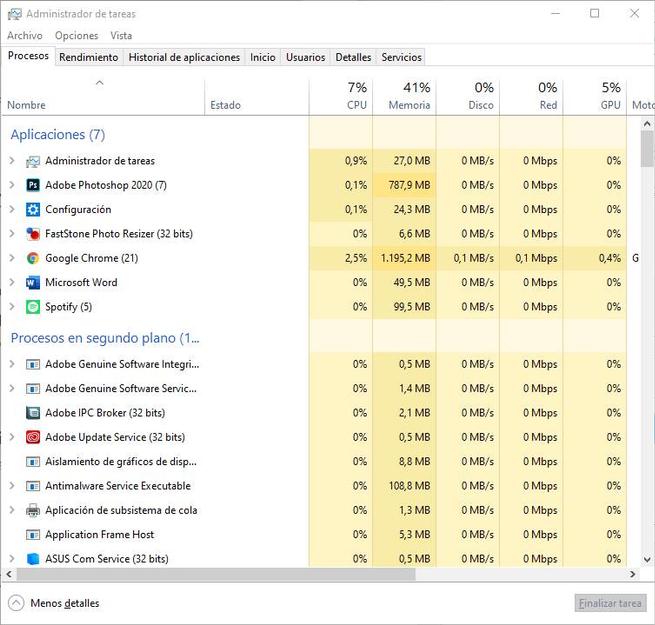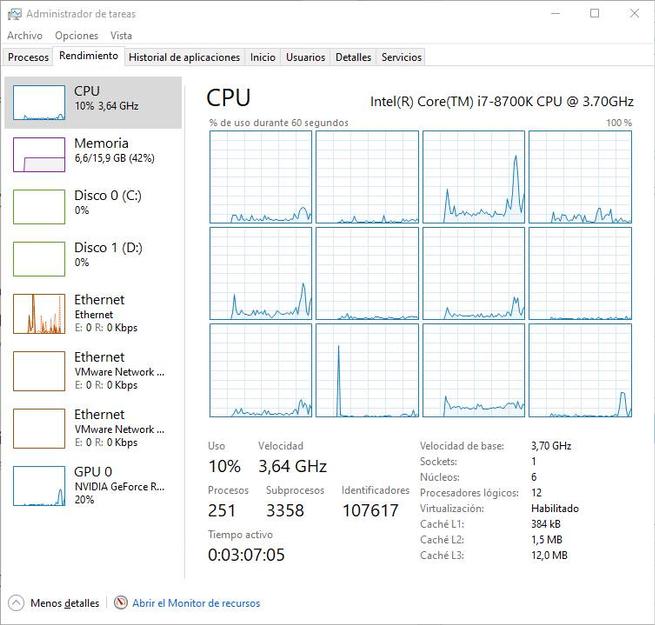 In the "processes" tab we will be able to see everything that is open on our computer and how much each process consumes. In the "Performance" tab, we can have an overview of the use of our PC hardware. It is worth mentioning that this Task Manager that we refer to here is one of the elements of the system that we can get the most out of on many occasions. This is because it allows us to control, in real time, all the processes and applications that are running. In the same way, we will see the consumption of resources made by each of these elements, which is very important.
At this point and if we do not want to complicate, performing a system restart from time to time also helps Windows 10 work better. This way we avoid waiting while certain jobs are carried out.
Take advantage of the cloud in Windows to improve your productivity
Windows 10 integrates with Microsoft's cloud so that we can easily take advantage of the company's cloud services from within the operating system. If we log in with our Microsoft Account, the first thing we will be able to enjoy is OneDrive, the Microsoft cloud. In it we can save any file we want to have a backup and be able to access it from anywhere. The advantages of all this, as you can imagine, are endless, both for working in real time and for saving content.
On the other hand, if we install the Office suite, this cloud will allow us to directly save the documents in the cloud safely. In this way, what we achieve is to avoid that due to a failure or problem, these are lost.
Sort your desktop, Start menu, and applications
Another aspect that makes us waste a lot of time when using Windows is looking for things. If we are one of those who have a desktop full of programs and files of all kinds, in addition to our computer slowing down, we will waste a lot of time looking for things.
It is much faster and more convenient to have the desk neat and organized. We can put important files into folders, and leave only the programs and shortcuts that we use often. The more orderly the desk is, the more peace of mind we will have, the faster we will find things and we will be able to work better.
In addition, there are other elements of Windows itself that we can have in order and will help us to be more productive. The first one is the taskbar. All the programs that we have open will appear in it. However, we can anchor the programs that we use the most to have them always at hand, and in the same place, and be able to open them as we need them. This also allows us to clean the desktop even more, being able to remove the programs that we have anchored to the taskbar from it.
The Windows 10 Start menu is another element that, if we know how to use it well, can help us be more productive. It is true that the concept of the start menu is very strange, since Microsoft has not made it really useful. However, if we eliminate all the tiles and leave only those that are useful to us, in addition to having greater peace as everything is more orderly, we can go directly to what we need.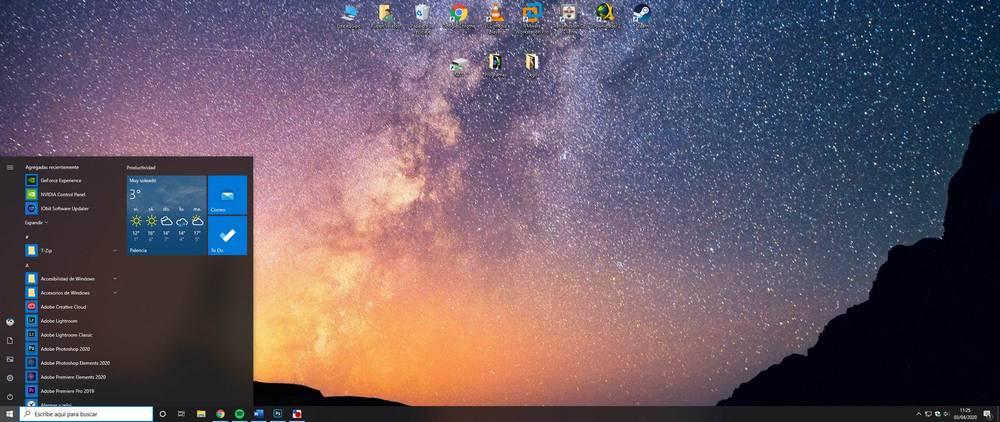 The same should apply to all the applications that we usually use. For example, it is very common to fill the browser with extensions, accesses and bookmarks of all kinds. If we really want to be productive and avoid distractions, we must focus exclusively on having what we really need on hand, nothing more.
Avoid annoying interruptions and prompts in Windows
As you probably already know, our daily work can be interrupted for many reasons and at any time. In addition, each of these interruptions involves a loss of time and concentration that is later difficult to recover. Therefore, to avoid all this that we tell you, we must make sure that Windows is configured correctly.
For example, we must configure the active hours of Windows Update to avoid that, if Windows is updated, the computer restarts by surprise while we work.

We must also make sure, if we have a laptop, that the battery notification options are correctly configured. And, if possible, even work with it connected to the current. This will help us so that the battery does not wear out (and the PC shuts down), and we can always have it ready so that, in case we have to go to another place, we can disconnect it and move without interruptions.
It can also help us improve our productivity by deactivating all unnecessary Windows 10 notifications. The notification center has a feature called " Concentration Assistant " that is responsible for silencing less important notifications to avoid distractions.
We can activate and deactivate the concentration assistant by clicking with the right mouse button on the icon in the lower right part of the PC screen.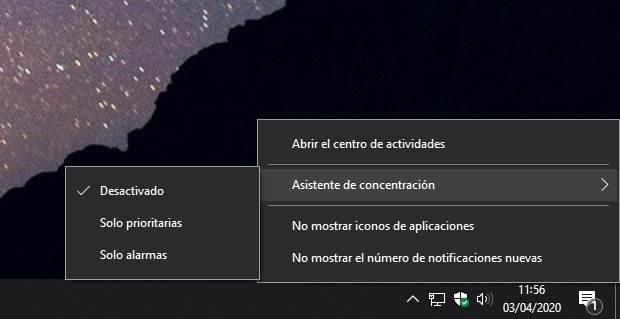 In this way we will improve productivity when using Windows 10 by preventing the system, or any application, from showing us warnings and notifications. We will only receive notifications of those notices that are considered as priority (we can configure it from the Windows configuration), and of the system alarms.