Windows
Take care of your privacy by blocking the pc keyboard and mouse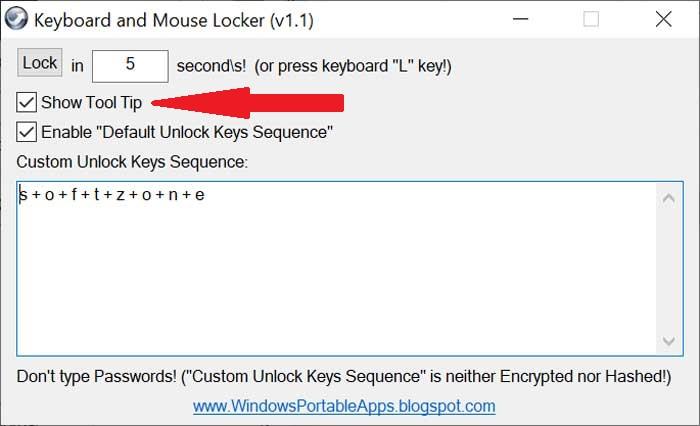 The keyboard and mouse are two fundamental tools of our computer that we can block without appearing to have stopped working. And it is that there are quite a few occasions in which surely the possibility of being able to block the keyboard or the integrated mouse of our computer can be interesting to us. For example, this is something we can do for security and privacy reasons. Thus, if we get up from the PC, we protect, even temporarily, the programs that we have open in Windows.
In the same way, blocking the keyboard and mouse is something that can be especially useful when we study in a public place, if we work in an office. It can also be very useful if we are at home and we do not want our child to be able to use it in our absence. In this way we make sure that no one can interact with our computer when we are not in front of the screen. The benefits of what we are going to talk about next are many, as you can imagine.
How to lock the keyboard and mouse with a program
The first thing we should know is that in Windows 10 it is not possible to disable the keyboard or mouse of our computer, but this measure is not very effective if what we want is to temporarily block it while we go to the bathroom or for a coffee, or when we are watching a movie on the computer and we don't want an accidental click to interrupt it. And it is that the Microsoft operating system does not have any specific function through which we can temporarily block the mouse and keyboard, with how easy it would be to implement it for Redmond.
That is why in order to perform the lock we will need a third-party application such as Keyboard and Mouse Locker. With this useful application we can carry out this task in a simple way, as we will see below. In addition, it hardly consumes operating system resources, so we will not even notice that it is there when we download it and install it on the system.
Lock your keyboard and mouse with Keyboard and Mouse Locker
The first thing to do is download Keyboard and Mouse from this link. It is a completely free and portable application, so it does not require any type of installation, and although it comes in English, its use is quite simple and intuitive. Once we execute it, a window will appear with its main menu. As we will see later, to achieve what we are looking for here with this program, we do not need to have advanced knowledge, far from it. Thus, its operation is simple enough as well as intuitive for everyone, as we will see below.
By default, the application will lock the keyboard and our mouse after 5 seconds after clicking the "Lock" button or if we press the L key on our keyboard, regardless of our activity. How could it be otherwise, this period of time can be configured and changed for as long as we want for the block to take effect.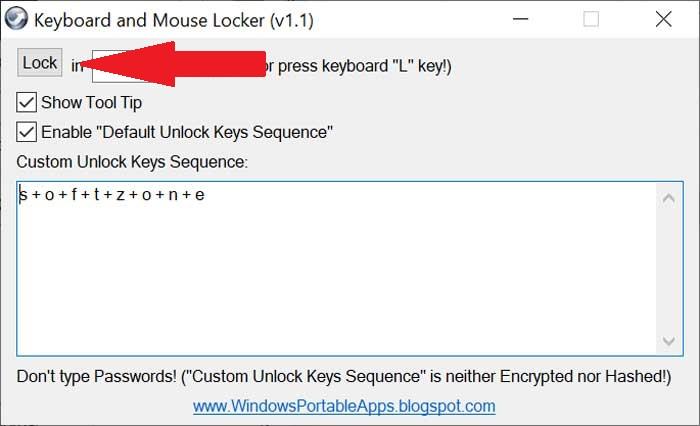 Set the mouse and keyboard lock program
Once the keyboard and mouse are locked, we must enter a sequence of buttons to unlock it. This default sequence is « u + n + l + o + c + k + Enter + Enter + Enter «. We can change this sequence to one of our choice by writing it in the "Custom Unlock Keys Sequence" field. When creating it, it should be a long but easy to remember sequence. In this way, only we ourselves can execute it in order to make these elements come back to life.
Of course, if necessary, we can also leave this unlocking sequence that comes by default and keep it active. For this we will have to activate the Enable "Default Unlock Keys Sequence" box. The application especially discourages us from using a password as a sequence to unlock it and nothing in this application is encrypted, so it is not an effective tool to block any type of attack.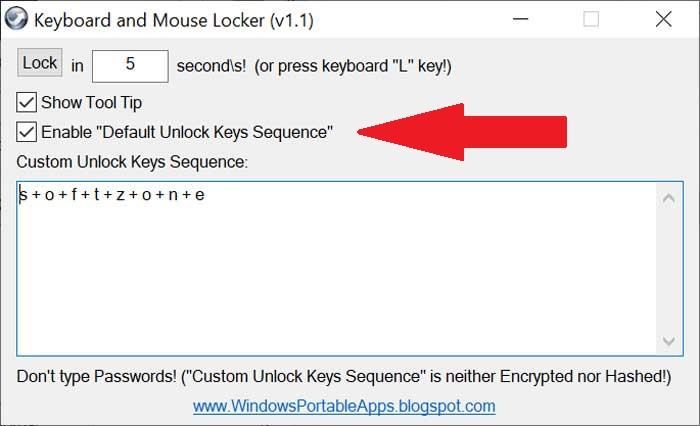 Once executed, the mouse and keyboard will be locked and we will not be able to use them. In the same way, the desktop is also blocked. If we have the "Show Tool Tip" box checked , we will receive information on the screen about the keys that we must press to unlock it. This is convenient while we get the hang of it and see that we are able to safely unlock it. Later, the ideal is to have that box unchecked to hide the information. Once the keyboard and mouse are unlocked, the application closes automatically. Therefore, we can continue working with the PC in a totally normal way until we need to use this blocking system again.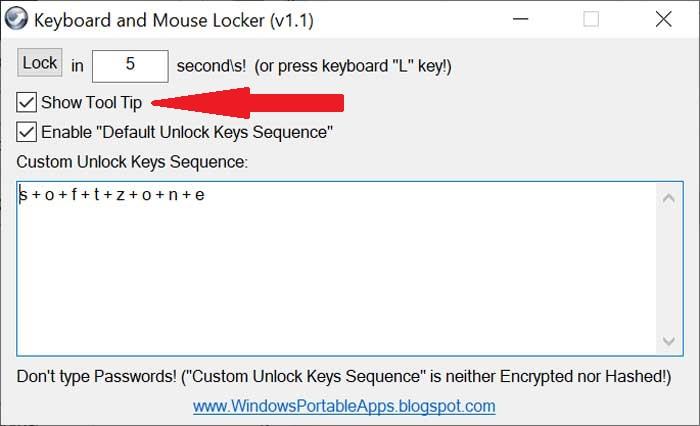 As we have been able to verify, Keyboard and Mouse Locker, is a tremendously simple application as well as useful, for situations where we want to be away from our computer for a few minutes and no one can use it. Therefore, although Windows itself does not have its own function to block the mouse and keyboard, this program will be extremely useful to us.