Windows
So you will have a different windows to the rest: it changes all your sounds

The vast majority of users want a Windows system adapted to their needs or tastes. This is something that Microsoft tries to facilitate us in several ways, as we will see in these lines. And we are going to show you how to change the sounds of Windows 10 and put others of your own.
These changes related to the customization of Windows are usually carried out when, for example, we establish a new desktop background. Something similar happens when installing a new theme or changing certain functional parameters. But in this case we want to focus on everything related to sound in Windows.
How to turn on the default sounds in Windows 10
At this point, the first thing to keep in mind is that all computers based on the Redmond system, Windows 10, have their own sounds. Specifically, these are activated when we carry out certain actions or some events occur. This is what actually plays a series of sounds by default. At first they are the same for all teams, so over the years we have become used to them.
These input are already installed by default on the PC, so we can also hear them when turning on the equipment, when the laptop is running out of battery, when receiving a notification, when logging in, etc. But of course, as with so many other elements of the system, we have the possibility to change this. What we want to tell you is that the operating system itself offers us the possibility of choosing custom sounds so that the system plays them when these events or actions occur.
This is something similar to what we normally do with the desktop background or the theme that we establish, as we mentioned before. At the same time, when it comes to the visual aspect of Windows, we also have the possibility to activate the dark mode, but now we will focus on the sounds of the software.
Open Windows sound customization
Although some of you might not know it, this is a customization feature that has been available since many versions, so let's see how to take advantage of it. Therefore, to change these sounds that we refer to in Windows, we have several ways to access the functionality as such.
Change default sounds from Settings
On the one hand we will tell you that this is a section that we can access from the System Configuration application. To open it, all we have to do is use the Win + I key combination to bring up the new window. Next, in order to find the section that interests us in this specific case, we click on the System option, to, in the left panel, choose Sound.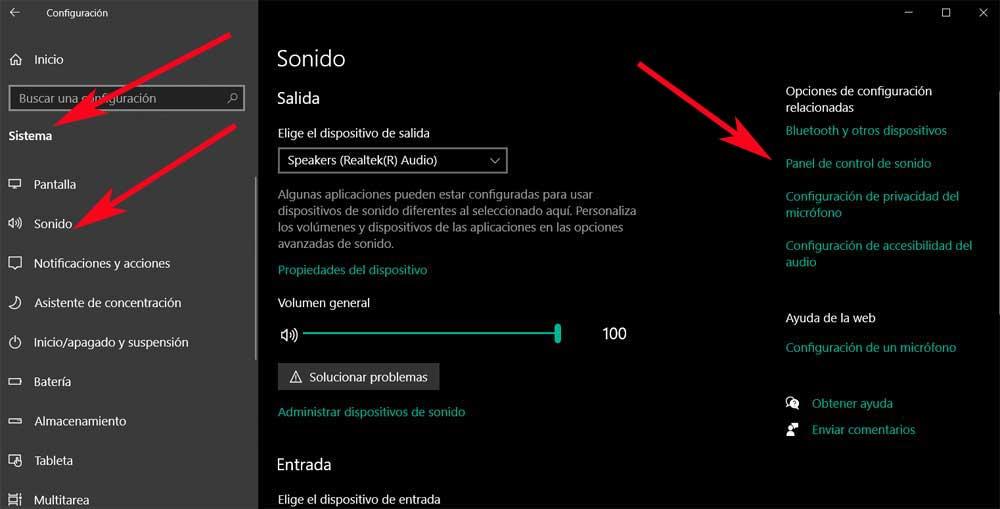 To say that we also have the possibility to open Settings by right-clicking on the Start menu button, or on the speaker icon on the taskbar. Be that as it may, in the window that appears on the screen, on the right side of it, we see a link called Sound Control Panel, where we click.
Customize default sounds from Control Panel
This will give way to the popular Windows Control Panel, so we can also access this functionality from it more directly. For this we only have to open it and go to Hardware and sound. Next we choose the Sound section to open the window that interests us.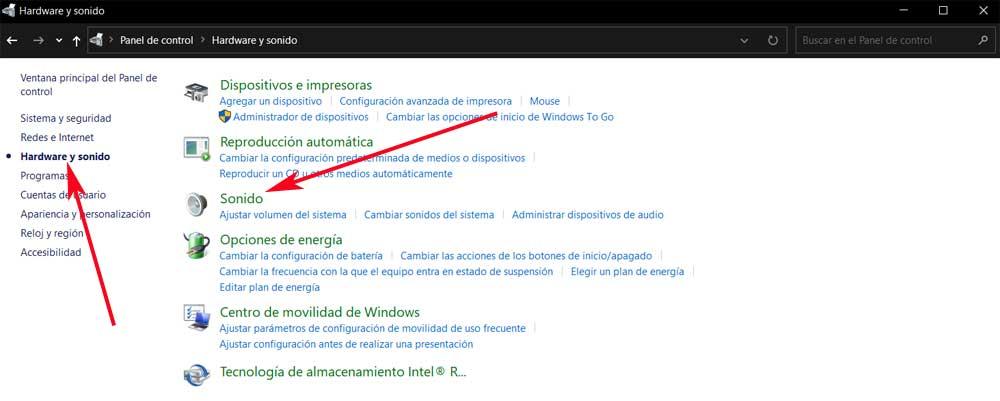 At that moment a new pop-up window will appear on the screen, which is the one we are really looking for. Therefore, in this one we only have to click on the Sounds tab, which brings up a list of Windows events. Well, in this window we find several interesting options in this same sense. First of all, we have the possibility of completely eliminating the sounds from the system, something that we specify from the drop-down list of Combination of sounds.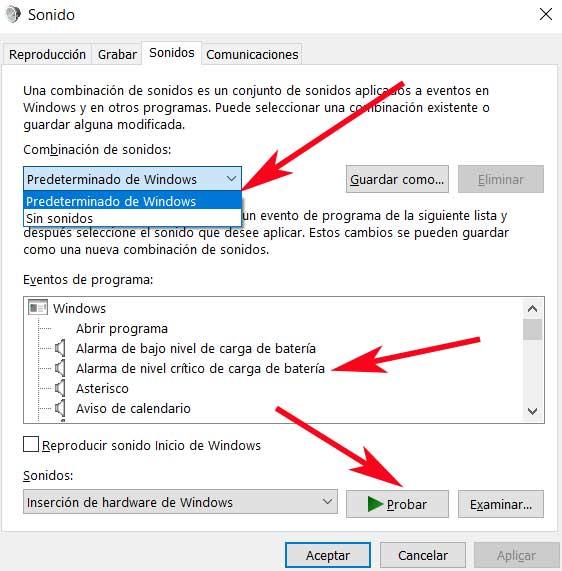 However, what interests us here is to be able to set personal tones for certain system events. To achieve this that we tell you, the first thing will be to locate the event or action that interests us from the list exposed here. We can listen to the audio set by default by clicking on the Test button. But to change it, in this case we opted for Examine. This will give us the opportunity to navigate through the drives to choose the audio file that we will use for that specific event.
Sound packs to use in Windows 10
Of course, for all this that we have told you, the first thing we need is to have the audio files as such that we are going to establish. These can be generated by ourselves with recordings, specific programs, or by downloading them from the Internet. But it may also be interesting for you to know that the network can find sound packages to install and use them on the PC as we have seen before. Next we will see some examples that will surely give a more personal touch to the Redmond system.
Stardock SoundPackager
Here we find a software solution that puts at our disposal thousands of sounds cataloged in various packages. We can use these to our liking for the tasks of customizing the Windows tones that we have just seen. At the same time Stardock SoundPackager gives us the opportunity to easily create our own audio files and save them for use in Windows. You can try all this from this link.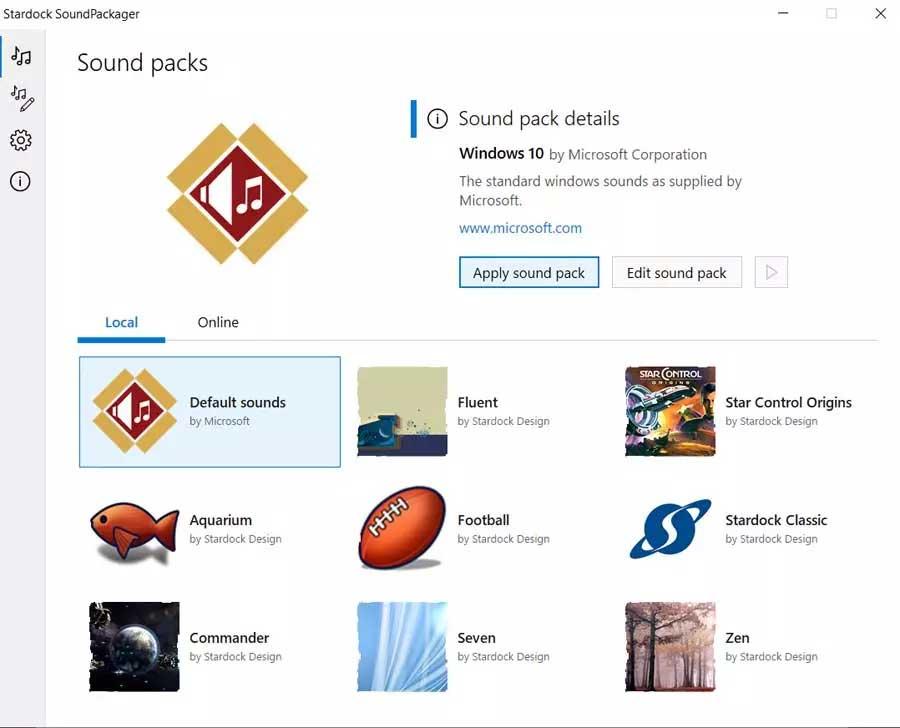 FreeSound
But if what we are looking for is a simpler and free alternative, we can always use this other web platform. In it we find a powerful search engine that allows us to locate a multitude of effects and sounds to use in the Microsoft operating system. Say that they belong to other users who over time have uploaded and shared them with the rest, something that we can also do. These contents are in WAV file format so that we can download them from this link.
BBC Sound Effects
In a similar way we find this other option to download audios and customize Windows. Specifically, we refer to the platform called BBC Sound Effects, a website that presents a wide variety of sounds of all kinds to download at no cost. We also have at our disposal different categories that will help us find what we are looking for more quickly. In order to take advantage of all this that we tell you, we can access this website from this link.