Windows
So you can use your browser as the default pdf viewer on windows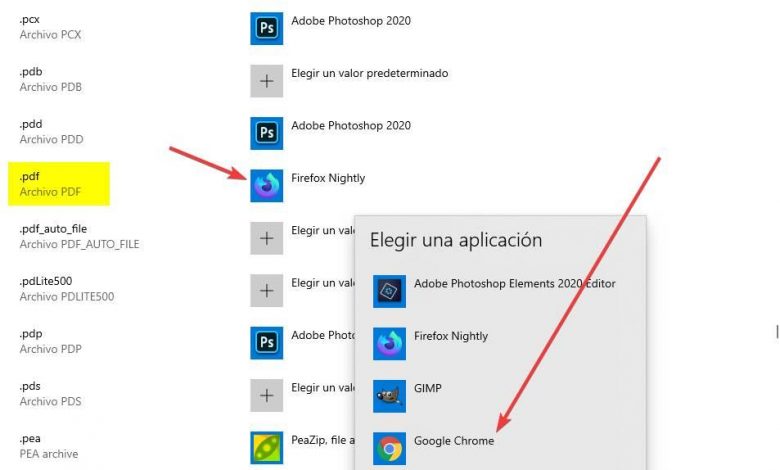 PDF files are one of the most used file types on a daily basis. This format is generally used to send all kinds of work, reports or documents to other people. One of the many advantages of this is that we only need a PDF viewer to be able to open any file saved in this format. And there are also a large number of programs that, among their functions, allow us to view these types of files. For example, web browsers.
Google Chrome was one of the first web browsers to have a native PDF viewer that allowed us to stream documents without having to download them. Or, if we lowered them, it also allowed us to open them from it. Originally, Chrome's PDF viewer was one of the proprietary, closed-source parts of the browser. However, today we can find a free PDF viewer in Chromium, Edge, and even Firefox. Any modern browser will be able to open these files without problems and without the need for extensions or other programs.
Windows 10 usually sets Edge as the default PDF viewer. And what most users usually do is install a specific PDF viewer, such as Adobe Acrobat or Sumatra PDF, to open these types of documents. However, this is totally unnecessary as we can easily configure Windows 10 to use whatever browser we install to open PDF documents by default.
Advantages and disadvantages of using the browser to open PDF
The first advantage, and one of the most obvious, is that we will avoid installing one more program on the computer. The fewer unnecessary programs we have installed on the computer, the better. In addition, instead of having to be aware of updating different programs, as the browser updates itself, we will not have obsolete software on our PC.
However, we must also take into account the drawbacks of this configuration. The first one is that browser PDF viewers are usually very simple, and we will not be able to perform some tasks in them, such as filling them in. In addition, if we use the same browser to navigate as to open PDF, although these documents will always open in a new tab, it is very likely that we will get confused when closing the document and close the entire browser.
Configure Windows 10 to open PDFs with Chrome, Firefox or another
To configure a web browser as a program to open PDF by default in Windows 10, what we must do is open the Settings menu (with the Windows + I keyboard shortcut) and scroll to the Applications> Default applications section. And once in this section, the next thing we will do is go to the bottom to select " Choose default applications by file type ".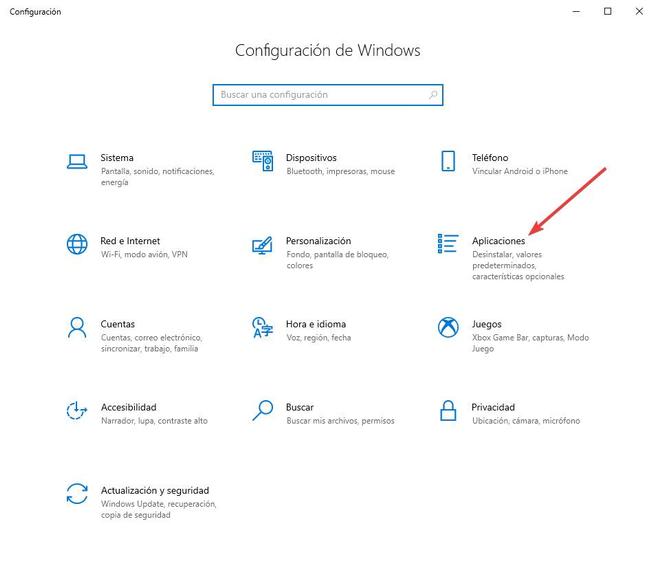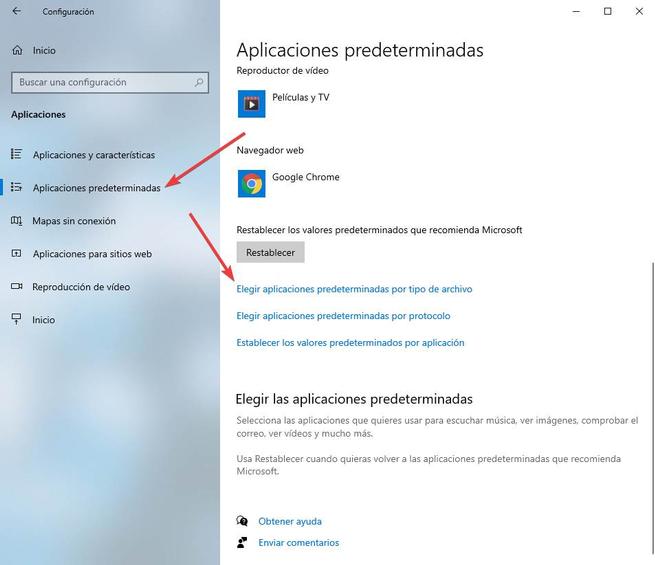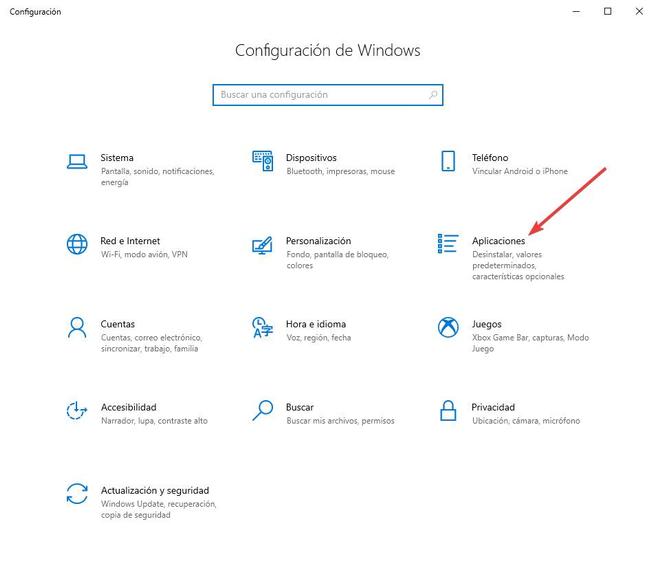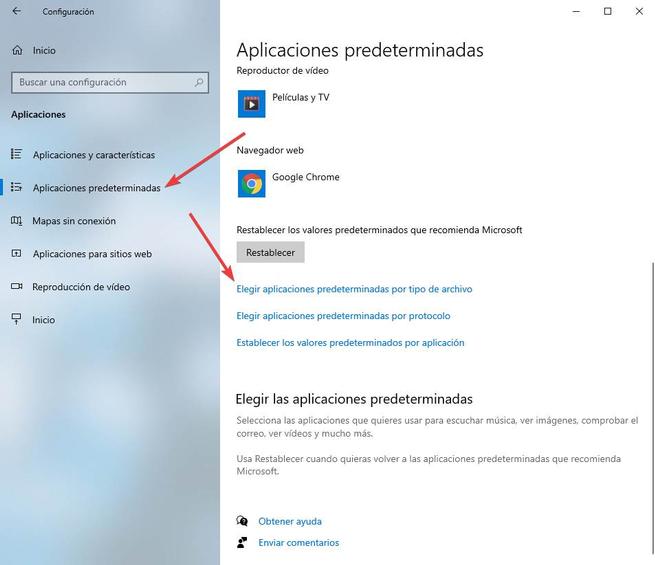 A huge list will appear with absolutely all the file formats that Windows has registered. And each format will be accompanied by the default program to open it. So what we have to do is scroll to the ".pdf" entry.
We can see the program that we have configured right now to open this type of document. And to change it, we just have to click on the current program to display the list of programs that we can use to open PDF in Windows.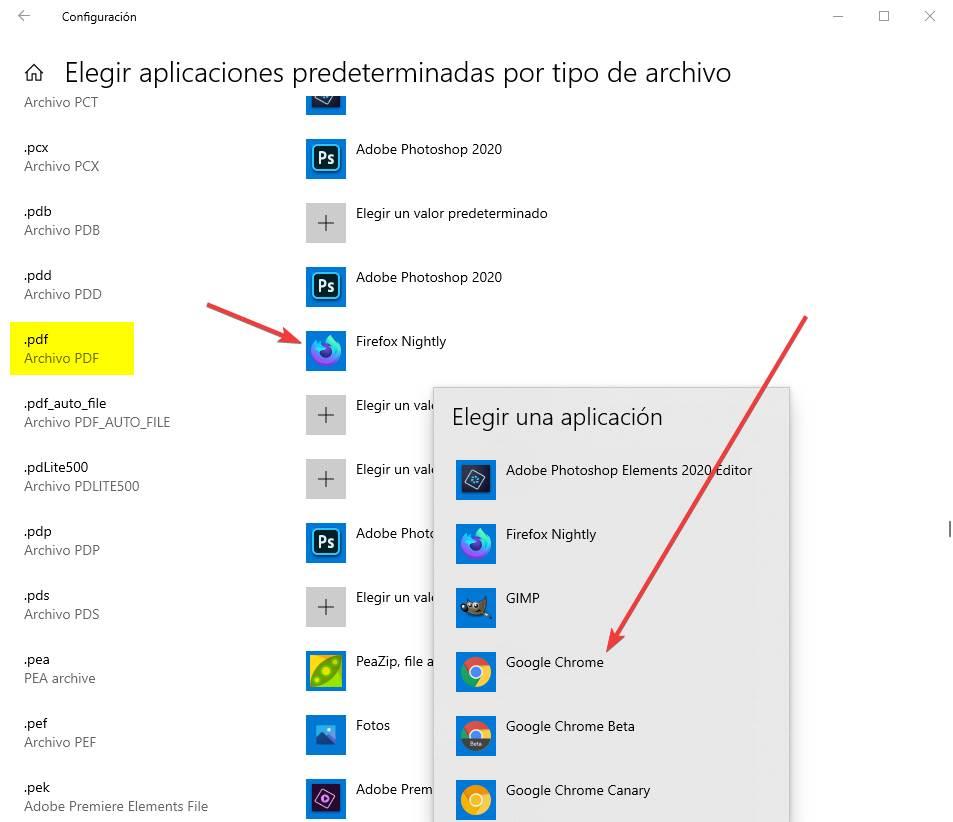 We select the browser we want to use, and that's it. Currently we can configure almost any browser as the default PDF viewer in Windows, such as Chrome, Chromium, Firefox, Edge, Opera, Vivaldi, etc. So we can use our favorite browser for this purpose, or a secondary browser. As we want.
Other programs to open PDF by default
If we do not want to use the web browser for this purpose, we can also use the same previous settings to choose other programs to open these types of files. Surely we have a program other than a browser, such as GIMP or Photoshop Elements, that we can configure as the default PDF viewer in Windows.
But in addition to using these programs, we can always turn to the usual PDF viewers.
Adobe Reader. The PDF format was created by Adobe, and therefore, this company has its own PDF viewer, as well as other advanced programs for creating and editing this type of document. Adobe's PDF viewer is one of the most complete, but also one of the slowest and heaviest.
Foxit Reader. One of the best alternatives to Adobe software. Foxit is a very complete and easy-to-use free PDF viewer. A great alternative for those users who want to keep their computer free of Adobe software.
Sumatra PDF. Although this is the simplest program of the previous ones, it is also one of the best PDF viewers that we can install on Windows. A free and open source program that has everything you need to open PDF, but no extra features. A great alternative for those looking for free and very light software.