Windows
So you can make windows 10 boot fast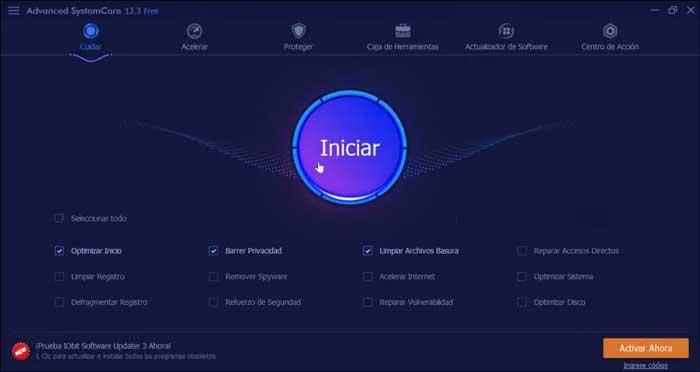 Windows 10 is an operating system that, as time has passed, begins to run slower. Starting with the time it takes for the PC to start up. This is because, as we install programs and updates, more and more processes and services are loaded when the operating system starts up, which, forcibly, makes the PC slow. But, with a series of tips, we will be able to accelerate and optimize the startup of Windows 10, so that, when we turn on the PC, it does it faster.
Likewise, this is something that affects both the general operation of the operating system itself, as well as the applications that we have installed on it and that we use daily, at the same time as Windows 10 startup . And it is that of course, as new functionalities arrive , increasingly complex, and also we ourselves install new apps, the software is "overloaded" more and more, something that many users notice every day and what they complain about to a large degree.
In fact, with the passage of time and with the use of Windows 10, we can see how the Windows startup time is increasing in many cases, although it is also true that we have several methods to optimize this section.
The programs that slow down the PC startup the most
We can have a large number of different programs installed on the computer. However, not all of them usually run at Windows startup. And those that do, some are heavier than others, so we will see improvement when we deactivate some, but not so much when we do it with others.
The main PC programs that make the computer take longer to start up are:
Editing programs. These programs are often resource intensive due to their nature. And, in addition, it is totally unnecessary that they are executed at the beginning. Programs such as Adobe (Photoshop, Lightroom, Adobe Creative Cloud, etc.) usually consume a lot of improvement and take time to open, so if they are configured to run at startup, we must disable them.
Chat apps. Skype, Messenger, Slack and other chat programs, although they seem harmless, also have a major impact on the PC boot time. Therefore, it is advisable to disable them and open them when necessary.
Apple applications. If we use iTunes or iCloud, these programs add a good number of seconds to the startup time of our PC. It is best to disable them.
Cloud sync clients. In addition to OneDrive, which is installed by default in Windows 10, other similar cloud applications, such as Dropbox, Google Drive, pCloud or Amazon Drive, will make our PC take much longer to start.
Game clients. Surely we all have Steam, Origin, uPlay, Epic Store, GOG and other similar programs to download games installed on our computers. These are useful when we are going to play, but they are usually quite heavy. For this reason, it is recommended to disable them from startup to run them manually when necessary.
Torrent clients. These programs are responsible for managing downloads and uploads through P2P networks through the popular torrent. It is usual that these, by themselves, are configured to start together with Windows to continue with the downloads automatically. This is something we should avoid.
What we need to ask ourselves is: do we really need all these applications to boot at startup? Probably not. And, if we disable them, we can reduce Windows startup time.
Speed ​​up Windows startup from Task Manager
To begin with, the first thing that we are going to be able to do is make use of an element as important as the Windows 10 Task Manager itself. In order to access this section, what we will do is click with the right mouse button on the button from the Start menu, where we can now select "Task Manager" to open the corresponding window.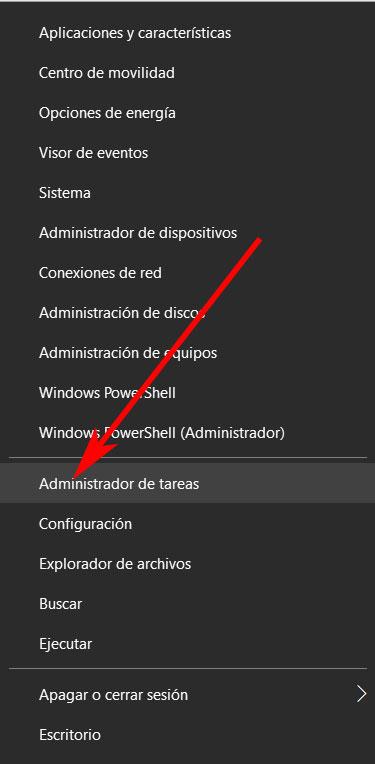 Once we are located in it, we make sure that we have active the link "More details" that is located at the bottom, and then we click on the tab called "Home". If we already have the expanded administrator, we will not see the "More details" section.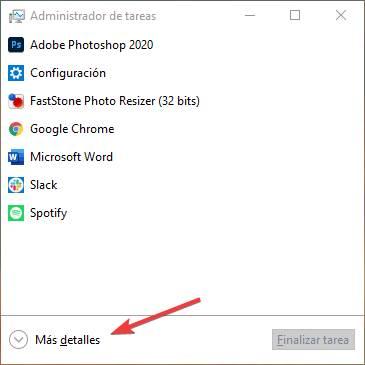 This is where we will be able to see first-hand all the Win32 applications that are started by default every time we start Windows 10, although obviously this is something that we will be able to customize. In fact, in the "Status" section, we will see that some are in "Enabled" mode, while others are in "Disabled" mode, so it is easy to deduce that the latter are the ones that do not start at startup, so we will not need to touch them.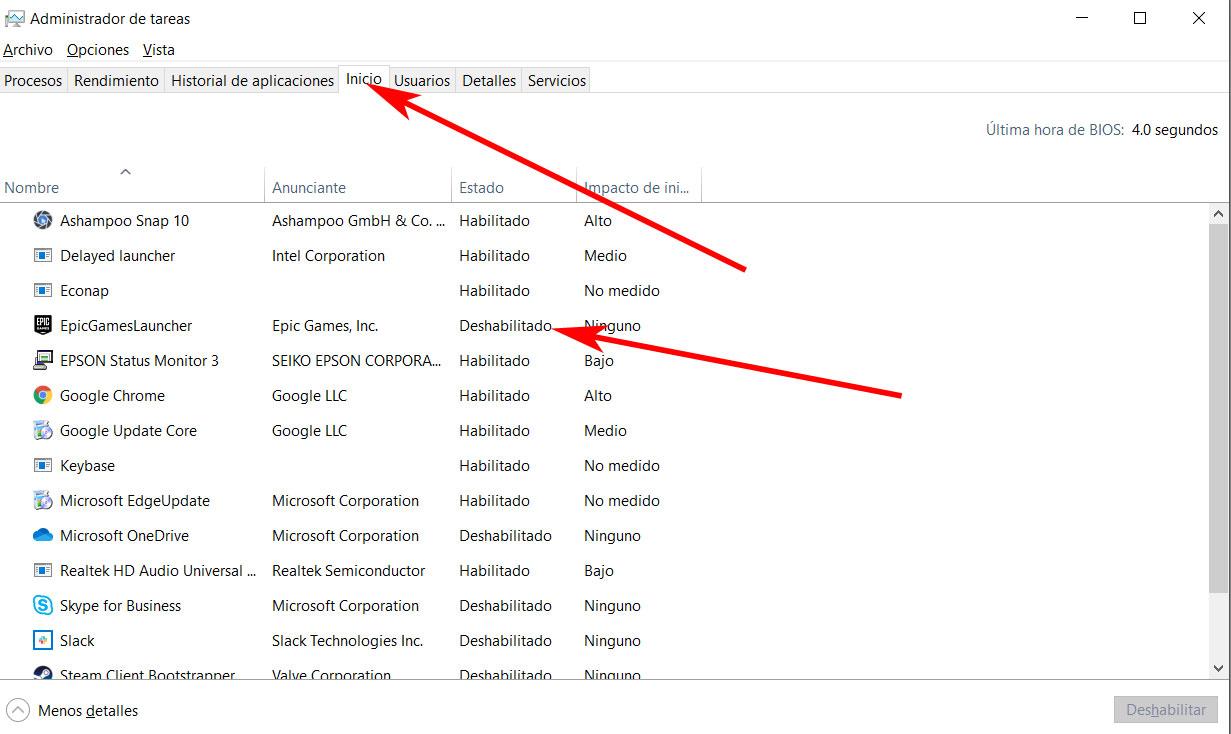 In the "Impact" column we can see how each program affects startup. Those with a "high" impact are the ones that slow down the most, while the "low" ones are the least. In any case, everything that we do not need will help us to accelerate, however little it may be, the startup of Windows.
On the other hand, those that appear as "Enabled", if we wish, we can disable them by right-clicking on the app in question, and selecting "Disable" in the contextual menu that will appear.

In this way, what we really manage is to eliminate certain applications that always run by default when Windows 10 starts up, which, as is evident, after deactivating the system's startup time in general, will sometimes be significantly reduced. .
However, at the same time, on the one hand we must take into consideration that the vast majority of the programs that we find here can be deactivated from the beginning, since none of them refers to a transcendental function for the system startup as such. Similarly, it is also interesting that here we are talking about applications Win32, but there is also UWP native to Windows 10 that start by default and are not in this list.
Correctly configure MSConfig
This tool that is included by default in Windows will help us to get a faster startup. To run it we must press the keyboard shortcut "Windows + r". Another option is to right-click on the start icon and select "Run." A window will open in which we will write "msconfig" (without the quotes) and click on accept. Next, a new "System Configuration" window will open in which we can configure various parameters. Among them, we find the "Startup" tab where we can locate the "No GUI startup" function that we must activate. With this we will be able to eliminate the progress bar that appears every time we turn on the computer, which will help the system start up faster.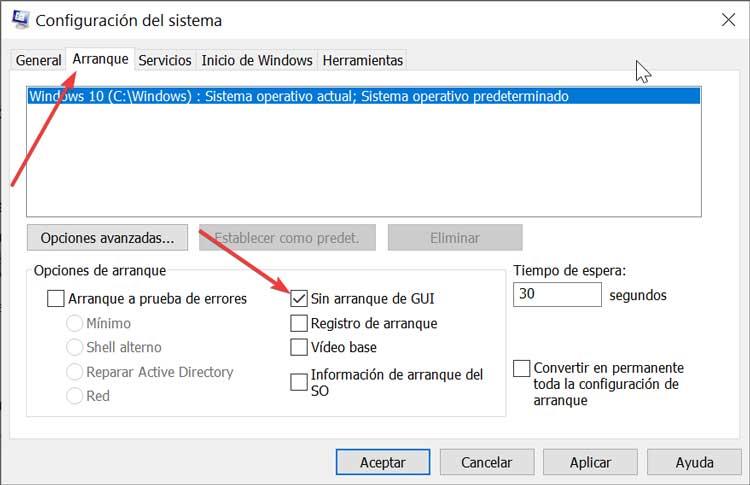 Prevent UWPs from running alongside Windows
The Windows 10 Task Manager is somewhat limited in this regard. Therefore, if we want to have more control over the programs that run at startup, we have to resort to the Windows 10 Settings menu. We can open this menu with the Windows + I keyboard shortcut, and when we have it on the screen, We will enter the "Applications" section.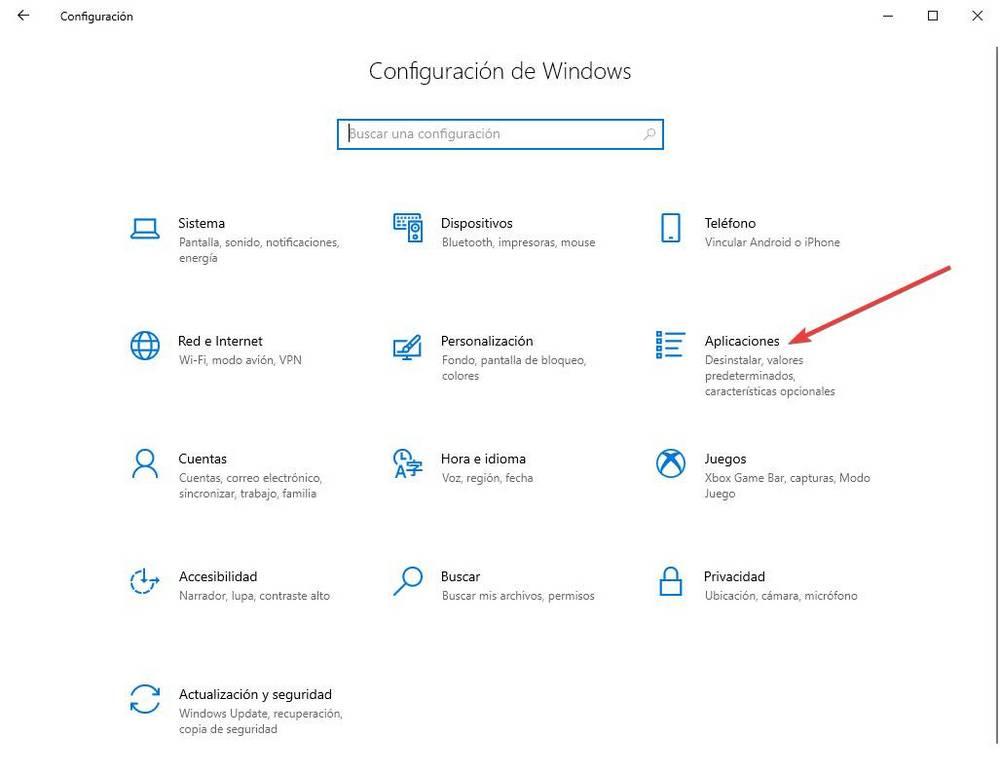 Here, what we will have to do is select the "Start" option. Inside it we will see everything related to programs, and universal applications, that start when we turn on the computer.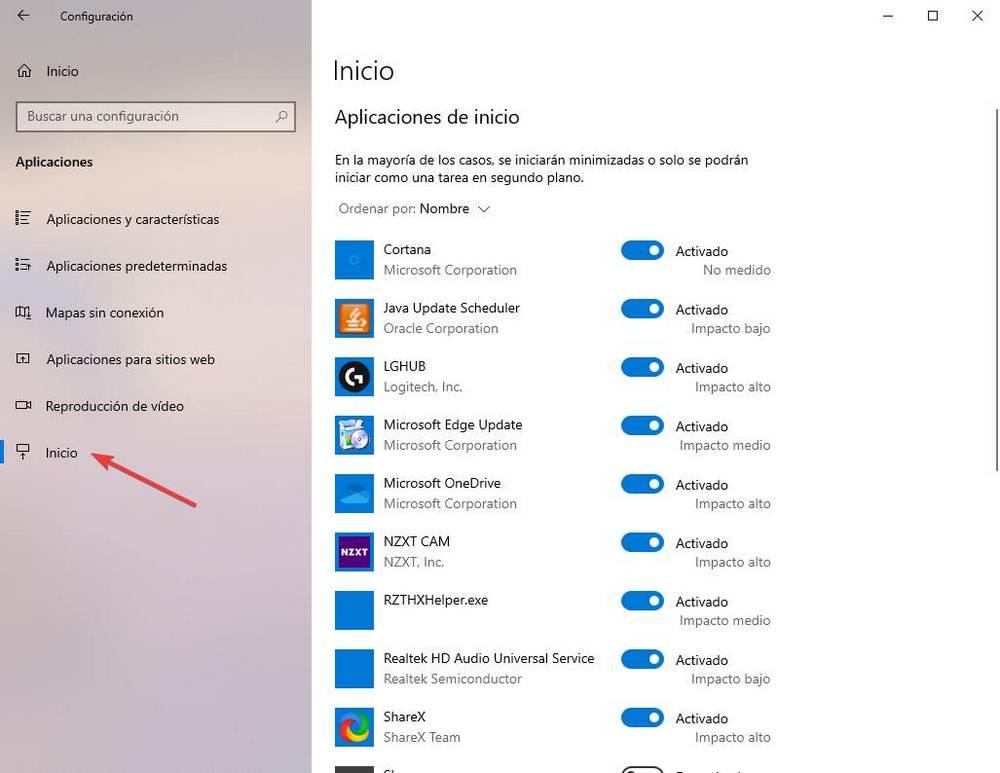 We must find the ones that we do not want to be executed, and uncheck them. We will be able to see both normal programs and UWPs. In addition, next to each program we can see the impact on startup, so we can see at a glance which programs consume the most resources.

We disable all the ones that we are not interested in that are open from the beginning and that's it.
Uninstall UWP apps you don't need
Therefore, in the event that we want certain tools of the universal Windows platform, or UWP, not to start together with the operating system itself, which negatively affects its startup, the best solution we can use in In this case, those that we will not need are eliminated, as we will show you later.
Of course, if we delete them but later, in the future, we will need them again, we can always get them in the Microsoft Store, from where we can download and install them if we require it. Well, to eliminate the aforementioned UWPs from Windows 10 and thus prevent them from starting at system startup, we have to access the system's "Settings", something that we achieve through the "Win + I" key combination.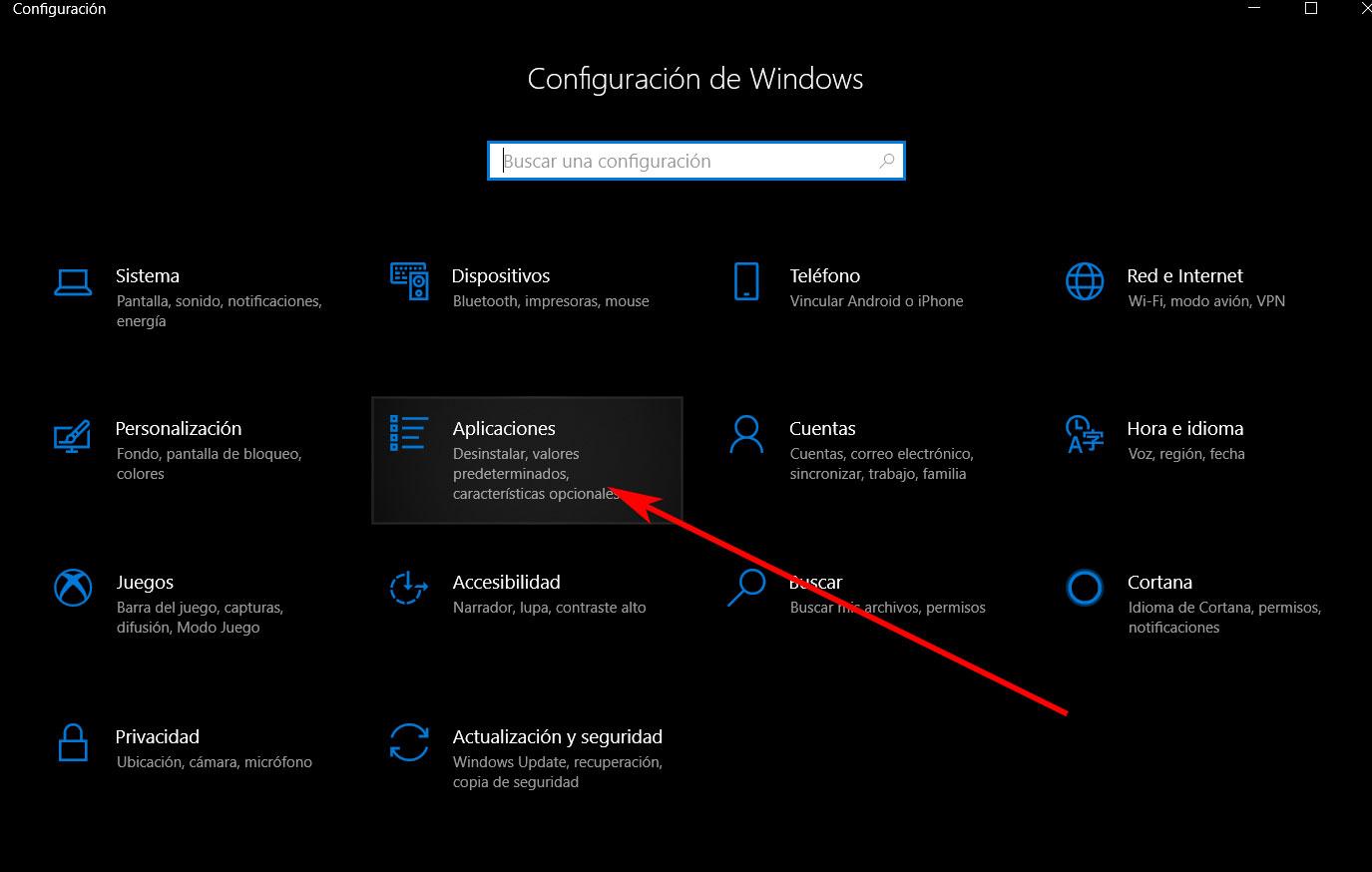 Once the new window appears, we will have to go to the "Applications" option that we see in it, while in the options that are located on the left side of the aforementioned section, we opt for "Applications and features". It will be then when the list of tools that we have installed in Windows 10 will be loaded , where we will see both the Win32 and the UWPs that interest us in this case.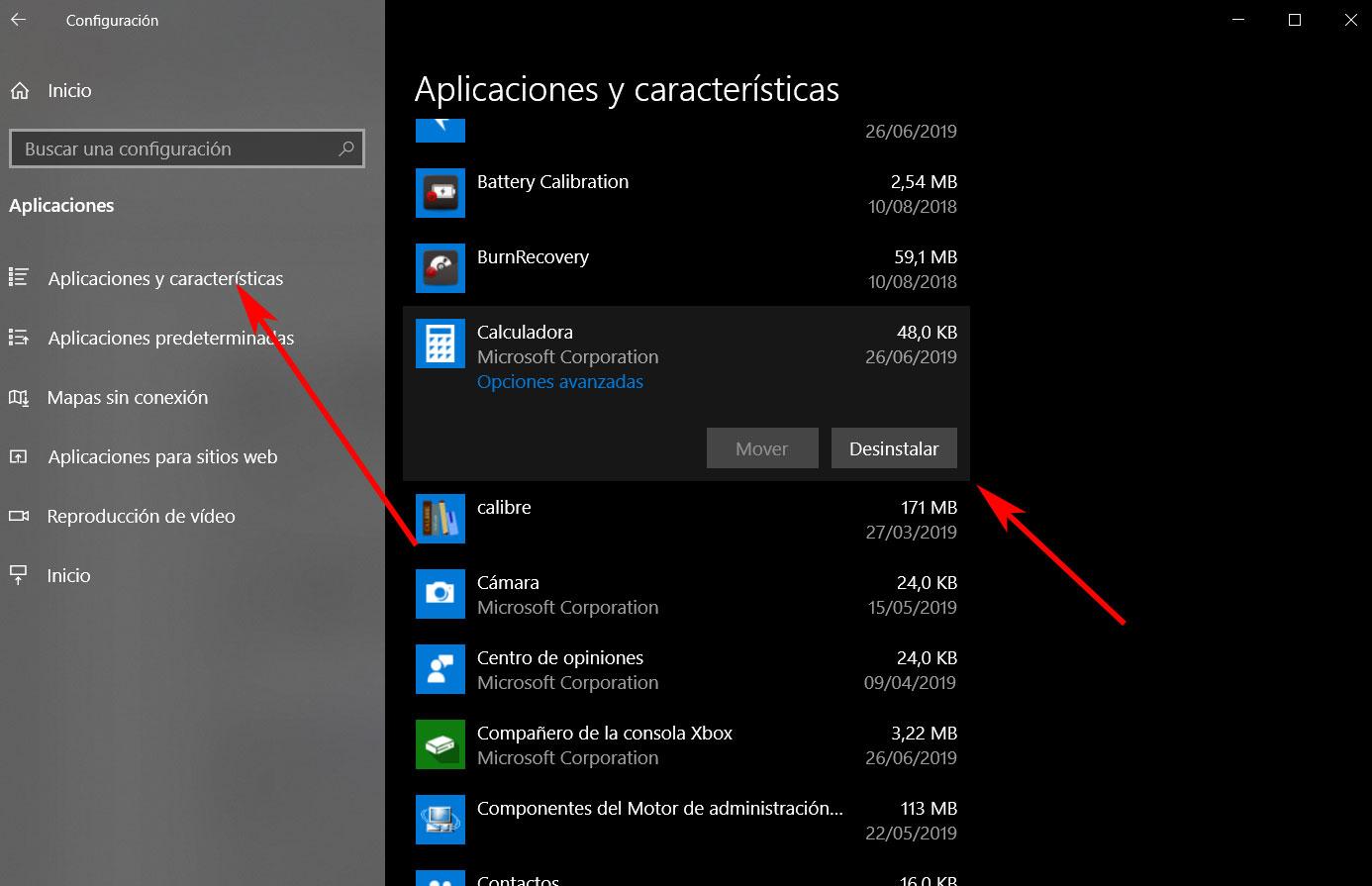 Therefore we look for those that are integrated by default in the system and that start with it, to click on them and select the "Uninstall" button to delete them. As happened in the previous case with the deactivation of Win32 from the Task Manager, the elimination of the UWP will speed up the start of Windows 10 by not being able to load, which is precisely the objective that we are looking for in these same lines.
Enable Windows fast startup
Windows 10 Quick Start is a feature that came to users with this operating system and that allows you to turn on the PC faster after turning it off. This is possible since, instead of erasing all the information loaded in memory when shutting down, it saves a copy of the kernel, and other basic elements, on the hard disk, as a kind of hibernation, only of the operating system instead of the classic hibernation in which all RAM is stored.
Normally this function is usually activated by default on all PCs with Windows 10. But, to check it, we must open the Configuration Panel of the operating system, and go to the "Hardware and sound> Power options" section. Here we will click on «Choose the behavior of the Start / Stop buttons».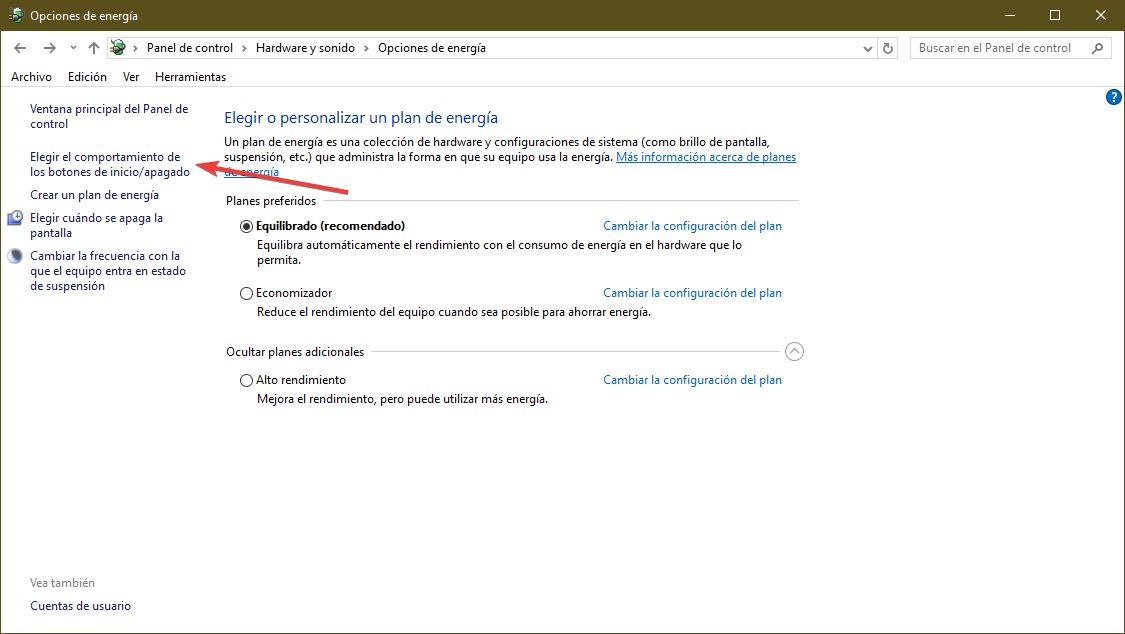 We can see a new menu of this control panel from which, as its name indicates, we can configure the Windows startup and shutdown options. At the bottom of the window we will have a section called « Shutdown settings «. If it is not enabled, we have to give it administrator permissions from the button that comes. In it we will see several options. But the one that interests us is the one to " Activate quick start ".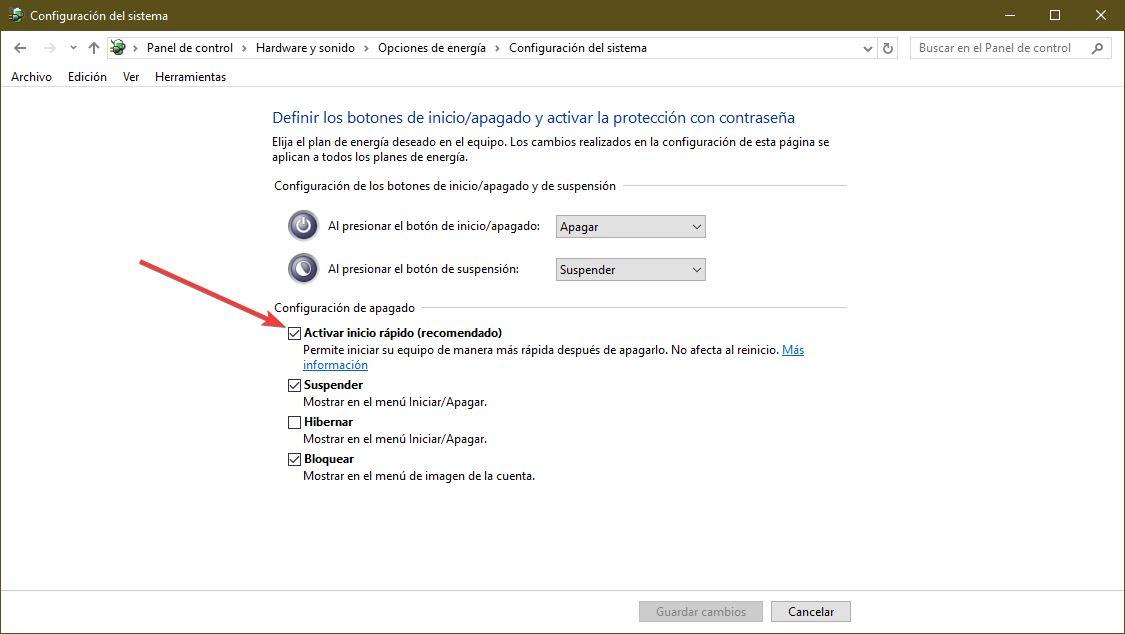 If this box is checked, then we will be taking advantage of this improvement. Otherwise, it will be disabled. We can activate or deactivate it as we want. Of course, this "quick start" only allows us to accelerate the startup of Windows 10 when turning off and on. If we use the "restart" option, the PC will be fully powered up.
Disable Cortana
Windows incorporates its own assistant called Cortana, which can help us to offer help with any questions we need when using the operating system. In general, it is little used, but having it activated causes it to consume system resources. This is something that more current computers may not notice too much, but it can affect boot time on older and less powerful computers. In case we do not use it, it is advisable to deactivate it completely.
To deactivate it, simply type Cortana in the search engine and select "Application settings." In the "Configuration" section, we must deactivate the box so that it is not executed when logging in.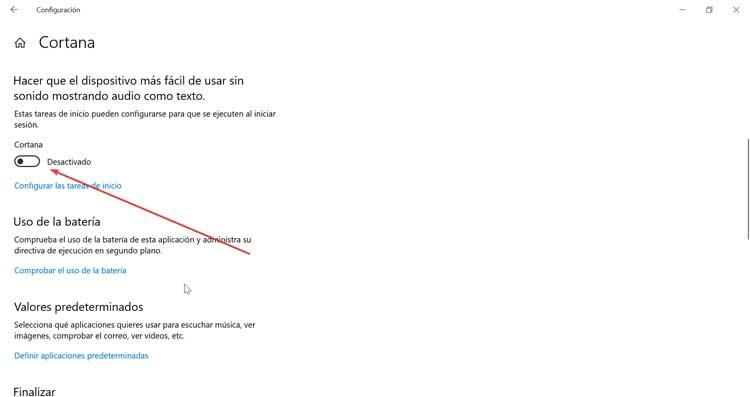 Speed ​​up Windows 10 startup with other programs
Autorun Organizer
But we still have one more method that will help us make Windows 10 start faster than it does at the moment, and it is through an interesting third-party application called Autorun Organizer that you can download from this link.
Once we have downloaded the software as such and have installed it in the system in a conventional way, we can start it up. Thus, once it appears on the screen, we can say that we are facing software that is very similar to the Windows Task Manager that we have reviewed previously, but much more advanced and complete.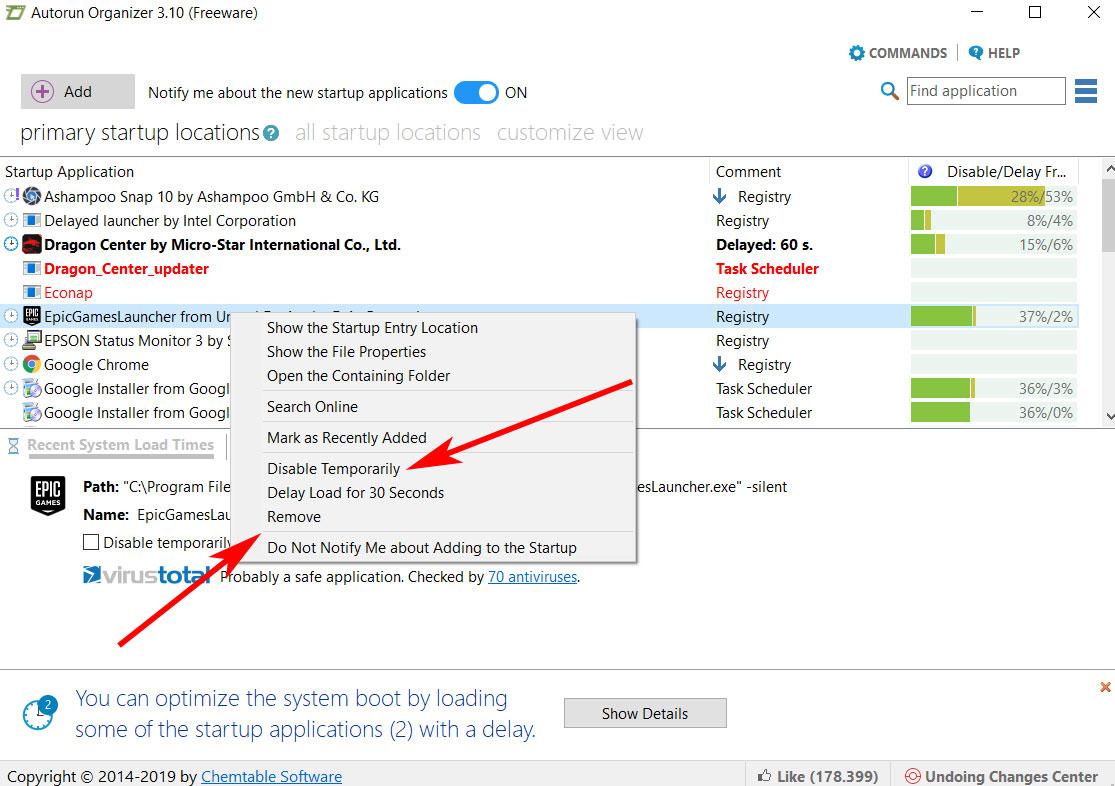 In fact, its operation is based on allowing us to eliminate everything that we do not want to start with the Windows system, so the first thing it shows is the tools that we have installed. In addition to eliminating all the entries, we can "disable" them, which is roughly the same (but would allow us to activate them again in the future), and even delay their startup. If instead of loading all the programs at the same time, they start sequentially, the impact on performance is less.
Therefore, if we want to interact with any of these inputs, we will only have to position ourselves with the mouse over any of them and click with the right mouse button to eliminate it completely from the start, or to deactivate it temporarily. By selecting any of the entries that we see here, at the bottom of the program's main interface, in the "Recent System Load Times" section, we will be able to find exactly the last times that program was executed, and the time taken in the process, so we will see the impact it really has on the boot of the system as such.

That is why at this time we recommend you take a look at the different methods that we have shown you in these lines, especially if your equipment is somewhat old or limited in terms of internal specifications, since it will help you to start the same. in a much more fluid way in most cases.
Ashampoo WinOptimizer
Ashampoo WinOptimizer is another alternative specially developed to facilitate general Windows optimization. Among all its functions, the one that interests us following this line is the so-called " StartUp Tuner", which will help us eliminate unwanted programs that start with the operating system and, in this way, we can accelerate the startup of Windows 10.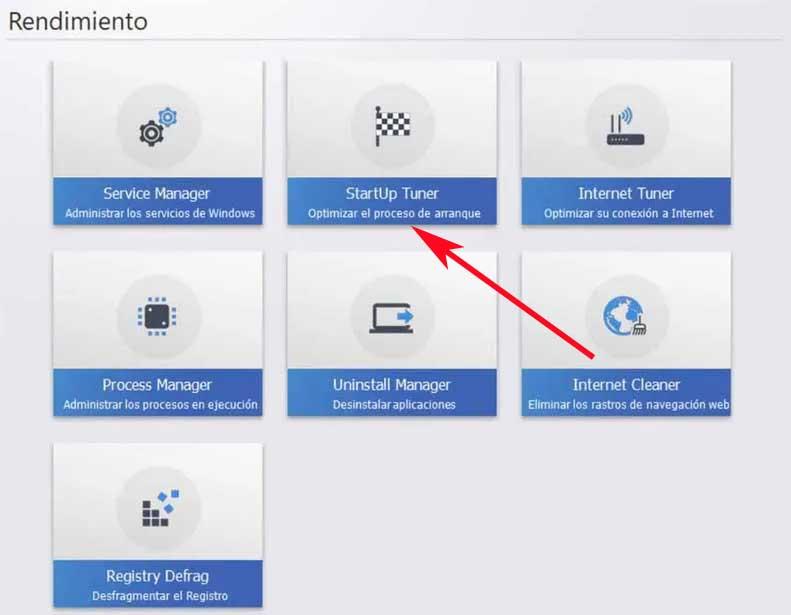 We can download this program from here.
Advanced SystemCare
But these are not the only programs that we can use in this regard. The IObit alternative, Advanced SystemCare, also has a special function for this called " Optimize Startup " that will allow us to speed up Windows startup, as well as optimize the operation of various sections of the operating system.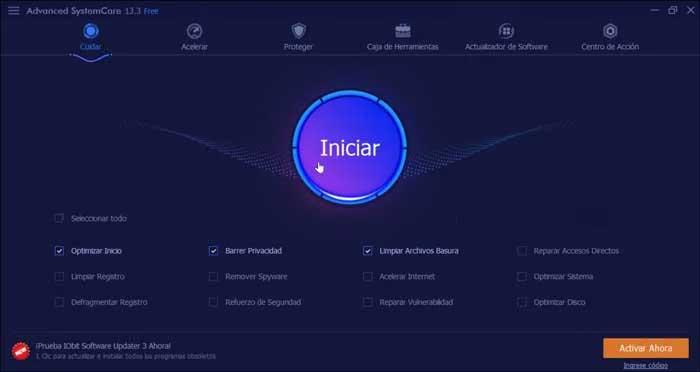 We can test this software from this link.