Windows
So you can log automatically when you turn on windows 10

One of the Windows 10 features that users liked the least was the ability to link the computer's user account with a Microsoft Account. Although Windows Hello helps us to make the login more bearable (with a PIN, biometrics, etc.), there are users who prefer to log in automatically when they turn on the computer, despite the security problems that this entails. Luckily, with a simple trick it is still possible to do this.
The problems of using Microsoft account as local PC account
Users, especially desktop PC users, were used to not protecting Windows with a password, or to using a simple password to be able to log in quickly. Seeing the security issues that this implies, Microsoft offered the option to link the Microsoft Account to the Windows 10 user account.
This makes the PC password the password for the Microsoft account. In return, it gives us more security and access to company services, such as synchronization of settings and access to OneDrive.
When we use our Microsoft account to log into Windows 10 we are automatically setting our email and password as the credentials of our Windows user . This forces us that, every time we turn on the computer, we have to enter the password for our Outlook account. And this is very annoying especially for users who use strong passwords.
In addition, if we share our computer with other people (with family or friends), if the person needs to unlock the computer, and for some reason Windows Hello does not work, we will have no choice but to give the password of our user. And this account is the one that gives access to mail, OneDrive and all other Microsoft services. A catastrophe speaking from security and privacy.
Luckily, although Windows 10 does not show us the option as such, it is possible to configure the operating system to be able to log in automatically when turning on the computer. In this way we will not have to enter our password or any PIN.
How to enable automatic login in Windows 10
This configuration is available in all versions of Windows 10. We can use it without problems from any version and edition (both Home and Pro).
Using netplwiz
To do it by this method, what we must do is execute the command «netplwiz» in our Windows 10. This can be done from the Cortana search engine by typing the command as such or by opening the Run window (Windows + R) and executing the command from there.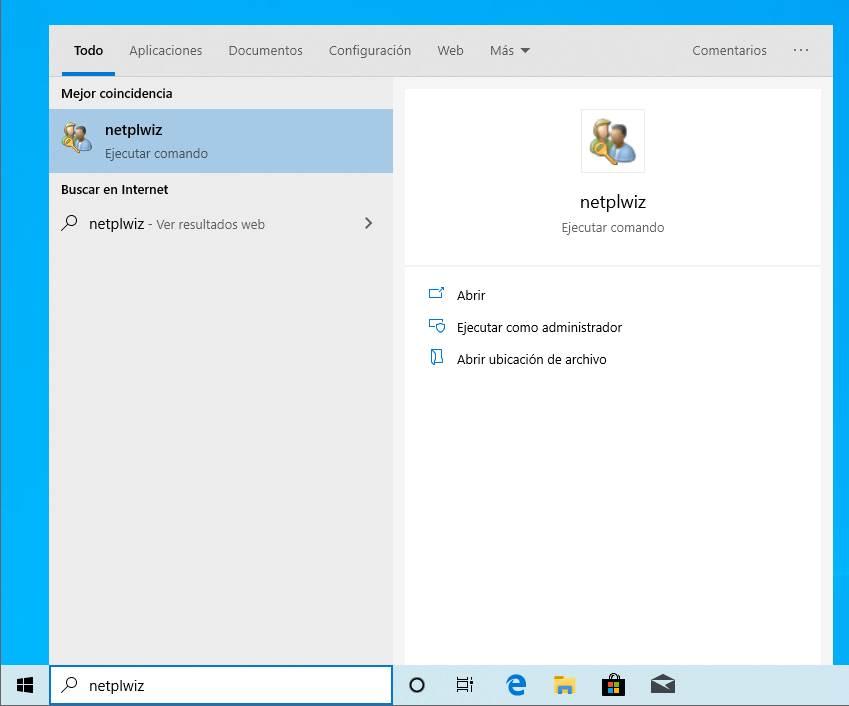 A new user account configuration window will open. From here we will be able to create new users, modify existing ones and manage all the accounts that we have on the computer, for example, forcing a user to change the password when logging in.
In addition, we will be able to customize the way in which users log in to our team.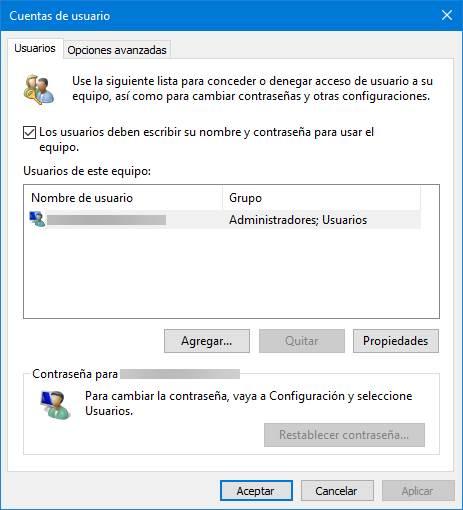 To enable automatic login, all we have to do, in this window, is disable the box « Users must enter their name and password to use the computer «.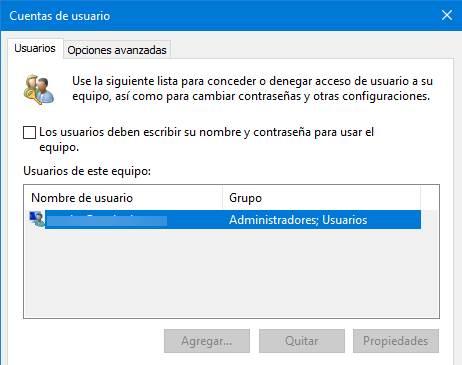 As we can see, the user box of the equipment has been gray. We apply the changes, enter our password (for security) for the last time and that's it.
Now, when we restart the computer we will be able to see how we log in automatically without having to enter our password.
Using Autologon
If we do not want to complicate ourselves, there is a very small and simple program, created by Microsoft itself, that will allow us to do the same. What this program does is, instead of having to enter the username and password, it automatically loads the ones that we specify to be able to log in. The data is saved, encrypted, in the Windows registry, making it totally safe.
This program is part of the Sysinternals, and we can download it from this link. Once downloaded, we execute it and fill in the data that it asks us to configure the automatic login.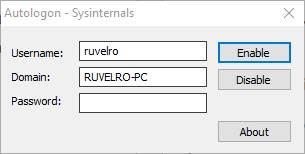 Using the "Enable" and "Disable" buttons we can activate or deactivate this automatic login. We can even use it by command line using the following instruction:
autologon user domain password
Modifying the registry
And we also have a third way to do the same in Windows 10: by editing the registry. The result will be the same as with the previous two methods, but it is a more complicated process (and dangerous, if we do not have experience with the registry).
The first thing we will do is open the "regedit" window using the search engine on the Windows taskbar.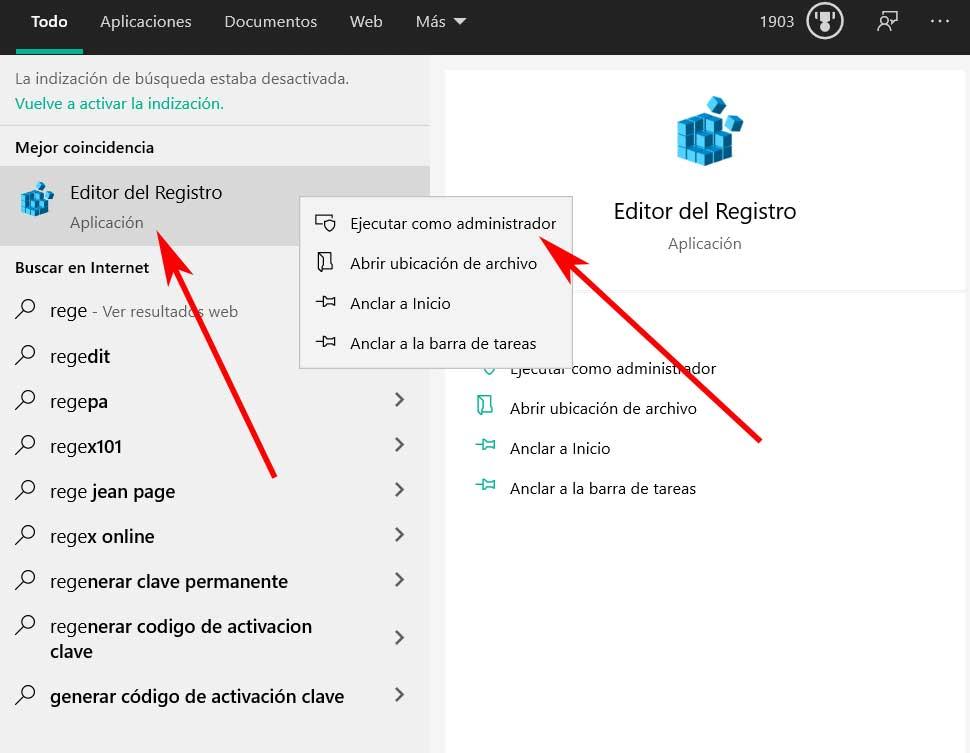 Once open, we must go to the following directory:
HKEY_LOCAL_MACHINE>SOFTWARE>Microsoft>Windows NT>CurrentVersion>Winlogon
Inside this directory we will find a registry value called "DefaultUserName". If it doesn't exist, we create it as New> String value. We double click on it and enter the name of our user, the one we want to start by default. Next, we look for an entry called "DefaultPassword" or, if it doesn't exist, we create it as New> String value. Once created, we double click on it and enter our password.
Finally, we look for the registry entry "AutoAdminLogon", and we change its value from "0" to "1". Clever. We restart the PC and we will be able to see how it is automatically logged in with the account that we have specified.
Disable lock screen
If we are going to configure automatic login, the lock screen that Windows 10 configures us does not make sense. Thus, if we do not plan to use it at all, we can deactivate it. To do this, we must go in the registry editor to the following section:
HKEY_LOCAL_MACHINE>SOFTWARE>Policies>Microsoft>Windows
And, there, create a new 32-bit DWORD value, giving it the name "NoLockScreen". Once created, we open it with a double click and give it the value "1".
After restarting, the lock screen will be history.
How to protect our computer with automatic login activated
Although when we turn on the computer we log in automatically, without a password, it is still activated in our Windows 10, so we continue to have some security.
For example, if we lock the computer with Windows + L, to use it again we will have to enter the password for our Microsoft account. Either that, or enter the PIN code if we have Windows Hello activated to be able to unlock the computer and use it.
Also, if we restart the computer Safe Mode it will not automatically log in. In order to enter we will have to enter the password of the user account, that of the Microsoft account. Starting with Windows 10 May 2020 Update, we can also enter Safe Mode with the Windows Hello PIN code.
Dangers of not protecting your Windows 10 PC properly
With everything and with this, this that we have shown you in these lines we can carry out in somewhat special circumstances. And is that as we have already commented on countless occasions, protecting the Windows computer should be mandatory in most cases. In addition, it is a simple way to avoid future problems and troubles, something recommended even when we live alone at home, for example.
Whether using the authentication method that we like or interest the most, the Windows PC in most cases should be protected. Keep in mind that more and more private data is being handled on these computers, so the risks increase considerably. Therefore, if someone unwanted has access to the operating system and installed applications, they can access data that we would never want to fall into other hands. We refer to bank details, medical, personal and sensitive photos and videos, etc. You have to know that Windows 10 itself offers us a good number of options in this regard.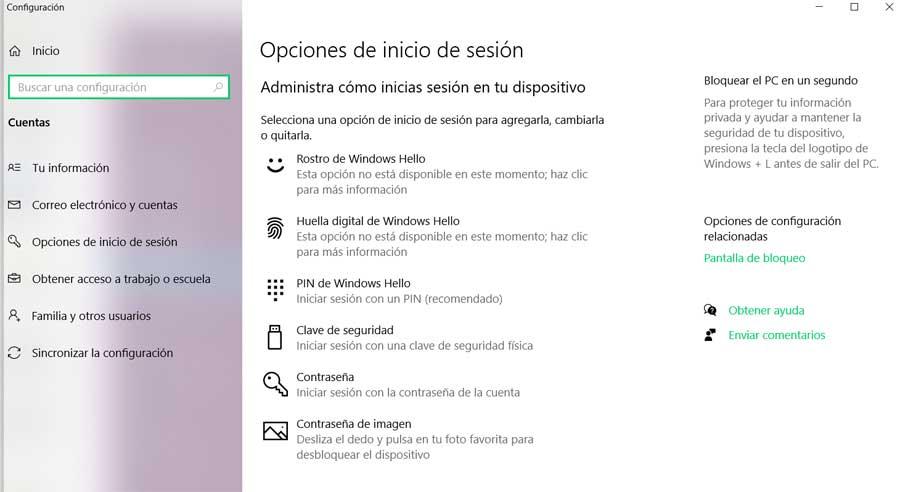 Thus, we have the possibility of using a simple four-digit PIN, a complex password, a fingerprint, a physical USB security key , an image, etc. With all this, what the Redmond firm itself does is try to make things easier for us in this regard. But whatever it may be, let's protect the Windows 10 computer, and everything that it contains.
Sign in comfortably with Windows Hello
Automatically logging into Windows 10 can be comfortable, but it is not the best option, especially speaking from security and privacy. Any user could turn the computer off and on and would have access to our session and all the data.
It is true that entering the password when starting Windows is inconvenient and annoying. Especially since with Windows 10 the password is the same as that of Outlook (and, therefore, it must be a strong password). For this reason, Microsoft offers us what is known as "Windows Hello", an alternative login system that allows us to configure other elements to log in.
For example, we can configure a 4-digit PIN code that we can use instead of the password to log in. We can also choose to use our fingerprint or our face, as in mobile phones to log in to the computer. Of course, we will need to have additional hardware for this task.