Windows
Shortcuts that make your day to day easier in windows 10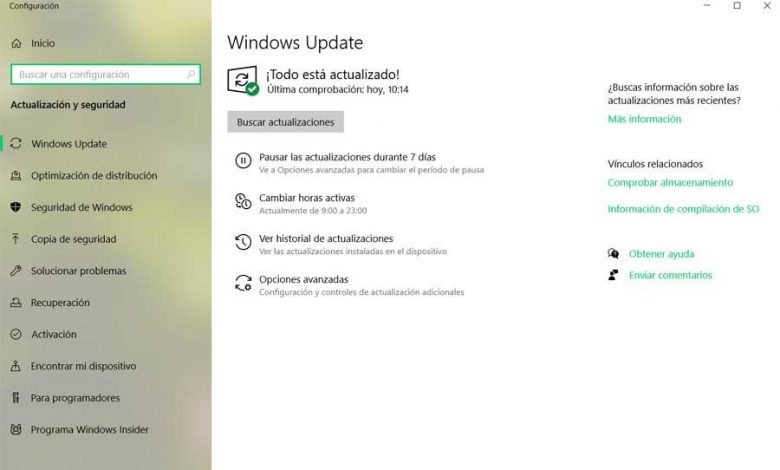 Working with Windows 10 in the best possible way is a basic thing for most users. They try to be as productive as possible in daily work with the team, for which the system presents us with multiple functionalities. Well, in this case we are going to talk about the useful shortcuts that we can create and use.
These are elements that we can create at any time and that will refer to many aspects of Windows. Therefore, as we will see later, these can refer to a program that we want to open, execute in a certain way, access specific functions, own documents, etc. In this way, with a little imagination, we can save a good amount of time and save efforts in the day to day with Windows 10.
In addition, as we are going to teach you, these shortcuts are very easy to create and we can place them where we are most interested. Thus, in these same lines we are going to show you how you can create shortcuts to elements that will be very useful in your day-to-day PC.
How to create a shortcut
But first of all, the first thing we are going to review is the generic way of creating an element of these that we are talking about. Therefore, we are going to teach you, for example, how to create a shortcut on the system desktop. This is one of the most common places where we usually place these useful objects to access their content, quickly.
Therefore, at this point, in order to create a shortcut in Windows, once we are located on the desktop itself, we click anywhere with the right mouse button to bring up the context menu. Once we see it, we only have to click on the New / Direct Access option.
This will lead us to a new window in which we must type the real location of the element that we are going to call from here. That is, the disk path of the program or the folder that we are going to open with the new icon, for example. Here we see a Browse button to be able to move through the disk units in search of the content as such.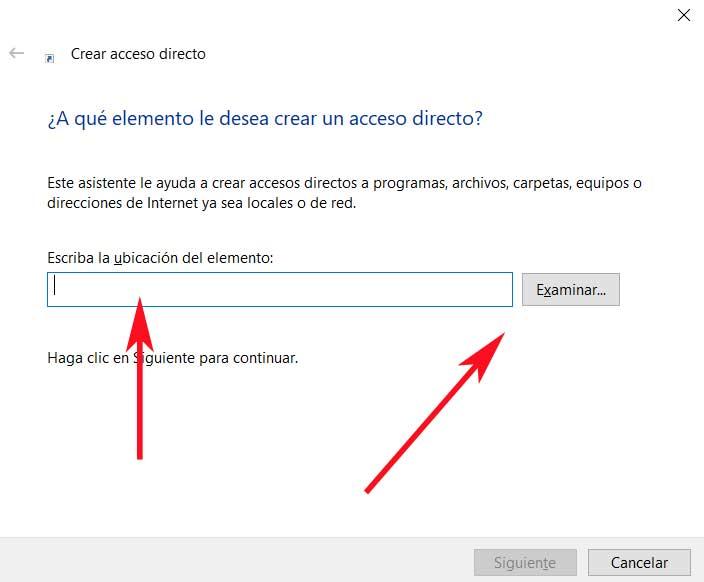 In the next window that appears, we only have to specify the name that we are going to give it. This should be representative enough so that we do not confuse it with others that we have created and we can locate it with a single glance.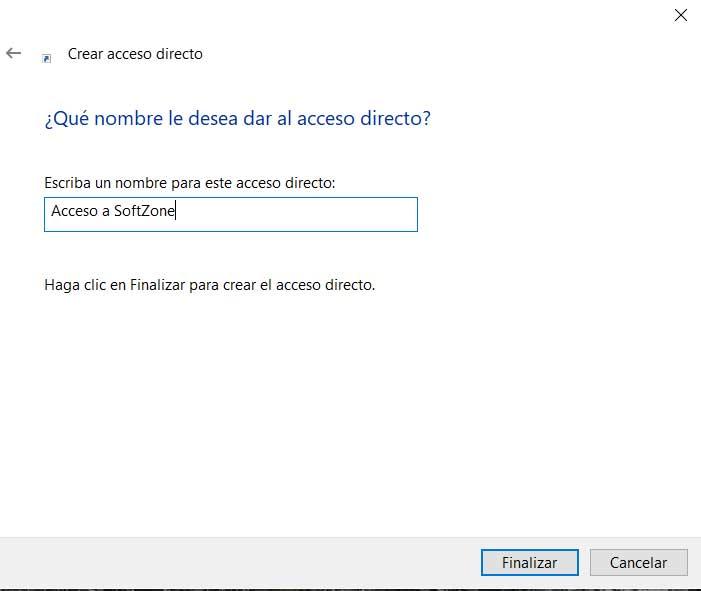 To finish the process, we just have to click on the Finish button and we will have a new shortcut. But as we say, these can call a multitude of elements both their own, and Windows. That is why we are going to review some of the most useful shortcuts that you can create with this system that we have taught you.
Shortcuts to shutting down, restarting and logging out of Windows
This is something we do at least once a day with our team. We refer to the common actions of shutting down or restarting the PC, as well as logging out of Windows, for example. The operating system itself presents us with several methods to carry out all this, but we are going to create and customize our own. And this is something that we can also do through the aforementioned shortcuts. Actually, what we are going to modify here with respect to the steps we have seen before, in the field of the first window.
Thus, depending on the type of call we are going to make with this element, the entry we make in the Enter the location of the element field will vary. Therefore, let's see what we must type to shut down, restart or log out of Windows 10:
To shut down Windows: shutdown -s -t 0.
To restart Windows: shutdown -r -t 0.
To log out: shutdown -l -t 0.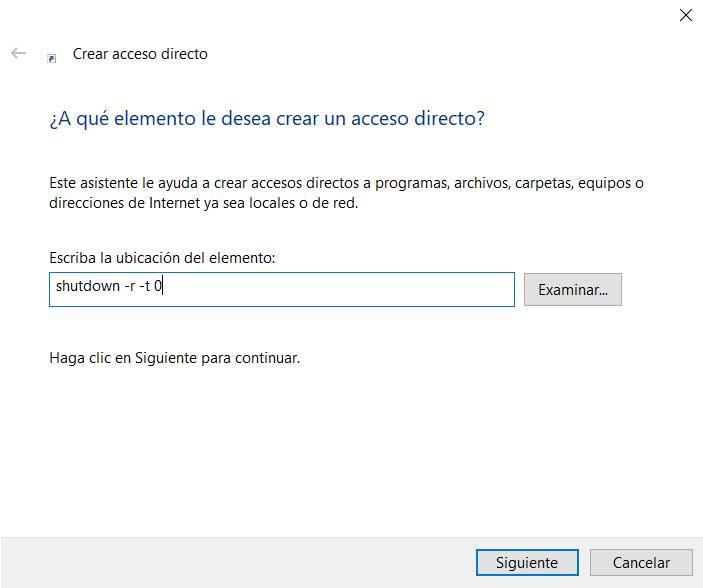 It is evident that the following window, the name that we will give to these accesses that we are going to create, should describe what they really do. In this way, when we are going to carry out any of these three actions, we just have to double click on the corresponding icon that we have just created here.
Shortcuts to suspend or hibernate Windows 10
The same happens in the assumption that what we want is to suspend or hibernate Windows 10. Of course, in this case we must bear in mind that the hibernate functionality is not always active on all computers. With this, what we want to tell you is that the operation of the access that we are going to show you now will depend on it. Thus, assuming that the hibernate function is activated, when using this item, the computer will hibernate.
However, in the event that this is disabled, double-clicking on the new icon will suspend the computer. Therefore, in this case we will have to use the following command in the Enter the location of the element field:
To hibernate or suspend Windows: rundll32.exe powrprof.dll, SetSuspendState 0,1,0.
Create shortcuts to Windows UWP apps
On the other hand, by completely changing the third, it may also be the case that we want to create certain accesses to UWP applications. These are the ones that by default are already installed in the operating system itself, or those that we download from the system's official store. They are usually located in the Start menu, but we can create these accesses on the desktop to run them more quickly.
This can save us a great deal of time in certain circumstances. Therefore, to achieve this, the first thing we do is open a Windows execution window, something we achieve with the Win + R key combination. Here, in the box that opens, we will have to use the following command: Shell: appsfolder. This will give us access to the Applications Windows folder, where we find the icons we are looking for from the UWPs.
Therefore now we no longer have to look for that program that interests us, and click with the secondary button of the mouse on it.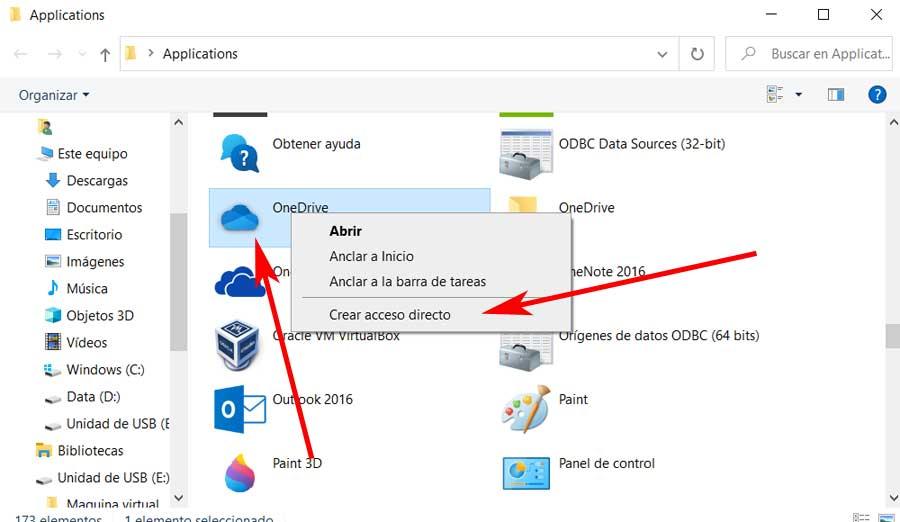 At that time, Windows itself will ask us if we want to place the icon on the system's desktop, which we accept.
Create shortcut to battery settings
Especially if we refer to laptops, good battery management of them can be very important. That is why we can also create our own element of this type to access the configuration options faster. Therefore we are going to show you how we can create a shortcut to the battery settings quickly, all from the desktop itself.
So, the first thing we do is create a new shortcut as we saw earlier. Therefore, in this case at hand, in the path section, we type the following:% windir% explorer.exe ms-settings: batterysaver. Then we click on Next and we can write the name that we want to give to the direct access in question.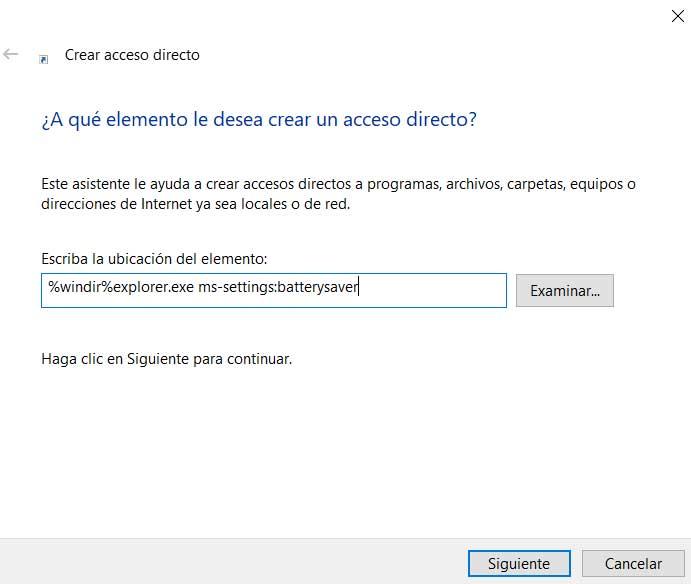 Shortcut to always open Chrome in incognito mode
It can also be the case that we want the Chrome browser to always open in incognito mode. Therefore, we can create our own shortcut to the program for it. A) Yes. The first thing we have to do is go to the Chrome shortcut that, for example, we have on the Windows desktop. We click with the right mouse button and select Properties.
Then the window corresponding to the direct access as such appears on the screen, so we go to the Direct Access tab. Here we already find a field called Destination that indicates the program's disk path. Well, at this point, we have to go to the end of it to add a blank space and write -incognito.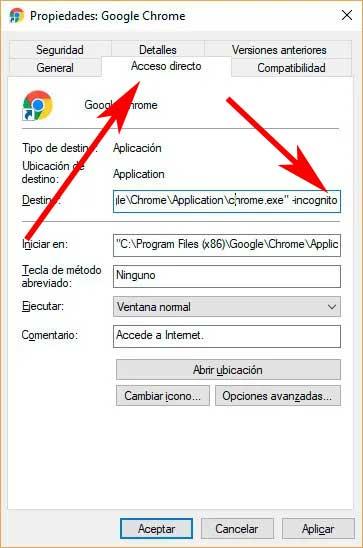 To finish we can click on OK to save the changes and each time we double click on that icon, Chrome opens in incognito mode.
Shortcut to open Firefox in private window
We can do something similar with another of the important browsers of the moment, Mozilla Firefox. Therefore, here so that Firefox always opens in a private window by default, we also locate the shortcut that we normally use when opening the program. We also click with the right mouse button and go to Properties.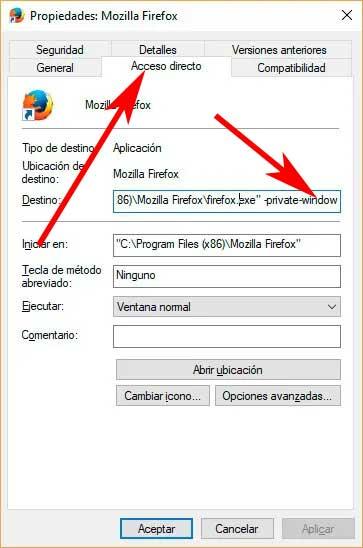 Thus, in this specific case, also at the end of the path that is seen in the field called Destination, we add a blank space and write -private-window. Again we save all the changes and this icon already opens the browser always in a private window.
Create a shortcut to Windows Update
The same thing that we have just seen for Internet browsers or for the configuration of the laptop battery in Windows, we can also do it for Windows Update. As you may already know, this is the section where the operating system updates arrive, among other very important elements. In addition, this function presents us with some interesting configuration options for all this, so we are going to use it a lot.
Therefore, to open this section faster, we are going to show you how to create a shortcut to it on the desktop. For this we only have to follow the steps described above to create an access in the conventional way. However, in this case in the destination field we will write the following: explorer ms-settings: windowsupdate.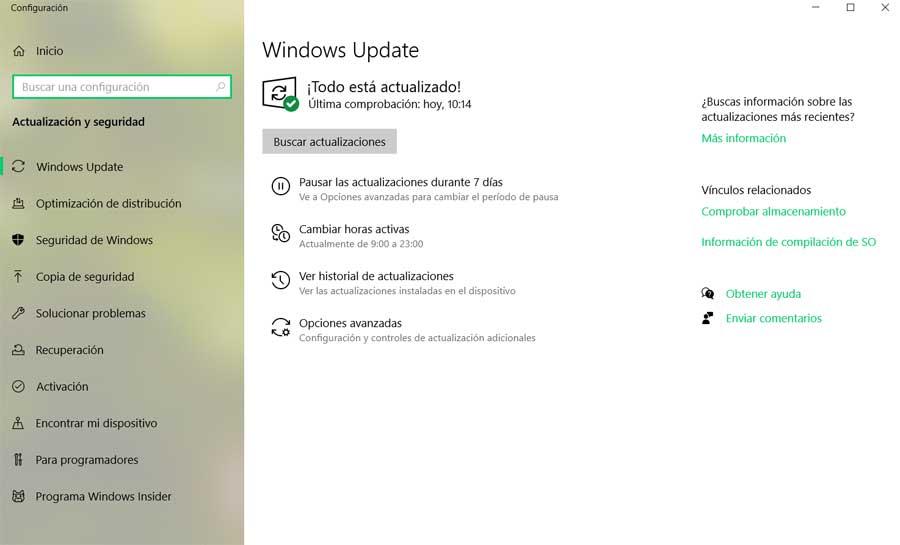 As you can imagine, this shortcut in the form of an icon that we have just created will open Windows Update directly by double-clicking on it. This saves us the previous steps of locating ourselves in the Settings application and looking for this specific functionality.