Windows
Send or easily receive files via bluetooth in windows 10
The Bluetooth connectivity standard is something that has been with us for several years and that has not stopped improving and offering new functionalities through all kinds of devices. In these times, there are many uses that we can make of it, which facilitates many things, both in mobile and desktop environments.
Take Windows 10 computers as an example, many of them with integrated Bluetooth support to make use of other equally compatible devices. To begin with, we will tell you that at first Windows 10 itself presents us with several interesting functions making use of the aforementioned standard. This allows us, from the computer itself, to interact and use other devices, all without cables, as it is easy to think.
Bluetooth offers many functions in Windows 10
What's more, at this point we will tell you that the Redmond operating system greatly facilitates both sending and receiving files. All this, as you imagine in this case, by means of the transfer via Bluetooth. All this that will allow us is to be able to share a photo, a video or any other type of file with others. Obviously, the receiving equipment must also be compatible with this standard.
Thus, we can send those files to which we refer to a mobile phone with Android or iOS, to another laptop, or to a tablet. Therefore, in these same lines, we want to show you the easiest way to take advantage of this specific functionality. And you have to keep in mind that in these times, Bluetooth technology has greatly simplified the process of sharing files from one device to another.
What's more, the most popular products and brands related to technology, in the middle of 2020, already support this communication standard. So let's see how we can transfer any file in Windows 10 via Bluetooth. Of course, as we discussed earlier, to carry out this process successfully, we need to have Bluetooth enabled on both devices.

How to use Bluetooth in Windows 10
Before starting, we must make sure that the other device, the receiver with which we are going to share, is paired with the PC with Windows 10. It must also be turned on and ready to receive the files that we are going to send from the computer. To do this, the first thing we do is turn on the device with Bluetooth and make it visible. On the other hand, we activate this same connectivity in the computer if it is not already on. Next, we click with the right mouse button on the icon of the aforementioned Bluetooth taskbar and select the option to Send a file.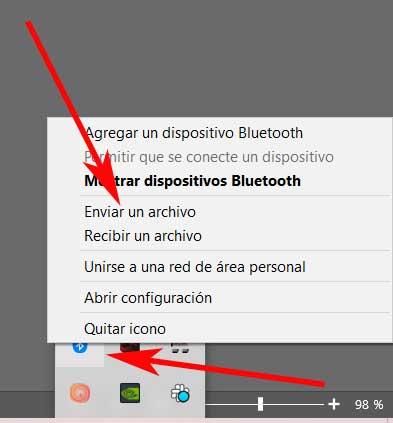 It will be then that the wizard for transferring files via Bluetooth will open. First we have to select the device to which we want to send that file in the event that several appear as available. Therefore, once marked, at that moment we will have to choose the file in question and send it to the linked device, the mobile, for example.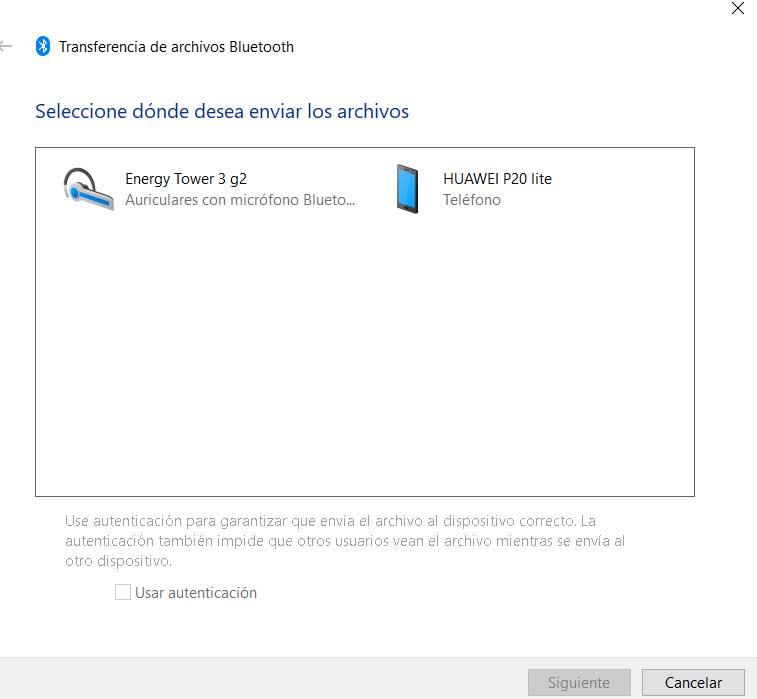 What to do if I don't see the Bluetooth receiver
It may be the case that we have both computers turned on and with this connectivity activated, but it does not appear available in the aforementioned icon. Well, most likely, despite being on, both computers are not synchronized. To do this, the first thing is that we make sure that after turning on Bluetooth on both devices, they are visible at the same time.
We say this because sometimes this function can be active, but in hidden mode for the rest. Thus, if we focus on Windows 10, we make use of the operating system Settings, which we access through Win + I. Once in the new window that appears, we opt for the Devices option, where we click. In the left panel we find a section called Bluetooth and other devices, which is what interests us in this case.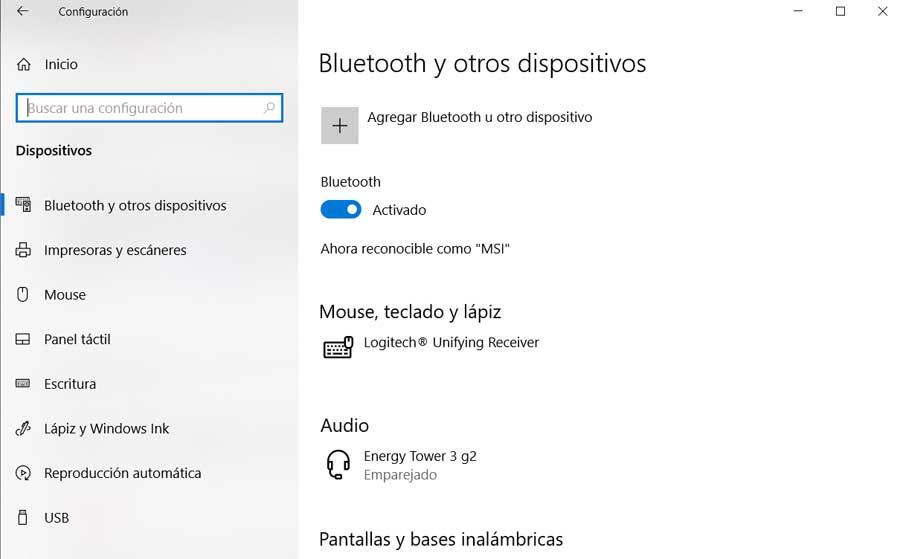 This is where, a little further down, we should see the destination device to which we want to send the files, as linked. Otherwise, we must click on the Add Bluetooth or other device button. Then and if connectivity is activated on both computers, it should already appear as detected so that we can pair it.
Thus, once we have carried out this process that we comment on, for example the corresponding mobile should already appear as Paired.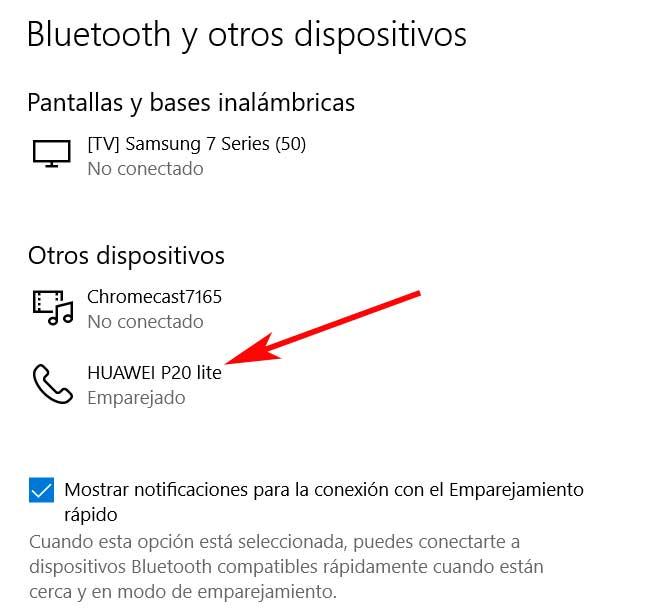 Of course, for security reasons, it is possible that both teams show us the same code to make sure that those two are the ones we want to link. Thus, to finish the process we will only have to accept the process on both screens so that they already appear as linked.
Send and receive files from Windows 10
Therefore, once we have made sure of all this, now we can return to the icon on the toolbar that we mentioned earlier and follow the steps described. What's more, in the icon that we refer to on the taskbar, we will have the possibility of both sending and receiving files.
In this way, in the event that instead of sending a file we want to receive it, we will only have to click on the option to Receive a file. At that time Windows 10 will go into standby mode, that is, we will have to switch, for example, to the mobile that acts as the sender, to send the file or files that we want to send to Windows.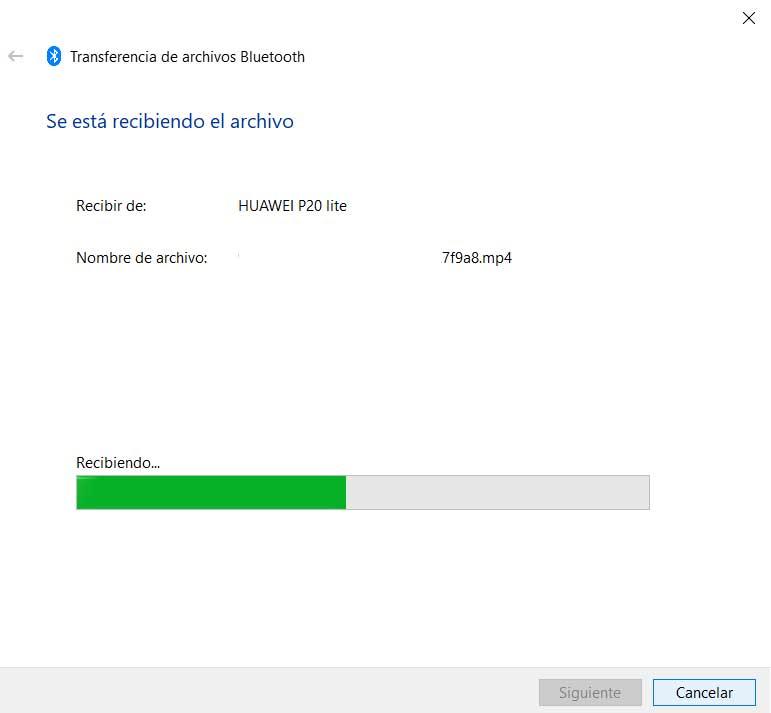 Thus, the moment we confirm the shipment as such, Microsoft's operating system will already be ready to receive the data. At that moment the process itself will start automatically. Of course, to finish we will tell you that in order for both teams to be able to detect and communicate, the distance between them cannot be greater than 10 meters.