Windows
Save memory in windows 10 by forcing the closure of unnecessary apps

As a general rule, there are many applications that we use on our Windows 10 computer. Thanks to these we get the most out of the operating system, but we must also know how to manage them in the best way. And it is that on many occasions we can find that an application does not respond or is blocked so that we can neither use it nor close it naturally. That is why in these cases it will be necessary to close these applications by force.
It must also be taken into account that, in addition to their functionality, these programs that we download, install and use in Windows, consume computer resources. In fact, many times they are running in the background without actually needing to, which is unnecessary. But it is also true that it may be the case that we are not able to close them, or that they "refuse" to respond to the closure request. And we have to bear in mind that when a program does not work correctly, it can end up causing failures in our equipment, so we must put an end to it as soon as possible.
Applications sometimes consume resources unnecessarily
This is something that becomes especially serious if we have an old computer or with somewhat limited resources. Therefore, in the event that a software component is no longer necessary, does not work or has stopped responding, we have to force its closure in Windows. Keep in mind that there are times when Windows 10 itself offers itself to close it. This is because the system detects that the application is not responding and we cannot continue using it, so it offers us the possibility of forcing it to close in order to restart it again.
This is something that it shows us through a message that will tell us that the application is not responding. In some cases the operating system will be able to restart that application, but in most cases, it will only close it. With everything and with this and despite all this, it may also be the obligatory case that it is necessary for us to force its closure ourselves. It is precisely for all this reason that we are going to show you some things that we can try to force the closure of an application, as we mentioned.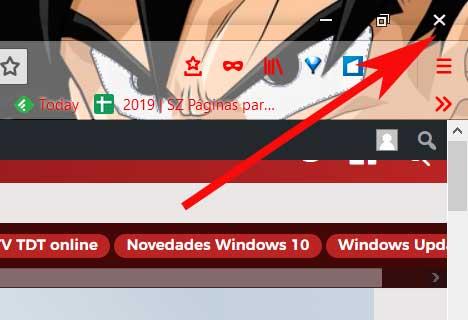 Of course, before forcing the exit of an application in Windows 10, it is advisable to wait a reasonable time to see if it responds by itself. This time will vary depending on the type of program we are dealing with. If you are busy in a resource-intensive job, such as working with video elements, we should wait a few minutes. In this way and with this wait, what we avoid is losing the work that is being carried out and that has not been saved.
Force close apps in Windows 10
If we are tired of waiting for an application that appears frozen to be operational again, we will have no choice but to force its closure in any way. This is something that we can do from the Windows 10 context menu itself, with a key combination, from the Task Manager or from the Command Prompt utility. We are going to review all of them below.
Force Quit a Keyboard App
In this case, the first option that we are going to review is one of the most common and used when we need to force the closure of an application. For this we will use a combination of keys «Alt + F4». To do this, we will first select the program we want to close and immediately use this key combination to force its closure.
From the Windows 10 context menu
The next option that we can consider when forcing the closing of apps is to click on the close button of the same window. If it responds and offers to save the work, we should cancel the close operation. This is because the program appears to be blocked, but in reality it is not.
And it is that if it were, clicking the close button will force the appearance of the Windows 10 dialog box to force the closure of the software as such. But if this doesn't work, or the app is unresponsive to the point where we can't interact with its interface elements, we have other solutions. We can also right-click on its taskbar icon and click Close.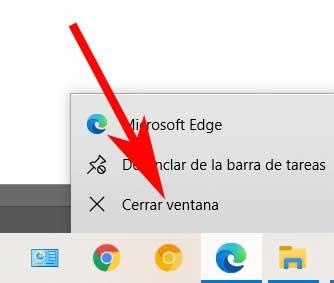 Make use of the Task Manager
With everything and with it, if these previous methods fail, we will always have the possibility to use the Task Manager. To access it we will have to press the key combination Control + Alt + Del. Next, in the window that has been opened, we must click on that application that has been blocked within the Processes tab. In the event that it cannot be accessed, we will see how it says "(No response)" in parentheses. We select it and click the End task button in the lower right part of the main window.
Try the Command Prompt
Changing third, we can also force the closing of applications using a specific command. To do this, we first open the command prompt and execute the following command:
taskkill /im papp.exe

To give us a more exact idea of ​​how this works that we have shown you now, to close the Windows Notepad, the syntax would be:
taskkill /im notepad.exe
As you can imagine, this can be extrapolated to any other program that you want to force its closure, so that in this way we do not have frozen applications without being able to use it in the system.