Windows
Restart or shut down windows 10 without installing pending updates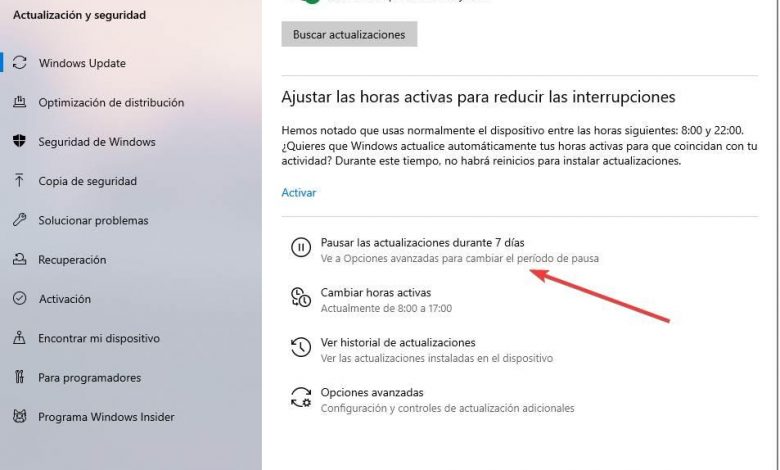 Most Windows updates, to complete their installation, require a restart of the computer. When we do, before shutting down, the operating system installs the update and makes all the changes it has to make. And then, when the PC reboots, it finishes carrying out the pending tasks, prepares the PC and, finally, it shows us our desktop. This process, in addition to being able to cause problems, usually takes several minutes. And there are times when we just don't have that time.
Windows 7 allowed users to restart and shut down the computer without installing any pending updates. However, this possibility disappeared with Windows 8, and with Windows 10 it did not return. Up to now. One of the novelties of the 2004 version of Windows 10, May 2020 Update, which has gone unnoticed is precisely a way to allow users to restart Windows without installing pending updates.
In this way, users who have Windows Update automatic updates activated, if they do not have time to update, will be able to shut down or restart the computer without installing these patches. And this same feature works for big semi-annual updates too, feature updates that take so long to install.
New options in the shutdown menu
The quickest way to shut down or restart Windows 10 without installing updates is to do it from the usual shutdown menu. If we already have the May 2020 Update installed, when we have a pending update on our computer, when we turn off the PC we can see that these two new options appear.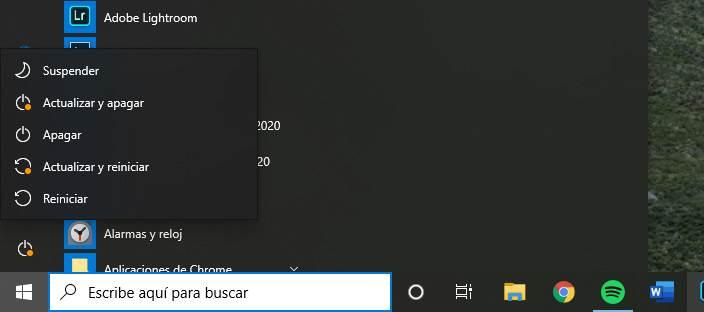 As we can see, we are going to have two different options to shut down and restart the computer. If we want to install the updates we will have to select the option " Update and shutdown " or "Update and restart", while if we do not want to install these new updates we can shut down or restart without installing them.
With this, one of Windows 10's biggest complaints comes to an end. And, if that weren't enough, we have other ways to turn off the computer without installing these updates, in case we don't like using the start menu.
Windows shutdown menu
Another section from which we will be able to shut down or restart the computer without installing the latest updates is the Close Windows panel. This menu appears when we press the keyboard shortcut Alt + F4 while being directly on the desktop. If we are in any other window or program, using this keyboard shortcut will close it. We must make sure we are on the desktop before pressing it.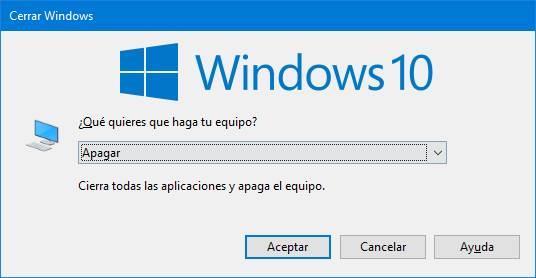 As from the start menu, the two new options will appear here when we have downloaded updates pending to be installed in Windows 10. Thus, we will be able to turn off the computer without updating, or take the opportunity to install the latest updates, whatever comes our way.
What to do if I can't shut down without updating
This feature is only available to users as of Windows 10 May 2020 Update. This means that all updates, even the 2004 version of Windows 10, will have to be installed without this possibility.
In case of not being able to allow us to download and install updates due to lack of time, or because we cannot take risks, we will always have the possibility of postponing the updates from Windows Update. To do this, we will open the Windows Update window and from there we can choose the possibility of pausing updates for several days.
Likewise, within the advanced options, we will be able to choose the number of days that we want to postpone Windows updates. For security updates, Microsoft allows us to delay them for up to 30 days. But feature updates can be delayed for up to a year. So we can wait for the best time to download and install the updates and bring our PC up to date.