Windows
Repair windows without formatting thanks to restore points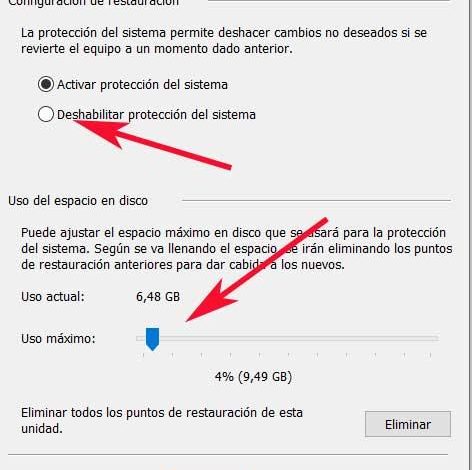 On the PC we use a multitude of applications every day that allow us to carry out all kinds of tasks in Windows. We install these as the need and use of the equipment grows, but sometimes they can be a major source of problems. Thus, these programs that we install can translate into general failures in Windows, or even damage it significantly.
That is something that most of us unfortunately know first-hand, as many of us have had to suffer from the malicious applications that we occasionally encounter. Well, the heads of Microsoft are fully aware of all this, so they present us with certain measures to help us correct it. By this, what we really mean is that Windows itself presents us with a series of functions implemented to help us overcome these possible problems.
In fact, in these same lines we are going to talk about one of the most important functions in this same sense. Specifically, we refer to the useful restore points that Windows itself allows us to carry out. As you can imagine, these will be very helpful in the event that we detect a serious failure in the system.
How to access the restore points feature
These can be given for a multitude of reasons: an external attack, a failure of its own, due to the installation of malicious software, etc. Therefore, what these Windows restore points allow us is to return the operating system to a time when it worked without problems.
Well, to begin with we will tell you that to access this section, we can do it directly from Windows itself, without going through intermediate means. Therefore, in order to access the functionality as such, instead of navigating between the Control Panel options, we will do it in another way. Therefore, to be able to enter this that we are commenting on, it is enough that we write the term Recovery in the search box . This is specifically the one that we find next to the Windows Start menu button.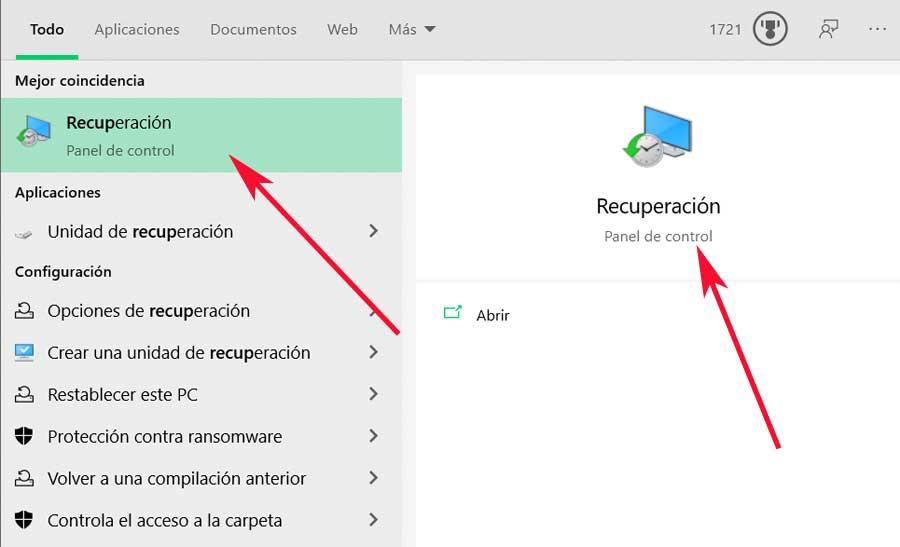 This will give us direct access to a window that corresponds to the Control Panel of the operating system itself directly. Well, as we see at the beginning, in it we will obtain everything we need to be able to better manage the restore points that we are talking about here. Of course, initially in this section we are going to find a total of three different options, so we must be clear about what we need to carry out at that precise moment. This is something that we are going to show you below so that you can see the versatility of this Windows function.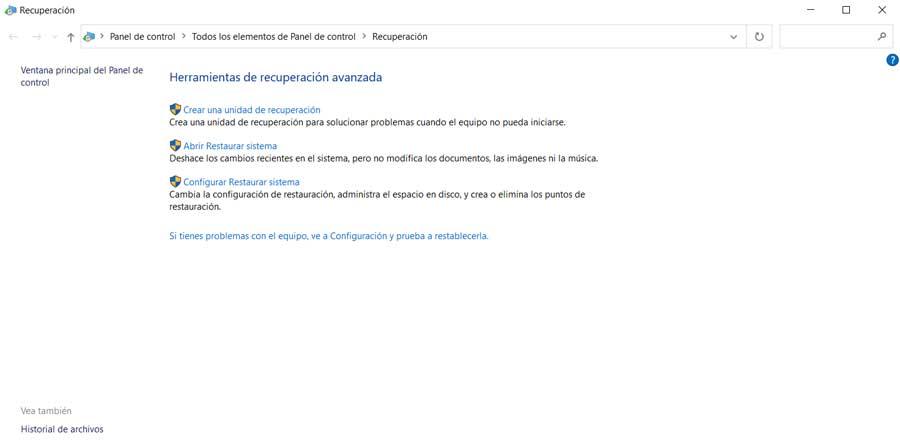 How to create a recovery drive
As you can imagine, in order to make use of these restore points that we refer to here, we are going to need to have access to the system as such. Although Windows does not work well at that time, for whatever reason, it must boot to be able to use these points, although we can also access them from a safe boot.
But that is not always the case, since it may be the case that we cannot even start the operating system, so we will give you another alternative solution. And it is that before making use of the safe mode that we mentioned, in order to prevent this serious problem, the functionality we are talking about allows us to create a recovery unit.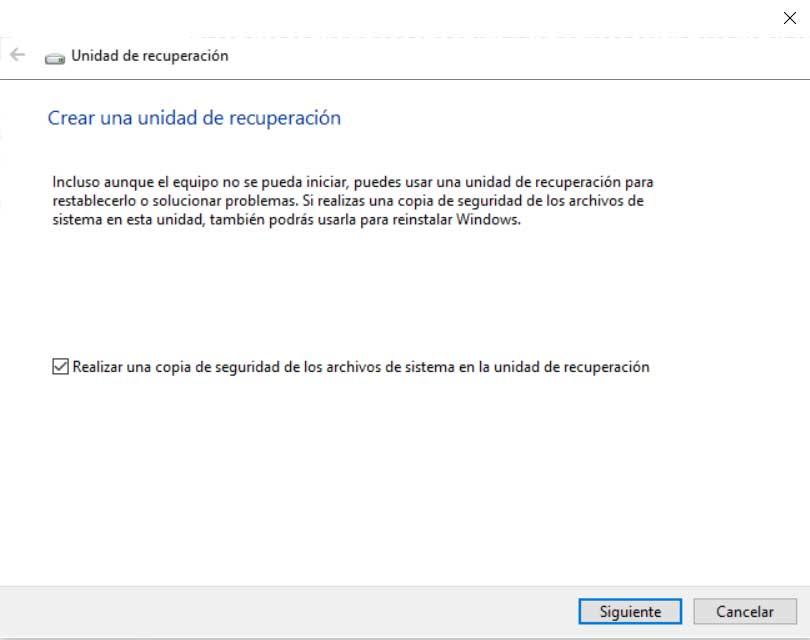 What this actually does is allow us to access the computer from another external drive in order to solve the problems that have arisen. Therefore, in this way, even if the computer does not start, we can access the operating system through this recovery unit that we should keep in a safe place. Once the process begins, the first thing it does is detect an external drive that we have connected to the computer. This is essential, and you must also have several gigabytes available to create this recovery unit. But something that we must be clear about is that this is something that we recommend you carry out when everything works without any problem. At the same time his thing is to keep that unit carefully so that it does not get lost and not use it for other purposes.
Differences between restore points and recovery drive
Next we are going to talk about everything you need to create and manage Windows restore points. But first of all, what should be clear is the difference between these restore points and the recovery drive we just saw. To begin with, the first section, the restore points, let's say they are a kind of backup that is stored on the PC's own disk to be able to use it in case Windows does not work well.
As we will see later, we can create several of these elements, as well as delete them or manage it and customize them to our liking. But of course, to be able to access all this, we need the PC to boot, and the system to work, even if it is bad. But that does not always happen, since there are times when we can access the operating system, that is, it does not start. That's what the recovery unit we just told you about is for. This is another system backup, but it is stored on an external device such as a USB stick.
In this way, in the case of Windows does not start, we will have the possibility of using this memory as a recovery unit, thus making Windows return to a previous state in which it worked correctly.
Access restore points
First of all, we must be very clear that Windows restore points can be created in two ways. On the one hand, you have to know that the operating system itself is responsible for creating these every time we make a major change. For example, when installing some transcendent application, or with system updates. But of course, in the same way we ourselves can create an element of this type at any time.
Thus, in the event that we notice that the operation of the operating system is not correct and we want it to return to a previous state, in this case we click on Open system restore. At that moment, Windows itself shows us, or advises us, a specific restore point that we can use at that moment. At the same time it shows us when it was created, as well as the change that occurred for it.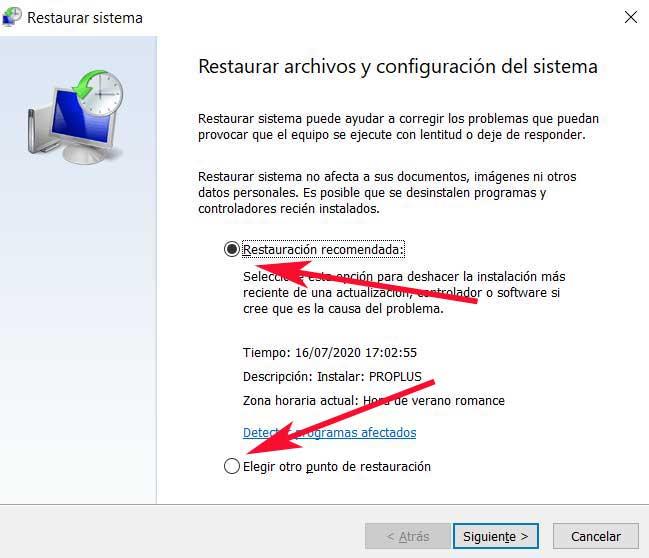 But that is the one that Windows advises us to use, so we also have the possibility of selecting some other that has been created over time. To do this, what we have to do is check the Choose another restore point box that is located at the bottom of the window. At that moment a list will appear with all the points of this type to which we have access right now. We will also see the date of its creation, or if they were generated automatically when installing or uninstalling something in Windows.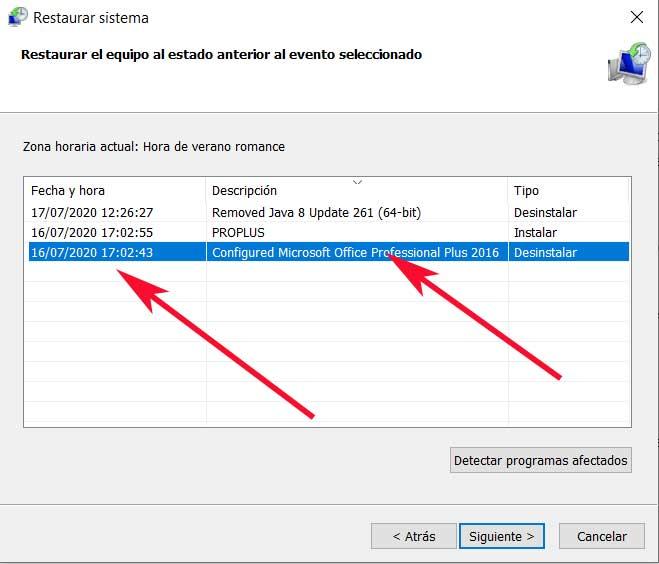 Therefore we only have to click on the one that interests us at that moment, and click on the Next button.
Configure the use of restore points
Change the storage drive
In case you don't know, these elements that we are talking about here, how could it be otherwise, occupy a certain space on the disk drives, several gigabytes. That is why it may be the case that we want to save them in other units. By default this is something that Windows performs on the main system drive, usually in C :. However, as we say, this is something customizable.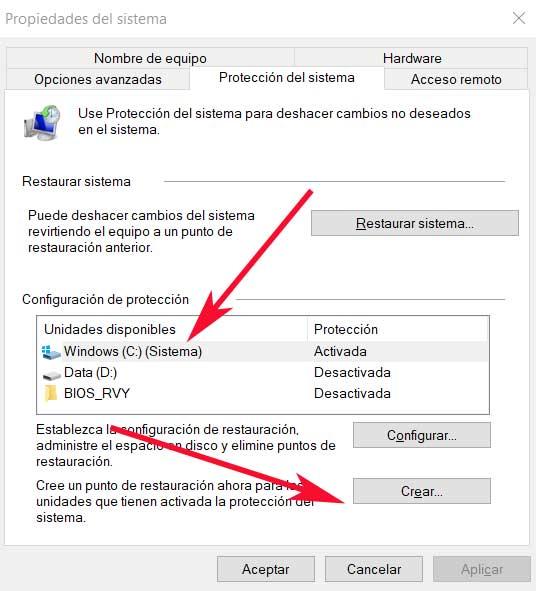 To do this, in this case we must click on the link called Configure system restore. In the new window that appears, we will be able to see a list with the units of the equipment, but of course, in order for us to use them for this purpose, they must be enabled and valid for it.
How to create a point manually
It is also important to know that from this same window, specifically from the Create button, we have the possibility to create a new restore point manually. The best thing we can do once we have reached this point is to create that restore point when the computer works without any problem, as is logical to think.
Once we have clicked on the commented button, all we have to do is assign a representative name to the element that we are going to create. Both the time and the date are automatically attached, so we can dispense with this data.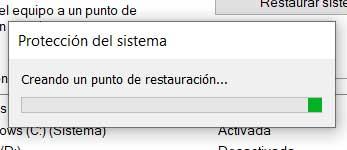 Customize the space to be used by the function
As we mentioned before, these elements occupy disk space, so if they are created automatically, we should control this. In fact, by clicking on the Configure button within Configure system restore, this is something that we can adjust. Moreover , from the same window that appears, we can activate or deactivate the functionality as such, in addition to adjusting the maximum disk space that we want to use from here.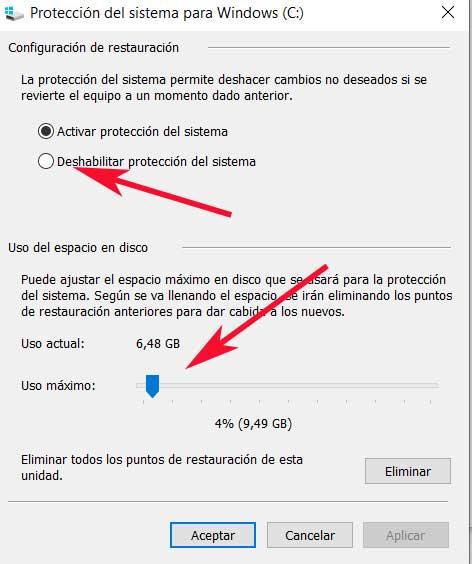 In this way and making use of the sliding bar that we find here, we will have the possibility of establishing a maximum disk space to be used by these elements. Keep in mind that as we allocate more disk space, the further back in time we can go when restoring a damaged system.