Windows
Remove blolatware from windows 10 once and for all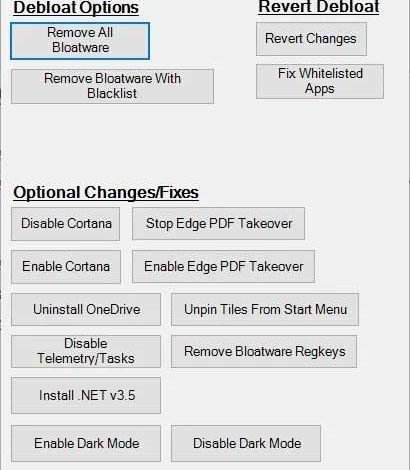 Something that surely has happened to many of you is that we opened our new computer with Windows 10 for the first time, and we found it full of pre-installed programs. This could also be referred to as bloatware, items that most don't like.
For those of you who do not know what we are talking about, we are referring to programs that the manufacturer of the equipment, or the developer of the operating system, adds. This is how you promote your personal applications or those of other partners, something that users generally dislike. With everything and with it, we have different ways to get rid of these programs, as we will see below. It should be mentioned first of all that in the same way these UWP applications that we find in the clean installations of Windows 10, are also helpful for many users. This is because they allow many users to be able to start working with their new equipment, or clean system, from the first minute.
Perhaps later, a little later, when we have our favorite applications, we can decide to eliminate these pre-installed ones that are no longer necessary. This is something that we are going to explain to you in the next few lines.
Remove bloatware from your new Windows 10 PC
As we tell you, with everything and with it you have to know that we have the possibility of eliminating that bloatware from the Windows 10 computer and thus free up space. Of course, when we talk about the programs that come by default with Windows, when updating it, they will generally be installed again. This is something that will probably occur, to the discontent of many, when we install a major update on the computer from those sent by Microsoft itself. And it is that these are considered by the firm as new versions of the system, so they reinstall the UWP app that we initially found. But hey, if we see that this happens, when the time comes it is enough that we delete them again.
In principle we will tell you that many of these Windows 10 programs are impossible to uninstall through traditional uninstallation. But that does not happen with all, hence we have several different methods to eliminate them.
That is why the first thing we should try if necessary is to carry out a traditional uninstallation like we do with any other program. And it is that as we mentioned, we can eliminate some of these programs through the uninstall function of Windows 10. Therefore, for this we will only have to locate them in the Start menu itself , and click with the right mouse button. So if this possibility is available, an uninstall button will appear.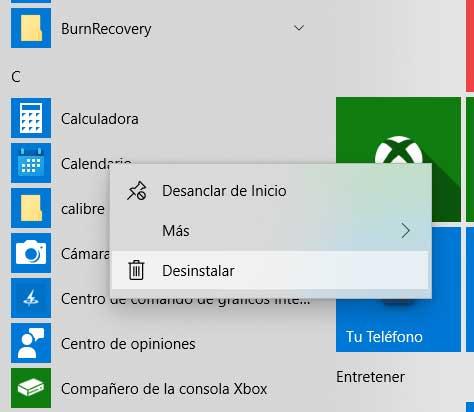 Temporarily hide Windows applications
But this is something for which Windows does not always offer us the possibility. Therefore, in the event that this does not work, we can make use of the Powershell function implemented in the system for this that we are commenting on. This is an integrated application developed by Microsoft for task automation and configuration management. It is also considered a very interesting feature for more advanced users of the operating system itself, hence it will be of great help here if we know how to take advantage of it.
You also have to know that at the same time it will help us to hide the bloatware we are talking about. For this we can do it with the use of the Remove-AppxPackage command. Say that this procedure hides the specified applications without deleting them from the system.
This will be very useful if we want to reinstall them at another time and not lose them permanently. Therefore, first of all we type Powershell in the search box of the Start menu and run it as an administrator. It is then, in the window that appears, where we enter the following command: "Get-AppxPackage * APPLICATION_NAME * | Remove-AppxPackage ".

As you can imagine, we must replace the Application_Name with the real name of the program that we want to hide. Thus, the names of some of these applications, the most popular, are the following:
3dbuilder
Windowscalculator
Windowsalarms
Skypeapp
Officehub
Windowscamera
Windowscommunicationsapps
Zunemusic
Windowsmaps
Solitairecollection
Zunevideo
People
Remove the programs included with Windows 10
In the event that we want to erase all that bloatware entirely, we can use a different command called DISM. To do this we go back to the aforementioned Powershell as we have seen previously and run it as administrator. Thus, first of all and to see the Windows programs that we can delete, we use the command "DISM / Online / Get-ProvisionedAppxPackages | select-string Packagename ".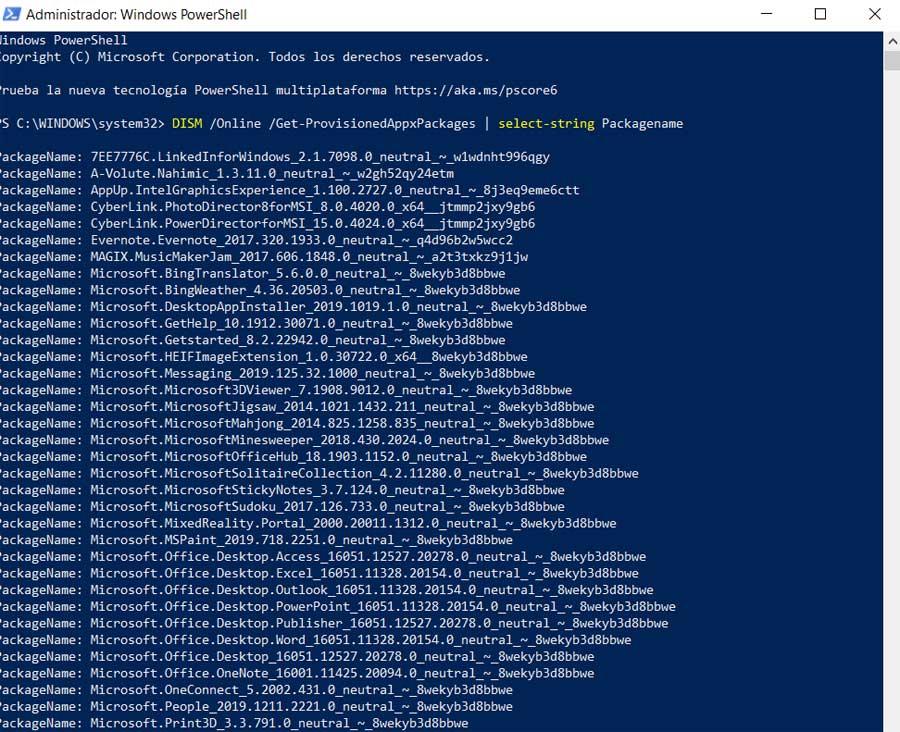 So, from the list we have to locate those applications that we want to completely remove from the system. Therefore we copy its real name and write the command "DISM / Online / Remove-ProvisionedAppxPackage / PackageName: APPLICATION_NAME". It is clear that this same process can be repeated in the same way as many times as we want with all the applications on the list.
Remove Windows applications with other third-party programs
But with everything and with it, this is not the only system of the Other method to permanently eliminate the programs integrated in Windows, it is by using a third-party application called Windows 10 Debloater. This will allow us to eliminate them all in a much faster way. Therefore, the first thing we must do here is download the program as such from this link.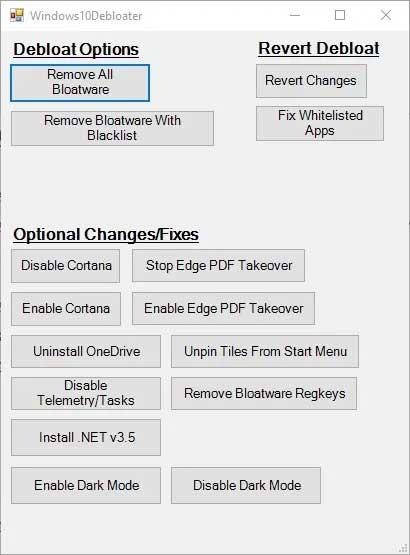 Once we have unzipped all the files on the hard drive, we run the so-called Windows10DebloaterGUI from Powershell itself. Then the window of the same program will open where we see a button called Remove All Bloatware, which is the one that interests us here. Then the application will begin to uninstall the apps from the PC from Powershell itself, but in an automated way.
Other programs considered "bloatware"
Once we clean our computer of all that unwanted software that is installed by default on the new PC, we must also be careful with the programs that we install. There are many well-known programs that, by habit, we usually install first: Adobe Reader, CCleaner, uTorrent … all these programs, although popular, will only harm our computer.
Windows 10 comes prepared to meet the needs of users without having to install much. For example, the Windows Storage Sensor is capable of cleaning and optimizing our disk without having to download and install a program such as CCleaner. When it comes to PDFs, the new Edge can easily open these files, and it has options that many other PDF viewers don't. So we don't have to install the heavy Adobe Reader.
Windows 10 lacks a native download manager, but there are excellent alternatives, such as qBittorrent or Transmission, with which we can perfectly do without uTorrent.
As long as we can opt for free and reliable software, all the better. Our PC will thank us.