Windows
Problems with windows patch? So you can safely delete it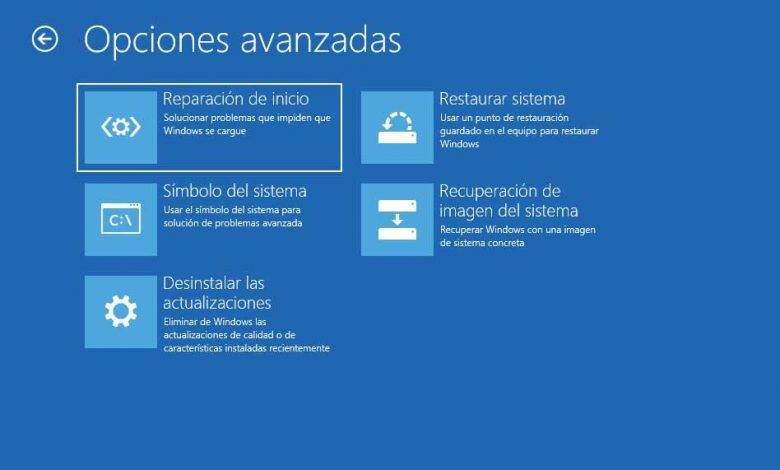 We always recommend installing Windows 10 updates , especially security updates , as soon as possible. However, there are times that some specific patches, whether security or quality, come with problems that make our operating system, some functions of it, or specific applications, stop working. And if that were not enough, there are times that Microsoft takes months to fix these problems. Then what do we do? The answer is simple: uninstall the update.
When Windows 10 installs updates, in addition to creating restore points, it saves a copy of the original files before replacing them with the new ones. This allows users in trouble to go back.
It is not recommended to uninstall a Windows update since, in addition to being exposed to security flaws, we can make our operating system start to malfunction. If the problem that it causes us is not annoying or we can survive with it, then it is best to wait for Microsoft to solve it within a few days, or to be wrong, a few weeks.
In case the problem is very annoying and prevents us from working normally, then we should think about uninstalling the update. But we must know how to do it so that there are no problems, that the update has been uninstalled correctly and so that the problems that it has caused are not replicated again.
How to uninstall a patch in Windows 10
Broadly speaking, there are two ways to uninstall a Windows 10 patch and go back: via an uninstall point or by uninstalling the patch as if it were an app.
The end result of both ways is the same. However, the first of the methods is more detailed and offers us more information, although it is also longer and more complicated. The second of the methods that we are going to see is faster, since it allows us to uninstall an update like any other application.
How to go back to a previous point in Windows 10
When Windows is about to install a new update, it automatically creates a restore point that allows us to recover the computer if something goes wrong. These restore patches only roll back system changes, so our data and programs usually remain intact.
To return to a previous point, the first thing we will do is type in the search bar "restore point" and open the link to create a new restore point that will appear. We can see the system properties window. And within the "System Protection" tab we can see a section called "System Restore." We select it to open the computer restoration window.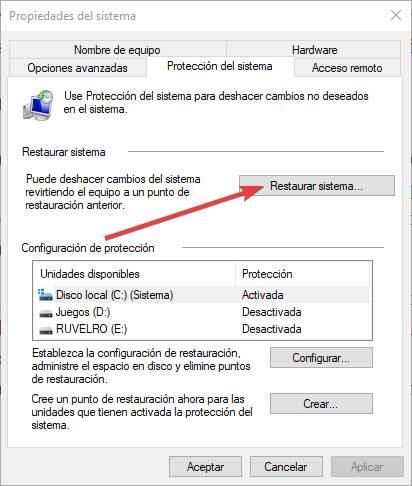 The tool to restore the computer to a previous state will show us a small wizard. We skip the first window that appears and at the next point we can see all the restore points that have been created. We select the closest restore point and that's it.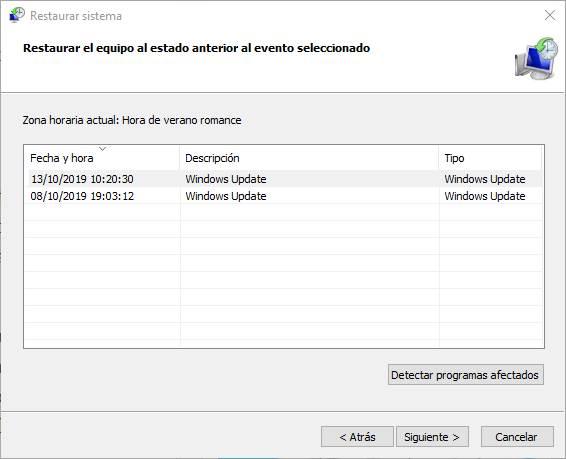 First of all, we can click on the "detect affected programs" button to see which programs are going to be affected when restoring the previous point.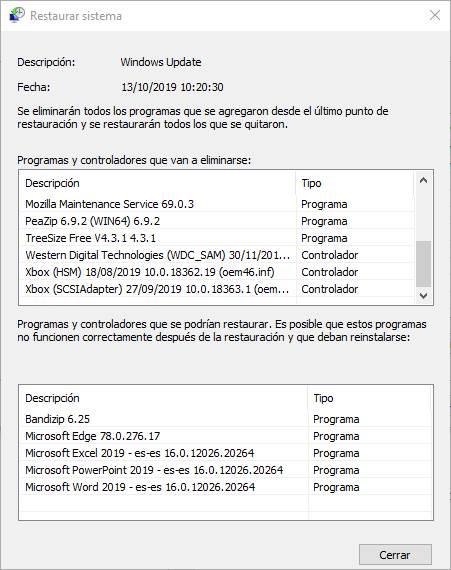 We continue with the wizard and, when our computer restarts, it will take care of putting our computer as it was before the update. When it starts up again we will have the update uninstalled.
How to uninstall a specific update from Windows Update
In case we do not have the specific restore point at hand to restore it or we do not want to use this technique, there is another way to uninstall an update: from Windows Update. Windows 10 keeps a record of the updates that are installed as if they were programs.
Therefore, if we want to uninstall a specific update of Windows 10, what we must do is open the Configuration menu of the operating system, and scroll to the section "Applications> Applications and features" and, there, select the option "Programs and features ».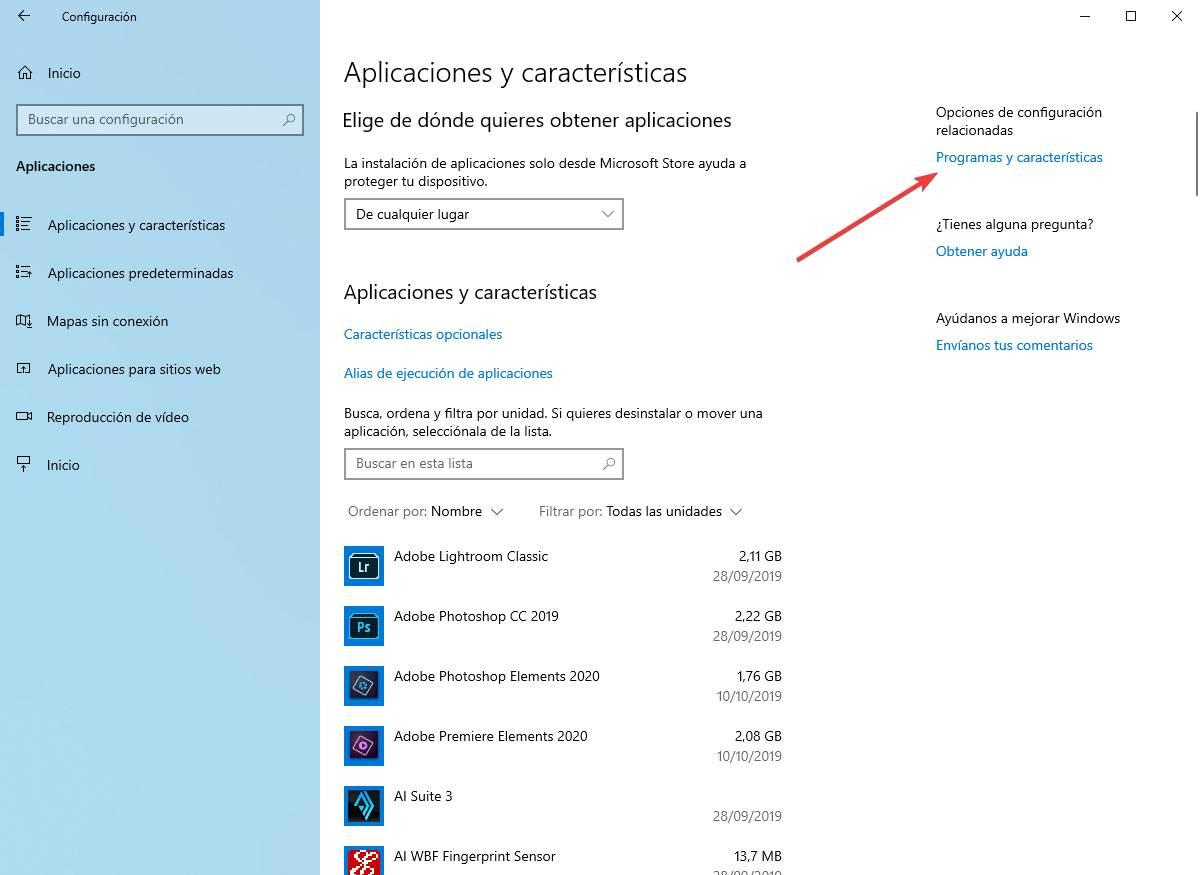 A new window of the Windows Control Panel will open. On the left we will see the section «See installed updates».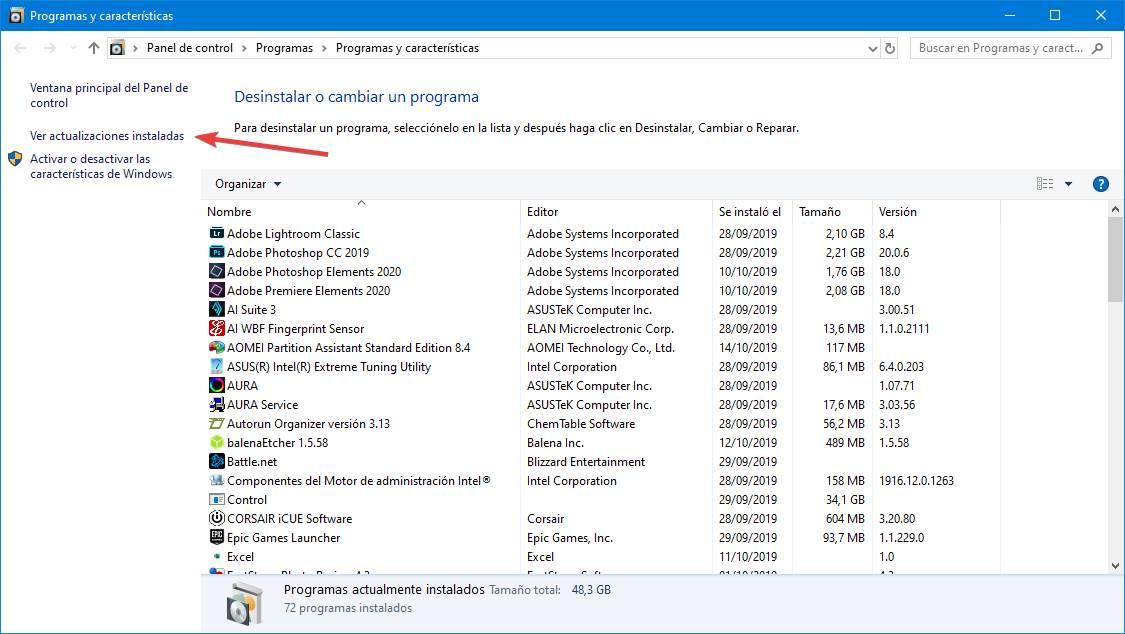 When we click, we will see a list of all the updates that we have installed on the computer. We can search for the last one that was automatically installed in the list or, if we know the exact KB code of it, locate it by it.
When we select the update that we want to remove from the computer, we will see that an "Uninstall" button appears.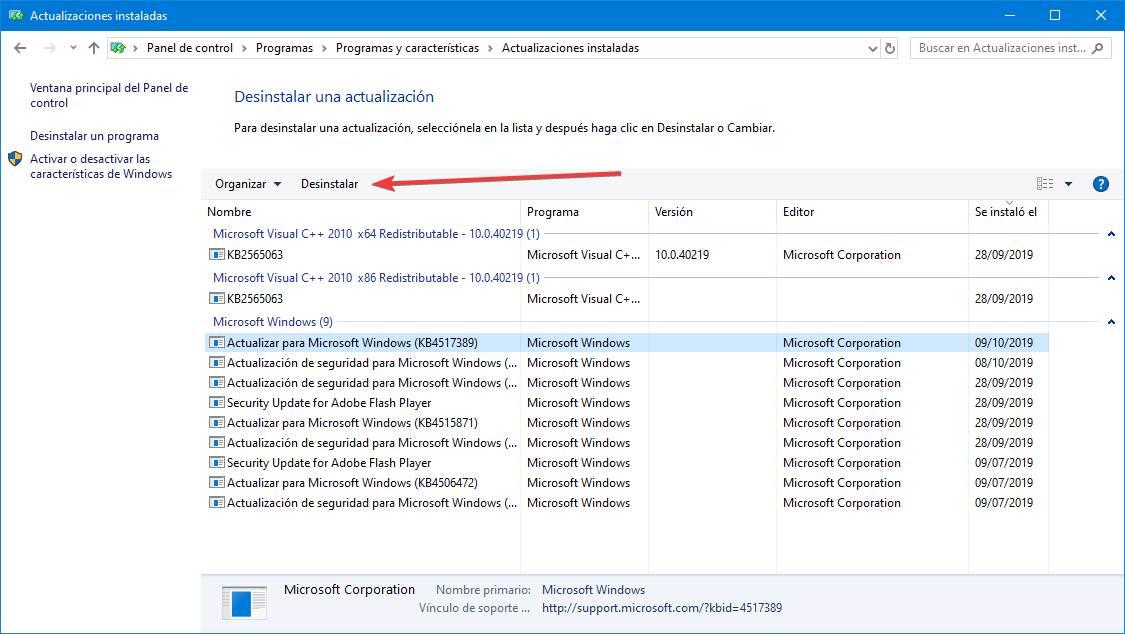 Clicking on it will ask us if we are sure we want to uninstall the update. We say yes, and we continue until we restart the computer. When you start the update again, it will be gone from your computer. And the problems should have disappeared.
Pause updates so they don't automatically download and install again
When Windows looks for new updates in Windows Update it will detect that the update that we have uninstalled is not installed and will download it again to install it on the computer. When you do, unless Microsoft has already fixed the problems, they could reappear again, having to repeat the whole process that we have just seen.
Therefore, to prevent the corrupt update from being automatically reinstalled, what we must do is pause or postpone the updates. To do this, we must go to the Settings> Update and security> Windows Update section and from there we will enter the Advanced options section.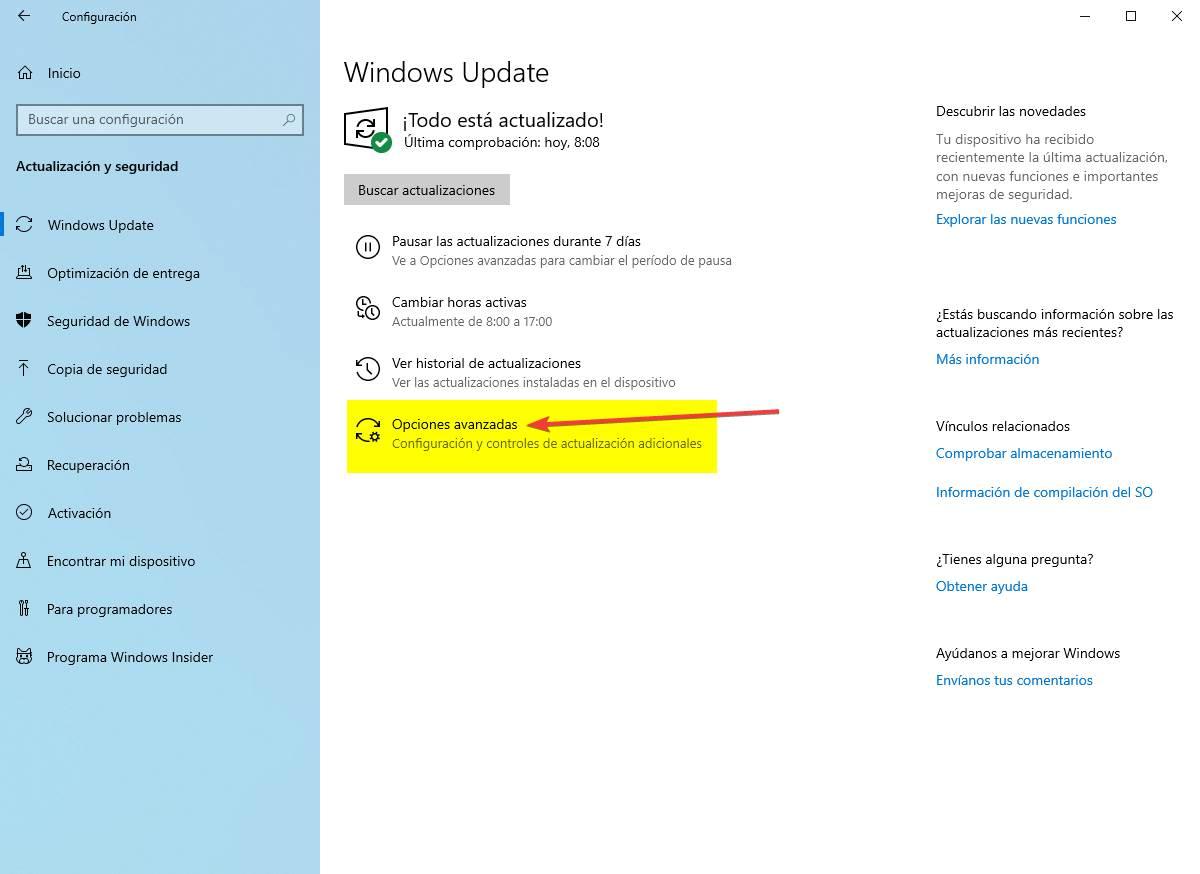 Within the advanced configuration of Windows Update we will find two interesting sections.
The first one is called "Pause updates", and it allows us to pause all Windows updates for up to 35 days. We can choose the date on which we want the updates to be downloaded and installed again automatically. Enough time for Microsoft to fix the problems.
The second of the sections allows us to choose how long we want to wait until the new updates are downloaded and installed. Feature patches can be postponed for up to 365 days, while security updates can only be postponed for 30 days.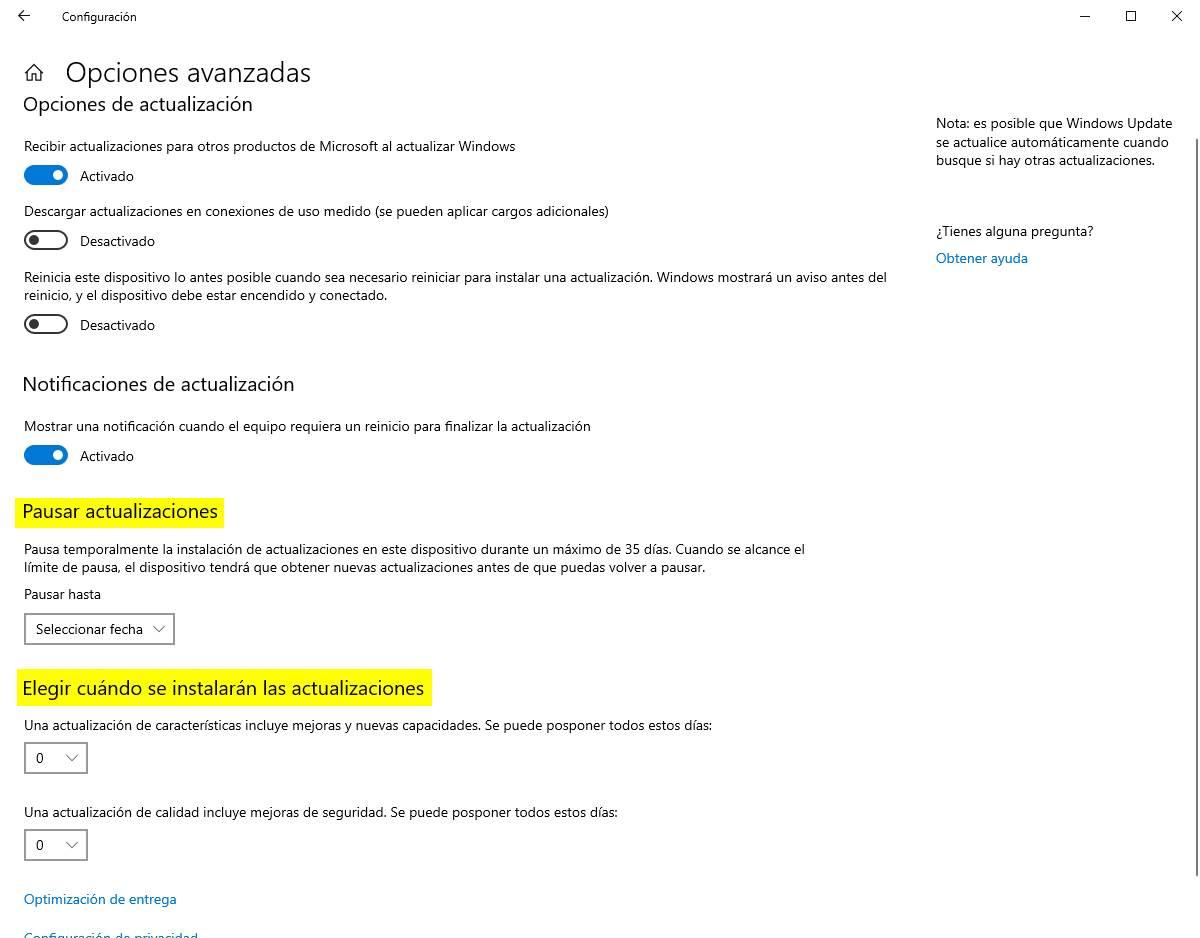 In this way we will avoid that, after uninstalling a Windows update, it will be installed again on the PC and bring us the problems again.
If after a while we want to reinstall the update, we can download it from Windows Update or from the Microsoft Update catalog.
Uninstall the update from Windows RE
On certain occasions, it may be the case that we need to uninstall the most recent Windows update on the PC because it is blocking the start of the computer. This is quite a serious problem, as you can imagine, since we do not have access to the operating system itself to eliminate the problematic update. But if necessary, it is interesting to know that we have an alternative solution at our disposal, all through Windows RE.
Here we are actually talking about starting Windows Recovery, a recovery interface that the system presents, and which we can access by repeatedly pressing F5 or F8 while turning on the PC. This will give us access to a window in which we click on Repair the equipment to see the options available here. On the next screen that appears, we opted for the Troubleshoot option, which leads us to some of these.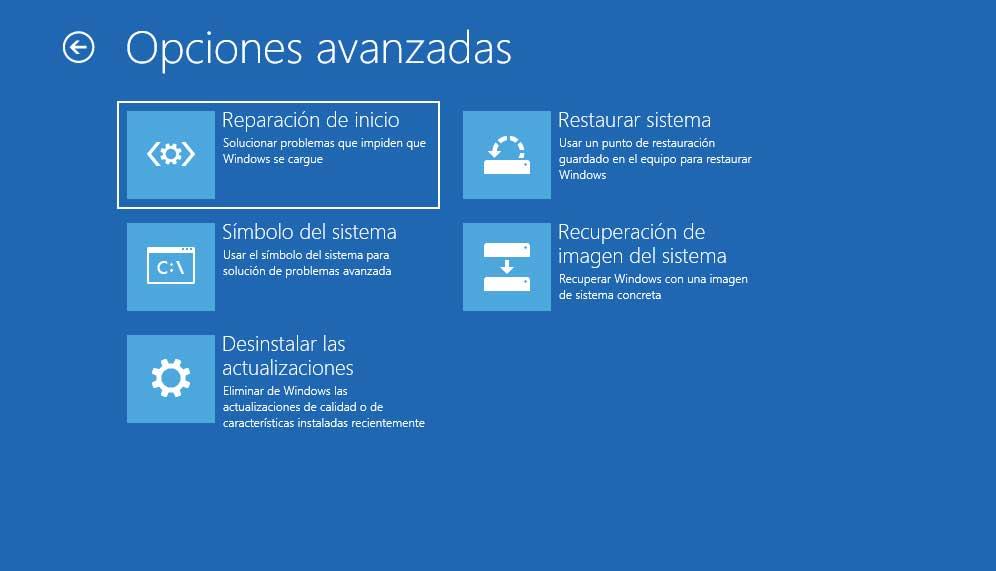 Therefore, enter the options available in this section of Windows RE, we see a call Uninstall updates, which is what interests us in this case. This way we will be able to eliminate these elements, even if the system does not start by the traditional method.