Windows
Problems with windows icons? This trick he solves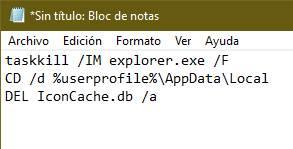 The icons are what allow us to easily identify all the programs, and files, that we have on the PC. Each program has its own icon, as well as the folders and even each of the shortcuts that we create on the PC. Each program has its own icon, which is usually inside the executable or in an .ico file next to it. And the shortcuts normally use this same icon, although we can choose if we want to give it our own. And although all the icons can be beautiful, surely we have seen how some disappear, breaking the aesthetics of the system. This is due to a problem with their cache.
Loading all the icons constantly on the system would result in a considerable loss of performance. Therefore, instead of having to load these icons all the time, Windows 10 makes use of what is known as the " icon cache ". This cache is like a small database within which it stores each of the icons and leaves them associated with a specific file.
Since the days of Windows 95, the icon cache is frequently corrupted. For this reason, it is very easy to find that, suddenly, some icons appear next to applications that do not correspond, or how some programs appear with the typical "generic icon" in white.

Failure of the Windows 10 icon cache is inevitable. But if we know the right tricks we will be able to repair it, in seconds, without even having to restart the PC.
A simple command to reset the icon cache in Windows 10
Windows 10 includes a tool that allows us to reset the icon cache very quickly and in a very simple way: ie4uinit.
Repair icon cache in Windows 10
To do this, all we have to do is open a "Run" window in Windows with the Win + R keyboard shortcut (or by typing "run" in the search bar) and type the following in it:
ie4uinit.exe -show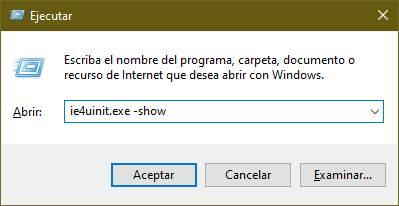 We will instantly see how the entire icon cache is cleared (we will notice that all the icons disappear), and immediately all these icons reappear. And now they will be well associated.
How to do it in versions prior to Windows 10
If instead of Windows 10 we are using a previous version of the operating system, such as 8, 7 and even Windows XP, this tool is still present in the operating system, only that the parameter is different. Instead of adding "show" to the end, we will have to execute it in the following way:
ie4uinit.exe -ClearIconCache
Likewise, the entire cache will be cleared and rebuilt, thus ending any problems that may arise with Windows icons.
Reset icon database with CMD
If for some reason the previous command does not work for us, we can also resort to other simple tricks that, broadly speaking, will allow us to do the same. At the end of the day, all this is based on eliminating the file "IconCache.db" that is inside the AppData / Local directory of the personal folder.
To do it from CMD, for example, what we have to do is open a terminal window, with Administrator permissions, and execute the following commands, one after the other:
taskkill / IM explorer.exe / F
CD / d% userprofile% / AppData / Local
DEL IconCache.db / a
After executing the third command, the icon cache file will have been removed from the PC. Now, the only thing left to do is open the Windows 10 task manager (Control + Shift + Esc) and open a new instance of "explorer.exe" so that it reloads the browser, the desktop, and regenerates. the icon database.
Reset the icon cache with a double click
What if I have the same problem very often do I have to run all of this by hand? If we want to automate everything, and have a direct access to hand that allows us to restore this database, we will be able to do it very easily.
From ie4uinit
The ie4uinit file is an executable that we can open, if we want, with a double click. What happens is that, without its parameter, it does nothing. Therefore, a trick to always have it at hand is to manually create a shortcut and in the "directory" section, enter the command we have seen before.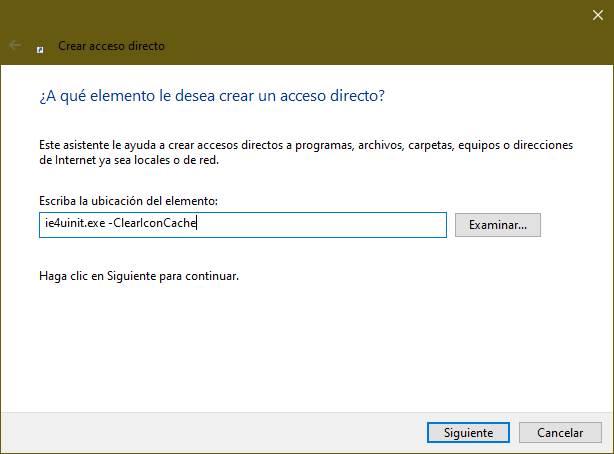 We give it the name we want and that's it. Now, whenever we want, we can run this shortcut to automatically clean the icon cache.
From CMD
The CMD commands, if we want to automate them, we can create a simple batch script that allows us to execute all these commands simply by double clicking. To do this, we will open a Windows Notepad window and write in it the commands that we have seen in the previous point.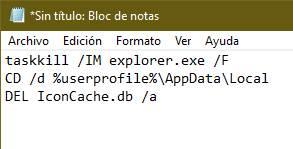 We save the document with a ".bat" extension so that it becomes a CMD executable and that's it. Now, whenever we want, we can run this new file (with administrator permissions always) to also clean the Windows 10 icon cache.
Of course, after executing this shortcut it is likely that we will have to rerun "explorer.exe" by hand from the Windows Task Manager.
Programs to fix problems with the Windows icon cache
In addition to all the previous tricks that we have just seen, there are also special programs to carry out this task in a simple way. One of the simplest and fastest that we can find is Thumbnail and Icon Cache Rebuilder. This program allows us to very easily delete the Windows 10 icon cache, as well as the thumbnail cache where, among other things, the thumbnails of all the photos and images that we save on the PC are saved.
Simply by downloading the program, unzipping it and running it, we can carry out the cleaning with one click. After clearing either of the two caches, it will automatically regenerate again. This will end the problems when it comes to seeing the icons.
This program only works in Windows 10. Therefore, if we are users of any of the previous versions of the system (7, 8 or 8.1), then we will have to download the appropriate version of this same software, Icon Cache Rebuilder, to be able to carry carry out this task. But this program is much more limited than that of Windows 10, and it will force us to restart the computer after its execution.
What to do if this cache gets corrupted very often
Although this problem is something relatively common and frequent in Windows, it is not normal for it to occur constantly. If this happens, something is not working well.
We may have a program on the computer that is corrupting, for some reason, this icon database. Or we may also overuse "cleanup" programs, such as CCleaner, which eventually forcibly delete icon cache files.
It can even happen that the problems come from deeper inside, and that the cause lies in a virus that we have on our PC. Therefore, it does not hurt to analyze the computer for malware and other threats that can help us detect and correct these types of problems.
Updating Windows, and even repairing the system, can be two other solutions to this problem.