Windows
Optimize windows and achieve higher performance for your pc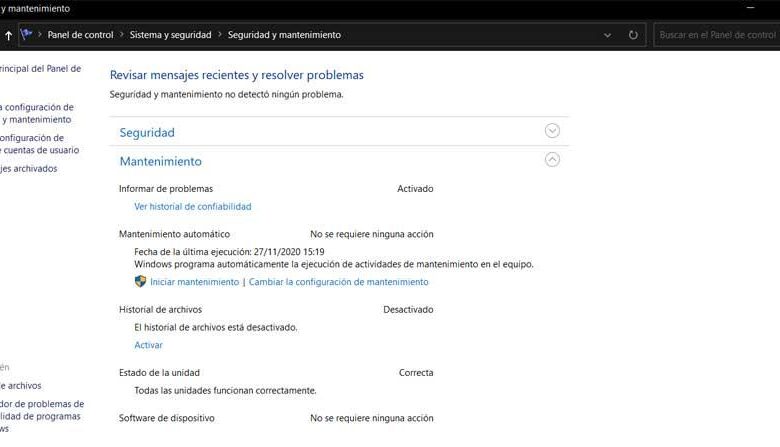 Although it has taken Microsoft more time than it originally planned, it has finally managed to put Windows 10 in the lead. By this we mean that for some time now this is the most widely used desktop operating system in the world.
Until then the only one that was able to overshadow it was its little brother, Windows 7. But although it still has many millions of users and followers around the world, little by little they are migrating to the most current version of the system.
Reasons why many reject Windows 10
However, Windows 10 continues to raise a lot of controversy and rejection among some. Whether it's the official store, UWP apps , update issues or telemetry, the truth is that many refuse to migrate.
At the same time, other users claim, and not without reason, that older computers that work perfectly with Windows 7, will not be able to do the same with Windows 10. Admittedly, the most modern version of the operating system is much more powerful and demanding. Not for nothing is it full of functions, applications and features that try to meet the needs of today's user. But of course, not everyone wants to use or need all these features, hence they prefer to continue as they are.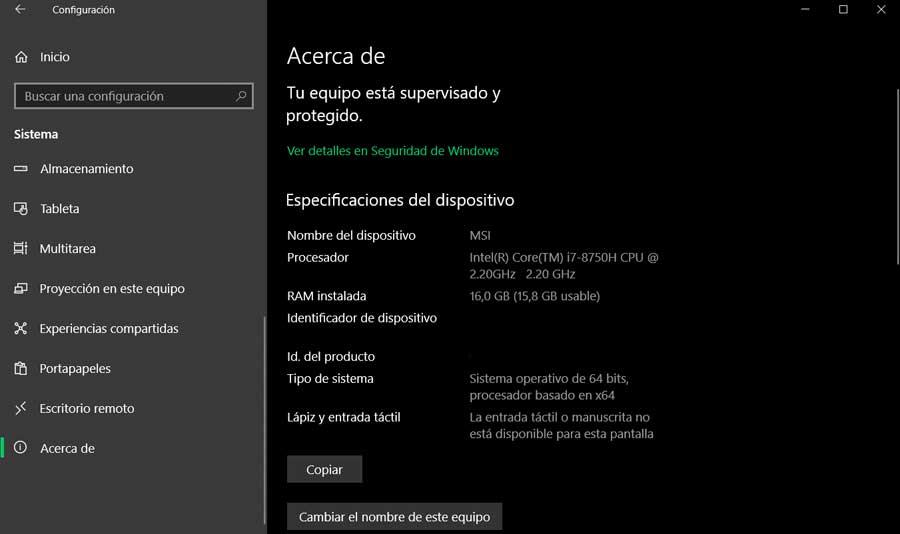 All this despite the risk of working with an operating system that no longer receives official support from Redmond, at least for free. This leaves the PC exposed to a multitude of vulnerabilities and things will get worse over time. In addition, all this is something that could also endanger the data stored on the PC. But perhaps what some do not know is that at the same time the system offers us a good number of configurable options that allow us to optimize Windows 10. This will be very helpful, especially on older computers.
How to optimize Windows 10 and make it faster
That is why below we are going to talk about a series of steps that you can carry out in order to optimize this version of the system. With all this, what we are going to achieve, little by little, is to accelerate its operation. At the same time, in certain cases we will make this version of Microsoft software work better on older computers or with somewhat lower specifications.
Basic preliminary steps to optimize Windows
Before carrying out the steps that we are going to follow, it is advisable to try a couple of basic actions to improve Windows performance. The first thing we talk about is to restart the computer every so often. This helps keep the system a little more optimized, even temporarily. Likewise, passing the antivirus that we have installed on the computer can also be very helpful. And it is that without us noticing, some type of malware may have infected the operating system and affecting its performance. In fact, if it is seriously damaged at any given time and for no apparent reason, some type of malware is usually one of the main reasons.
Update Windows operating system
This is an option that could also be considered basic when it comes to improving and optimizing the operation of the operating system. And it is that Microsoft itself sends patches and updates from time to time that come directly to Windows 10. The role of these elements can be very varied, sometimes they only correct bugs, and other times they bring us new functions or improve the operating system in general.
This is also something that we can carry out in a simple way, all from the Windows 10 Configuration application. We access it with the Win + I key combination , and then go to the Update and Security section. At that time we already find the Windows Update function that will start looking for new updates if they are available.
Remove programs from the Windows Start menu
One of the main problems that we find when starting the operating system from scratch, are the programs that start with it. These greatly slow down the PC startup as such. In fact, this is one of the reasons why Windows 10 may seem slow than it really is. And is that if we have too many programs running in the background, they prevent the computer from working more smoothly.
But this is something that we can easily fix. The first thing we will do is access the Task Manager by using the key combination Ctrl + Shift + Esc. In the event that this element starts as in its compact version without tabs, we will click on More details at the bottom.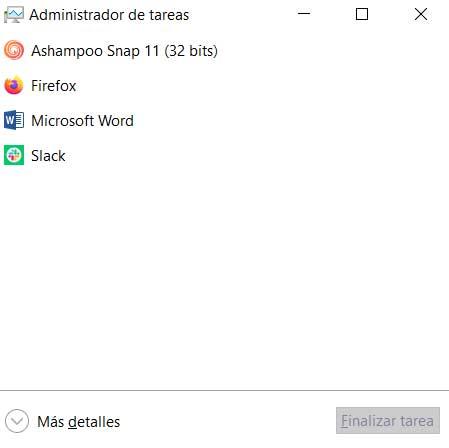 At that moment the Task Manager will appear with its tabs and processes. This is a list with all the processes that are currently running in Windows, both from the system and from third parties. Therefore, if we go to the Start tab, we will see a list of programs and services that start with Windows. The list includes the name of each program, if it is enabled, and its impact on startup. This translates to how much Windows 10 slows down when the system boots.
Therefore, at this point we will tell you that to stop the automatic launch of a program or service at startup and thus speed up Windows, it is simple. All we have to do is click with the right mouse button on the one we want to remove, and select Disable.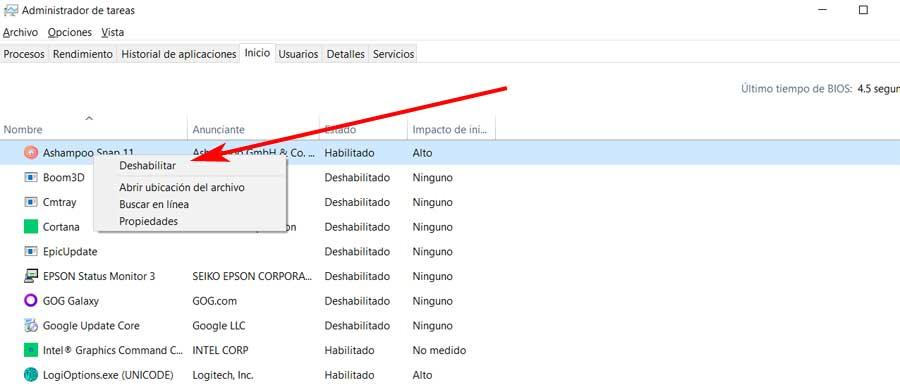 This does not deactivate the program, it only prevents it from starting when the PC starts up, so we can always run it later.
Use the ReadyBoost feature to speed up Windows with HDD disks
In order to optimize the operation of Windows, we can also use the functionality known as ReadyBoost. And it is that Windows 10 stores data in the cache of the hard drive and when it needs that data it recovers it from there. Thus, the time it takes to retrieve that data from the cache depends on the speed of the disk. Therefore, if we have an HDD instead of an SSD, there is an interesting trick to improve the performance of Windows.
We refer to the ReadyBoost feature with which we specify that data be cached on a USB flash drive, which is faster than a hard drive. To do this, we first connect the USB memory in one of the ports, preferably if it is 3.0. Then we look for it in the File Explorer and click on it with the right mouse button. We click with the right mouse button where we select Properties and go to the ReadyBoost tab.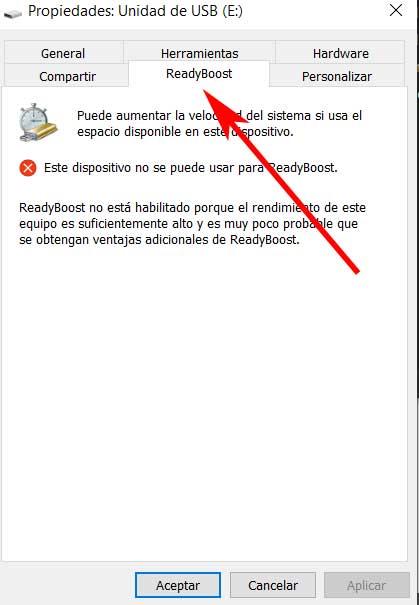 In the event that Windows deems that this function is necessary to improve its operation, it will give us the opportunity to activate it. Otherwise we will see that it is not available.
Modify Windows Power Settings
Depending on the power configuration that we have specified in the system, Windows can go faster or slower. For example, if we use the Windows 10 Power Saving plan, the PC slows down. That plan reduces the performance of the computer to save energy, something very important in notebooks. Therefore, changing the energy plan from Energy Saving to High Performance or Balanced will be very helpful. To do this we start the Control Panel and go to Hardware and sound / Power options.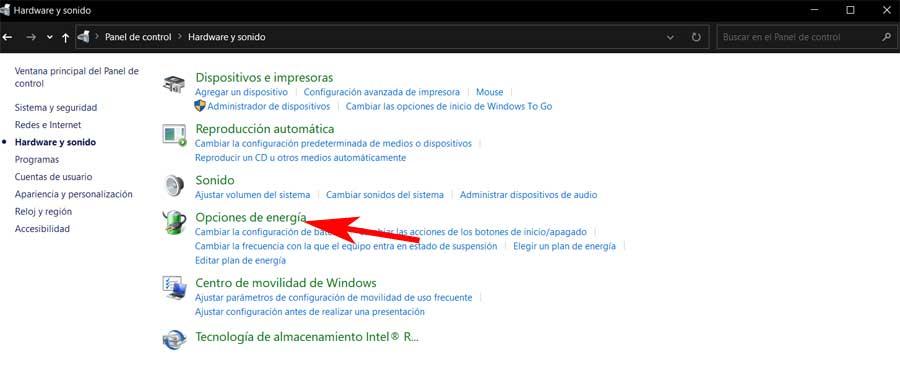 In the event that we find that we have the Energy Saving plan active, we only have to choose the High Performance or Balanced plan within the Show additional plans link.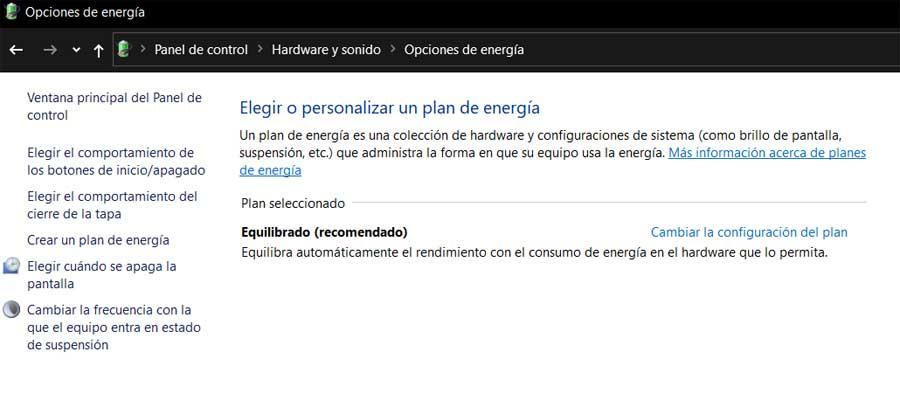 Turn off Windows search indexing
Keep in mind that Windows 10 can index the hard drive in the background to improve searches, but this is not always necessary. Thus, to speed up Windows, we can always disable this function that sometimes consumes too many resources. And is that slow computers that use indexing can experience significant performance drops.
Thus, to deactivate what we are talking about, we write services.msc in the Windows 10 search box, from the Win + R combination. Then the Services window will appear where we move to the service called Windows Search. We double-click on the entry and on the screen that appears we select Stop.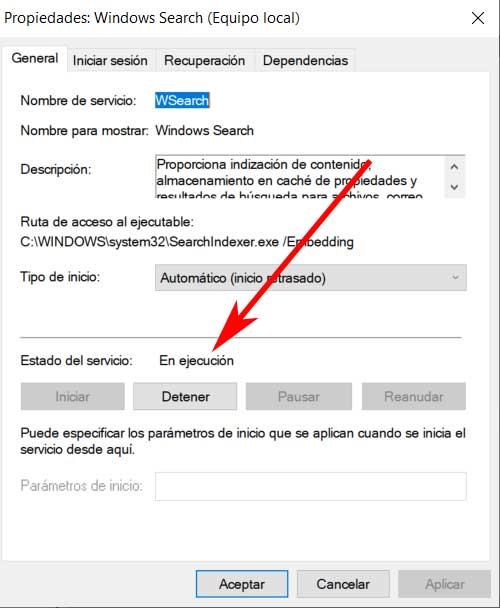 Turn off Windows tips and tricks
Over time, when using a Windows computer, the system collects our activities and offers us advice on what we might need later. This is precisely why many complain about the lack of privacy here. Therefore, to speed up system performance, we can specify that we do not want to see these tips. To do this we use the Win + I key combination to go to Settings to go to System / Notifications and actions.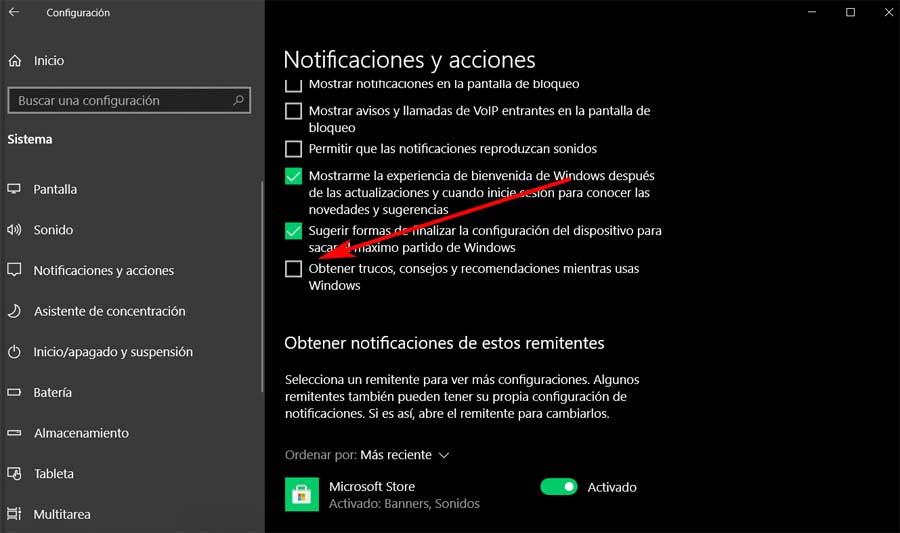 Here we must uncheck the box Get tips, advice and recommendations while using Windows.
Clean the system registry
Something we must know is that the Windows registry is an element that controls almost everything in the operating system and its applications. This includes information about where programs are stored, what DLLs are used and shared, what types of files should be opened, and so on. But this is very messy and can turn into chaos over time. Especially as we install and uninstall applications. Therefore over time this item can fill up with countless outdated entries.
This is something that directly affects the performance of Windows, so it is advisable to clean it. That is something we cannot do ourselves by hand. Therefore the best we can do in this case is to use a specific third-party program. This is the case of the BleachBit application that we can download from this link, or of Ace Utilities, which we will use from here.
Clean your hard drives to optimize Windows
In most cases we will have a hard disk full of files that we do not need, which slows down the PC. Therefore in order to clean the disk drives, the system helps us to increase the overall speed of the system. Thus, we can use a function incorporated in the system called Storage Sensor and that will help us for this.
To achieve this we have to go to Configuration / System / Storage. Then at the top of the screen we must activate this function that we are commenting on, all with just moving the selector that we find here.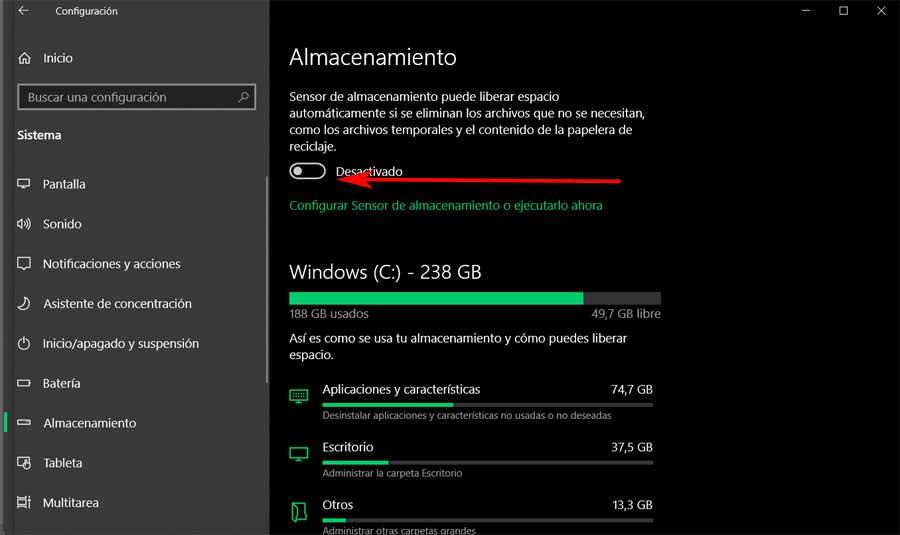 When activating this, Windows itself monitors the PC in the background and removes the old files that we no longer need. We talk about temporary files, files in the download folder that have not been changed in a month, etc.
Turn off animations, visual effects, and transparency
As many of you may already know, Windows 10 has visual effects such as shadows, animations, and visual effects that make the interface more attractive. However, despite all this, on slower and older PCs it can have a very negative effect on performance. However, we find that it is easy to turn off all this that we discussed.
It is enough that in the search box we write the command sysdm.cpl, which launches the System Properties. We go to the Advanced Options tab and the Settings button in the Performance section, we can customize all this. Here we find a long list of visual effects that we can activate or deactivate depending on the case of each one.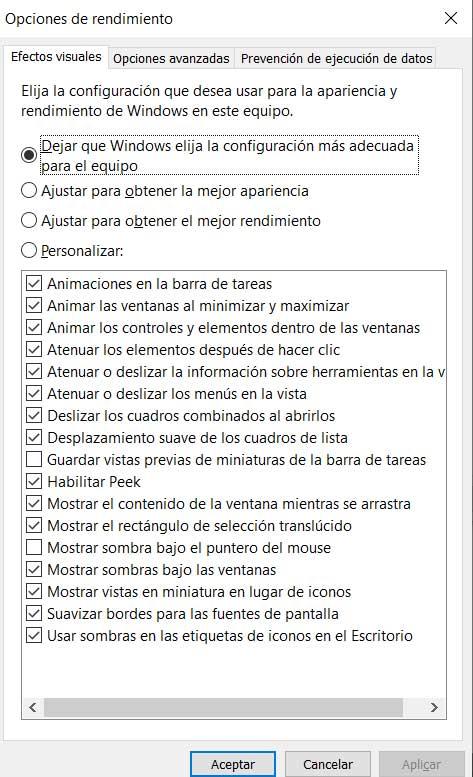 On the other hand, when it comes to transparencies, we can also deactivate them, although in this case from the Settings application . Specifically, we will have to go to Personalization / Colors in order to turn off the Transparency Effects selector.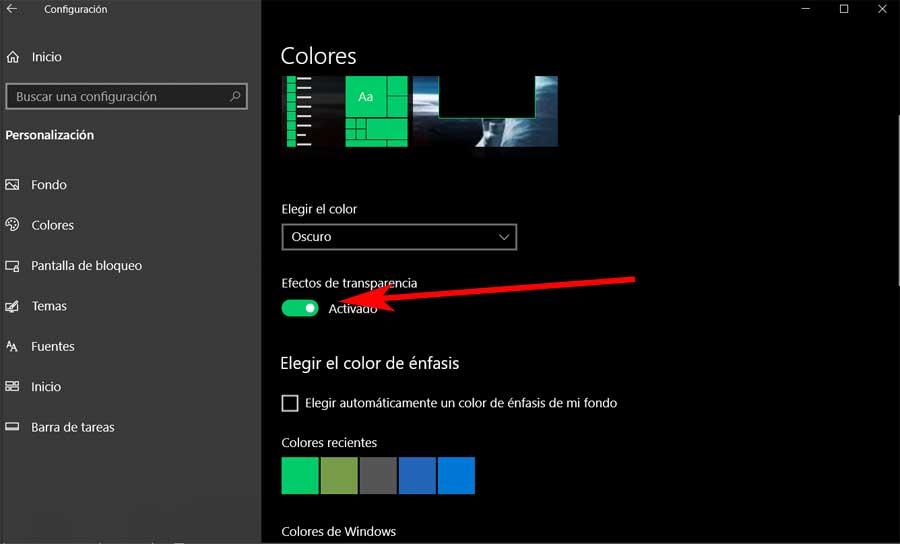 Activate Windows automatic maintenance
Windows 10 performs PC maintenance daily in the background where it analyzes security and performs system diagnostics. This ensures that everything is in order and at the same time fixes problems if you find them. By default, this automatic maintenance runs every day at two in the morning as long as the computer is connected to a power source and is in sleep state.
That is why in many cases it may be that maintenance has not been carried out for a long time. Therefore, to carry out and improve the operation of Windows, we go to the Control Panel. Next we go to System and security / Security and maintenance, and in the Maintenance section we click on Start maintenance if we want to execute it at that time.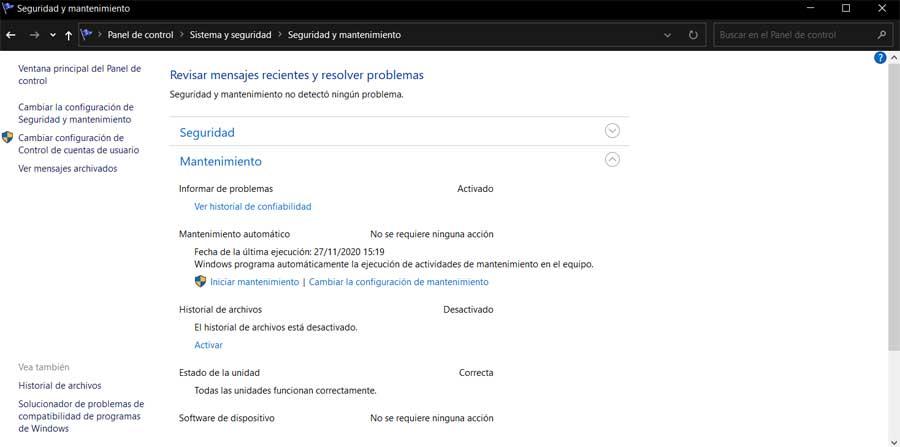 To change the automatic execution times for all this, just click on Change maintenance settings to set another time. All in order for Windows itself to take care of improving its performance.