Windows
Optimize and adjust the dpi of your mouse from windows, without other programs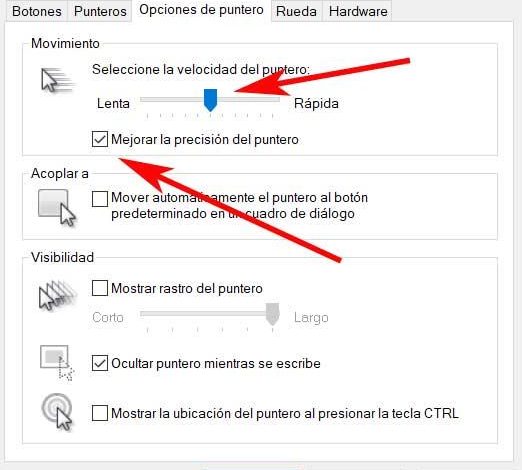 The mouse is one of those elements that we use constantly when we are with our computer, so it must work perfectly, especially in Windows. This is something similar to what happens with the keyboard or the screen that we have connected to the PC.
And it is that this is a device that we use for almost everything, to play, surf the Internet, move through the operating system itself , etc. Of course, if we are common in the aforementioned PC games or design or retouching programs, the importance of the mouse increases in this case. This is because for this type of use, the maneuverability of the mouse is more important than ever.
We must bear in mind that this is a peripheral that is one of the most important of the PC. And it is that for example next to the screen or the keyboard, they are elements that are rarely missing. More on the graphical user interfaces with which we normally work for a few years now. It is true that before we did not give hardly any importance to this device that we are talking about. That is, it was enough for us that the mouse as such worked, little else. But things have changed a lot in this regard, as most of you will have noticed in one way or another.
We are at a time when it is preferable to make a little more financial outlay on this peripheral, something that in time we will probably appreciate. It is for all this that in these same lines we are going to show you the way to better configure it in Windows to squeeze its performance to the maximum . In fact, everything that we will tell you below will be of enormous help in some specific uses that do not stop growing. For example, by this we mean playing games on the Windows PC, or doing photo editing, video editing, or graphic design.
In many of these types of use, we require much greater efficiency and precision of the mouse than in other programs. But we should not worry, since the Redmond operating system itself presents us with some useful built-in functions that will be very useful to us.
Improve mouse usage in Windows 10 to be more accurate
So if you are new to the world of PC gaming or have been playing games but don't feel like this item will work well, we have a solution. The same happens if we are not comfortable using this peripheral in any other program in Windows. Specifically, we refer to the possibility of changing the IPR to improve its operation. Specifically, when we refer to IPR, we are actually talking about its sensitivity. Thus, this small adjustment can help improve mouse performance in a game or in any other application that requires pointer precision.
Increase or decrease mouse DPI
Of course, the fact that we need to increase or decrease the DPI of the mouse in Windows will depend largely on the needs of each one. As we said, this is something useful for players, however, if it is not the case but we are still not entirely comfortable with the performance of this element, it is worth trying the settings that we will show you. At this point, if we want to test this change in the mouse, the first thing to do is open the Windows 10 Settings application .
We achieve this through the Win + I key combination, where we go to the Devices section, and then to Mouse on the left panel. So on the right we look for an option called Additional Mouse Options, where we click to access the link.
At that moment a new window will open, which is actually the old mouse configuration that we saw in Windows 7 and 8.1. This is because at the moment Microsoft has not yet migrated this to the Settings application . Well, as we can see, in the Pointer Options tab, there are two settings that we have the possibility to change and which are the ones that interest us now.
Options for configuring the mouse
The first a scroll bar that basically refers to the sensitivity of the mouse. This dictates its speed and how much screen space the cursor covers when we move it. Of course, we must do several tests in this regard until we find the ideal point and what interests us the most.
In fact we can try different speeds to see which one is the best suited to what we need in each case. On the other hand, we also find a control that is just below this slide bar. Specifically, we refer to the one called Improve pointer precision, which is activated by default.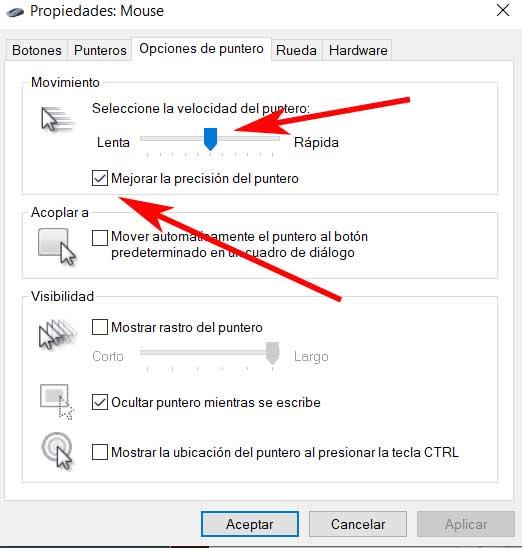 Actually, this functionality that we find here is designed to avoid clicking on empty spaces. So this allows the operating system to "guess" where we are going to click even though the cursor is a few pixels away. To say that for example for games this is rather an obstacle, so in this case we recommend deactivating it.
Advantages of setting mouse precision
We must bear in mind that the mouse is one of the peripherals that we use the most in desktop PCs. Hence precisely the importance of using the most appropriate in each case, and also configure it in the best way. In fact, it is one of those peripherals in which it is worth investing a little more, in order to have a medium / high quality product.
But regardless of what we spend, it is also important that we adapt its behavior to our needs in daily work with the PC. There are certain professional jobs, such as those that are directly related to design, that require an almost constant use of this component. At the same time it is almost essential that the precision of the same is perfect, hence the changes that we have just shown you.
Therefore, in a few seconds and with just a couple of tests that we carry out, the experience of using the mouse will be much better. But we can not only extrapolate this to the professional sector, but also to leisure. We tell you this because, as surely many of you will already know first-hand, in certain PC games we are also going to need that precision of which we have spoken. This is something that is especially evident in shooters, for example. More so now that the PC platform to play has grown so much in recent years.
Therefore, whether we are in one case or another, or we just want to gain efficiency in using our mouse, we recommend that you follow the steps described above. Of course, we must bear in mind that the mouse is something that requires, depending on its use, greater or less precision. But here the important thing is that the device as such is prepared to adapt to our needs. Hence, the good configuration of this hardware element is increasingly important.
Manufacturer's programs are usually more comprehensive
The mouse configuration options that Windows offers us , although they may be sufficient for most users, if we are a bit special and we like to control all the mouse parameters, these configurations will be insufficient.
When we buy a mouse, especially if it is already high-end, or called "gaming", it will come with software that will allow us to configure all its parameters much better. For example, we will be able to configure the DPI that we want to use, being able to save several different configurations to change from one to another as we need. We can also configure the lighting of the mouse, configure its hardware, create macros and even save profiles in the internal memory of the mouse.
Some of the manufacturers that have their own configuration programs for mice are:
Razer – Synapse
Logitech – G Hub
Corsair – iCue
Krom – Own
Roccat – Swarm
Therefore, in the event that you have the opportunity to use any of these programs, its use is highly recommended. So we can get much more out of this particular component, in all kinds of modes of use.