Windows
Not sure if you have antivirus? So you can find out in windows 10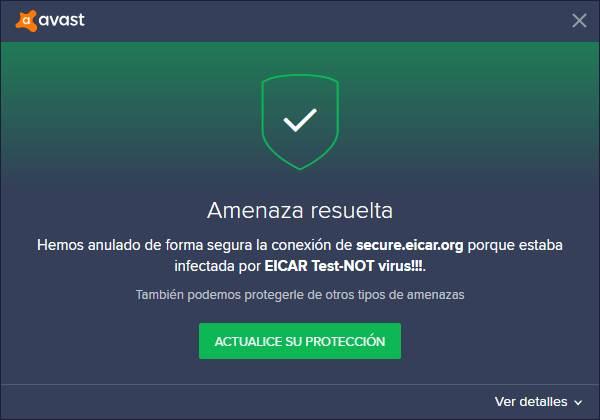 Just by connecting to the Internet we are putting our security at risk. Thousands of threats lurk on the web, waiting for the best opportunity to attack, infect computers with viruses, take control of them and steal our data. Therefore, any security measure that we have is little. And in addition to making sure we have Windows updated, another fundamental aspect is to use a good antivirus capable of detecting these threats before it is too late.
Gone are the times when we had to worry about installing an antivirus before starting to use the PC. Windows 10 brings with it one of the best free antivirus, Windows Defender, which is responsible for protecting us from all threats that can endanger the security of our computer.
If we do not trust Microsoft's antivirus and want to install another, this antivirus is automatically deactivated to make room for new security software. And in case of uninstalling this antivirus, or if it fails for any reason, Windows Defender is automatically activated again to continue protecting our computer.
If we have installed an antivirus on our computer, we should know which one we have. The same as if we have not installed anything it will be because we trust Windows Defender. However, there are times when some programs can install antivirus without permission, or they can disable Windows 10 security software. And this is where the problems begin.
Windows Security Center
There are many ways to find out which antivirus is installed on our computer. For example, we can look for its icon in the system tray, look for it in the list of installed programs and even wait for a warning about it to appear. But the best way to find out what security software is installed on your PC is through the Windows Security Center.
The Security Center is a program that is part of Windows Defender. From this program we will be able to control Microsoft's antivirus, in addition to being able to know the status of any other security software that we have installed on the PC. For example, if you have Windows Defender, within this security center we will find the analysis options.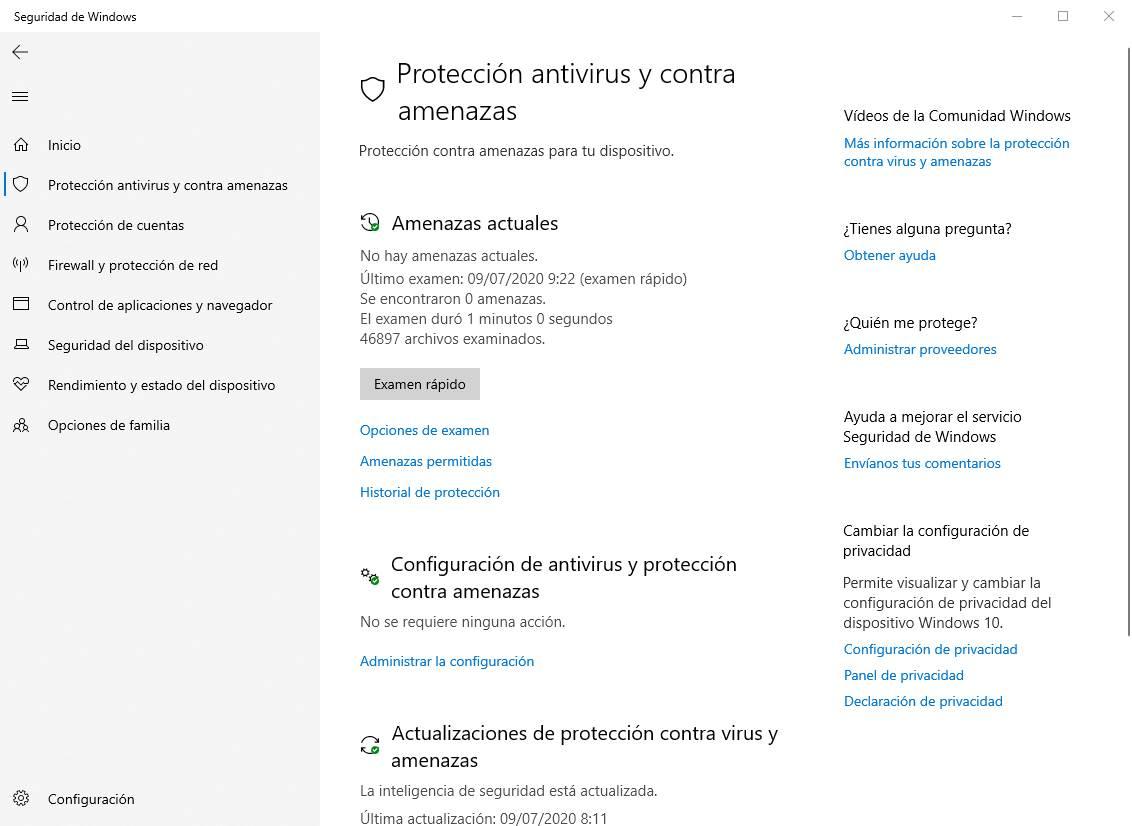 We can see the security status of our PC, perform a manual scan and even access advanced settings.
But if we have other security software installed in Windows 10, things change, since Windows Defender will be disabled. Therefore, when entering the Microsoft security center, and clicking on the " antivirus and threat protection " section, we will be able to see who is responsible for protecting our PC.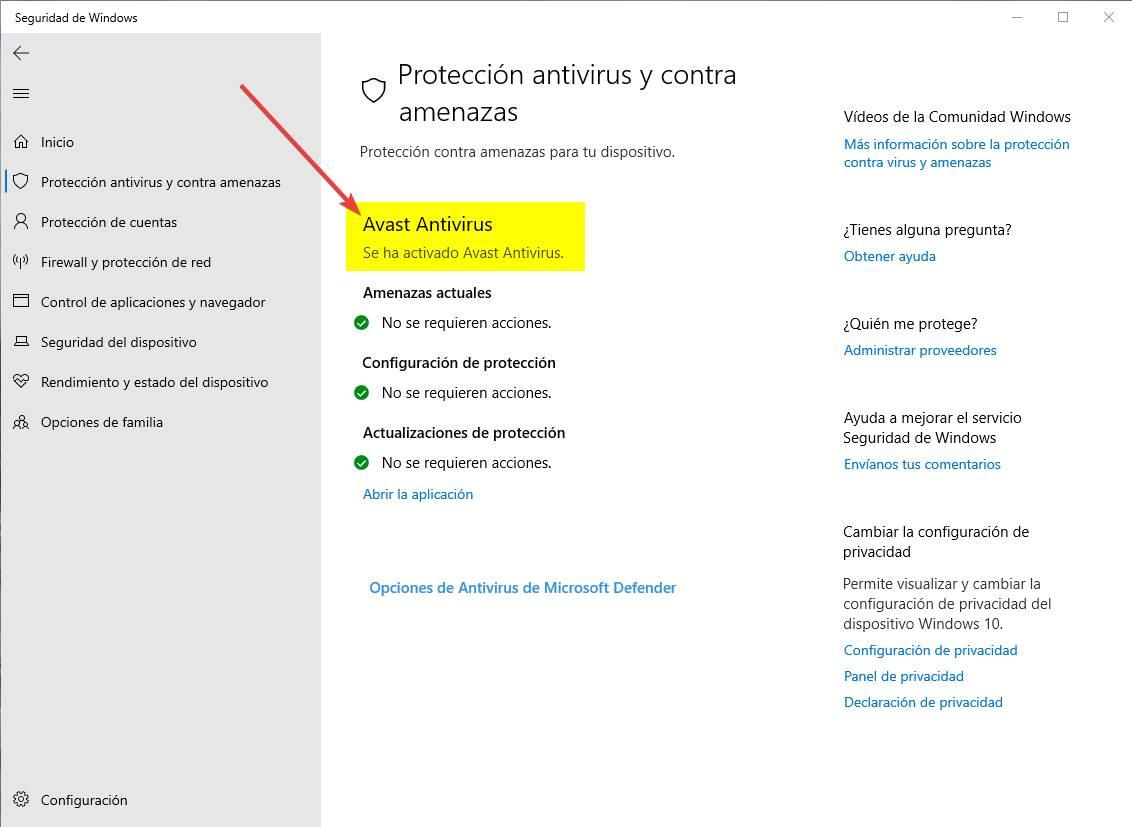 In this case, for example, protection is at Avast's expense. This antivirus will be the one in charge of protecting our PC against all kinds of threats, and Windows Defender will be a mere spectator who will control that this other antivirus is working as it should.
In case the antivirus is deactivated, there are threats that require intervention or if the updates are failing, this security center will warn us that something is not working as it should. And it will also allow us to access the antivirus settings to solve the problem.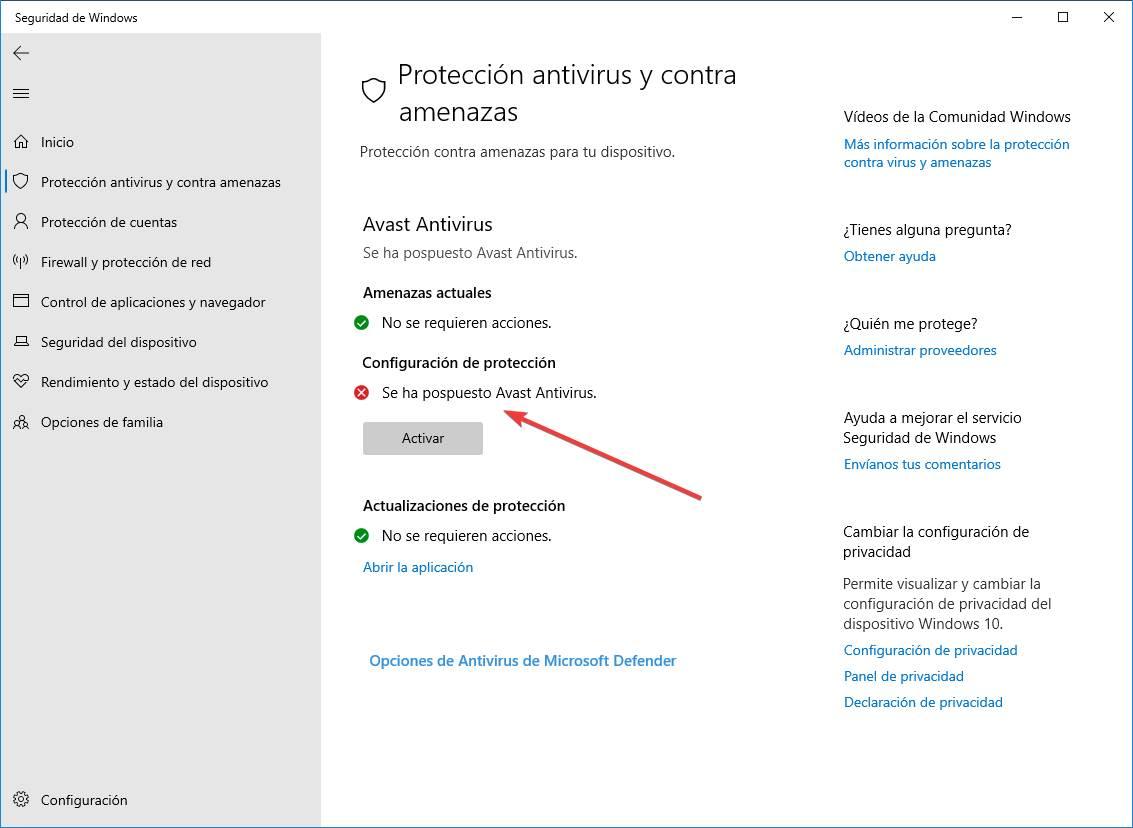 If we install a different security program, it will appear directly in this security center, in addition to having its own icon in the system tray from which we can also know its status and access its main window.
Manually search for antivirus
If we do not want to use the Windows security center, then there is no way to find out the antivirus we are using in this way. Therefore, we must carry out a search of all the programs that we have installed on the computer until we find what our security solution is.
To do this, one of the fastest and easiest ways to do it is from the list of programs installed on the computer. This list can be found in the start menu itself, although we will have to go through all the programs, one by one, until we find this software.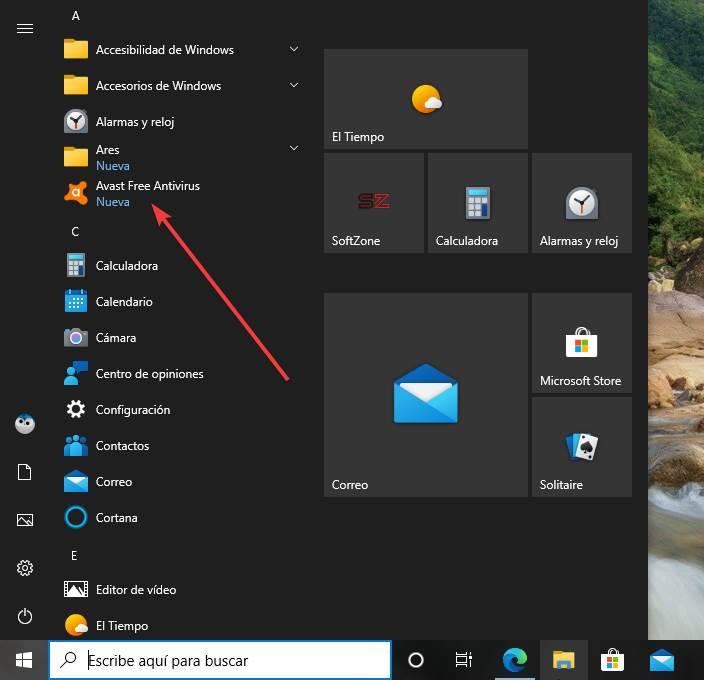 We can also use the Windows 10 search engine with concepts such as "Antivirus" or "Security" to see if we have programs that meet these search terms. However, as each antivirus usually has a different name, it is difficult to find it like that.
Finally, we can also use the list of programs installed on the PC. Specifically within the section of uninstalling applications or programs. Here we can see a complete list with all the programs that we have on the PC. Reviewing each of them there will come a time when we run into our antivirus.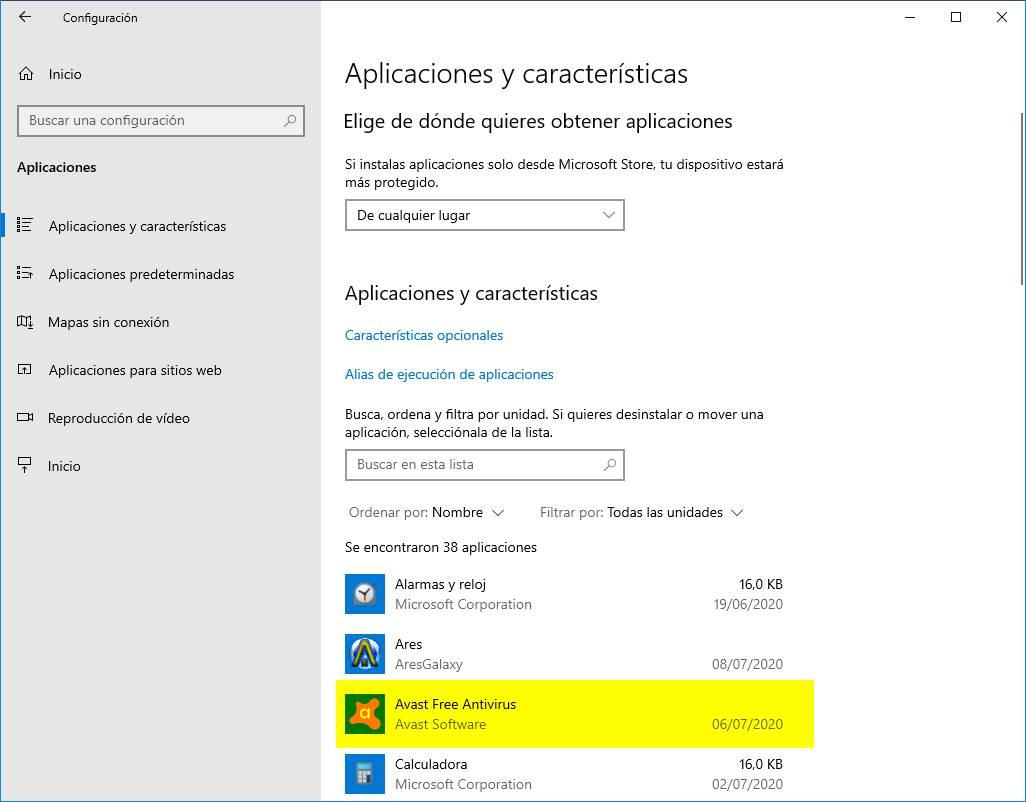 Test virus
Another way to know which antivirus we have installed, and if it works well, is through test viruses. These are small harmless files that are present in all databases and that serve to jump to the antivirus to see if it is really protecting us.
Eicar, for example, is one of these test viruses. From the following link we can download these harmless files to check if our security program is active and working. In case this is the case, we will be able to see a window like the following one in the case of using Windows Defender.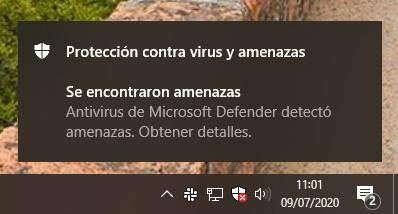 If we have another antivirus, instead of seeing the previous message, we will see its corresponding warning. And from this notice we can find out which is the antivirus that we have installed.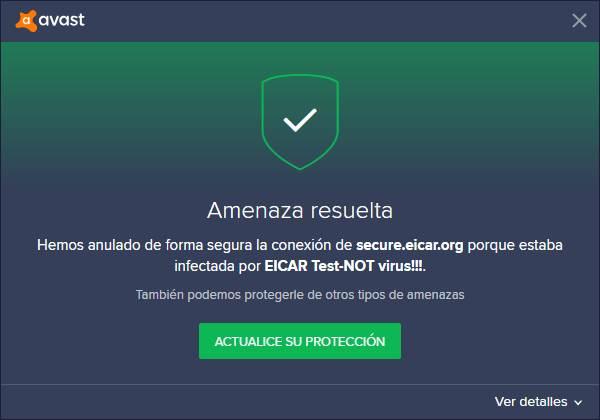 Once the protection software of our PC has been identified, now we simply have to look for it to be able to reach its main window. Or, if we prefer, uninstall it.
What if I don't have any antivirus installed
It is rare not to have an antivirus in Windows 10. Basically because the operating system itself brings with it Windows Defender, Microsoft's security software. And, unless we have manually deleted it from the PC, it will be activated as long as we have not installed an additional one.
If you cannot find the Windows security center, and after checking several times you do not find the security software installed on your computer, we may not really have an antivirus. And that can be dangerous. In the event that this happens, we should consider installing an antivirus as soon as possible, even if it is free, to protect us from possible threats.
When trying to install another antivirus, we may see an error that tells us that we already have other security software installed. In that case, the wizard himself will answer our question. Otherwise, it will be installed and will begin to protect our PC.
In the same way, it may be the case, somewhat risky, that we do not want to use any antivirus on our PC. Therefore, as we say, it is somewhat complicated as well as cumbersome to get rid of the one that the system itself includes, Windows Defender. But we always have the possibility to deactivate it, for example by deactivating its analysis in the background.
That leaves us exposed to any entry of malware on the computer, since the security software is not working to stop or block it. But we repeat you again, although possible, it is not at all recommended. It is referable that sometimes we experience a drop in performance on the PC due to these programs, which are completely unprotected.
Reasons why not install more than one antivirus
On the other hand we find the type of user radically opposed to the case we talked about before. We are talking about those who are very careful with everything related to privacy and security on their Windows PC. In fact, there are many who consider that to make their PC even more secure, why not install more than one protection solution on the same PC. We already told you before that when you install a third-party one, Windows Defender turns itself off automatically.
But with everything and with it, although it sounds a bit strange, there are still users who are dedicated to installing a couple of security solutions, or three, on the same PC. They might think that that way they make sure that no malicious code gets to their computer. This is something that has been done in the Redmond system for decades, longer than now. But you have to know that it is a serious mistake. The installation and start-up of several antivirus programs simultaneously on the same computer can cause enormous problems on the computer. Starting with compatibility issues, general Windows performance, and even causing complete system crashes or blue screens. Generally, antivirus programs are somewhat delicate individually, so if we put several together, the potential problems here multiply.