Windows
Meet all the news of the new october 2020 update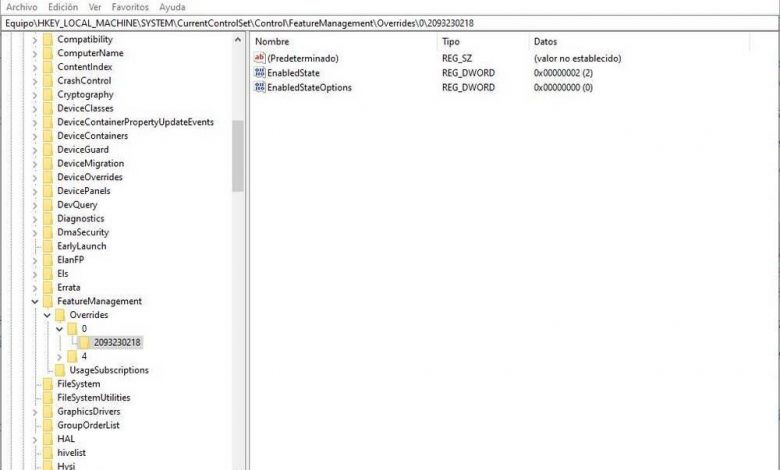 There are many users who are still installing Windows 10 May 2020 Update, 20H1, the spring update that arrived last May. This has been a big update, packed with changes, improvements, new features and, sadly, bugs. But Microsoft does not rest, and continues to work on the next updates to its operating system. Although currently all development is focused on 21H1, the first update that will arrive next year 2021, Microsoft already has almost ready what will be the second update of this year, Windows 10 20H2, and these will be all its news.
Windows 10 20H2, the fall update, or October 2020 Update will reach users as a minor update, similar to what happened in the past with 19H2, the second update of 2019. This means that the new update will not bring big changes or news to the operating system, but its development will be focused much more on correcting bugs and errors, as well as debugging and optimizing the system.
Small operating system updates are a kind of "Service Pack", relatively small patches that reach users through Windows Update and are installed very quickly and usually without problems. We will not have to download a patch of several gigs, or waste almost an hour restarting the PC.
Release date
Update : Windows 10 20H2 is already available to all users since the end of October 2020. This update can reach users through Windows Update, as always, or we can force its installation using the tool that Microsoft offers us at this link.
At the moment we cannot know when this update will arrive, since Microsoft has not made any statements about it. What is clear is that this update is almost ready, since Microsoft has it in the "beta" channel of the Insider program. In addition, companies already have their corresponding October 2020 RTMs. The new builds released every week already belong to the 21H1 branch of the operating system, the update that we will see next spring.
If everything goes normally, we will be able to see this second update approximately throughout October or November of this year. However, as 2020 is being such a rare and chaotic year, the dates could vary. We could perfectly see 20H2 in late November and even early December.
What we do know for sure is that Windows 10 20H2 is going to be an update that will take up less than 100 megabytes. This update will be downloaded and installed on computers in seconds, so it is sure that we will not have the same problems that usually occur with large Windows updates.
Force update from the Media Creation Tool
It may also be the case that due to temporary incompatibility issues, or simply because we have a problem with Windows Update, the update does not reach us. We mean that it does not arrive through the usual and automatic routes of the operating system. But with everything and with it, if we want to try the new October 2020 Update as well, we have another possibility. Specifically, we refer to forcing the update from the Microsoft Media Creation Tool.
Say that this is an application developed by Redmond that allows us to download the latest version of Windows 10 and force it if it reaches our computer. At the same time, it allows us to save the corresponding ISO on the hard drive of the PC in order to use it on any other computer when we need it, all in a simple way. It is worth mentioning that we achieve this through an intuitive assistant. Therefore, to achieve this, we only have to download this program for free from this link.
In this way we will be able to forcibly install the new version of the operating system on our computer and benefit from all its new features.
All the news of November 2020 Update, Windows 10 20H2
Windows 10 20h2 is going to be a relatively small update, without many apparent changes. As quoted by Microsoft, this new version of Windows will offer a set of features and novelties focused on improving the performance and overall quality of the operating system.
But, although this update is focused on improving the quality of Windows, we will see some very interesting changes.
Less control panel
It is clear that, sooner or later, the Windows 10 Control Panel is going to disappear. Although there is still plenty of time for this to happen. Since the arrival of Windows 10, more and more functions of this control panel have been brought to the Settings menu. And, with the arrival of 20H2, another one that disappears from the classic panel is the system page.
When we click on this section, we can see that instead of showing us the classic system screen, Microsoft directly opens the "System" section of the Configuration menu.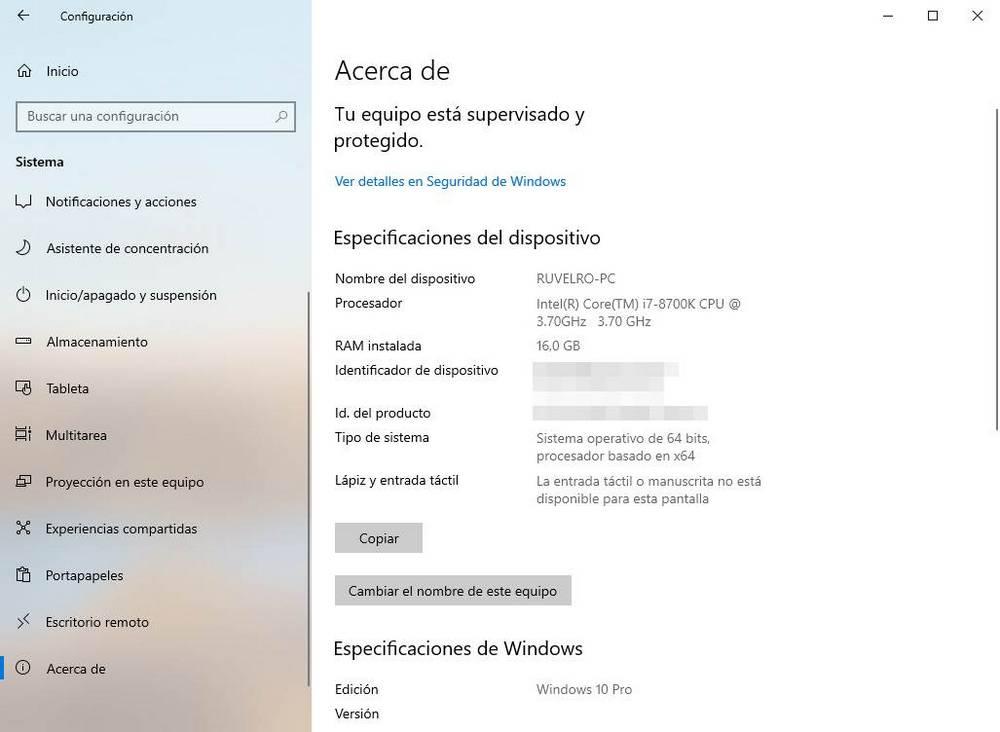 The information that we can consult is the same, only much more organized. Little by little, other functions of the Windows control panel will continue to be brought to this Settings menu. But, as we have said, the classic control panel still has a long life ahead of it. It is impossible that, in the short term, it can disappear.
Android apps on the PC
The «Your phone» app has been one of Microsoft's most ambitious bets. This app was intended to allow users to connect and control their phones from the computer. It even allows you to view your mobile screen on your PC. But, due to technical limitations, this last feature is limited to Samsung's high-end models only.
With the arrival of this second 2020 update, the Your Phone app receives a new feature: the ability to run Android apps on Windows 10. However, due to the same technical limitations, this feature is again limited only to Samsung devices, the same ones that allow the screen to be sent to the PC.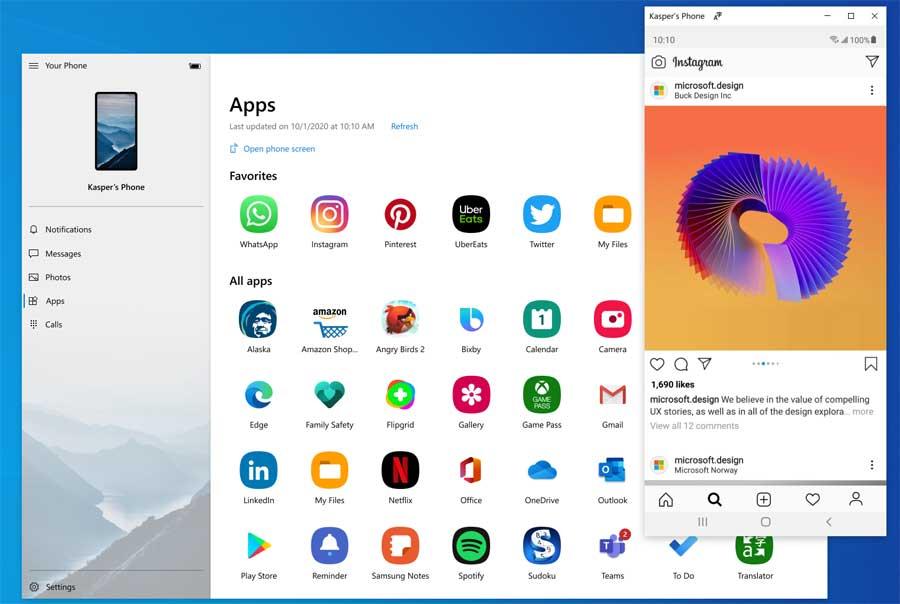 New start menu
The start menu has been, since Windows 8, one of the most controversial aspects of the operating system. After its elimination, with the arrival of Windows 10 this menu reappeared completely renewed. A mix between the usual startup and Windows 8, with Live Tiles and the ability to anchor everything we want on it.
The concept as such is not bad. However, each icon has its own colored background, and each Live Tile has its own colored tile. This showed a lack of bonding, and spoiled the appearance of this menu. From now on, these tiles are removed, being able to see only the icons, but nothing else. This makes the start menu much clearer and simpler, showing a clear evolution in terms of appearance.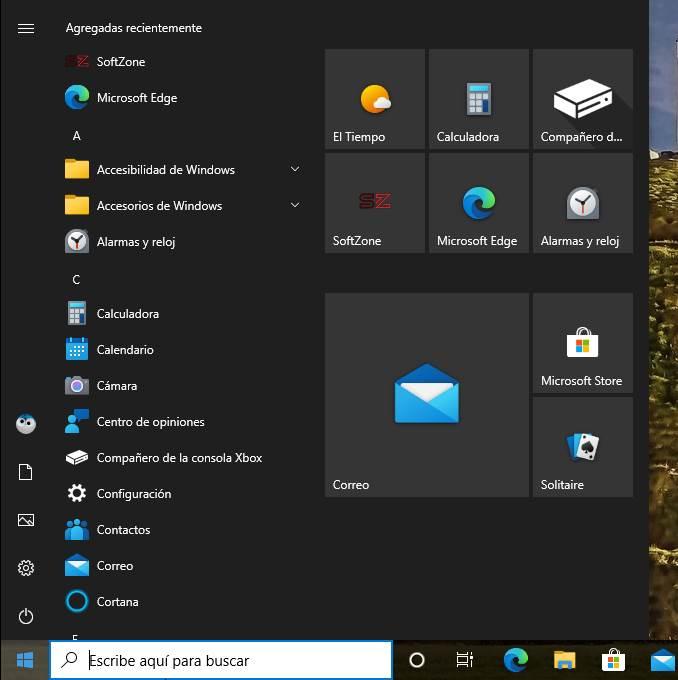 If we liked the classic look, we can still activate it from Settings> Personalization> Color.
New custom taskbar
Another novelty will be found in the Windows 10 taskbar, but only if we install the system from scratch. Based on our activity, when you log in with the Microsoft Account, Windows will know how we use the PC and can automatically pin the applications that may be more interesting to us.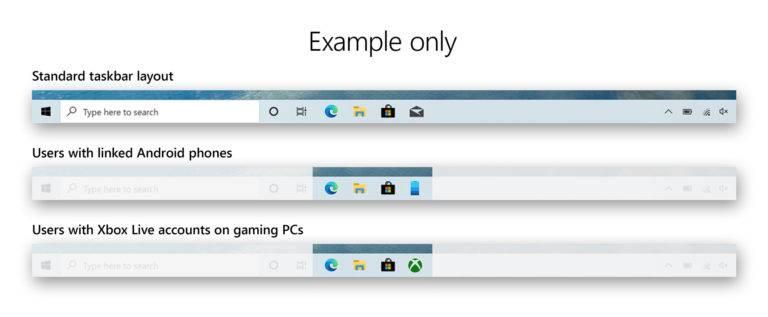 New browser for everyone
Microsoft continues to gradually bring the new Edge to all users. This browser is like Google Chrome, but better in many ways, especially functionality, performance, and privacy. The new Edge will be the default browser for Windows 10, replacing the classic Edge and, eventually, even Internet Explorer.
As part of this expansion, Microsoft is bringing its new browser to all users in different ways: as a direct download, as an update, etc. But, starting with Windows 10 20H2, the new Edge will officially replace the classic Edge.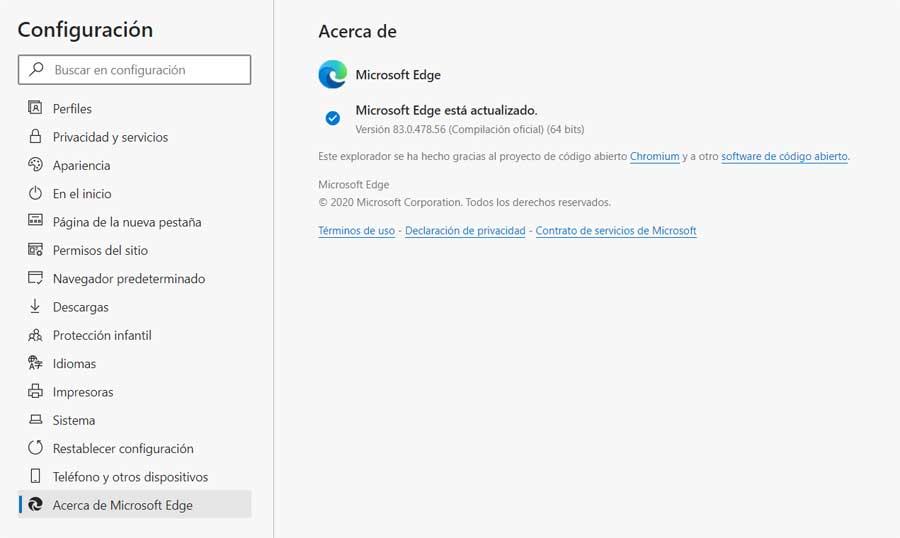 Changes to Alt + Tab and Pinned Websites for Edge Users
Alt + Tab has become one of the fastest and most comfortable ways to work with any computer. This simple keyboard shortcut allows us to quickly switch between all the applications that we have open. However, even if we have several websites, open as tabs, the browser counts as a single program.
As of 20H2, if we have the new Edge installed on the computer, we will be able to see the open tabs as programs within Alt + Tab. Within the Configuration> System> Multitasking menu we will be able to choose whether we want the three or the 5 recent tabs to appear in this panel so that we can return to them quickly or easily. For now, this will be an exclusive feature of the new Edge Chromium, although we will surely see it in Chrome and Firefox later on.
Improvements have also been made to the sites anchored in the Windows 10 taskbar. From now on, if we have an anchored website, and we place the mouse over it, we will be able to see all the open tabs for that website, even if they are in different Edge browser windows. At the moment, another exclusive feature of the new Chromium-based Edge.
Easy to switch to tablet mode
Windows 10 detects when we are using a device with a touch screen (a tablet, or a convertible) and automatically activates the tablet mode when it is not connected to a keyboard. This can be useful on some occasions, but a nuisance on many others.
Therefore, from now on, from Settings> System> Tablet we can choose the default behavior and mode when using a tablet.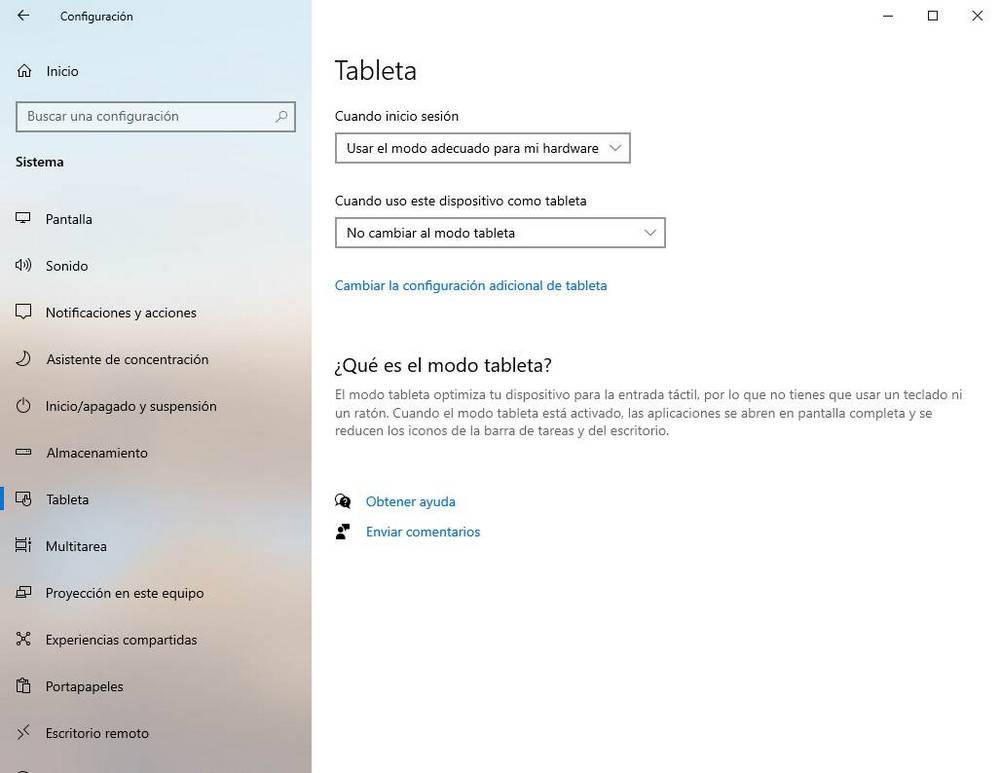 Change the screen refresh rate in Windows
The Windows 10 Settings application in the 20H2 update now also allows us to adjust the screen refresh rate. While 60Hz. is the most common setting, today's high-end monitors can have 120Hz., 144Hz. or even 360Hz. in some cases. Saying that a higher refresh rate means smoother UI animations and higher FPS during gameplay.
But with all the advantages, increasing this refresh rate also consumes more power, which is not feasible in the case of battery-dependent laptops. That is why an option to change this element in Windows 10 makes perfect sense. Frequency setting is available in Settings / System / Display.
Notifications improvements
Microsoft has also introduced a series of improvements in the novelties of its operating system. For example, one of the most requested by users was the possibility of adding a small x that would allow dismissing the notification when it appears without having to do so from the operating system's activity center.
In addition, it has also been used to improve the concentration assistant. Until now, when we activated this mode, Windows 10 showed a notification in which it told us that it was not going to bother us anymore. When he left it, he showed another with a summary of everything that happened. From now on, these notifications will be disabled by default to be less annoying.

A revamped About page in Windows 10
At the same time we will also tell you that Windows 10 20H2 comes with a renewed About page. We will find this in the Configuration application, which we access through the Win + I key combination. In this way, the information on the device's security status has been eliminated from it. All of this can now be accessed through the implemented Windows Security application.
As a result of these changes, in the new version we will see that the specifications of the equipment are located at the top of the About Windows 10 page. Also another very useful thing that has been added here, is a dedicated button to copy the specifications. As you can imagine, this can also be done by selecting the text and using the keyboard shortcut Ctrl + C.
Bug fixes and other changes
In addition to the above, other changes that will also come to us with Windows 10 20H2 are:
Improvements in Modern Device Management (MDM).
After installing Windows 10 from scratch, the icons on the taskbar change according to how we usually use the PC.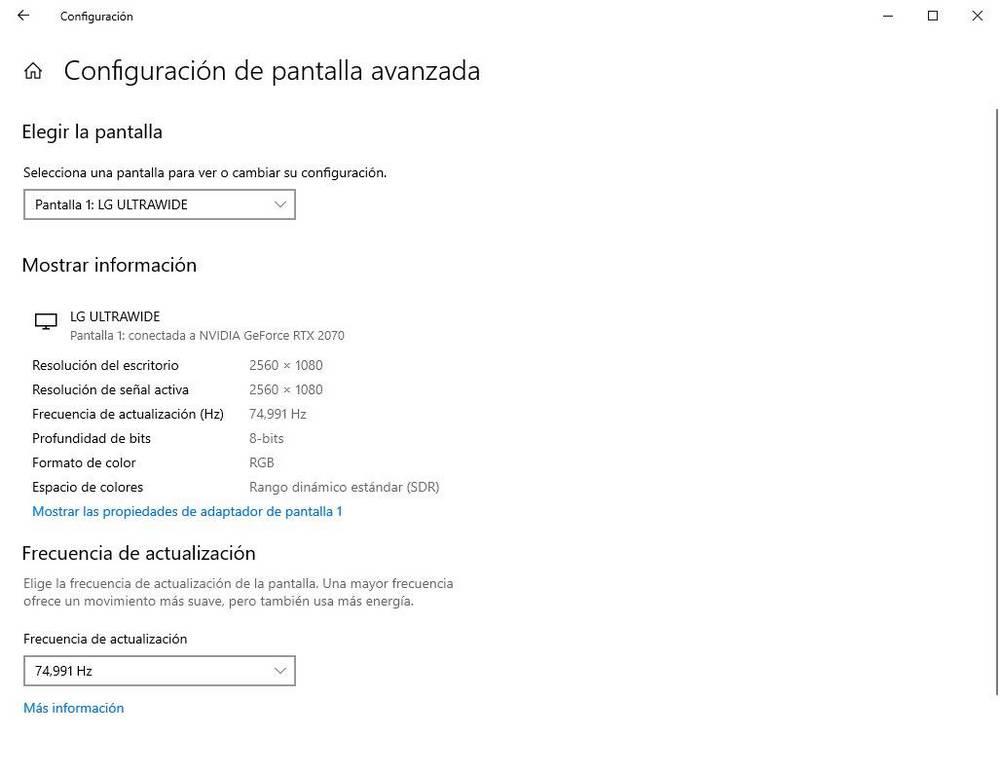 Of course, this new version of Windows 10 is also going to bring a lot of changes and fixes to improve both the performance and the stability of the system. And, we hope, it will also fix the many bugs that have reached users with the release of the May 2020 Update, one of the worst updates in the history of the operating system.
How to test Windows 10 20H2 before anyone else
If we can't wait for autumn this year and we want to be able to enjoy all the news of the new Windows 10 autumn update right now, we can do it in two different ways.
The first of them is signing up for the Insider program, within the beta channel. In this way, instead of receiving the 21H1, which is still very unstable, we can update directly to Windows 10 20H2, and start now to enjoy all the improvements and news of this version.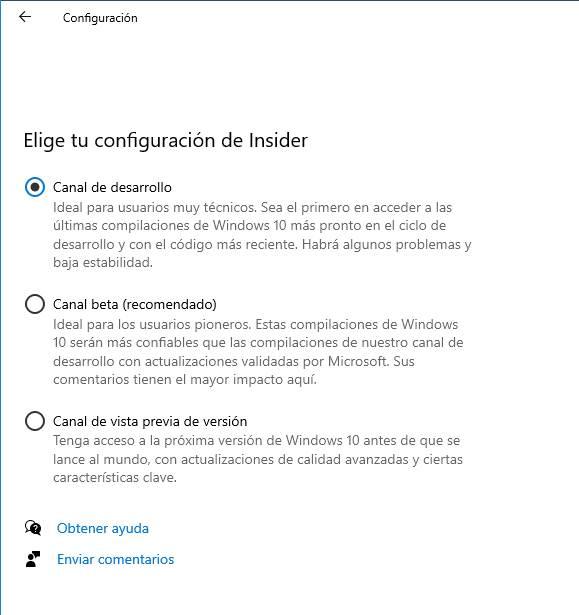 If we have Windows 10 20H1 installed, we can also activate many of these functions with a simple change in the registry, since they have been present in the operating system for some time (although they are disabled). To do this, we simply must follow the following steps:
Open regedit.exe
Go to section HKEY_LOCAL_MACHINE> SYSTEM> CurrentControlSet> Control> FeatureManagement> Overrides> 0> 2093230218
Create new dword value called "EnabledState" with value "2".
Create new dword value called "EnabledStateOptions" with value "0".
Restart the PC.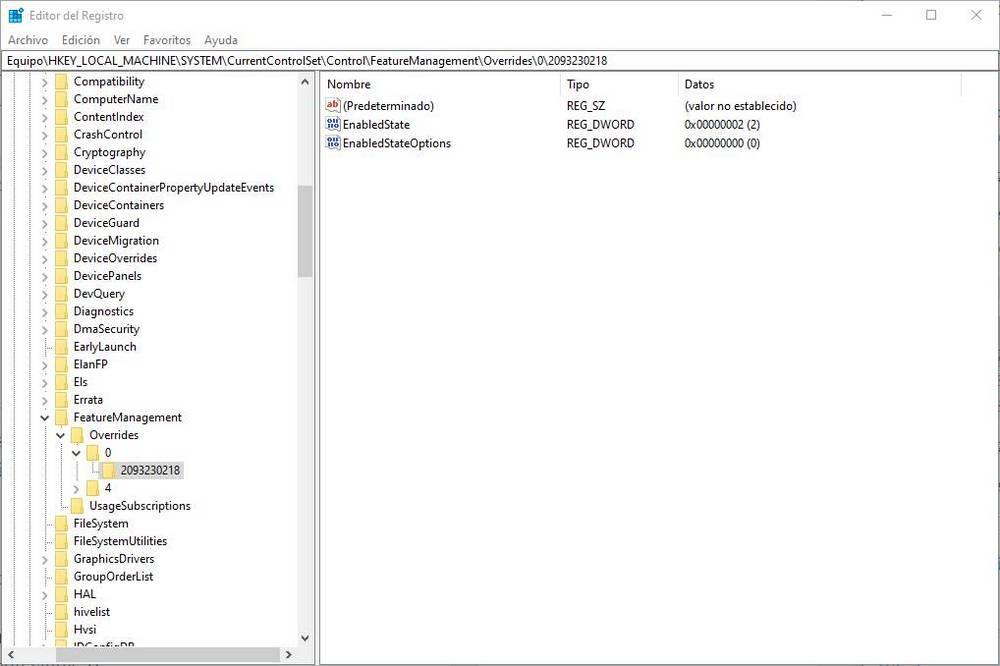 Now we can enjoy many of the news in Windows 10 20H2 without having to wait or be in the Insider program.