Windows
Master windows file explorer with these features and shortcuts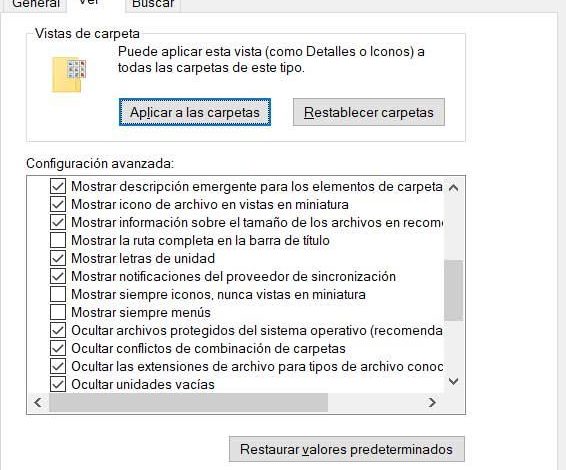 There are several elements that over the years and the versions of Windows, have continued to provide their services to users. Among these we can highlight one of the most used such as File Explorer, an application that, as we mentioned, continues in Windows 10.
As perhaps most of you will already know first-hand, this is an element that we use almost continuously on a day-to-day basis with the PC. And it is necessary to take into consideration that this File Explorer helps us to manage our files and folders. The truth is that many users have been asking for this functionality to improve for a long time, since it has not undergone too many changes over the years.
Yes it is true that the Redmond have given some tweaks and introduced new improvements, but for the time it has been with us, not too many. What's more, at this point, we will say that many users have ended up opting for the use of third-party alternatives. For example, in Windows 10's integrated File Explorer, we may miss working with tabs, something that we do find in other proposals.
How to open Windows 10 Explorer
With everything and with it and despite its shortcomings, the truth is that File Explorer is an application that is part of Windows 10 and that is very useful to us. In fact, it provides us with a graphical interface from which we can explore and access all the disk drives, files and folders on the computer. Keep in mind that on a Windows PC we find a large number of files and folders stored in a multitude of routes.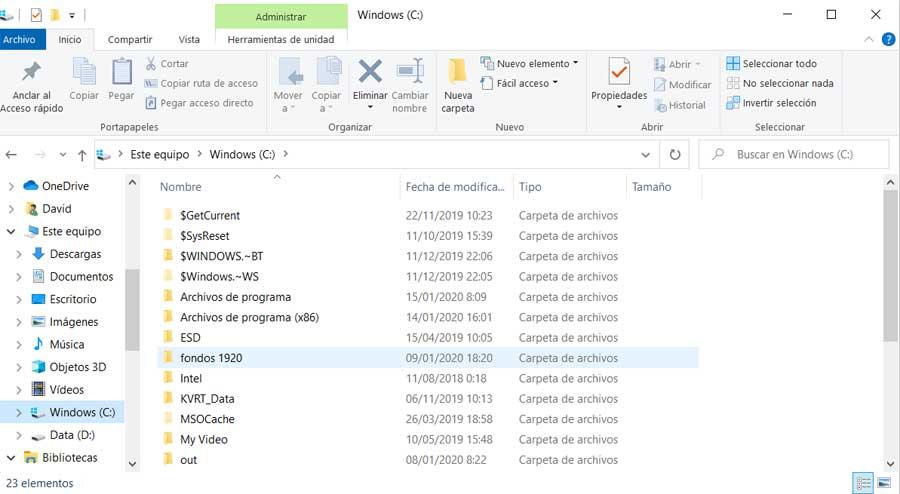 Therefore, the aforementioned File Explorer helps us to gain access to all this, in addition to being able to copy, delete or move them quickly. To start getting the most out of this element, first of all we will tell you that there are several ways to access it. Perhaps one of the fastest is through the Win + E key combination. We can also access this item from the system taskbar, since Windows 10 places an icon on it by default.
Another method that we can use is doing a search from the dialog box of the system Start menu. Thus, we click on the search box located on the taskbar, and then we type the terms File Explorer to open it. In the same way, we can access this section from the options that appear after pressing the Win + X key combination.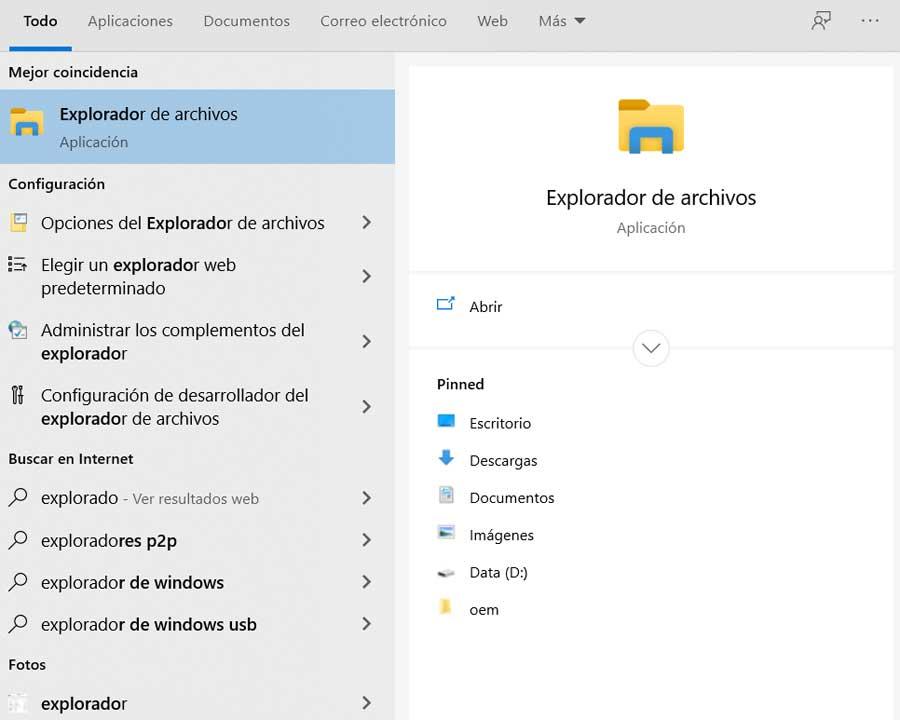 Get to know Windows File Explorer in depth
Once we have this element on the screen, we will see that in the upper part of the window there are a total of four menu options that we will review below. And it is necessary to take into consideration, that in addition to copying, deleting, cutting and pasting files and folders from one location to another, this offers us other additional functions. In this way we will have the possibility of compressing sets of files, or sending them by email.
On the other hand we also find the possibility of ordering, managing, or changing the design of the elements of a folder.
Menu file
We are going to start with the option that we find on the left of the main interface, File. This gives us access to the possibility of opening a new File Explorer window, changing the search and viewing options for elements, closing the app, or going to the most common locations.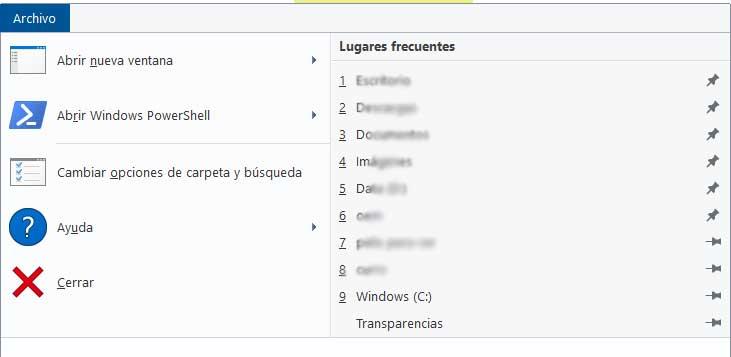 At the same time, if we click on the icons to the right of each shortcut, we can pin or not these to the area called Quick Access in the Explorer. This is something that will be very useful to us, since it saves us a lot of time by locating ourselves directly at the disk locations that we visit the most.
Start menu
On the other hand we find the menu option, Start, one of the most used and with more features available. We will find many of these in the function bar that is located at the top of the interface in this section. Specifically from it we will have the possibility to cut, copy and paste the selected elements in the locations where we are at that moment.
Similarly, it allows us to anchor a folder to the Quick Access section, move the selected items to another desired location, or rename and delete files and folders. In the New group, we can create a new folder or a new item at the current location. This tab also allows you to open files and folders, check and modify their properties, and also check their history.

Here we find several sections, each one with all these options that we refer to to manage Windows files and folders. In this way we find functions related to the clipboard, opening elements of all kinds, or organizing the contents of the disk location.
Share in File Explorer
But as we mentioned before, the Explorer will not only help us to open or copy files, but it also presents other useful additional functions. Among these we can find some as useful and used today as sharing files with other system services. For all this, there is precisely the menu option that we will talk about next, it is precisely Sharing.
From this section, depending on the needs we have, we will be able to manage the contents of our units in a more advanced way. In this way, as we can see here, we will have the opportunity to compress both files and entire folders. With this, what we achieve is to reduce its size to, for example, send this content by email. That is why we also find a direct access button to Windows 10 Mail right here. This allows us to send any file this way from the same File Explorer.

For all this we will only have to locate ourselves in the correct location, and place ourselves on the file or folder with which we are going to work. Then it will be enough for us to click on the desired function of those mentioned above. But that's not all, but the same happens if we want or need to send a text document via Fax, or print it. In the same way, here we are going to find two buttons related to those same functions that we discussed. On the other hand, from this same section we can burn all the selected elements on a recordable CD or DVD.
On the other hand and with regard to security, we will see that we have the opportunity to directly grant or remove permissions on certain contents of the disc to other users. It is evident that for this we will need to be the administrators of the account open at that moment. From the Advanced Security button we can manually change the advanced sharing settings related to permissions, auditing and access to folders and files.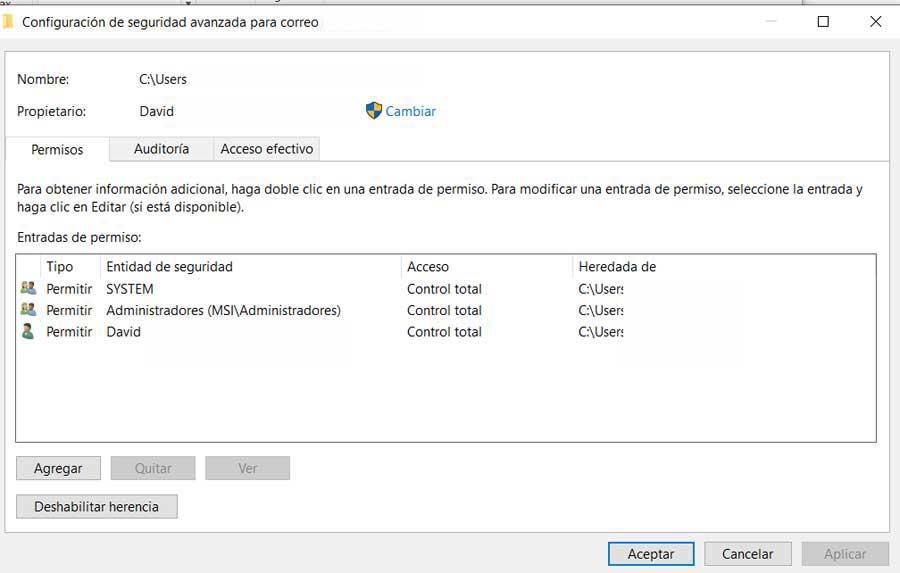 Explorer View tab
But perhaps one of the tabs that we use the most in these cases when using the File Explorer, is the tab called View. And you have to take into account that from here we handle large amounts of both files and folders, so you have to customize how we will see them. With this, what we want to tell you is that it is recommended that we adapt the display mode of all these contents to be more effective.

As it is easy to imagine, this will allow us to move in a much more agile way through the disk drives. It is precisely for all this that from this section, we will have the possibility to configure the content display panels, the size of the icons, the order in which they will be displayed or what we really need to see.
However, the importance of this section does not end here, since in the button called Options, we can further customize this important element of Windows. By clicking on it, a new window opens in which we adjust other Explorer behavior parameters. Thus, in the General tab, we indicate how to open folders, the number of clicks to open items, or the view of recent files.
On the other hand, and if we go to the View tab, we will find a long list of customizable options. Most of them refer to the components that we can view, or not, by default when moving through the File Explorer. These will allow us to largely adapt this element to our needs. But of course, we must bear in mind that here we can find large amounts of information regarding each file or folder. Therefore, we recommend that you only activate what you really consider necessary, even temporarily.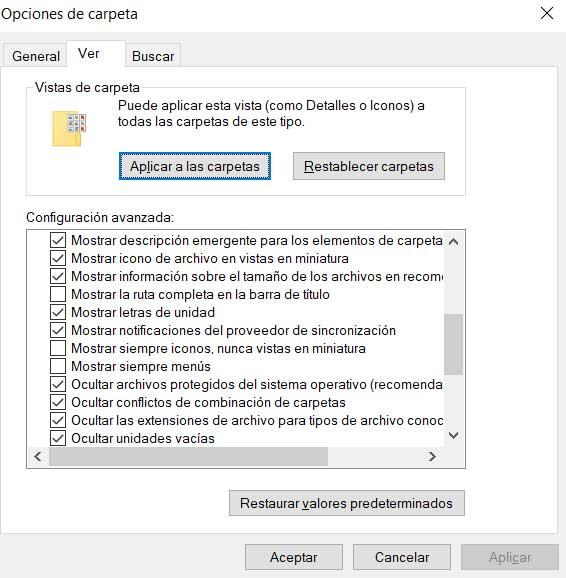 To give you an idea, from this section we manage the routes, extensions, system files, display of icons, units, hidden contents, etc.
Keyboard shortcuts for using Explorer like an expert
As with most of the applications we use in Windows, whether they are our own or those of third parties, here we find a series of keyboard shortcuts. These will greatly facilitate the use of this important element in the operating system. What's more, in the event that you have to use the Explorer constantly, these shortcuts will make your tasks much easier and faster.
Of course, they are not like the usual and common ones that we find in other programs, so perhaps at first it will take us a little to get used to their use. Therefore, below we will show you these shortcuts and what each of them is for. First of all say that these will work when we have an Explorer window open, and the focus on it.
Ctrl + N: open a new File Explorer window.
Ctrl + D: delete the marked file or folder in order to move them to the Recycle Bin.
Ctrl + E: select all the contents of the open window.
Ctrl + F: go to the search box of the Explorer.
Ctrl + W: close or exit the current Explorer window.
Shift + Del: permanently delete a file or folder without sending it to the Recycle Bin.
Alt + D: go to the address bar.
Alt + Enter: show the properties of the selected file or folder.
Alt + P: show or hide the preview pane.
As we have seen, the File Explorer is a much more complex and complete element than we might think at first. It is very important to know how to handle it in the best way, for which we recommend configuring it according to your needs.