Windows
Make your kids use your pc safely by setting up windows 10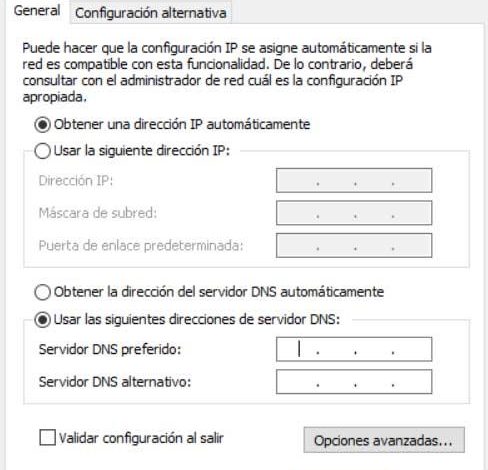 In the times that we are living, in the middle of the year 2020, the computers that we use every day, whether for work or for leisure, are also within the reach of children. And it is that these increasingly sit at an earlier age in front of the PC, generally based on Microsoft's Windows 10.
But of course, the use that we should allow the smallest of the house with the laptop with Windows 10, should be controlled or limited in some way. For this we can use some solutions that we will talk about later. And it is necessary to bear in mind that the current equipment, together with the software that we install in them, leaves open an almost infinite number of doors.
But of course, not all these types of use are the most convenient or indicated for minors, so we should control all that. What's more, this is something that becomes especially clear if we take into account that most of these PCs with Windows 10, in turn, have an Internet connection. It is clear that this is something that when it comes to controlling the use, complicates things much more in this regard.
Well, it should be noted that for all this we can take certain precautionary measures, both from Microsoft's own operating system , and with third-party solutions.
User account control
It is more than likely that if the PC in question is our property, the user account that we use by default in Windows 10 is the administrator. Well, the first step should be to create a different account for that child who is going to use the same PC. Of course, the administrator must be protected by password or access PIN. In this way, the first thing will be to access the System Configuration through the Win + I key combination.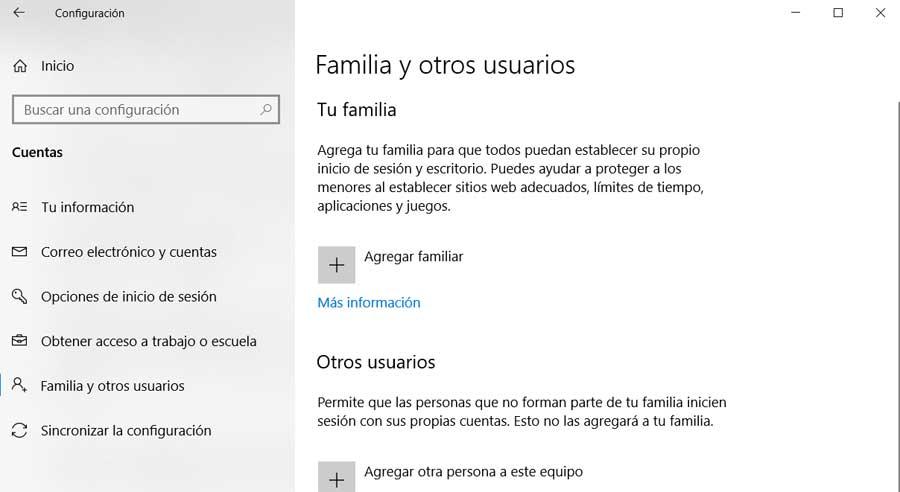 Once here we will only have to go to the section called accounts, where we will be able to manage them. In the present case, we are going to create a new account for that minor who must have restricted access to Windows and its applications. Here we have two options available, Add family member or Add another person to this team.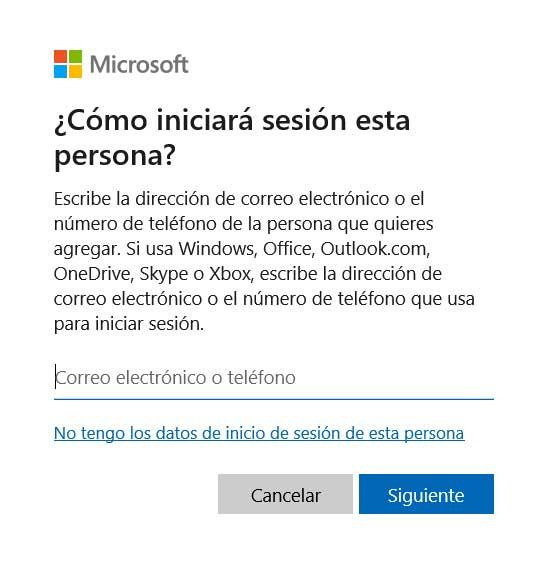 Be that as it may, for both modalities we need to enter the email of the Microsoft account that will be associated with that account so that it can be registered for the minor. As it is easy to imagine, from that moment on that child will have to access the PC from his own account, the one that we have just created, which of course does not have administrator permissions.
Windows Defender helps us protect children
But that is not all that the operating system itself puts at our disposal in this regard, but the integrated security software will also help us. Specifically, we refer to the functions that Windows Defender presents to protect children. Say that this is the protection system implemented in Windows 10 itself. Thus, in order to take advantage of this that we are commenting on, we go back to the System Configuration application, as we saw before. But in this case we go to Update and security / Windows Security / Open Windows Security.
Once in the new window that will open here, in the left panel, we find at the bottom an option called Family Options, which is the one that interests us. In this section we find a series of functions that will be very helpful when it comes to protecting the little ones when using this PC. Thus, in the right panel we see functions to establish habits of time of use, digital monitoring of children, or protection on the Internet.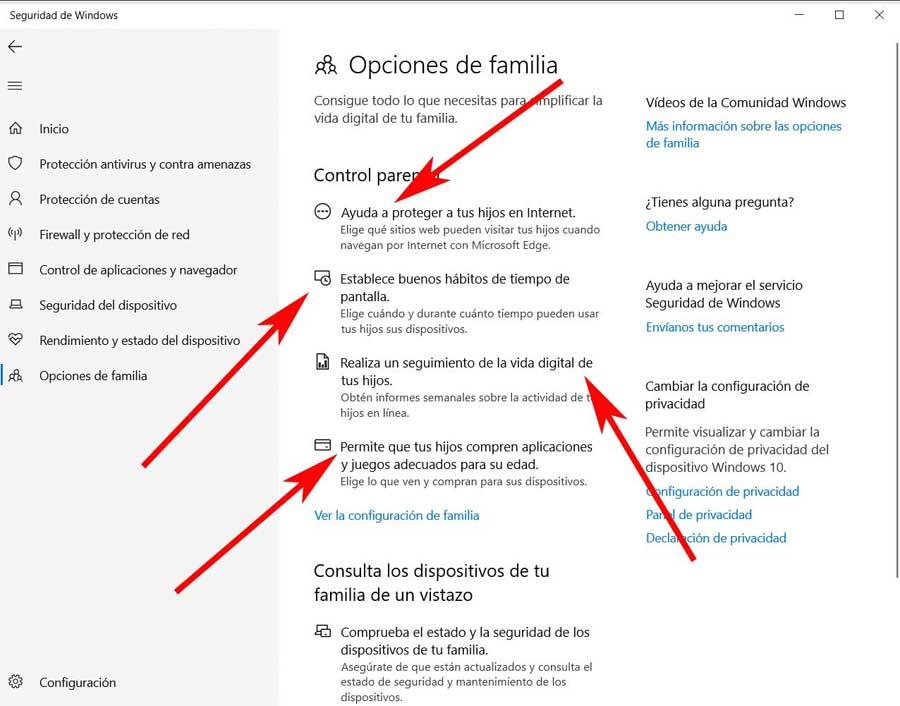 To say that all this is part of the parental control functionality of Windows Defender, which will surely be very helpful in the objective we are pursuing here and about which we have already talked in depth.
Third-party parental control for Windows
But at the same time we must bear in mind that this is not the only parental control solution that we can use for these protection tasks. And there are other third-party alternatives external to Windows 10 itself that we can also opt for.
These programs in some cases improve what is seen or offer other functions, or even complement what is offered by Windows Defender in Windows 10 that we have seen previously. To say that when we talk about third-party parental control applications, we mean programs that are installed in the operating system itself like any other application. However, the function of these is to provide the elderly with certain functions to control the use of the PC and Windows 10, for the little ones.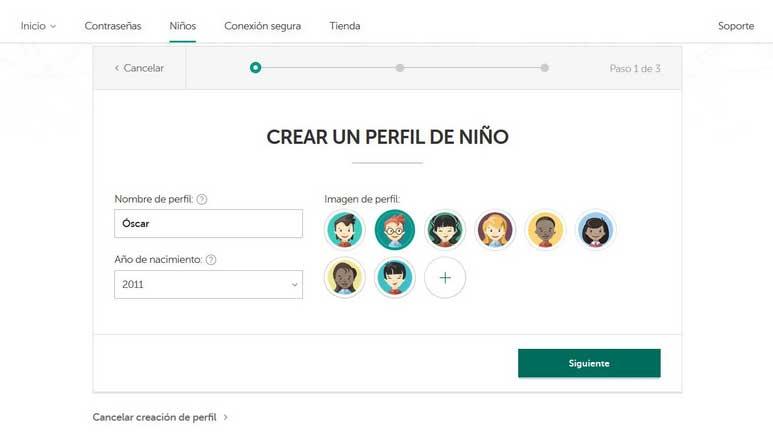 Here are several solutions that will help us in these tasks and that will allow us to monitor the activity of our children with Windows. Moreover, at the same time saying that in most cases, we will not have to pay a single euro, most of them are free. There are a wide variety that are considered as the best parental control programs for Windows. Among these we find solutions such as Qustodio, Norton Online Family App Parental Control, Kaspersky Safe Kids Free, or Kidlogger Parental Control, among others.
Internet, one of the great risks for minors on the PC
But of course, in addition to the applications or types of use that the smallest of the house can make of a PC with Windows 10, there are other risks. The truth is that a good part of them come from the Internet, since here we can find content of the most diverse nature. But rest assured, as both the Windows Defender function and third-party parental control applications take care of all this.
Thus, these parental control solutions by themselves present functionalities that allow us to control the pages to which minors access. We can also see the downloads they can make, potential purchases, time spent online, use of social networks, etc. But with everything and with it and additionally, we can also use secure DNS when accessing the Internet. These are going to be in charge of filtering certain dangerous or unsuitable content while we browse. First of all you have to know that these DNS can be changed and customized in a simple way in Windows 10. To do this, we open Settings again and click on Network and Internet.
Then we go to the Ethernet section and click on Change adapter options. Once we locate our connection, we right-click and select Properties. Once we locate the IPv4 entry, we select Properties again and here we can change the DNS in the window that will appear.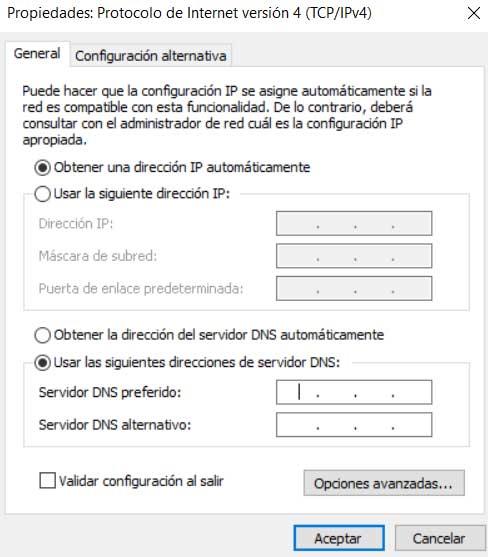 Therefore, once we know this, below we are going to show you some of the most popular and used DNS around the world. These can be used to block certain Internet content, to navigate faster, such as parental control, etc.
Cloudflare – 1.1.1.1 and 1.0.0.1
IBM Quad9 – 9.9.9.9
Verisign – 64.6.64.6 and 64.6.65.6
Google – 8.8.8.8 and 8.8.4.4
Comodo Secure DNS – 8.26.56.26 and 8.20.247.20
OpenDNS Home – 208.67.222.222 and 208.67.220.220
DNS Advantage – 156.154.70.1 and 156.154.71.1
SafeDNS – 195.46.39.39 and 195.46.39.40
FreeDNS – 37.235.1.174 and 37.235.1.177