Windows
Make the most of the windows activity center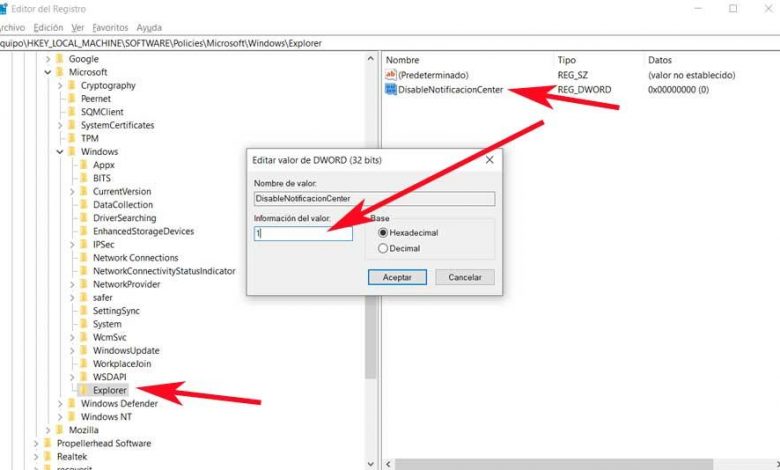 There are many sections and sections of Windows 10 that over time have reached the Redmond operating system . It is evident that a good part of them come in order to help us improve the experience with the software, something that comes to us based on new updates.
As the months go by, the needs of the hundreds of millions of Windows 10 users increase, so Microsoft must adapt to these. Thus, either it improves what already exists in the operating system itself, or launches new functions and sections. Well, in these lines we are going to focus on something that cannot be considered as new, but that has improved significantly in the most recent version of Windows.
Windows Activity Center Utility
Specifically, we refer to the Activity Center that has been with us for a long time in the operating system. As many of you may already know, this is a section that gives us direct access to a good number of functions. It is also in charge of sending us the notifications generated by the system itself and its applications.
The Redmond firm is fully aware of the importance of it, so it does not stop improving it little by little. For those of you who are not sure what we mean, this Activity Center is the one that is initially located on the right side of the toolbar.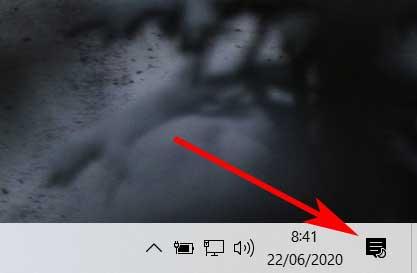 As we mentioned, this gives us access to many shortcuts belonging to various sections of the operating system. This includes items such as Airplane mode, Settings app, VPN, Tablet mode, etc.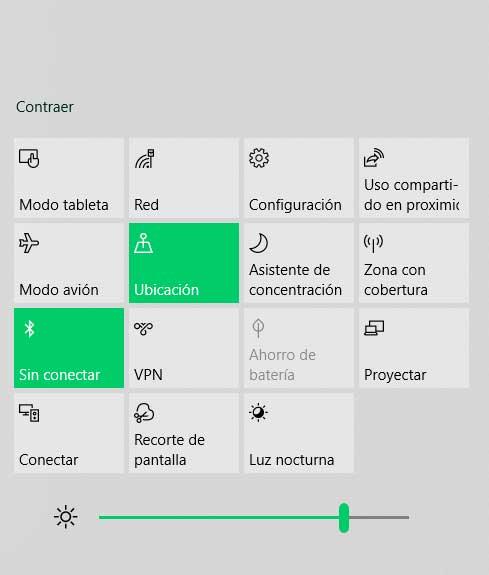 Not to mention the notifications that Windows sends us about its internal functioning, and those of the applications that we have installed. These are also sent to this section from where we will have the possibility to manage them. But what really interests us here is the personalized operation of the aforementioned Activity Center. This is something that we can carry out in a simple way, as well as deactivate it if we consider it necessary.
Customize the Activity Center
Well, to adapt this section to our needs, the first thing we will do is access the Windows Configuration application . This is something that, for example, we achieve through the Win + I key combination.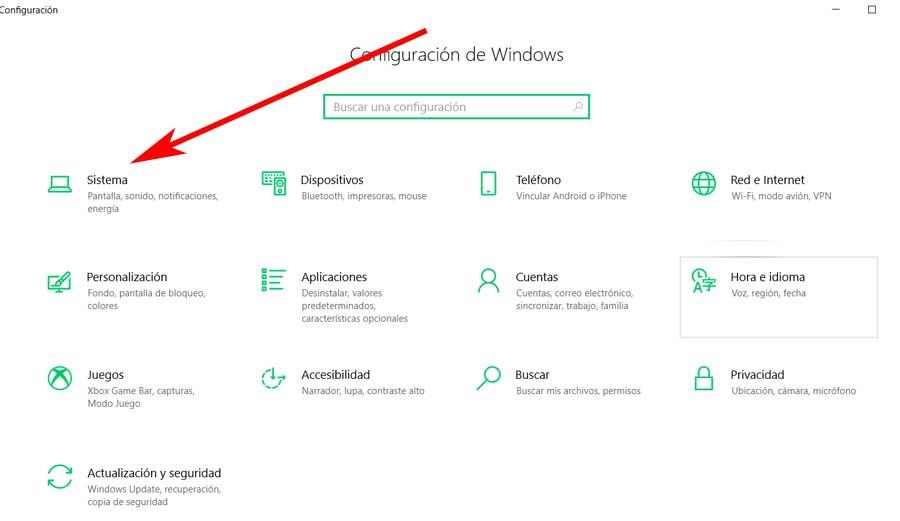 Once here, we find the entry called System, which is where we locate ourselves for what interests us. Next, in the left part of the window that appears, we will see the Notifications and actions option, which is where we click.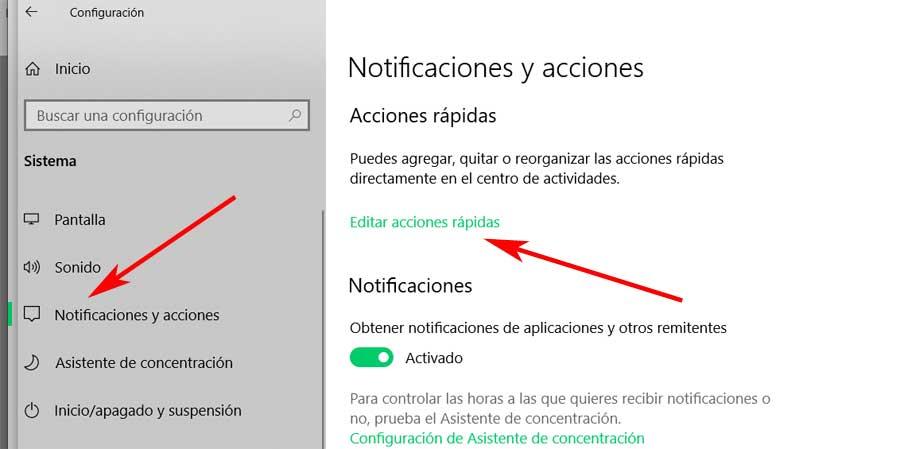 Quick Actions
It can be said that in this section we find three well differentiated sections that will allow us to customize the Activity Center that we are talking about. The first one is Quick Actions, which we access through the link called Edit Quick Actions. This gives way to the Activity Center as such, but now we can edit and customize the shortcuts that will appear here.
Thus, here we only have to click on the pins that are located on each input to fix it to this section, or eliminate it, depending on our needs.
Customize notifications
At the same time, one of the most widespread uses that we find in the Activity Center, as we mentioned, are notifications. Well, how could it be otherwise, from here we will also have the ability to customize everything related to them. For this we find a section called Notifications that includes several customization options.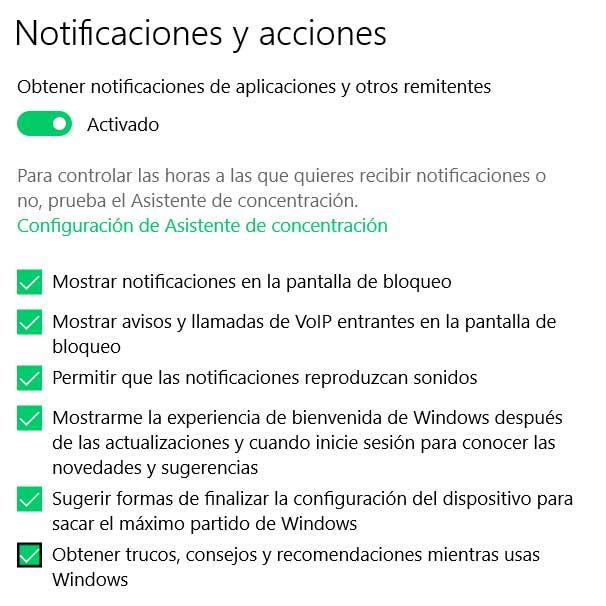 Thus, from them we can let Windows know if we want them to be seen on the lock screen, allow sounds on their arrival, get tips and tricks, etc. We find all this among the options that we comment on, so we only have to mark or unmark the one that interests us in each case.
Notifications of installed applications
But of course, what we are commenting on refers to the way in which these notifications will reach us on a day-to-day basis, or not. But it is also important that we can adapt the applications that will be sent to us so that they reach the Activity Center. Well, it is important to know that we can also do this from this same window. For all this we find the section called Get notifications from these senders.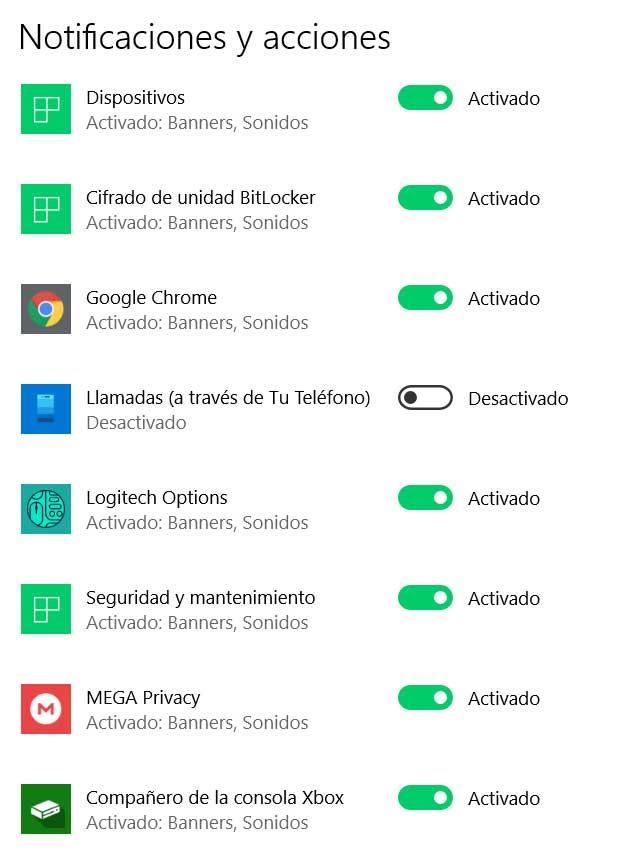 Here, what is actually shown is a list of all those applications that are capable of sending notifications to the Activity Center. These refer both to those that belong to the operating system itself, as well as those installed later by the user. Therefore, as you can imagine, in this section we have more to mark those entries that we consider useful in our work in Windows so that they send us these contents.
Disable Action Center in Windows
Of course, despite its importance, if we consider that this is an element that we do not need in the operating system, we still have the possibility of deactivating it. This is something that we can do from the system registry. To access it, just type the regedit command in the search box on the toolbar to be able to execute it.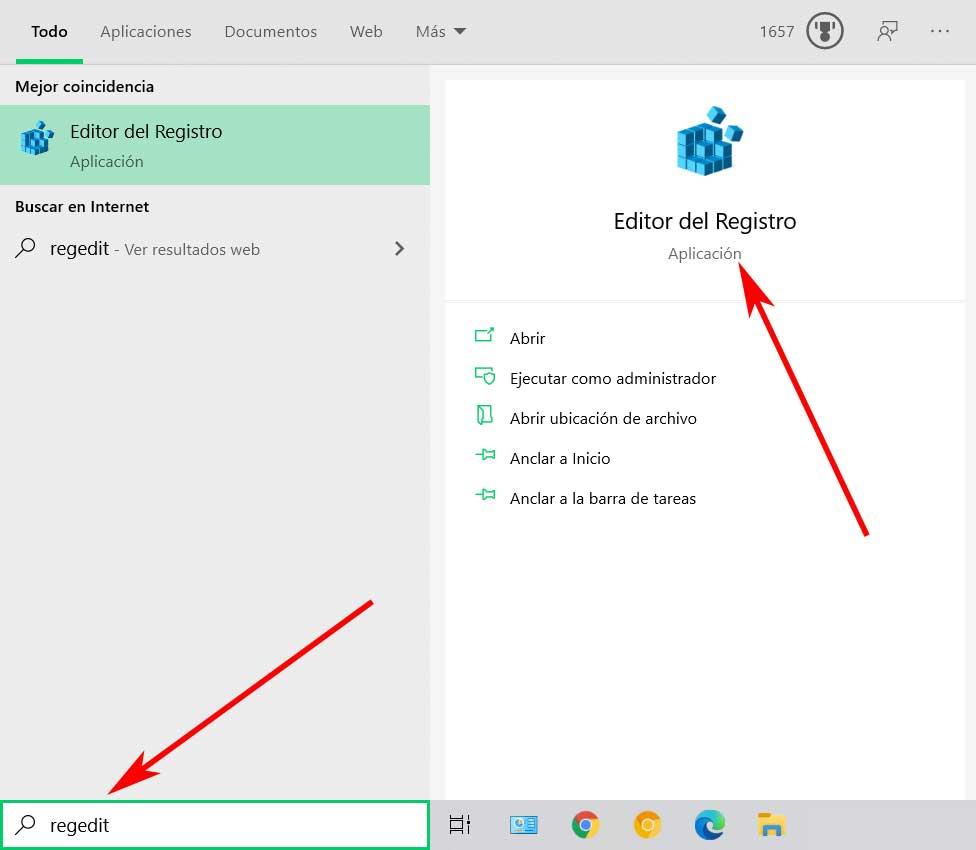 Once we find the Windows Registry Editor window, we have to go to the path HKEY_LOCAL_MACHINE SOFTWARE Policies Microsoft Windows Explorer. It is possible that we will not find the Explorer folder in the left panel, for which we only have to create it from the New / Password menu.
After that, in the right panel of that new key, we have to create a new DWORD value (32 bits) to which we assign the name DisableNotificacionCenter. Therefore, in order to deactivate, as we have told you, the Activity Center, we must give the value 1 to the new entry so that this section is deactivated in Windows.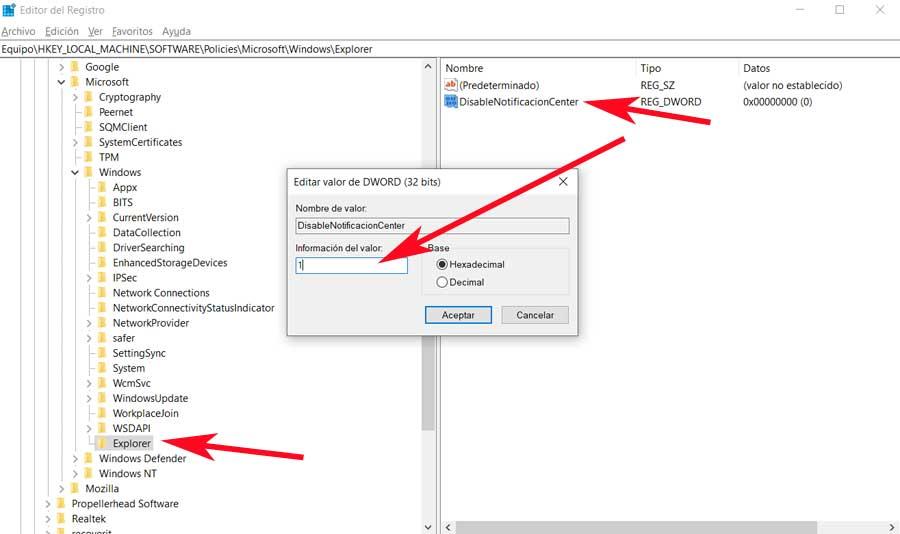 In this way, as we see, both the customization and the deactivation of an important element of the Windows Activity Center, we can do it in a simple way.