Windows
Learn what the windows aero shake is and how to disable it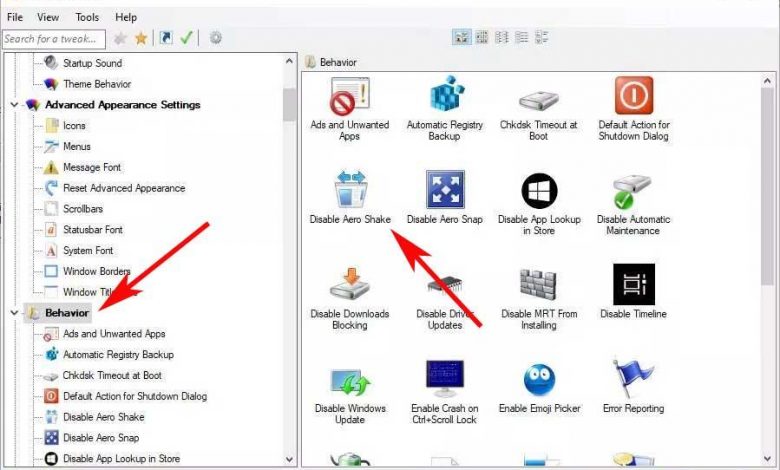 As time goes by and the versions of Windows go by, new functions are coming to the Redmond operating system, and therefore to our teams. In these lines we will focus on a functionality that does not convince everyone, that is why we will show you how to deactivate Aero Shake.
We do not have to tell you that one of the most important elements of the most used PC operating system are the windows that we constantly open and close. Hence precisely the name of the software, and from there we manage the applications and functions of the system. Well, as we mentioned, in these same lines we are going to focus on a functionality that directly affects these windows and their treatment, directly, we refer to Aero Shake.
What is Aero Shake in Windows 10
This is a somewhat hidden function, hence many of you probably haven't heard of it, ever. It comes to Windows 10 from the beloved Windows 7, where it was first deployed and may be gone shortly. With everything and with this, in these lines we will show you different ways to deactivate it.
To give us an idea of ​​what we are talking about, say that Aero Shake is actually a functionality that allows us to minimize windows quickly. Specifically, when you shake an active window with the mouse, all the others are instantly minimized. This is most likely something you've never used before, but there it is. In fact, when it is active, the function can be very useful for us, we want to leave the screen clean and with a single window in view and with the focus.
With everything and with this, below we show you several ways that you can use to deactivate this automated window treatment.
Windows 10 21H2 will integrate an option to remove Aero Shake
On the one hand, we will start by saying that the people from Redmond are preparing a novelty in this sense that they will integrate in the second major Windows update of 2021. This is something that has been seen in the Insiders trial versions and that will arrive this fall . Specifically, a series of changes detected let us know that Microsoft is planning to eliminate this function permanently, although it seems that the plans have changed.
Therefore, instead of eliminating it completely, since the function that may be useful for some, will allow us to deactivate it from Settings. This is something that will come our way with Windows 10 21H2, if all goes according to plan. Of course, in case we do not want to wait, there are several ways to achieve this, as we will show you below.
Disable Aero Shake from the Settings app
Well, as we mentioned, we have several alternative ways to deactivate AeroShake. One of them is from the Configuration application, from the system. We access it through the Win + I key combination , and then go to the System section. In the left panel of the new window that appears we find a section called Multitasking, which is where we are.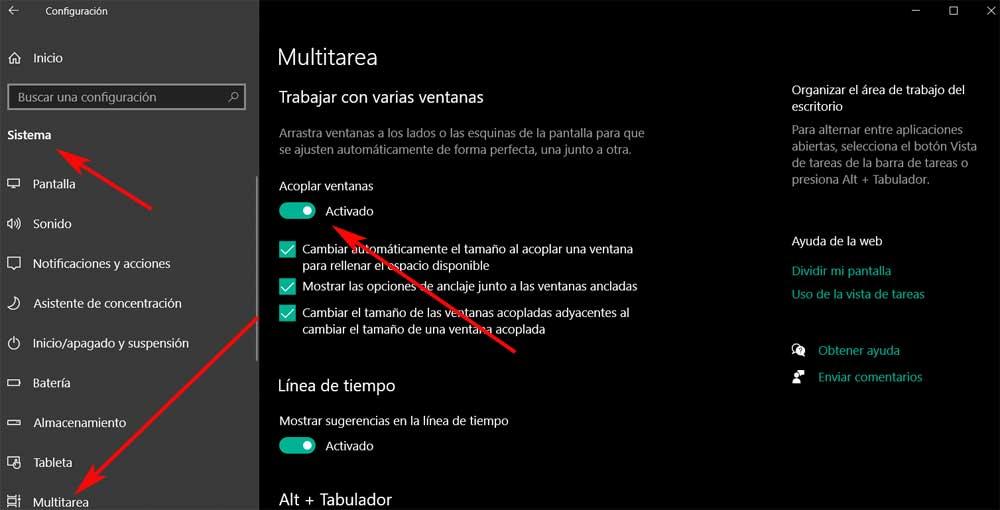 Here, in the panel on the right, we find a control that is active by default. We refer to the one that says Dock windows, so we only have to deactivate it. Of course, with this what we actually achieve is to disable automatic resizing and anchoring along with other windows. Therefore, in addition to eliminating the Aero Shake function as such that we are talking about, we also eliminate other interesting functions from the system, so the method may not be interesting for everyone.
That is why we will see other ways to achieve this that we are telling you, something more cumbersome, but that does not affect anything else.
Remove the function from the Windows registry
As is usual in these cases, to use certain Windows functions, the registry will be very helpful. Therefore, the first thing we will do here is access its editor. Simply type the regedit command in the search box on the taskbar to access this item.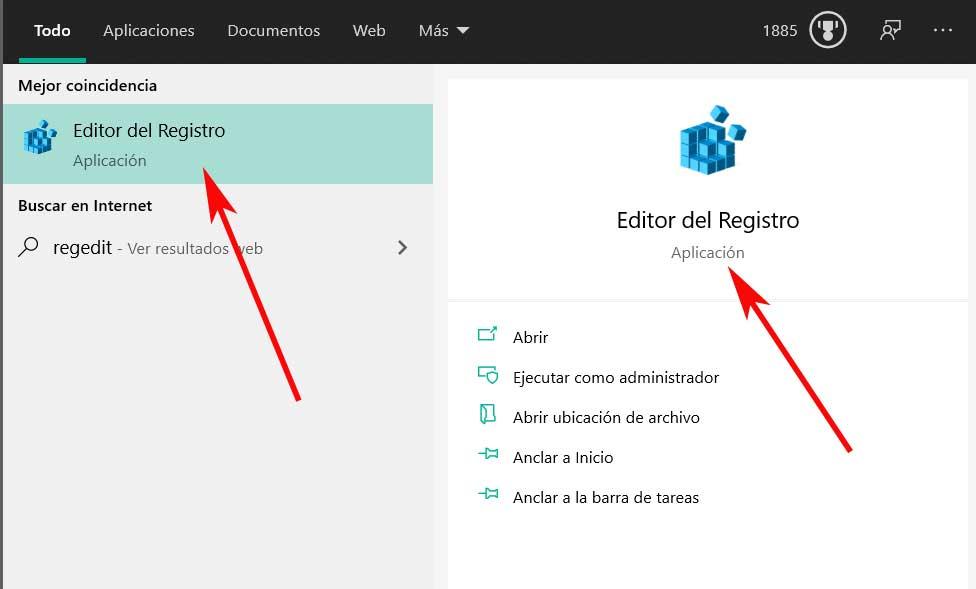 Once the new window appears on the screen, all we have to do is go to the following path: HKEY_CURRENT_USER / SOFTWARE / Microsoft / Windows / CurrentVersion / Explorer / Advanced.
In the right panel we may find an entry called DisallowShaking, if we don't see it we create it as a 32-bit DWORD value. Thus, when accessing it, we assign a value of 0 to deactivate the function we are talking about.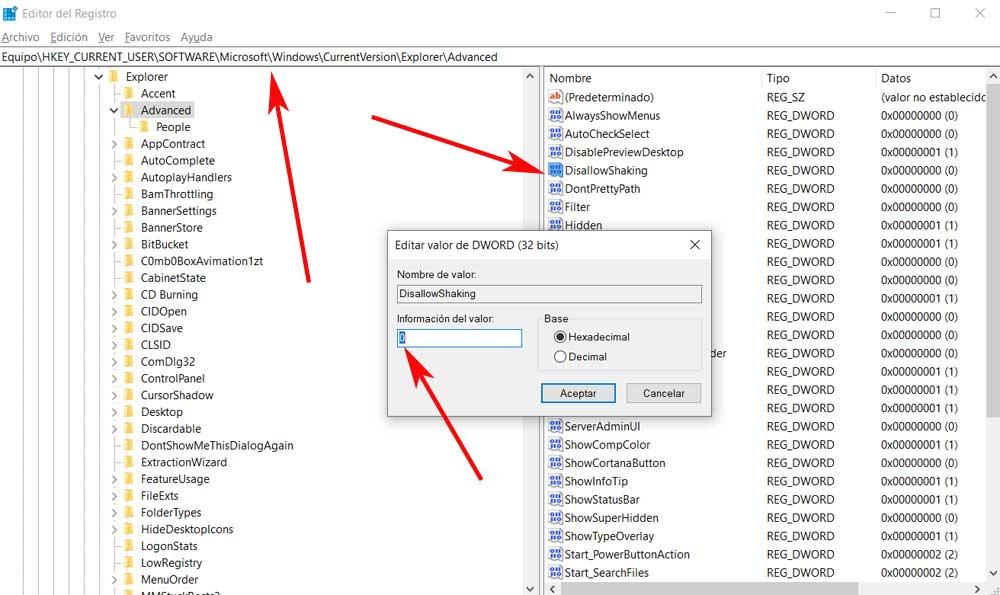 Disable Aero Shake from Group Policies
This option that we are going to talk about now, is only valid for users of advanced versions of Windows. With this, what we want to tell you is that in Windows 10 Home, for example, it cannot be done, but in the Pro version, yes. To do this, what we do is use the Win + r key combination, from where we execute the gpedit.msc call . With this, what we can do is open the Local Group Policy Editor.
Therefore here we have to go to User Configuration / Administrative Templates / Active Desktop. Once here, in the right panel we will see an option called Disable the window minimization mouse gesture. Now we no longer have to double click on it to deactivate it.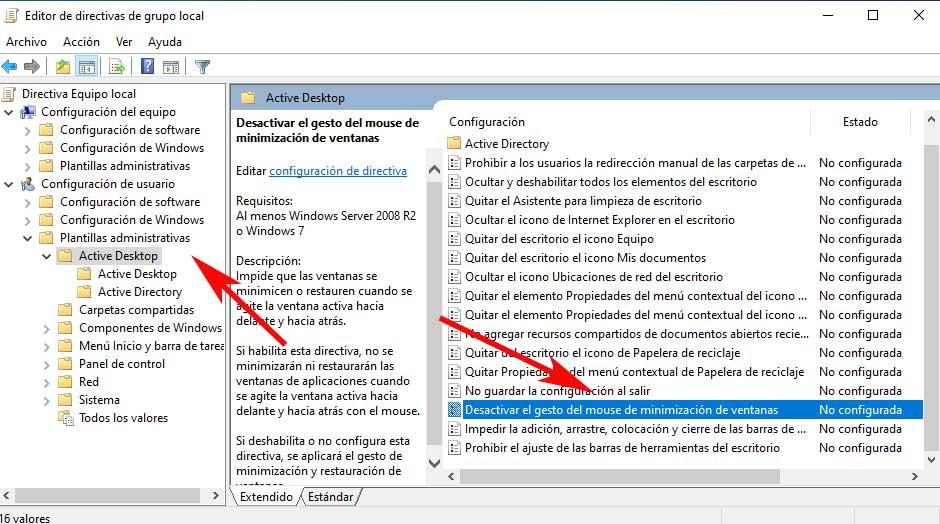 How can we remove the function with an external program
This that we have seen so far, we can carry out through the integrated functions of the operating system itself. But it must be taken into account that at the same time we have the possibility of carrying out this same deactivation, through a third-party application.
For this, in this case we are going to use the application called Winaero Tweaker, a program that you can download from this link. Well, it is developed to allow us, in a simple way, to customize a multitude of sections of the Windows configuration. Among these we find the one that interests us in this case, Aero Shake.
Thus, once we have installed it on the computer for free, we only have to access the Behavior section, where we find what interests us. In the right panel we will see an entry called Disable Aero Shake, there we have it.