Windows
Learn how to use the windows 10 voice recorder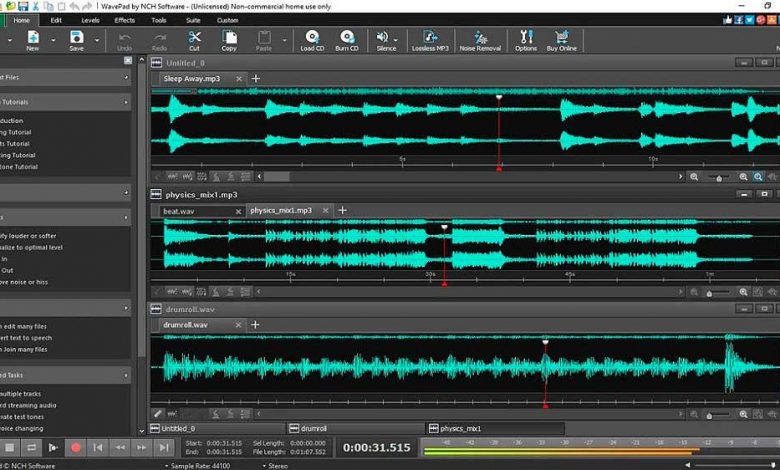 A tool which helps us to record audio in a simple way is quite practical, and that is why Windows always incorporates a tool dedicated to it. Even being simple, it may be that we do not know its operation completely, and for this reason we show you a manual on how to use it.
The Windows recorder in appearance has changed a lot, if we look back at Windows 7. This previous recorder had a rather outdated interface and that right now it may seem even uncomfortable to use.
With this great change in terms of its interface, and the addition of new possibilities with which to interact in this tool that Windows 10 incorporates, a greater acceptance by users and with it a greater use is expected. If you don't have it, we can download it for free from the Microsoft Store.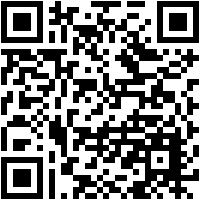 Developer: Microsoft Corporation
Recorder utility that integrates the operating system
Keep in mind that when we have to carry out our own recording, whether for a video, tutorial or to send someone, the first thing that comes to mind is the mobile. This is a device that usually integrates an app to easily record voice memos. Then it is enough that we pass that file that we generate to the PC and do with it what we need.
But what many users may not know is that this is something that we can do quickly and easily, directly from our PC with Windows 10. And, as we mentioned before, the operating system of Redmond It has its own UWP application for these tasks that we tell you. It is also much more powerful than what we could imagine at first. This is precisely why we will show you all the details that this application uses to capture our voice and save them in audio files.
How Windows Voice Recorder Works
To begin, we will first have to locate where said recorder is located and how to access there. To do this, we go to the start menu, and since the programs are arranged in alphabetical order, we look for the letter " G " and we find this tool.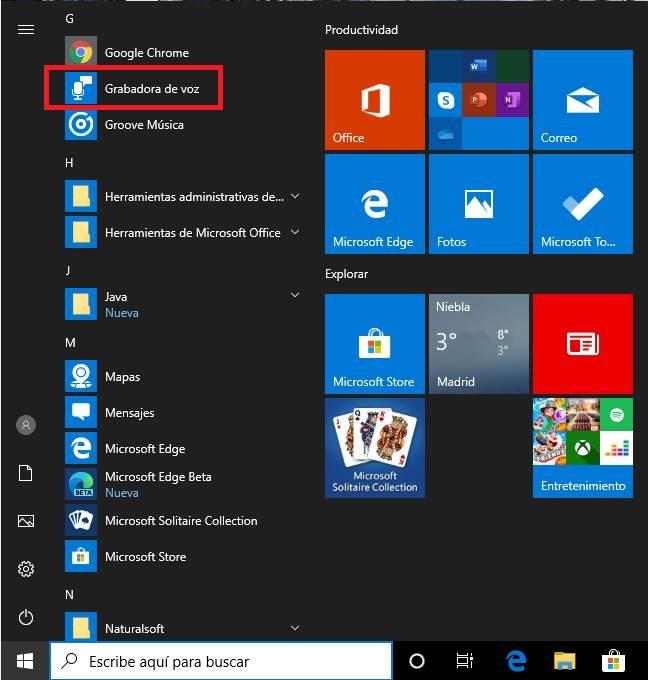 Once we train in these tools, we will find a simple interface, but quite current. Its main function and action that it can perform is simple, that of recording audio. They allow us with a button in blue, the start of the audio recording that we want.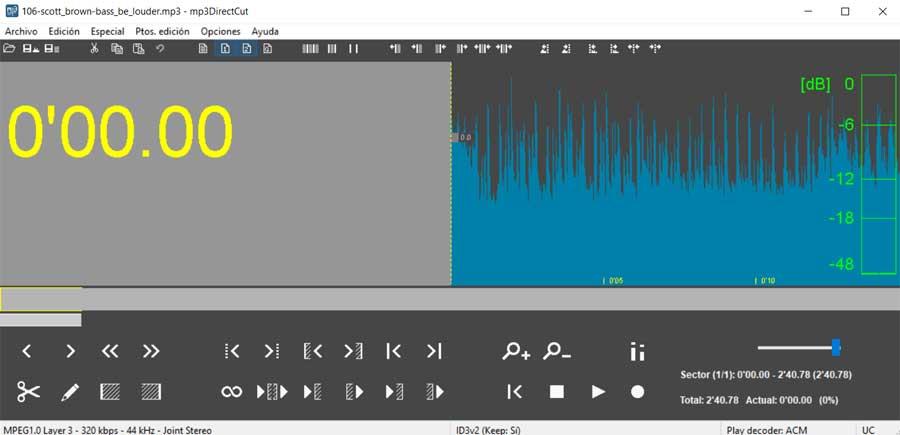 How to configure our microphone
But this may not be as simple as expected from the beginning, since we can have problems in the recording and that our voice is not heard, for the simple reason that our microphone is not configured and that Windows does not have access to it. .
To access the configuration of our microphone and that we can record our audio without any apparent problem, we go to the 3 points (…) available at the bottom, right corner> Microphone configuration.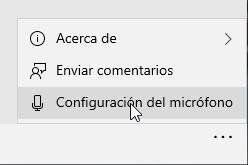 It will launch a Windows configuration window, in which we will have to " Allow access to the microphone on this device ", " Allow applications to access the microphone " and finally we will choose that the Windows recorder is one of those applications that have access.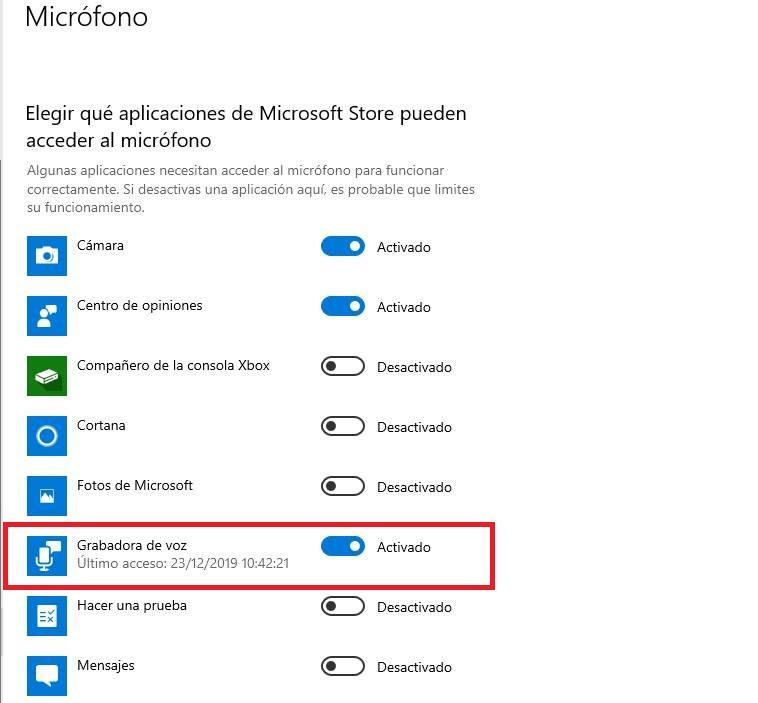 How to make the first recording
Once all of the above is configured and allowed, we can make the first audio recording. In the case of having used the recorder before, this step can be skipped.
As I showed in previous images, an icon of a microphone will appear surrounded by a blue circle, in the middle of the tool. This appears in this way, when we do not have any recording made previously. To perform one, we will place the microphone in a correct position, and we will click on that icon.
The recording will begin, and the time will appear on the screen, in addition to the options to stop the recording, pause the recording and add markers. We will stop recording with the stop symbol represented as a square in blue and white.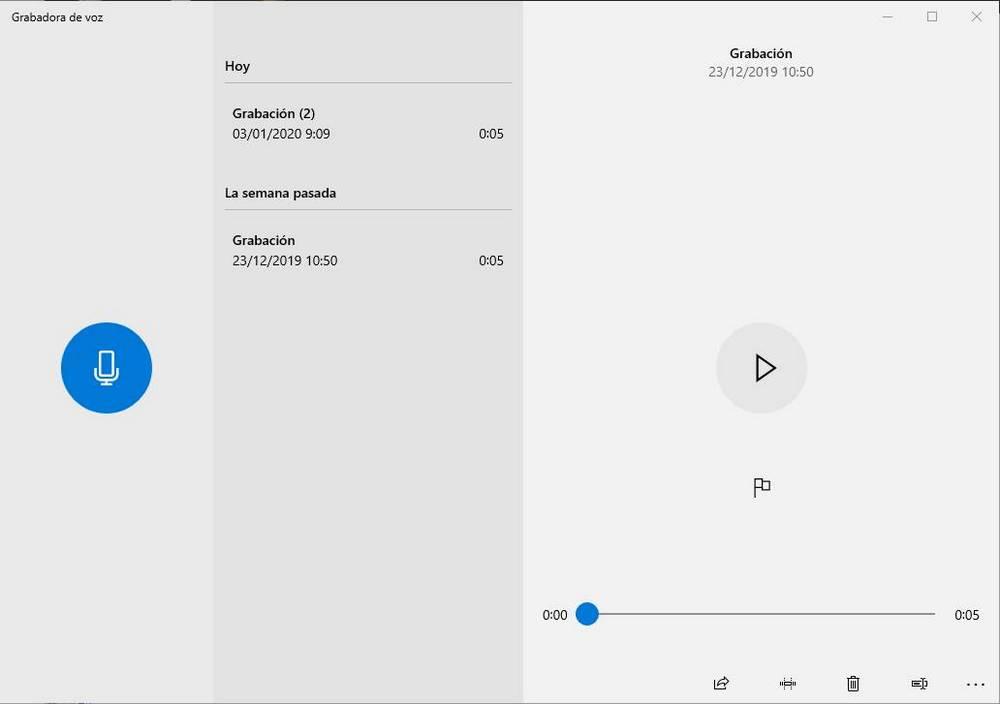 We will see the recorded audio with the name "Recording", each audio is ordered and organized by recording date. When we record several audios, and these remain saved, they will be listed.
How to rename an audio
As I mentioned before, each audio is ordered and organized by date and name, these audios are located by their enumeration, but when we have several audios, this can confuse us and not know which is which. To avoid this we will change the name by right clicking on the audio> Rename.
Another option is to access the lower right panel, and click rename.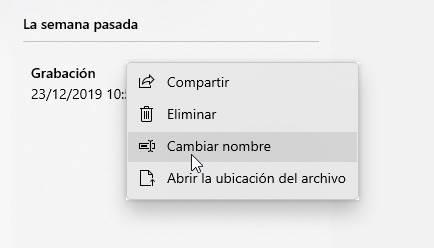 Once this name is written, we will click on "Edit" and the changes will have been saved correctly. As we can see in the following image, it is an example of this.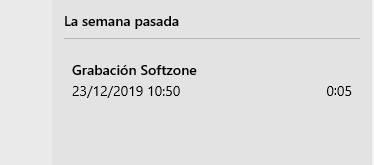 Add markers to audio recordings
This option to add bookmarks is new compared to the recorders of other versions of Windows. And we can thank that they have added them, since they can be very useful for many users.
With this option we can save and highlight an exact second that we indicate to access it quickly and thereby identify important audio parts.
The previous image shows parts of the audio that have been highlighted, and by clicking on them, we access the exact second or minute in which we have added the marker. This can be added during recording, with the same flag symbol, or after recording.
To delete a marker, we just have to right click on it, and delete a marker.
How to trim the voice recording
We can trim our voice recording from the same recorder, something that can save us the use of other programs. This is useful for removing useless spoken parts from the beginning, or silent parts that spoil our recording.
To access this option, we go to the panel that we mentioned before, available in the lower right part, and we access the button that says "Crop"

Once we access, we will see two markers with which to indicate the part with which we want to stay. The rest will be eliminated and will not be part of our audio, although we can recover it if the appropriate save is selected.

Once we are sure, we will click save and choose the option we prefer. I recommend saving it as a copy, since this way we can recover said audio later if we need it and not have to do the work again.

Open the location of the audio file
It may be that we do not know at first where our audio files are saved by default, and we are lost looking for them. But there is a way to access it quickly and that is by right clicking on it> Open file location.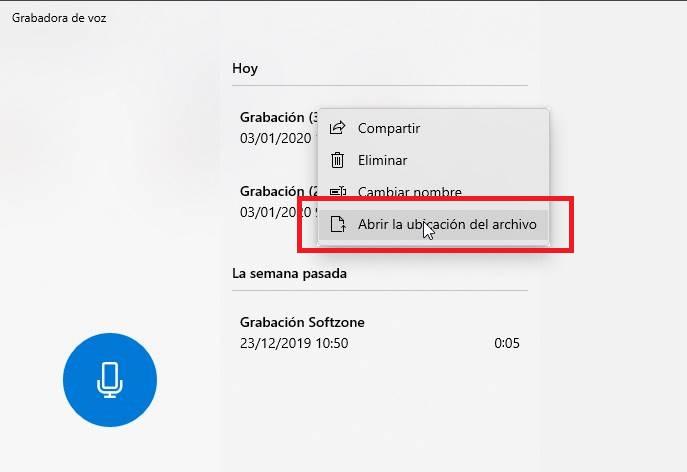 After this, the Windows explorer will open us by selecting the audio file which we have opened. And we will have our final file available.
After all this, you will know completely how to use the Windows recorder without any major problem, and if you have a problem with the audio, know how to solve it without any complications than accessing the microphone settings.
Alternatives for recording audio in Windows
In the event that we do not like the 10 voice recorder, we can always resort to one of the following alternatives that will also allow us to record our voice and edit it very easily.
Audacity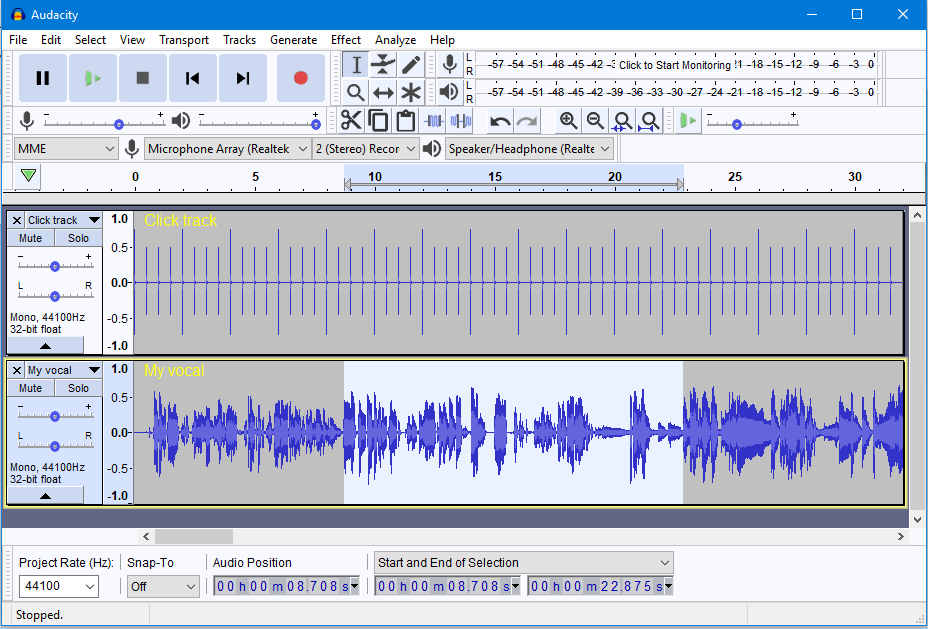 This is one of the most popular audio recording and editing programs that we can find anywhere on the web. With it we will be able to record the sound from any source on our computer. If we have a microphone connected to the PC, simply by clicking on the red button we will be able to start recording everything that is heard by it. In addition, we will be able to edit the recordings without having to exit the program to leave only the part we want, and export the result.
We can download this program for free from here.
Audition
This is Adobe's audio recorder and editor. It is like the professional and much more complete (and expensive) alternative to Adobe software. This alternative is designed for those who need the highest quality recordings and who also need advanced editing, retouching and enhancement options to retouch their audio recordings.
Adobe Audition is part of Adobe Creative Cloud.
WavePad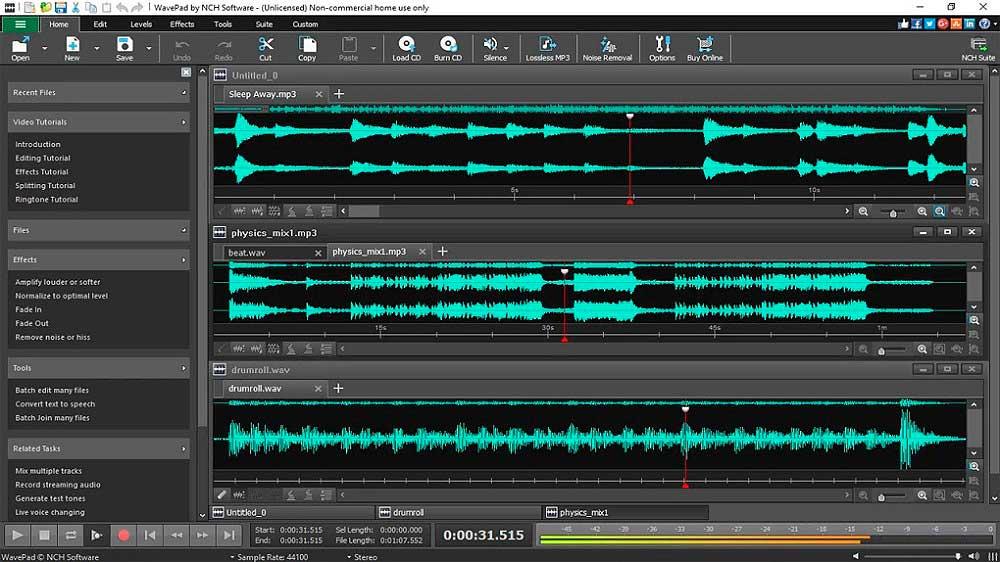 Another alternative to be able to record our voice (or any sound source) in Windows. This program, which we can use for free, has a large number of intelligent functions that allow us to configure the recording aspects according to the type of voice we have so that the sound quality is excellent.
We can download this program from the following link.