Windows
Improve your productivity by learning to use the windows clipboard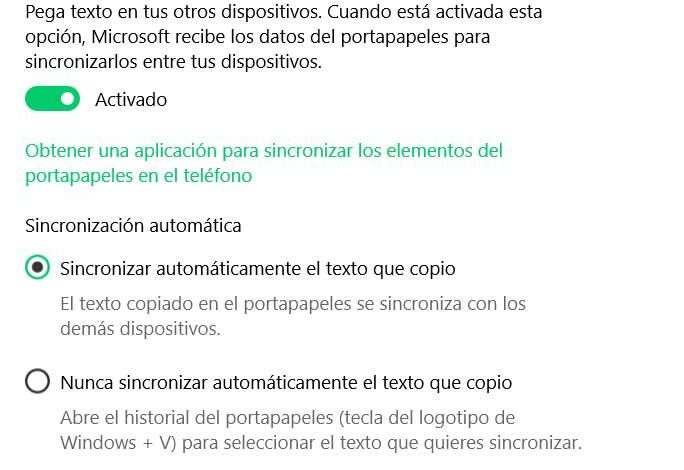 There are several elements that have been with us for several years, even decades, and that are part of the most used operating system on desktop computers, Windows. The reason for all this is that despite the time that has elapsed, its use is still very widespread, which goes hand in hand with its enormous utility even today, as is the case with the clipboard.
In fact, some of these elements or integrated functions that we refer to are so commonly used that sometimes we do not even realize their existence. This is the case, for example, of the screen capture functionality, something that we use on a daily basis without hardly noticing its enormous utility. Well, something similar happens with the tool in which we want to focus on these same lines, the aforementioned Windows clipboard.
The clipboard, an essential element in Windows
As most of you already know, here we refer to a part of the memory of the computer itself that Windows reserves for certain information that we store temporarily. Here we can store all kinds of content, from a letter, a text, a photo, a video, or a large file. As we say, this is something that has been around for a good number of years and versions of Windows.
It cannot be considered or compared to the great and powerful features that have come to Windows more recently. But there is no doubt about its enormous functional utility, in addition to its continued use.
How to quickly use the clipboard
Perhaps some of you may think that defining the clipboard as essential is a bit of an exaggeration. However, it's all a matter of sitting at the PC to work and doing without the popular Ctrl + C and Ctrl + V key combinations for a while.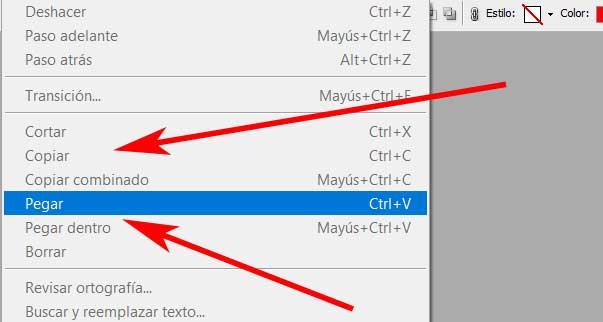 These are the very useful key combinations that allow us, directly, to copy and paste all kinds of content in and from the aforementioned clipboard. At the same time, most of the applications that we install and use in Windows have among their menus the Copy and Paste options that also give us access to the aforementioned system function.
Likewise, we can use all this to move the elements previously mentioned, between different applications or Windows sections. For example, the clipboard can be very helpful when managing the contents of the disk drives from Windows Explorer. So we can copy or move large amounts of files, all at once and in seconds.
Clipboard History, one step ahead
This is something that happens regularly with most of the veteran built-in functions that we find in Windows itself. We mean that with the passage of time and system updates, little by little they evolve. This is also the case with the clipboard that we are talking about here. That is why now it is also worth talking about the evolution of the mythical clipboard that we find in the Windows Settings application .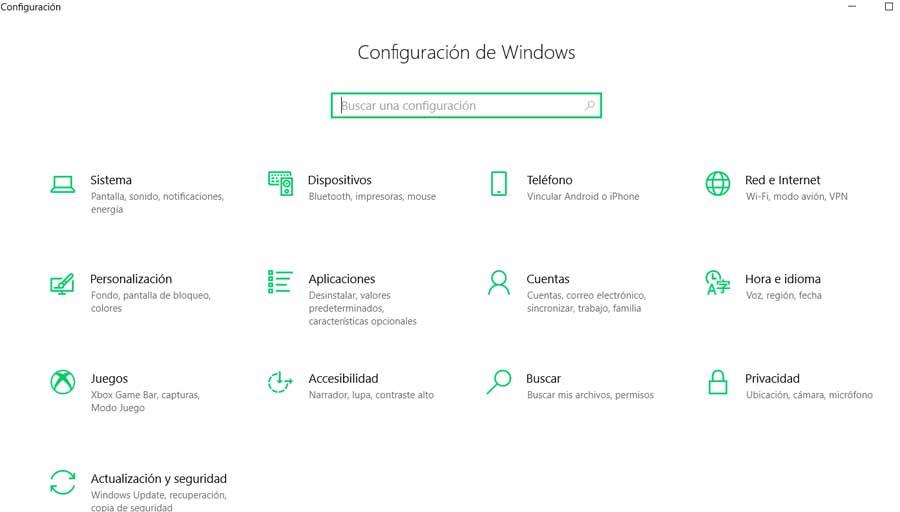 First of all we must know that this is a more advanced and current version of the Windows clipboard that has been around for a while and that we can optionally use. As we discussed all this, we will find it in Settings, system functionality that we access through the Win + I key combination.
Once we find the new window corresponding to the Configuration, in this case we are dealing with, we will go to System. This will lead to another section full of options that allow us to adapt and customize various aspects of the operating system itself. Well, if we take a look at the panel on the left of this, we will see one that is called precisely, Clipboard, where we are located.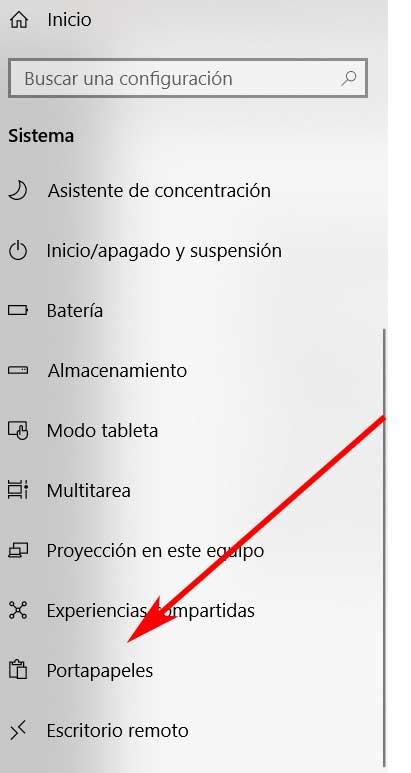 Clipboard History Features
This is where we are going to find the new features that Microsoft decided a few months ago to make available to us in Windows 10. Once we click on the option that we have discussed previously, in the right panel, we will see what Microsoft puts in our hands. Of course, once we get here, the first thing we do to access the new implemented clipboard functions is to activate them through the Clipboard History selector, which is disabled by default.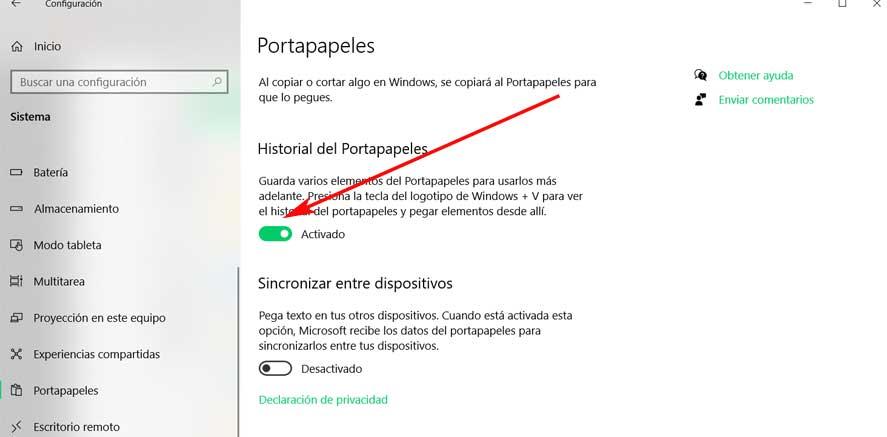 Once we have started what we are telling you, from that moment on we will have the option to save a multitude of elements on our clipboard. As is easy to imagine, this will allow us to use content saved in the past, later on. Thus, for those who make a lot of use of the functionality, this section will help them to save certain text fragments , for example, to use them on other occasions. Of course, we must know that everything saved here is deleted once we turn off the PC.
Changing third, the other great novelty that we are going to find here, we can use it after activating the Synchronize option between devices. This will make a copy, automatic or manual, of all the content that we store on the clipboard.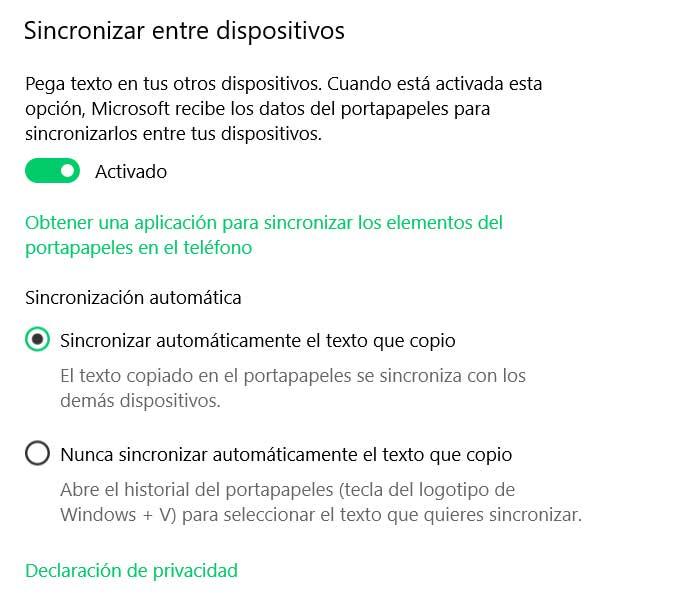 As you can imagine, this will allow us to access them from any device that uses this same Microsoft account . Of course, many users prefer not to use this modality, especially due to privacy-related reasons. And it is necessary to bear in mind that these contents to be shared are temporarily stored on Microsoft's servers, something that not everyone likes.
Other third-party clipboard alternatives
Finally, we will tell you that to use this clipboard function, there are users who prefer to use external third-party solutions. These present some additional functions that we cannot find in Windows itself. So what they actually do is increase the initial functions of something so used. This is the case, for example, of ClipAngel, a program that we can download from this link.
The same happens with another similar proposal that serves as an alternative to the aforementioned Clipboard History, we refer to the CopyQ program that you can download from here.