Windows
Improve windows performance by disabling thumbnails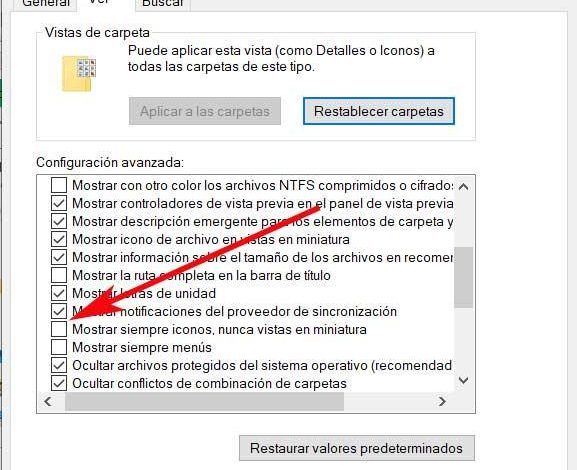 On many occasions we spend a good amount of hours sitting in front of the computer, this is something frequent if this is our work tool. In addition, it will usually be based on the most used operating system in these environments, Windows 10.
Therefore, and due to the large number of hours that we spend so much working on Windows and its programs, we want it to work in the best possible way. Of course, all this will not depend only on the operating system as such, but many other factors come into play here. First of all, we find the internal specifications of the equipment as such, since they must be in accordance with the requirements of the software that we use regularly.
Elements of the importance of the installed processor, the RAM we have here, the graphics, etc. come into play here . A good part of this data, in the event that we are sure that what the PC has available, can be found in the Configuration application. To do this, we just have to use the Win + I key combination and go to the System section, and then click on About in the left panel. Here we already find a section called Device Specifications where what we are saying is shown.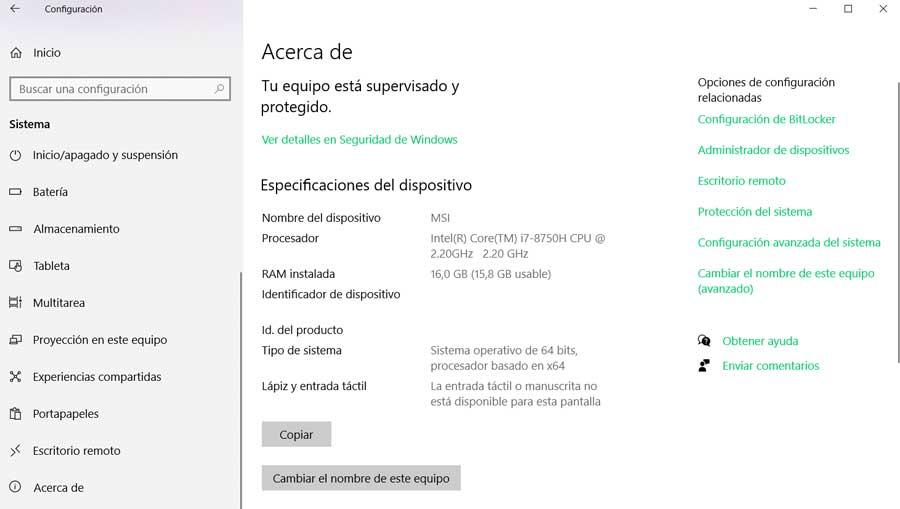 Optimize Windows 10 to improve its performance
Once we know what we have to work with in Windows and its applications, there are other factors to take into account to improve the functioning of the system. By this we mean that Microsoft's own software presents us with a series of internal functions that we can configure to improve it. As you can imagine, all this will help us to a great extent so that our day-to-day experience with the computer is much better.
From the outset, the operating system puts at our disposal a good number of graphic elements that provide us with a more useful and at the same time pleasant interface. However, some of these are totally dispensable, especially if we talk about equipment that is somewhat limited in terms of its internal benefits. In fact, this is precisely the case that we want to talk about in these same lines, about a function that is sometimes useful, but that consumes resources and that we can safely do without in Windows.
Specifically, we are going to focus here on the long waits that we sometimes encounter when trying, for example, to access disk or network drives. Even in more modern and powerful equipment, this wait we are talking about sometimes becomes unbearable. This is largely because we have to wait for each new file or folder thumbnail to load in File Explorer. It is evident that if the amount of this content is high, the wait will be longer, more on old or limited equipment.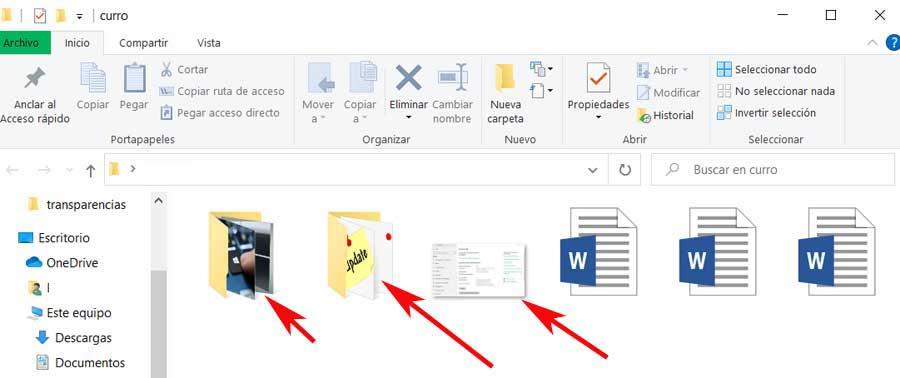 Eliminate the use of thumbnails in Windows
Fortunately, this is something that, as we mentioned before, Windows will allow us to customize in a simple way. In this way, what we are going to achieve is that the Redmond system works in a much more fluid way when we find ourselves in the situations that we have mentioned. Specifically, what we are going to teach you to do along these lines is to speed up browsing between Windows files, disabling the thumbnails completely. This is something that will directly affect our daily work with the operating system itself and all its contents.
Contrary to what is usual in these slightly deeper changes, in this specific case we will not have to use the registry editor. This is a somewhat delicate and too important section, so many do not like to have to put their hands on it. Well, for the deactivation that we refer to here of the Windows thumbnails, all we are going to need is to access the System File Explorer.
To do this, first of all what we have to do is open a window of this element that we use so much on a daily basis. This is something that we can carry out in different ways, although the fastest and most affordable is by using the Win + E key combination. Well, once we find the Explorer window , we will see that in its part top are a series of tabs.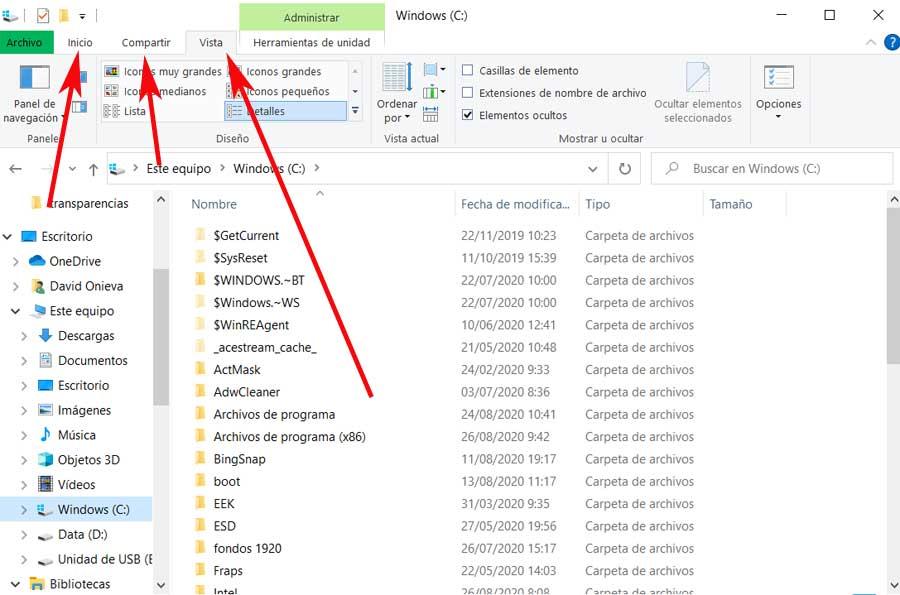 Change File Explorer Options (H3)
At this point, we will tell you that the one that interests us in this specific case is the so-called View that is located on the right side of these elements. After locating ourselves in it, we will see that on the right side of the new interface that we are, there is a button called Options, where we have to click. This will give us access to the multiple customizable functions that we can use in the File Explorer. These, as you imagine, will allow us to adapt this important element to our needs, as is the case at hand.

In this way, in the File Explorer options window that appears on the screen, next we go to the tab called View. Then we have to look at all the options that the Advanced Settings area presents us . Here we have to locate the entry called Always show icons, never seen in thumbnails, so we will have more to mark it.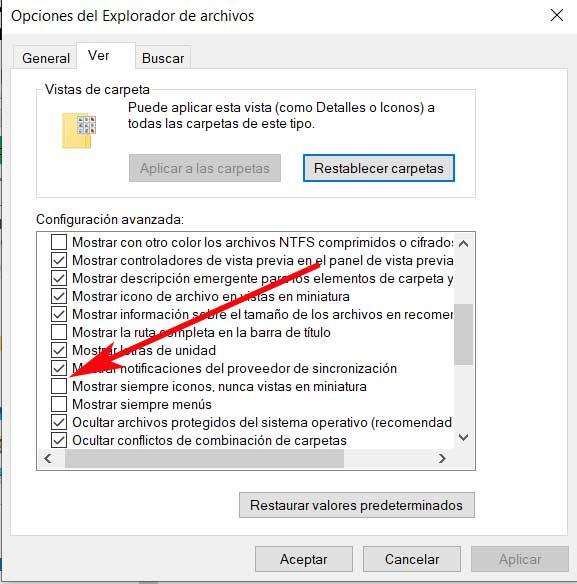 In this way and after saving the changes by clicking on the OK button, we will verify first-hand that when opening a folder full of documents or images, now we will only find the standard icons for each file. This eliminates the thumbnails that until now were generated automatically, which speeds up the process of viewing and accessing these contents.
At the same time and with this simple step that we have just shown you, what will probably happen is that we gain time when opening, copying and moving files and folders in Windows. Of course, if in the future we decide to change this behavior, we will only have to undo the change made again in the same File Explorer.