Windows
Improve windows 10 performance by disabling visual effects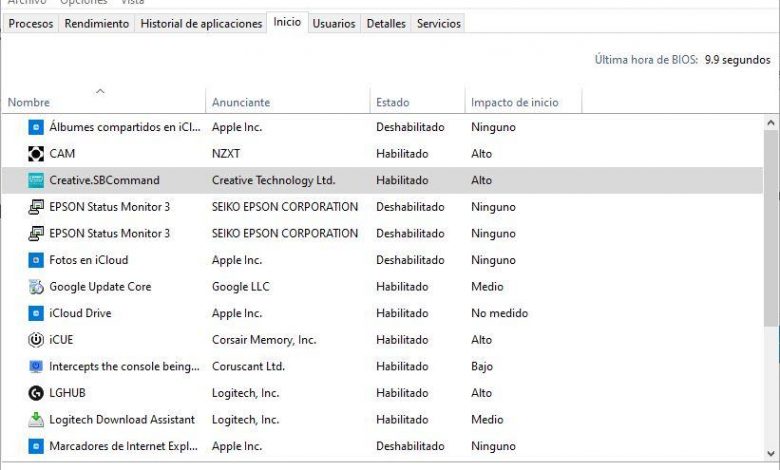 If something characterizes the latest versions of Windows are its visual effects, effects when opening applications, closing them, changing from one to another, transparencies, thumbnails … all kinds of effects that, although they make the operating system beautiful, actually represent a waste of resources that older computers can notice, a lot. Luckily, although these effects are usually activated by default, Microsoft allows us to deactivate the visual effects to avoid the unnecessary use of resources and leave these for the applications that really need them.
Although the truth is that Windows 10 has well optimized the use of resources, certain old computers, or those with low-end hardware (such as laptops without dedicated graphics) can be affected, both in performance and consumption. If you don't mind losing a couple of visual effects (which you probably end up not even noticing) and you want to improve your computer's performance, then we are going to show you how to do this.
Configure and disable visual effects in Windows 10
Everything related to advanced Windows settings, including visual effects, can be found in System Properties. To access them, the first thing we must do is run the command " sysdm.cpl " in Cortana and click on the application that appears.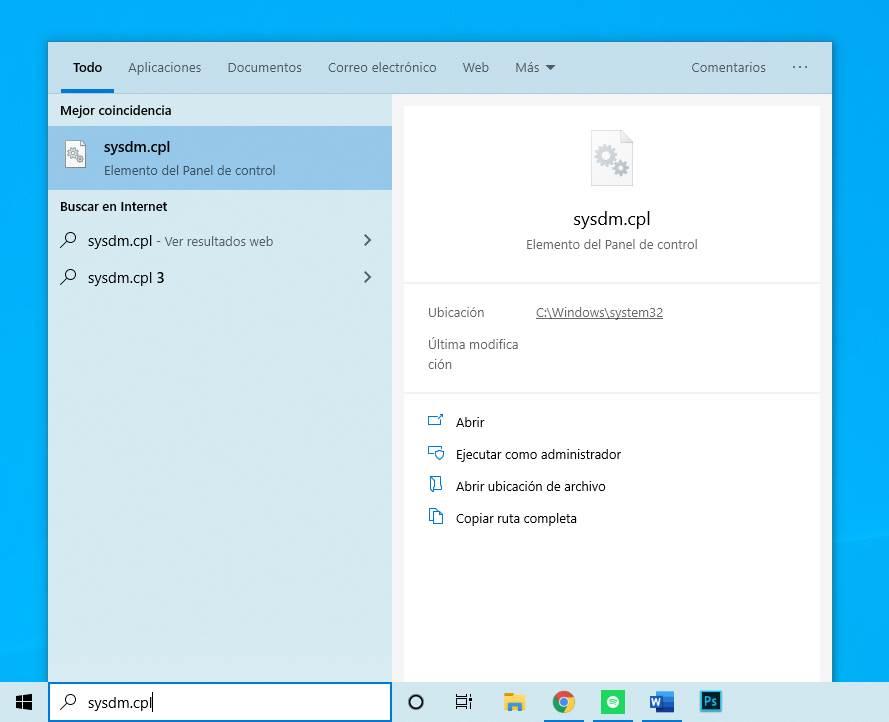 A window with the properties of our computer will open on the computer. In order to configure things related to Windows 10 performance, we must open the " Advanced Options " tab at the top and then click on the "Settings" button in the "Performance" section.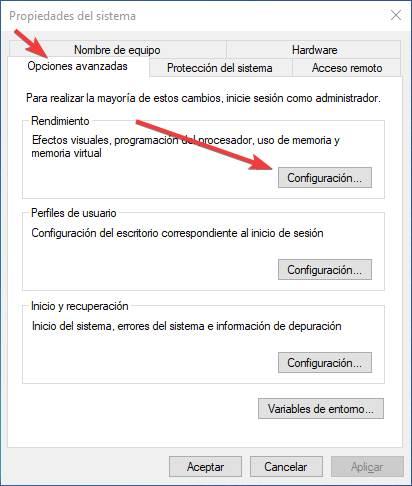 Next, a new window will open with all the performance and visual effects options. From here, we will be able to activate or deactivate the effects according to how we want our operating system to look and the resources our computer has. By default, Windows will have the option to choose the appropriate settings for the computer automatically, although this is not always the best.
To improve the performance of Windows 10 we can do it in two ways. The first one is to select the "Customize" option and uncheck all the options by hand, thus disabling all unnecessary effects for Windows and improving its performance, or to check the " Adjust for best performance " option which, roughly, it will do the same, but automatically.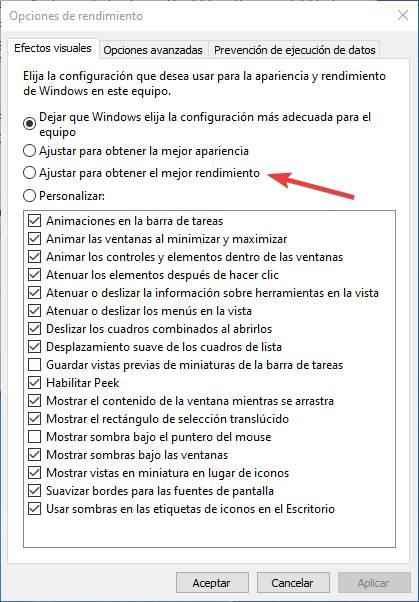 We apply the changes and that's it. Once we have disabled the visual effects, our Windows 10 should start to work better, faster and use fewer resources, something that we and the rest of the applications on our computer will appreciate.
What to do if Windows 10 is still slow
Even after disabling these visual effects, our computer may continue to slow down. This then is no longer a problem of the operating system as such, but two things can happen.
Disable programs at startup
On the one hand, we may have many applications open in the background, applications that consume resources and make our PC go slow. In that case, what we must do is try to disable them. One way to do this is to use the Windows 10 Task Manager to prevent these applications from starting at Windows startup.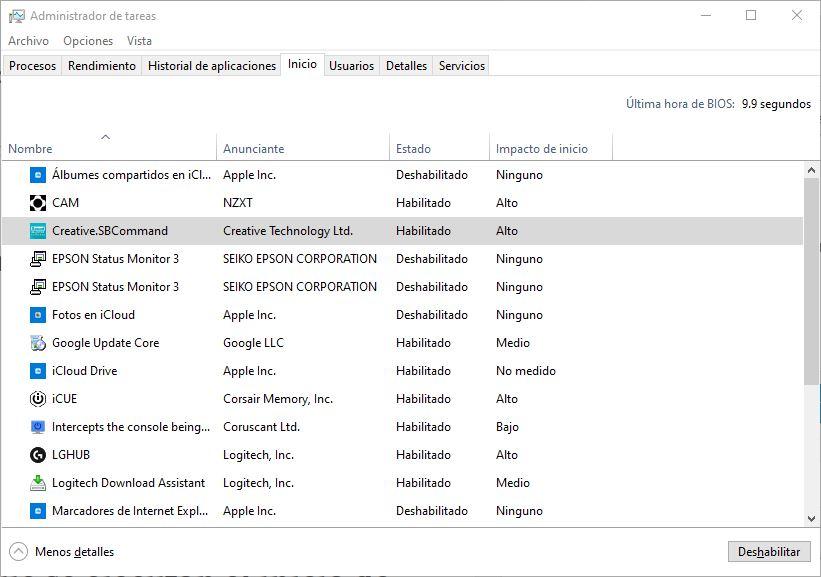 Control RAM and CPU usage
If the problem is not the applications that are running, then the problem is probably our hardware. If we have little RAM or an old and not very powerful processor, it can be the reason why our computer works slowly.
What we must do is, from this same task manager, check all the processes and programs that we have open. We can order them according to the RAM that they consume the most, or the CPU. This way we can know if we have a specific program that is consuming a lot of resources, such as Chrome, and close it to free those resources.
In case the problem is that we are low on RAM, then there is not much else we can do. We should consider buying some more RAM or changing the computer so that Windows 10 starts working better.
Swap your hard drive for an SSD
Another factor that affects the performance of the computer is the use of normal hard drives, HDD. These mechanical disks are, today, the main bottleneck of the PC and, therefore, they make our computer go very slow.
If we want to invest some money in the computer (not much) to extend its useful life a few years, we can buy a solid state drive, SSD, to replace our main hard drive. This way we will improve the performance of the PC and of all the programs.
Check virus
Another reason why a computer can be slow is due to the presence of viruses on the PC. It is necessary to have an antivirus on the computer, such as Windows Defender, that allows us to analyze the PC in search of threats and, in case of detecting them, to be able to eliminate them.
Programs to improve performance in Windows 10
If we have performance problems with Windows 10, we can also use some programs developed to optimize the system and improve its performance, so they will help us solve the problem:
Bleachbit
It is a program that will help us clean and optimize our Windows operating system. It is characterized by being open source and free. It is capable of detecting all kinds of junk files created by the most popular applications. It has support for more than 2500 programs, due to its compatibility with Winapp2.ini libraries. This application is also available for Linux and we can download it from this link.
Glary Utilities
Another very popular program when it comes to cleaning our PC to obtain better Windows performance, optimizing it to a great extent. It allows us to do cleaning by categories or to carry it out automatically by the application. Although to take full advantage of it it is advisable to be a user with advanced knowledge, but the automatic mode may be more than enough if we do not want to complicate ourselves. It has a free version that we can download from its website.