Windows
If you have forgotten the access pin to windows 10, you can reset it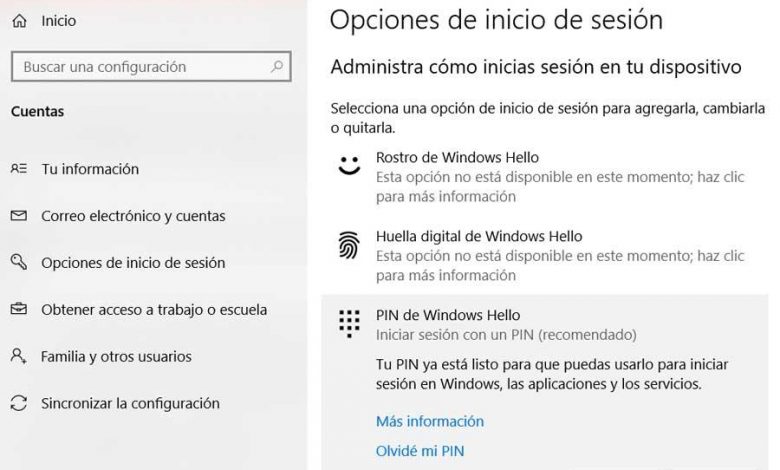 In these times, most of the companies related to technology put at our disposal several methods of authentication and security. Among these we find Microsoft with its Windows 10, where we see several of these systems to access the software.
In fact, biometrics is something that little by little is coming to our computers, both desktop and mobile, although many continue to prefer the more traditional methods. We cannot forget that security when accessing our platforms, equipment or operating systems is more important than ever. The main reason for all this is that we are increasingly working with more sensitive and personal data here, so we do not want anyone to access it.
And that is why Windows 10 allows us to configure more than one security method, through which we can access our security account. Among these options, we have the possibility of configuring a PIN, which can either be a set of numbers or a combination of numbers and letters. This is something that we must choose ourselves when establishing it to be able to identify ourselves later.
Sign in to Windows 10
For all this that we tell you, for many users a strong password or PIN in Windows 10 is the best way to protect the system. The main reason for all this is that these combinations are difficult to decipher, but sometimes they can also be difficult to remember. Thus, in the event that we are faced with the problem that we have forgotten or lost the login PIN in Windows 10, let's see what to do. To begin we must have logged into our Microsoft account either with our email, phone or Skype account. with its corresponding password
How to reset the PIN while logged in
If we have logged into Windows 10, we can change or reset our PIN to access our user account. To do this, we must open the Windows Settings page, using the Windows + i keyboard shortcut.
Once the Configuration screen appears, we must access the "Accounts" section. Once here we must look at the left column and select the "Login Options" section.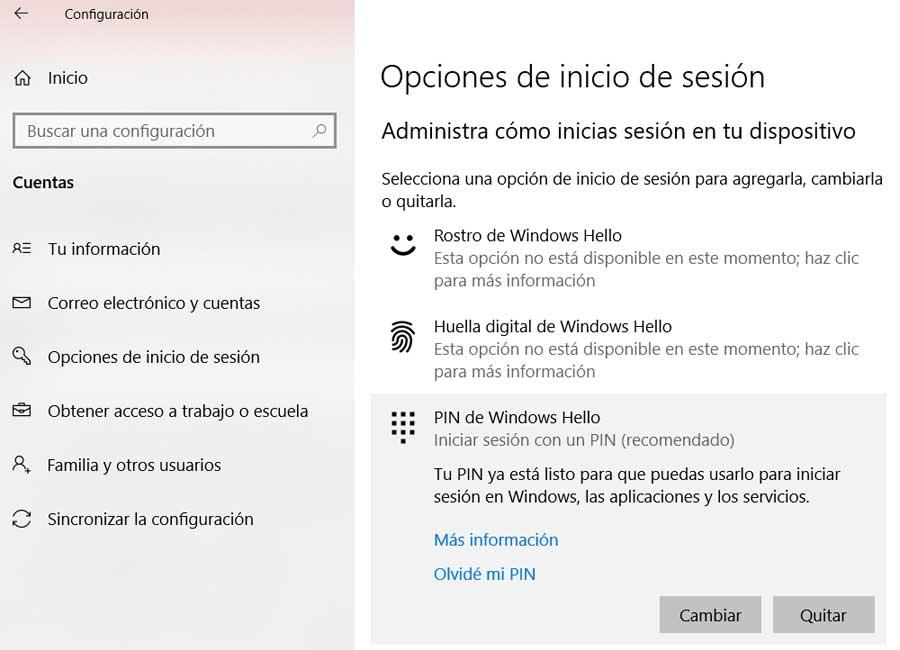 Subsequently we must click on the "Windows Hello PIN" option to log into our Microsoft account. You will then ask us to verify our identity via email. Once received we have to select "I have a code" and write the code that we have received by email.
Finally, a new screen will appear to configure a new PIN, we write it down and confirm the operation to have it available for use.
Reset PIN in Windows 10 without signing in
In the event that we have forgotten the PIN, we will not be able to recover it, but we can change it. Let's start from the assumption that we have already added a password to the personal Microsoft account, so that PIN will make the login to the devices much faster. Therefore, if for some reason our Windows 10 computer has been blocked for remembering that PIN, the first thing to do is go to the login screen.
In the event that we have not yet logged in, it is also possible to change the access PIN. Once the system login screen appears, we may have the option "Forgot my PIN" available or it may not appear, so depending on this we must act in one way or another.
Option «I forgot my PIN» available
If the login screen appears when we start up our computer, we must look under the PIN text box. There we must check if the option "I forgot my PIN" appears. In case this is the case, we must click on it and follow the instructions that the system will mark us. In the event that we have several active user accounts, it will be necessary to indicate on which of them we want to reset the PIN. Later it will be necessary to enter the password of our Windows 10 account. Once this is done, it will be possible to change the PIN without having to log in.
The option "I forgot my PIN" is not available
In the event that the "I forgot my PIN" option does not appear on the login screen when starting Windows 10, we will have to select the "Startup options". From here we must enter the password that we use to log in. Later, once identified, we can reset the PIN.
I can't reset the PIN in the Login Options
Sometimes it may happen that an error message appears when resetting the PIN within the Login Options. This is something that may be due to the interference of an antivirus program, the lack of updates or some misadjustments of the default options of the operating system. To try to solve it, we can try to make any of the following adjustments.
Restart the computer periodically
The first option is to restart the computer periodically since this ensures that it closes some processes that may give us problems. To do this, click on the Windows button, then on «Start / Shutdown» and finally on «Restart». Then we must wait for the process to finish and avoid forcing the shutdown. This is because the system can take advantage of that moment to install and configure some pending updates.
Install updates from Windows Update
It is highly recommended to have Windows 10 updates installed so that everything flows correctly and we avoid the appearance of errors. To do this we go to Start, write updates and select the option "Check for updates". We wait for the process to start and wait for it to take care of downloading and executing any pending updates.
Antivirus settings and recently installed programs
As we have mentioned, there are some antivirus that block access through the PIN. That is why we must disable or uninstall recently installed antivirus, making sure that the entry in the registry is also deleted. Once this is done, we should be able to change the PIN without problems and activate Windows Defender as our antivirus.