Windows
How to uninstall Windows 10 and return to Windows 8.1 or 7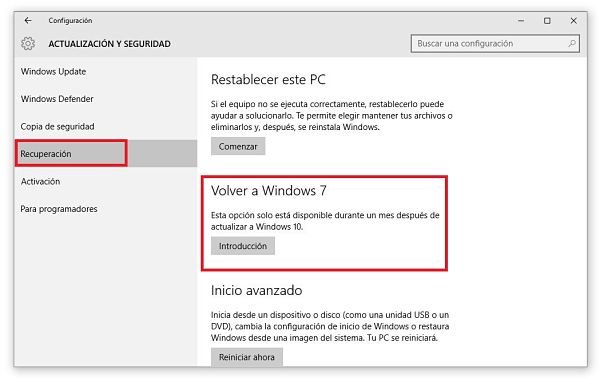 If you upgraded your PC to Windows 10 and regretted doing it, don't worry. You can go back to your version, be it Windows 7 or 8.1 in just a few clicks, as long as you do so within 30 days of updating. Here I will show you how to uninstall Windows 10 and go back to your previous version.
Downgrade Windows 10 and revert to Windows 8.1 or 7
You have already been testing Windows 10, but you find that the new system is not for you. If this is your case, fortunately you can downgrade to the operating system you had before updating. Microsoft allows you to undo the update and go back to the previous system, as long as it is done within the month.
If you later want to upgrade to Windows 10 again, you don't have to worry either. You can still take advantage of the free update offer for one year, until July 29, 2016.
You must bear in mind that to downgrade it is required that you still have the Windows.old folder on your hard drive. If you deleted it after upgrading or did a clean install of Windows 10, you won't be able to downgrade automatically.
Uninstall Windows 10 and go back to Windows 8.1 / 7
First, the most advisable thing would be to make a backup of all your data and files on an external drive or using a cloud hosting service. You should also have your product key for the system you are returning to handy . This just in case it asks you to activate it. You shouldn't need them, but it is safe to do so.
Once all these forecasts have been made, you can continue with the system rollback. Go to the Start Menu, select Settings, and then click Update & Security. Now you go to the Recovery tab .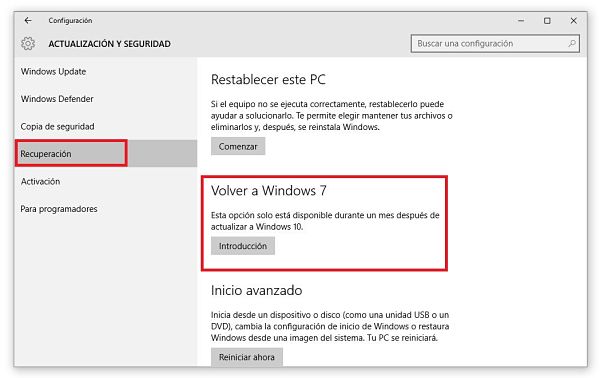 If you are eligible to roll back to your previous operating system, then you will see an option that says Go back to Windows 7 or Go back to Windows 8.1, depending on your case. If you have the option, then click the Introduction button and now simply follow the instructions of the wizard.
In this way you have been able to return to the original version of the operating system that you had before upgrading to Windows 10, whether it was Windows 8.1 or 7. But there is only one "small" problem, because the reversion will make you lose all the applications that you had installed. Now you will have to manually reinstall each and every one of your applications, which can be quite annoying and time consuming. With personal files there will be no problem, since they will remain intact on the disk; although it is always advisable to make a complete backup before any procedure of these characteristics, as we recommend previously in this post.
How to roll back upgrade to Windows 10 after 30 days
If you have made the decision to roll back your upgrade to Windows 10, but the thirty days have already passed to be able to do it automatically, you can still do it in the following ways:
Doing a clean installation using recovery discs generated from your system with Windows 7 or Windows 8.1
Use a system image that you have created and have somewhere.
We hope we have helped you with your doubts regarding reverting to your version of Windows before the update. Take into account that you can always use the operating system you are used to using a virtual machine, while you make the adjustments and get used to Windows 10.