Windows
How to speed up my Windows 10 PC by optimizing the system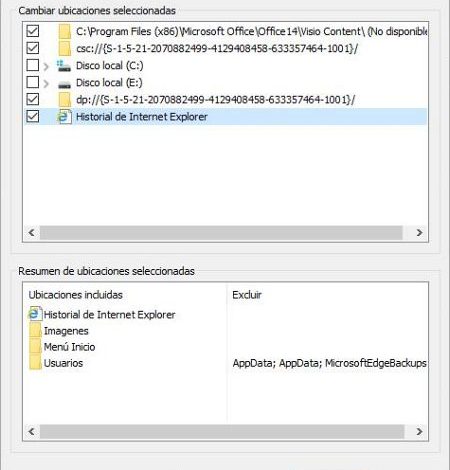 Sometimes the system can get excessively slow and make our work difficult. If you are having performance problems and your computer is very slow, here we will see how you can optimize Windows 10 to speed up your PC or laptop.
Working on a slow computer is a headache, as each task takes longer and sometimes you can't even complete them. This causes your performance to drop drastically and you become stressed. If you have this problem, in this post I will show you how to speed up your Windows 10 PC.
Speed ??up my Windows 10 PC or laptop
Here is a list of tips you can easily implement to speed up a Windows 10 PC. Each of these has a variable impact on system performance, but together they can help you make your PC or laptop faster.
#1. Clean the hard drive
Windows can generate a large number of temporary files, used to facilitate and speed up access to information. They are automatically removed when the application is closed, but some may remain due to poor implementations or inappropriate system shutdown.
I recommend you delete the temporary files, you could recover a little space in and fluency of the system and speed up your PC.
#2. Disable unnecessary services
Windows services are programs that run in the background to support other programs and functions of the operating system. They are also used to perform tasks automatically.
As you install more and more applications, the number of services can increase dramatically. Some need to run all the time, but many don't, especially those from third-party applications.
To speed up and optimize your Windows 10 PC, you must disable the services you don't need. You can do it by following these steps:
Right- click on the Start button and choose the Run option .
Type msconfig and hit the Enter key to open the System Configuration window .
Go to the Services tab and carefully explore the services that you do not consider necessary.
You can check the Hide all Microsoft services box to avoid disabling any of these.
Then uncheck the box in front of all the services you want to deactivate and when you finish click Apply or OK.
A message will appear asking you to restart the PC to apply the changes, but you can choose to do it later if you wish.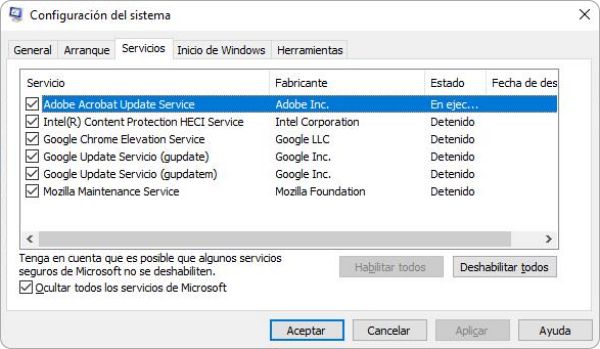 WARNING: Disabling essential services or Windows programs could cause problems or malfunction of the operating system.
#3. Reduce visual effects
If you are working on a PC that is very slow, you can speed up Windows 10 by reducing the visual effects. To do this you must follow these steps:
Right- click on the This Computer icon and choose the Properties option .
Then select Advanced system settings on the left of the new window.
In the window that opens, go to the Advanced tab and in the Performance section , click the Settings button .
Performance Options will open , and here you need to choose the Adjust option for best performance and click the OK button .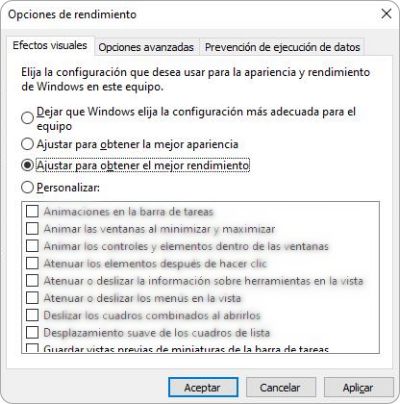 #4. Disable startup programs
Startup programs are those that start automatically with the operating system. Sometimes you have startup programs that you hardly ever use, but that consume significant system resources and slow down Windows startup.
To make your PC run faster, it's a good idea to disable unnecessary startup programs. They don't need to start automatically, especially since you can run them manually whenever you want.
#5. Uninstall unused apps
We often download and install many programs from the internet, but we rarely uninstall them after using them. Then we end up with too many programs and applications taking up disk space and taking over the Windows Registry.
One of the most important points to optimize and speed up a PC is to uninstall the programs that you no longer need. Then do not forget to clean the residues left by these programs.
# 6. Clean the Registry
Windows stores all system and application changes in the Registry. Over time some entries become obsolete and can slow down the entire system.
Cleaning the Windows Registry will help you get everything back to work as before, and for that you can use some of the best Registry cleaners.
# 7. Remove malware
If your system is infected by some malware, it could severely affect the performance of your PC. Malware can consume a large amount of resources, putting a burden that can be unsustainable. In addition, your personal information and files could be in danger and your privacy violated.
Run a full system scan with your antivirus program, and if you don't have it installed, try to install a free or commercial one of your choice. You can also activate the Microsoft Defender that is built into Windows 10.
# 8. Activate high performance
It wouldn't be great if you want to save electricity, but turning on High Performance might speed up your Windows 10 PC. To change to High performance you must follow the following steps:
Go to the Control Panel and choose Power Options.
Click the drop-down arrow and select High Performance.
You can also more easily enter Power Options through the battery icon in the system tray.
# 9. Close programs in system tray
Some programs can run without you noticing, keeping an icon in the system tray or notification area. Among those are the ones that do not close when you click close, but rather are minimized to the systray.
These programs continue to consume a good part of the system's resources, so you should close the ones you don't need:
Click on the up arrow on the right side of the task bar.
Now right click on the respective icon of the program to close and select the option to close or exit.
In some cases, the program does not give any option to close. Then you can use Task Manager to force close it.
# 10. Disable search indexing
Although temporarily, search indexing can consume a lot of system resources, especially on smaller-capacity computers.
If you use Windows Search extensively, this setting may not suit you as some will be slower. But it is worth it to make your PC or laptop faster.
Type index in the Start menu and open the Choose which files and folders to index tool .
Scroll to the bottom and click the Advanced Search Indexer Settings link .
In the new window that opens, click the Modify button .
Uncheck the selected file types and locations and click OK.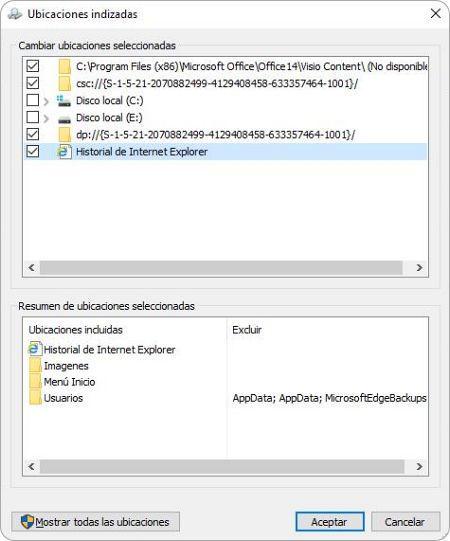 Optimize and make my PC faster
With these tips you should have managed to optimize and speed up your Windows 10 computer. After having implemented them, your PC should run faster and your productivity would be better supported. We have focused this guide to optimize Windows 10, but most of it is applicable to Windows 8, Windows 7 and even Windows XP and Vista.
If you are not satisfied with the results, you should consider more extreme actions. Installing an SSD might be the best way to speed up a Windows 10 PC if it's too slow. You can also expand the RAM to increase the speed of your computer.