Windows
How to schedule automatic shutdown of Windows 10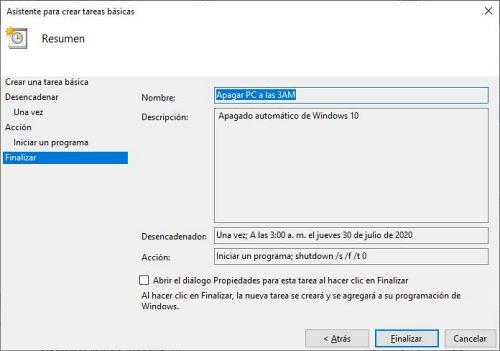 There are circumstances when you will need to schedule your Windows 10 computer to shut down automatically. For example, when you want the PC to finish a task or process, and give it time to automatically shut down afterward.
Your computer could be processing a task or downloading files from the Internet, and you may not want to wait for it to finish. In these and other circumstances, you will want to shut down the PC automatically when it is finished, after a certain amount of time.
Setting the function to shut down your PC is quite easy and fast. You can create a task or schedule Windows 10 shutdown at a specified time. In fact, there are several ways to do your homework, some faster than others. In this post I present you 3 methods, and you can choose the one that is most convenient for you.
1. Shut down the PC automatically with the shutdown command
If you want to schedule Windows 10 shutdown quickly, the easiest way is by using the shutdown command directly in the Run app or Command Prompt.
Windows 10 Auto Shutdown with Run
For example, if you want your PC to shut down automatically in 1 hour, using Run to create the schedule would be the fastest and best way.
Basically, you just need to enter the command in the Run dialog box and your computer will shut down when the specified time expires:
Press the Win + R keys to open the Run dialog .
Type the following command in the box and hit Enter.
shutdown -s -t 3600
Substitute 3600 for the period of time in seconds (1 hour = 3600 seconds). Your computer will shut down when the specified time in seconds has elapsed.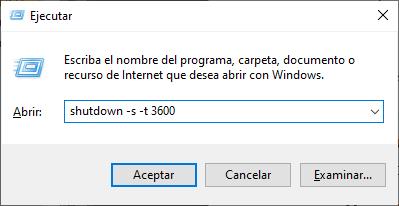 Use Command Prompt (CMD) to shut down Windows 10 automatically
If you are one of those who prefer the Command Prompt, you can also use it to schedule Windows 10 shutdown easily.
Type cmd in the Start menu and choose Command Prompt to open it.
Now type the following command and hit Enter.
shutdown -s -t 3600

Make sure to replace 3600 with the time in seconds you want to use.
2. Schedule shutdown in Windows 10 with Task Scheduler
To shut down your computer at a specific time, follow these steps:
Search for " Task Scheduler " without quotes in the Start search and choose the main result to open Task Scheduler.
In the right pane, click Create basic task.
Enter a name and description and click Next.
On the next screen, you will need to specify when you want the task to start. For our example we will select Once, and click Next.
Now you must select the start date and time and click Next.
On the Action screen, select Start a program and click Next.
Now, in the Program or script text box , type shutdown ; and in the Add arguments box type / s / f / t 0.
If you want the shutdown to start after about 60 seconds, type 60 instead of 0.
Then click Next to review everything and finally click Finish.
Your computer will automatically shut down based on the day and time set in this procedure. To schedule Windows restart you must use the / r parameter instead of the / s parameter. To log out the current user, use / l.
3. Schedule to turn off the PC at a specific time
Task Scheduler gets the job done, but it's not the easiest way to schedule Windows automatic shutdown. If you don't want to waste time and prefer a faster way, a third-party app might be more convenient.
Sleep Timer is a free portable application for Windows that allows you to shut down your computer at your chosen time without any hiccups. In a single screen you can configure your settings and the programming will be ready instantly.
1. Download the app and double-click the file to open it.
2. On the main screen you have several ways to shut down the computer. Configure it as follows to turn off your PC at the chosen time:
Mode: Time
Action: Shutdown
Perform action at: choose the time you want to turn off your PC.
Then click on the play icon to start the task. The application will display the time remaining before your computer shuts down.
Although we have oriented this guide for Windows 10, the truth is that it works identically for Windows 8, Windows 7 and predecessors.