Windows
How to restore corrupted Recycle Bin in Windows 10

You may get the problem that you cannot access the Trash, and receive the message " The Recycle Bin is damaged ". This could cause you various problems, but here I will help you to restore or recover the Recycle Bin in Windows 10, 8, 7, etc.
If the Recycle Bin on your system is corrupted, then you may have various difficulties using it. It may not show the files you have deleted or it may not allow you to permanently delete the ones that are already in it. It might even not allow itself to be emptied to permanently delete all the deleted files.
This error can happen for a variety of reasons, such as force closures, DLL errors, compatibility issues, and so on. No matter what is causing it, you cannot access the Trash, delete files, or restore them from it. But next let's see how you can fix your Trash.
The Recycle Bin is damaged
In Windows each drive has a hidden system folder called $ Recycle.bin, which you can only see if you enable the show hidden files option in Folder Options. When the Recycle Bin is corrupted, it means that the $ Recycle.bin folder is corrupted for that drive.
But don't worry, restoring the Recycle Bin in Windows is easy. You just have to follow the steps that I will indicate below.
# 1. Open Command Prompt as administrator. You can do this by typing CMD in the Start button and choose the Run as administrator option .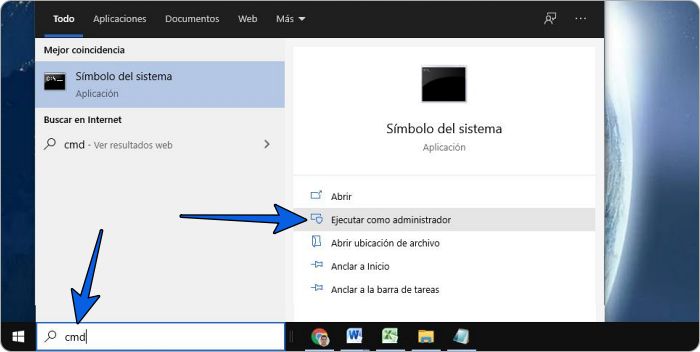 # 2. Inside the Command Prompt, type the command rd / s / q C: \ $ Recycle.bin and press the Enter key . You must substitute C with the correct drive letter in your case.

# 3. Now you must reboot the system for the changes to take effect.
This will delete the current Recycle Bin folder and all the files and folders it contains. Upon reboot, Windows will create a new Recycle Bin for the drive.
Another method to recover the trash
If the above instructions have not helped you restore your Recycle Bin, then you can try the following:
Open Command Prompt again as administrator, type sfc / scannow and press Enter.
The system check function will run and try to repair any errors it finds. You just have to wait a bit and then restart your PC to see if the Trash has been recovered.