Windows
How to Repair Corrupt System Files in Windows 10

Are you getting system errors when using Windows 10? Has the system got too slow? Are you getting file corruption or missing files errors after system boot? In this guide we will see how to repair system files in Windows 10.
A file may have been corrupted for various reasons. Viruses and third-party malicious software are often the reason behind a corrupted system file. They can also get corrupted when you try to modify them. Whatever the case, the most normal thing is that we want to repair them.
Windows 10 offers tools to check and repair corrupt system files. The best part is that you don't need to install third-party programs or reinstall the operating system. You can use the Command Prompt to run these tools and automatically repair corrupt files. Executing these commands will not cause changes to your personal files saved on the PC. Also, no changes will be made to the system configuration.
The file repair tool is not only useful when you receive missing or corrupt file error messages. It can also help you solve common Windows errors and problems.
Repair system files in Windows 10
IMPORTANT: you must run both commands below. Don't stop at Step 2.
STEP 1. Open an elevated Command Prompt (as administrator). To do this, right-click on the Start button and choose the Command Prompt (administrator) entry from the menu that will appear.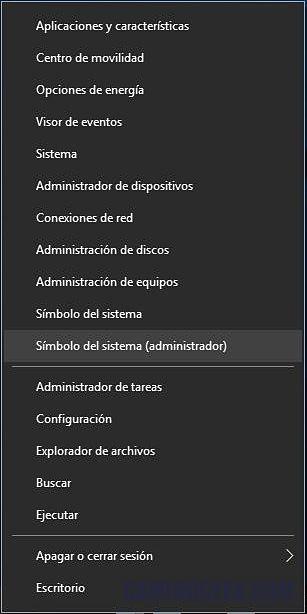 STEP 2. In the elevated Command Prompt, type the following command and then hit the Enter key :
DISM.exe / Online / Cleanup-image / Restorehealth

Windows 10 may take several minutes to complete. You will be shown the message "Restore operation completed successfully" when finished.

STEP 3. Then type the following command and hit the Enter key .
sfc / scannow
This command will also take several minutes to complete. If corrupt files are found, the command will repair them automatically.


TIP: If system file repair failed to fix the problem, you can try restoring Windows 10 to an earlier date.