Windows
How to invert file selection in Windows 10 explorer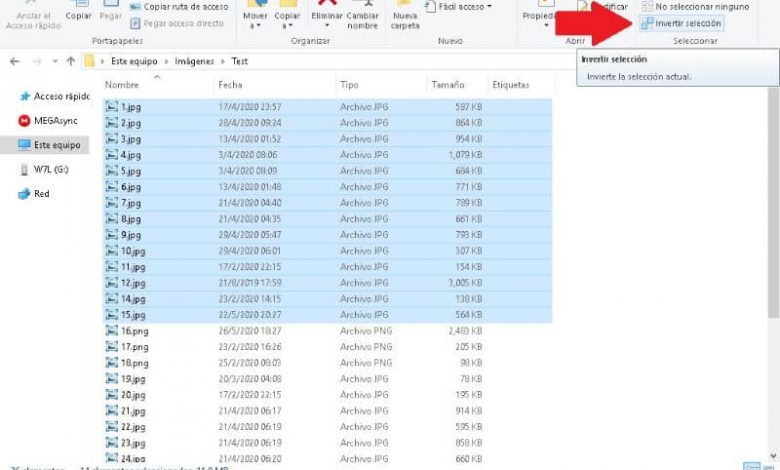 Have you ever wondered how to invert the selection of files in Windows 10 explorer, the truth is that it is a fairly simple process but it can be very useful. For this reason we have prepared a guide in which we will teach how you can reverse the selection of files in Windows very easily.
Inverting files is one of those features or functions that go unnoticed, in fact, the vast majority of people do not know what it refers to. Through the following guide we will tell you what this is about inverting the selection of files in the Windows 10 explorer, we will also show you the way through which you can apply it.
Organization is undoubtedly essential to keep our computer in proper working order. Given this, options such as deleting all the folders that are empty and many others will be very useful. Without further ado let's continue in this tutorial on inverted selection.

What is inverting the file selection in the explorer?
Windows is a very complete operating system with a large number of functions, so many can go unnoticed by the most novice users. One that you should definitely know is the so-called inverted selection, something especially useful in the case of many files.
What is inverted selection or inverting selection?
When we talk about inverting the selection, we refer to a simple process in which, after making a specific selection of files, all those files that are not selected will automatically be selected.
This option is especially useful, since it allows you to effectively select all those files remaining from a previous selection. With just one click you can easily organize all the files that are present in a folder on your system.
Another way to help you organize is by sorting your files by number in the browser . The truth is that both tricks are very useful to have everything much more organized on the computer.
How to invert file selection in Windows 10 explorer
Reversing the file selection in the browser could be very useful, but as we noted earlier, it is something that most people do not know how to do. Even so, do not worry, since the process is very simple and can be done very quickly, to do this, follow the following steps:
Once you are inside a folder with multiple files, make the selection you had in mind.
Now go to the top of the window, there you will find the "Start" section.
Among the multiple options, you should look for the one named "Select", you will find it at the end of the top row. Click on it and select "Invert selection".
When you carry out this process, you will notice that the selection of all those files not previously selected within the folder is made.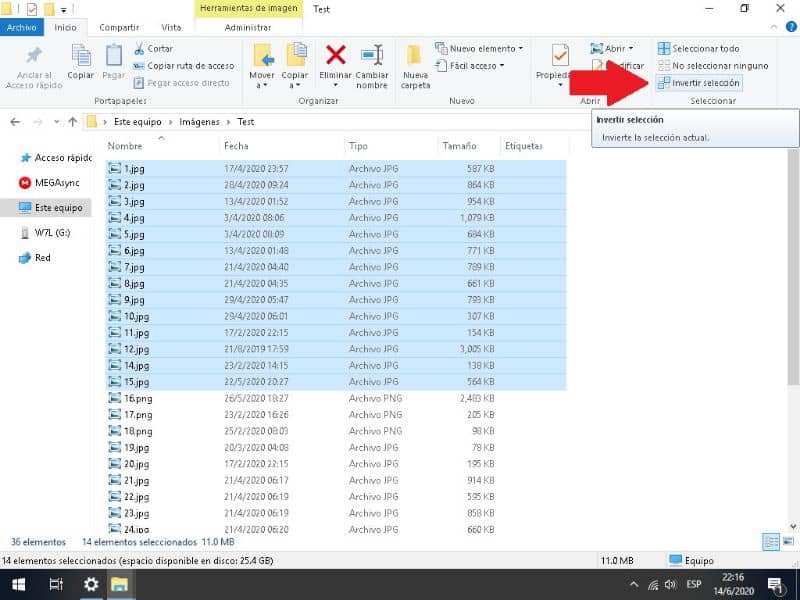 Keep in mind that the process we showed earlier will also work even if you change the size of the Windows icons and folders .
Advanced file selection
Apart from the inverted selection, we have other options at the time of selection that could be very useful. One of them is the advanced selection, something that we can do very easily and that if you are a newbie you should learn.
Go to the folder in which you want to select the files. This type of option is used to select very specifically all those files you want.
For this trick, all you have to do is hold down the "Control" (Ctrl) key and select one by one or drag your mouse through each of those files you want to select.
This type of selection is especially useful in the event that there are files that you do not want to select as a selection, it is undoubtedly one of the most recommended ways when organizing files in Windows 10 explorer.
In short, the inverted selection is extremely useful. Even so, if you feel unhappy with the present functions, remember that there are some very good alternatives to Windows Explorer and some of them have very interesting options.