Windows
How to flip computer screen in Windows 10

If for any reason you need to flip the screen of your computer or laptop, in Windows 10 it is an easy and fast action. No matter what reason you have, Windows 10 provides several ways to rotate the screen of the PC or laptop and here I will show you.
Sometimes the user could accidentally turn the computer screen, and seeing everything upside down, not find a way to fix it. Even if you have the screen rotated on your computer, you can quickly correct it and rotate left, right, down, or simply return it to its natural state. Here I will show you how to fix your computer screen if it is upside down or intentionally flipping your screen.
Fix computer screen when flipped
Many times my friends have written to me via WhatsApp or other means, asking me: "My screen turned around like I do to make it normal?" or "how to fix my computer screen if it is upside down?"
The truth is that with everything upside down on the computer, the easiest way to turn the screen to its normal position in Windows 10, Windows 8.1, Windows 7 and others is through the following keyboard shortcuts:
Ctrl + Alt + ? (up arrow) = rotate the PC screen to its normal orientation.
Ctrl + Alt + ? (down arrow) = rotate screen upside down.
Ctrl + Alt + ? (right arrow) = flip the screen 90 degrees to the right.
Ctrl + Alt + ? (left arrow) = flip the screen 90 degrees to the left.
How to flip a computer screen
If for some reason the above commands don't work for you, you can flip the computer screen in the display settings. It's a bit awkward to do with the screen upside down, but you'll have to try.
Open the Settings application (Windows + i shortcut ) and choose System > Display.
Below the Scale and distribution section , click or tap the drop-down field under Screen Orientation.
Choose one of the options: horizontal, vertical, horizontal flipped, vertical flipped.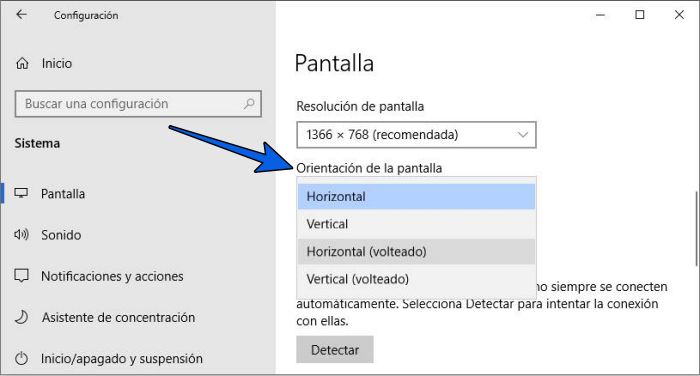 You will see a confirmation message, you must click or press the button Keep changes.

If you are on a tablet or a device that supports it, you will have the option to Lock screen rotation. You can disable it if you want the screen to rotate automatically with the position of the device. Activate it if you want the screen to stay fixed in one position.
Final words
Sometimes, we accidentally press a key combination and the computer screen is rotated without knowing how to fix it. It is an inconvenience that happens more often than one might imagine. Other times it is that someone has played a prank on us. But no matter what the source of the problem was, you already know that it is not difficult to rotate the screen and fix it if it is upside down.
This guide has been oriented on how to flip the screen of a Windows 10 computer, but it works very similar in previous versions. Especially the keyboard trick, you can use it almost the same in Windows 7, Windows 8.1, Windows XP, etc.